Crunchy & sweet, this Maple Walnut Granola is great with a splash of almond milk for breakfast – or sprinkle on top of smoothie bowls! Vegan & gluten-free.
By far, some of the best things to come out of my time blogging have been the friendships I've made. Who knew you could find your long-lost best friends on the Internet?!? Sounds like a great way to get catfished, but I promise, these ladies are legit.
I've connected with bloggers I've found recently in the past year, like Addie and Les and Alexa. But I've also gotten to talk to bloggers that I've looked up to for years. Like Monique from Ambitious Kitchen, which I'm pretty sure was the first food blog I ever read consistently. Or Davida from The Healthy Maven, who always has the wisest words for me. Or Brittany from Eating Bird Food, who has given me great advice for some hormonal issues we share.
Talk about fan girling!! These are like my celebrities, people. ✨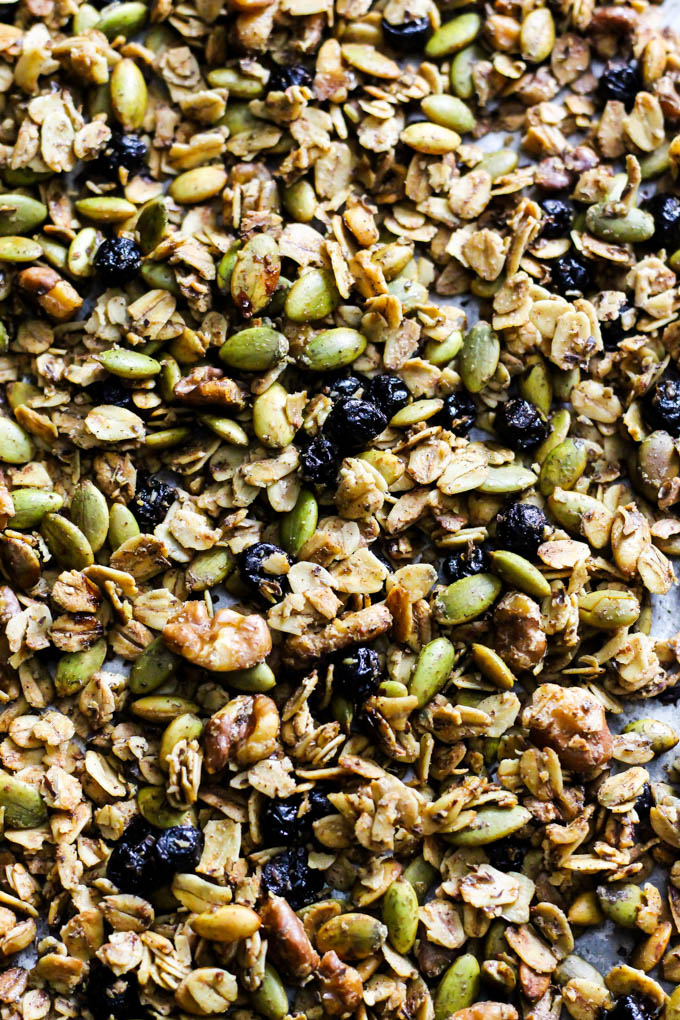 I have followed Monique from Ambitious Kitchen for years now and enjoyed watching her make the most amazing healthy treats, talking about her personal life, and (recently) get engaged! So, there is no doubt I was totally honored when Monique reached out to me with her business partner Lee from Fit Foodie Finds to try out their Healthy Glow Guide. Yes, please!
Can we just appreciate the lady boss-ness going on?! These two women have built their own brands and are now coming together to create another brand, the Healthy Glow Collective, to empower women to be healthy, strong and confident.
So what exactly is the Healthy Glow Collective? It's an absolutely amazing group of women dedicated to promoting a healthy, balanced and active lifestyle while supporting each other. I'm in the private Facebook group, which is always buzzing with ideas and encouragement. In the noise of people criticizing you for trying to live a healthy lifestyle, it's nice to find women who want to lift you up instead of tear you down. My kind of people!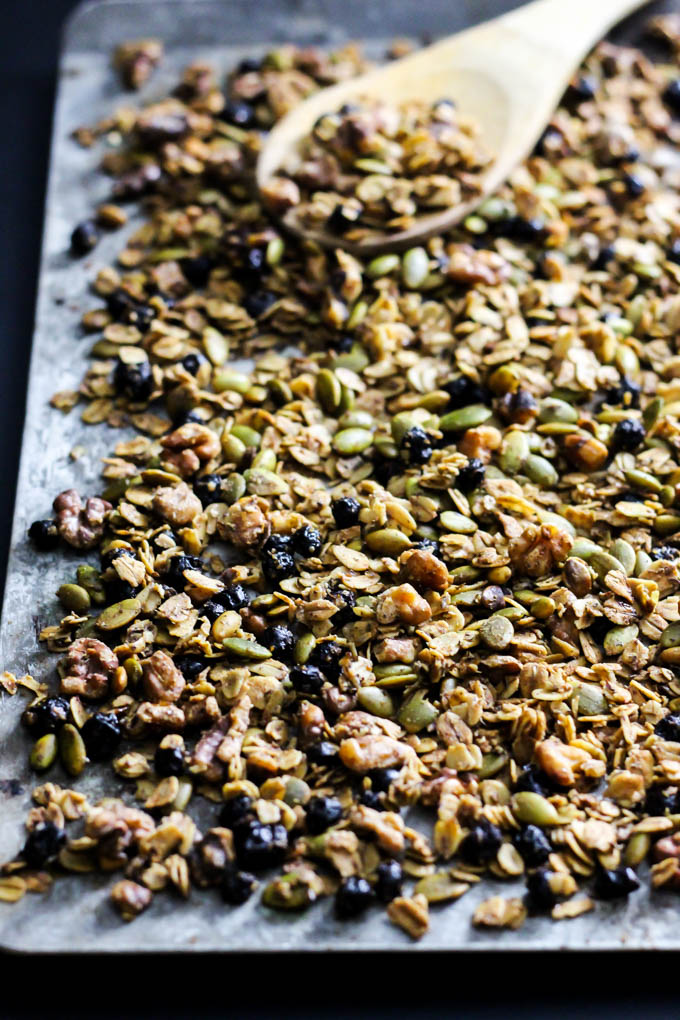 Monique and Lee were gracious enough to send me a copy of their new Healthy Glow Guide available now for all of you to enjoy! It's a totally beautiful & comprehensive 6-week guide complete with 85 recipes, grocery lists and 3 new workouts per week. No expensive gym membership necessary, HOLLA! 💸
I did one of the lower-body workouts at home and basically died. So, you know it's good stuff.
The recipes in the guide aren't completely vegan/vegetarian, but most can be easily adapted or are already veg-friendly! Like the Roasted Sweet Potato Kale Salad with Dried Cherries, Feta & Pumpkin Seeds (drooling) – just leave out the feta. Or sub nutritional yeast for the parmesan in the Avocado Basil Pesto Zucchini Noodles!
I wanted to share this Maple Walnut Granola from the guide because 1. maple & walnuts together are freaking amazing, 2. it is SUCH a simple recipe. Seriously – just mix your oats & nuts with some wet ingredients, bake, and you're done. Drown in a big splash of almond milk and you're good to go!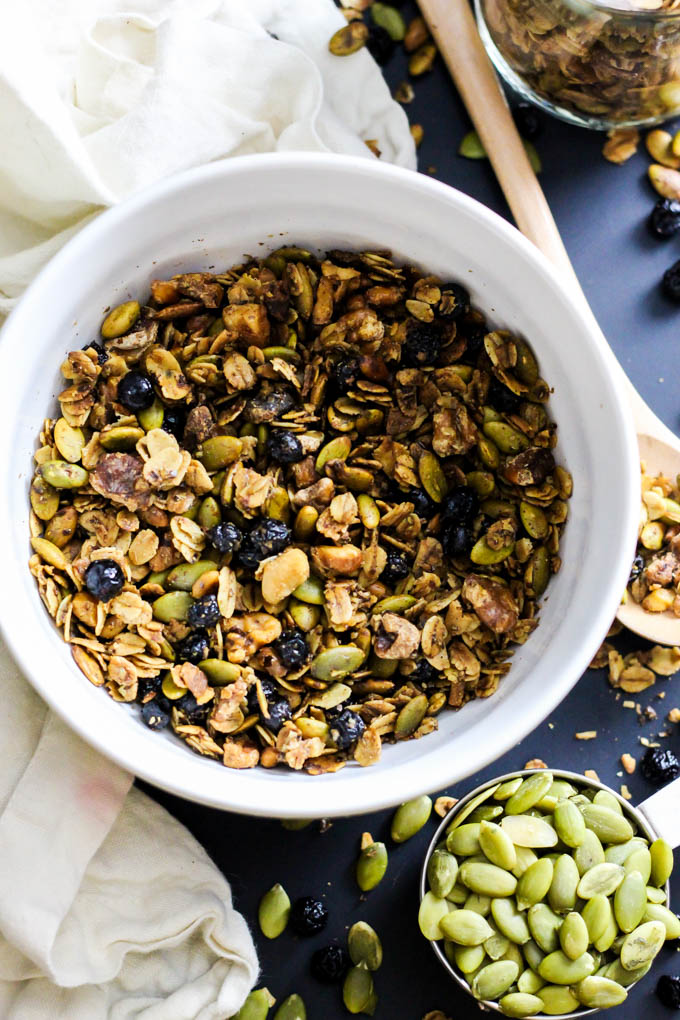 We loved this granola with a splash of almond milk plus fruit for breakfast, but it's also good on its own as a snack or sprinkled on top of vegan yogurt for dat crunch! It's good no matter how you enjoy it.
One last question: Do you like your granola EXTRA chunky or thinner? I'm more of a chunk person. 😊
If you want to get your own copy of the 6-week Healthy Glow Guide for just $64, visit the Healthy Glow Collective and support these two bada$$ women!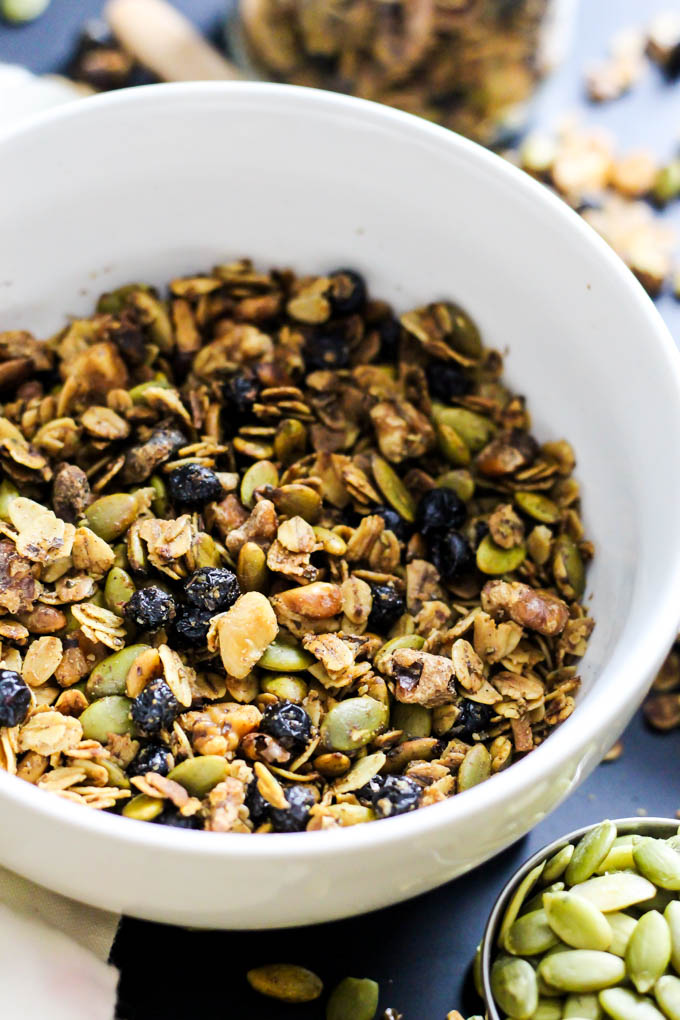 Print
How to make:
Maple Walnut Granola (vegan & gluten-free)
Ingredients
1 cup

rolled oats

1/2 cup

raw walnuts, chopped

1/2 cup

pepitas

1/4 cup

dried blueberries, cranberries or cherries

1 tablespoon

flaxseed meal

1/2 teaspoon

ground cinnamon

2 tablespoons

coconut oil, melted

2 tablespoons

maple syrup
Instructions
First, preheat oven to 350ºF. Then, line a baking sheet with parchment paper.
In a large bowl, mix together all ingredients. Make sure all the dry ingredients are evenly coated with the wet.
Bake at 350ºF for 25-30 minutes, stirring every 10 minutes. Granola should be golden brown when done.
Let cool. Store in an airtight container for about a week.
Thank you to Monique & Lee at HealthyGlow.Co for gifting me with a complimentary copy of the Healthy Glow Guide!