This post was sponsored by Hope Foods. Thanks for supporting my blog!
I've always been a plain Jane type of girl when it came to food. Spaghetti sauce? None for me. Favorite ice cream flavor? Vanilla (not kidding). Two-ingredient sandwiches. Plain vegetables.
One of my absolute favorite dinners we would have when I was younger was Mexican pizzas. We would spread refried beans and cheese between two tortillas (whole-wheat, always – thanks Mom) and bake it until it's super crispyyy. My mom would load hers with veggies, but me? Nope. Plain. No sauces, no salsa, no guac😱  Tbt to the days when I didn't like avocado…
This vegan quesadilla recipe is like a totally upgraded, veg-ed up, 2017 version of those plain Mexican pizzas I loved so much. Good think I came to vegetable side because just look at hummus-y veggie goodness!!
I mean, what even is a life without avocados? Maybe it's just because I didn't like them, but I feel like avocados weren't popular. Yeah, people liked guac loaded with sour cream and other weird stuff, but no one was putting avocado on toast. No one made delicious avocado chocolate pudding. It just wasn't a thing.
Isn't the best thing about growing up in this generation is that avocados are trendy? Rather than margarine and fat-free (sugar-filled) cookies, my generation – millennials – are excited about avocado. A fruit.
We literally get so excited about avocados, spinach in everything, matcha lattes, turmeric sprinkled on life, banana ice cream. How cool is that?? I really do believe we are the generation that will change our food system for the better.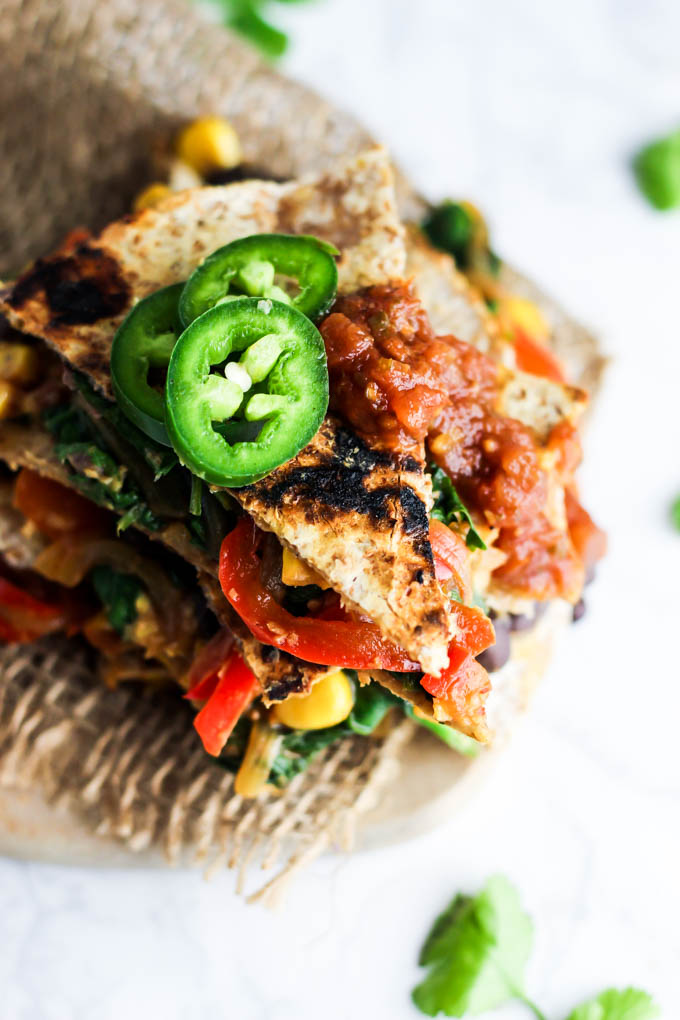 Okay, enough of a love rant to avocados. Back to quesadillas.
Like we talked about in this post for my vegan baked potato skins (which you absolutely 100% need), we can all agree that football food > watching the football game. Let's continue with that theme here. The big game is tomorrow, and I couldn't even tell you who's playing. But I can tell you that I WILL be munching on a slice of vegan quesadilla with a very healthy scoop of guac.
Since we already recreated a classic American appetizer with the potato skins, I thought we'd revamp a Mexican favorite. Mexican food is my absolute favorite, so it was no problem at all to cook these up for you all.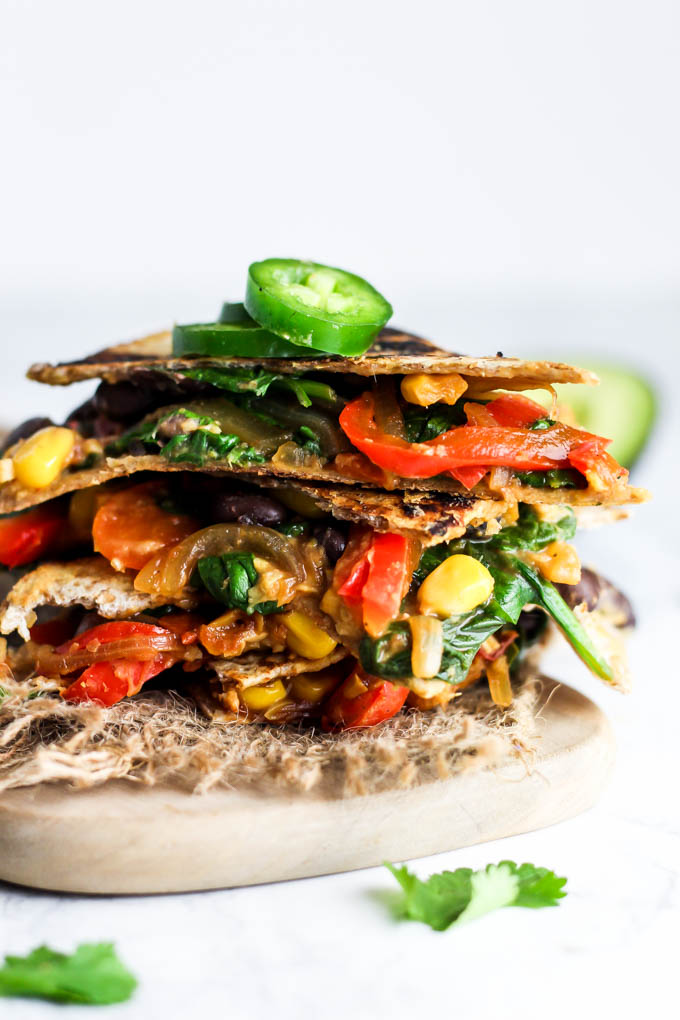 This vegan quesadilla recipe comes together in just 30 minutes, and makes 2 quesadillas – about 8 individual pieces. Feel free to double or triple the recipe if you're feeding a big crowd!
Our quesadilla situation is super simple – tortillas (whole-wheat or gluten-free!), my favorite hummus from Hope Foods, lots of tender vegetables, and black beans. Topped with lots of salsa, guac, and fresh cilantro. Everyone always asks me about making vegan food taste good, and the secret is in fresh herbs!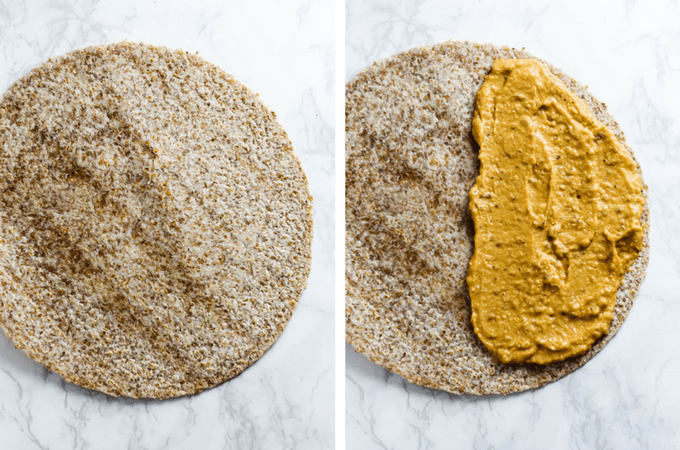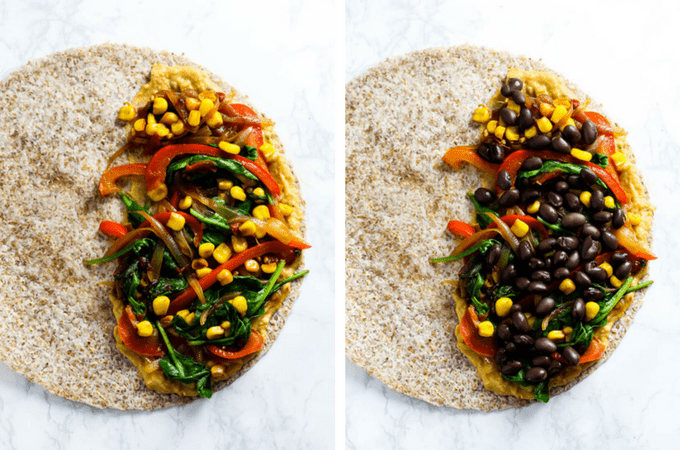 You all may remember Hope Foods from these delicious chia pudding parfaits made with their chocolate hummus. Yes, chocolate + beans – it's a thing.
We're teaming up again today to share this vegan quesadilla recipe with that's perfect to serve at your Super Bowl party, or any gathering! It would also be a great Mexican night dinner or packable lunch for work/school.
I used the Hope Foods Jalapeño Cilantro Hummus in this quesadilla; it gives it the perfect amount of kick and spice! It is a bit spicy, so if you're sensitive to hot foods, try mixing it half-and-half with their Original Hummus.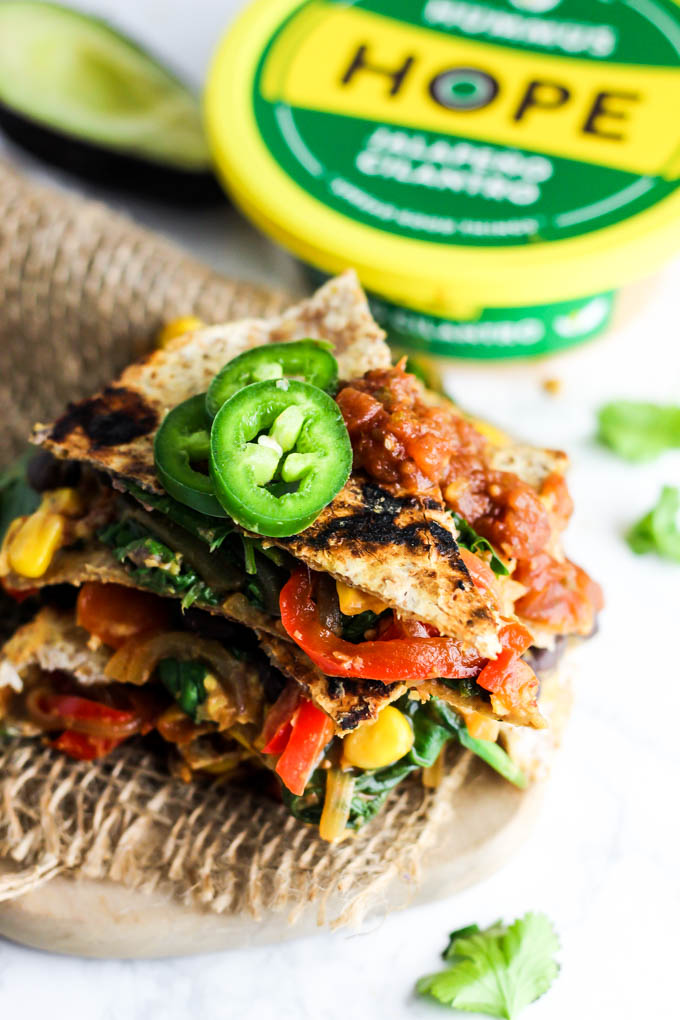 I'd love for you to make these for your party guests and let me know what everyone says! It's always so fun to watch people realize that healthy, plant foods are freaking delicious and don't always taste like cardboard. Do you think this vegan quesadilla looks like cardboard?!? Nope, didn't think so.
If you try these out, leave a comment or snap a pic for Instagram and tag me @emilieeats with #emilieeats. I hear this quesadilla calling your name!
Be sure to check out Hope Foods hummus at your local grocery store! You can find your closest store by clicking here. Enjoy the hummus goodness!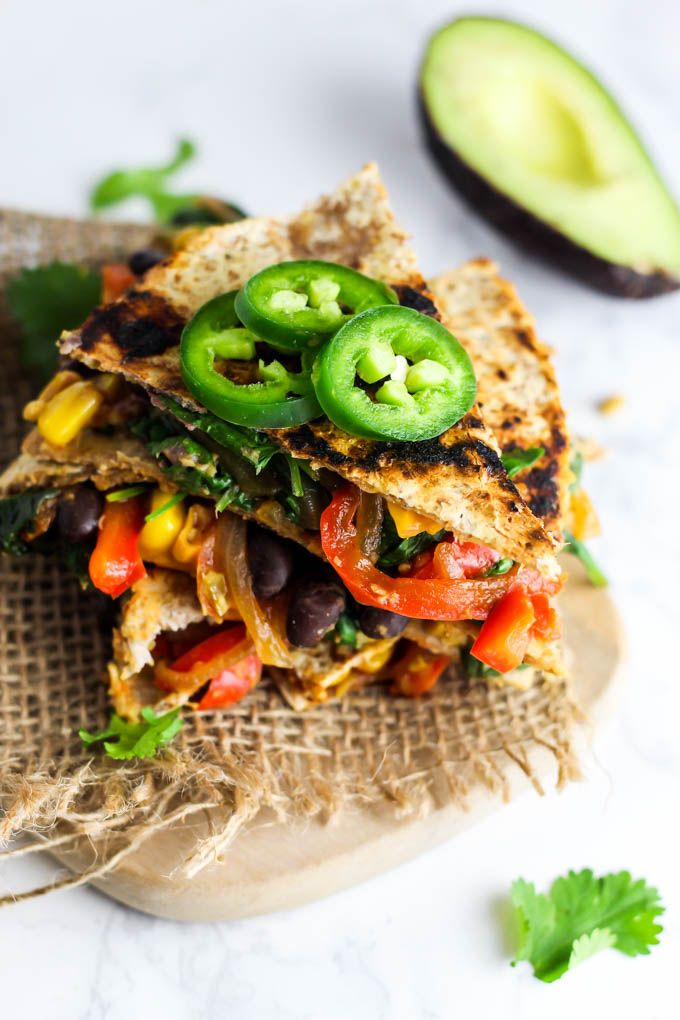 Print
How to make:
Vegan Quesadilla with Hummus & Vegetables
Enjoy this Vegan Quesadilla with Hummus & Vegetables for a healthy, flavorful meal or appetizer that is irresistible! Don't forget the guac. (gluten-free)
Ingredients
1/2

onion, thinly sliced

1

red bell pepper, thinly sliced

1

Roma tomato, chopped

1/2 cup

corn (fresh or frozen)

1 cup

spinach, chopped

2

whole-wheat or gluten-free tortillas

1/3 cup

Hope Foods Jalapeño Cilantro Hummus

1/2 cup

black beans, drained and rinsed

1

avocado, mashed
Salsa and cilantro, for topping
Instructions
In a medium skillet, add a little water (or oil, if using) over medium heat. Add onion; cook for 3-4 minutes, until they start to become translucent. Add bell pepper; cook for 5 minutes. Add tomato and corn; cook for 5 more minutes. Add spinach; cook until wilted, about 1 minute.
Place a tortilla flat. On one half of the tortilla, add half of the hummus; spread evenly. Add half of the vegetables and 1/4 cup black beans on top of the hummus.
Fold the tortilla in half.
In the same skillet, add the quesadilla. Over medium heat, cook for 2-3 minutes on each side, until slightly crispy.
Remove; cut into 4 even pieces.
Repeat with the other tortilla and the rest of the fillings.
Serve with mashed avocado, salsa, and fresh cilantro.
Thanks to Hope Foods for sponsoring this post! I love working with brands whose products I really love and would honestly recommend. Thank you for supporting this blog that I love oh-so-much!