These Vegetable Spring Rolls are a flavorful way to eat more veggies! Packed with marinated tofu, fresh vegetables, and a delicious ginger sesame sauce. In partnership with Dr. Praeger's.
Vegetable Spring Rolls with
Ginger Sesame Tofu
"Why don't I make spring rolls more often?!??!!?" is the first thing that came out of my mouth once I took my first bite of these ginger sesame spring rolls. I hate to admit this, but I've had spring roll wrappers in my pantry for… awhile. Way too long. I totally forgot about them, honestly, but not anymore!
Spring rolls are absolutely perfect for the warmer months because you can stuff them with any crunchy raw vegetables, sliced mango for a sweet punch, savory tofu, rice… the options are endless. Dip them in a finger-lickin' sauce and BOOM, you've got a meal.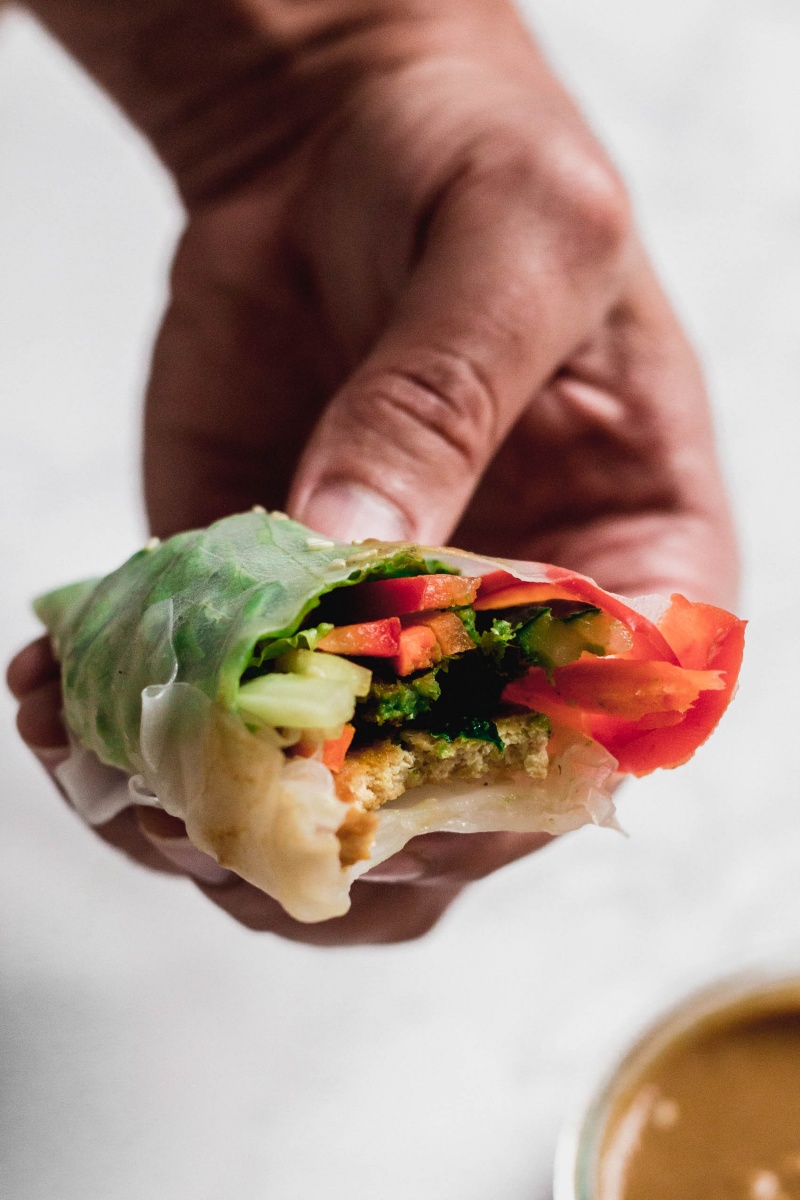 Vegetable Spring Roll Ingredients
I LOVE this vegetable spring roll recipe because it's packed with plenty of fresh veggies, plus tofu to add some protein. Gimme all the nutrients!
Tofu. I love making tofu spring rolls to add in some protein and make them more satiating. You'll want to look for extra-firm and take the time to drain and press your tofu. This will help give it a super satisfying texture.
Soy sauce. I recommend low-sodium soy sauce. By the way, you can make your own low-sodium soy sauce by simply diluting regular soy sauce with equal parts water.
Sesame oil. We'll be using this both in our tofu marinade and the dipping sauce for our vegetable spring rolls
Ground ginger. You could also use fresh if you prefer! A good rule of thumb is 1 tablespoon of fresh ginger to every 1/4 teaspoon of ground ginger.
Black pepper. Use as much or as little as you'd like.
Sesame seeds. These will add a bit of crunch to our tofu
Vegetables. Take your pick! I opted for lettuce, carrot, cucumber, and bell pepper. Other delicious fillings would be red cabbage, sliced mango, and nori strips. Get creative!
Spring rolls wrappers. I'll walk you through how to roll your vegetable spring rolls later in the post!
Tahini. This will thicken our dipping sauce and add healthy fats. More on why we want to add fat below!
Hot sauce. Sriracha is great here, but use your favorite!
Optional: Dr. Praeger's Super Greens Veggie Burgers. If you'd like to amp up the fiber and protein, these veggie burgers are a great addition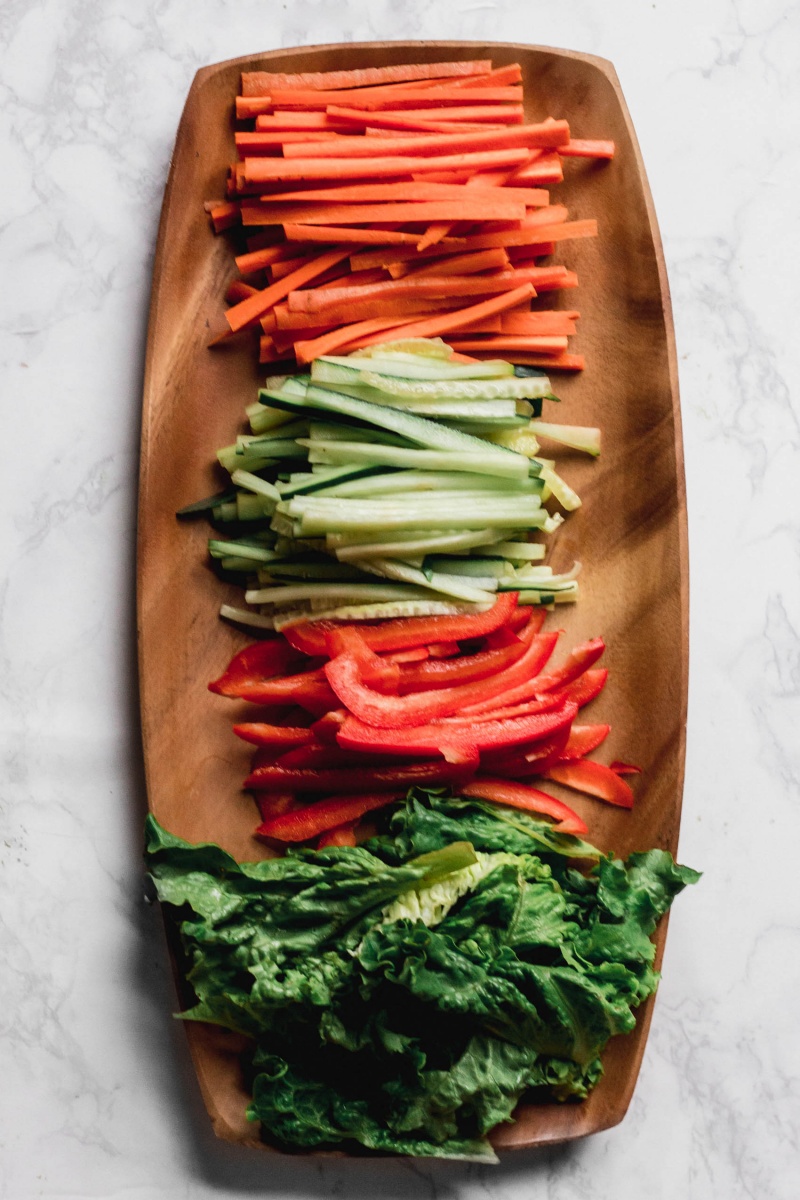 Spring Roll Sauce
This ginger sesame sauce is INCREDIBLE. If you want to put it on the inside of the tofu spring rolls, go ahead. I like dipping because I can mop up as much sauce as possible in every bite. This sauce would also be great on top of poke bowls and roasted vegetables.
Veggies are packed with tons of nutrients, many of which are fat-soluble vitamins, meaning your body needs fat in order to absorb the nutrients. The vegetable spring rolls on their own don't have tons of fat in them, apart from the tofu marinade, so we want to make sure our tofu dipping sauce includes a source of healthy fats – enter tahini! The tahini not only adds the healthy source of fat we're looking for, but the flavor and texture make this sauce super delicious.
The best part about this sauce is that you can really play with it and make it your own. If you love heat, add more hot sauce. If you don't have tahini, then you could totally use peanut butter instead.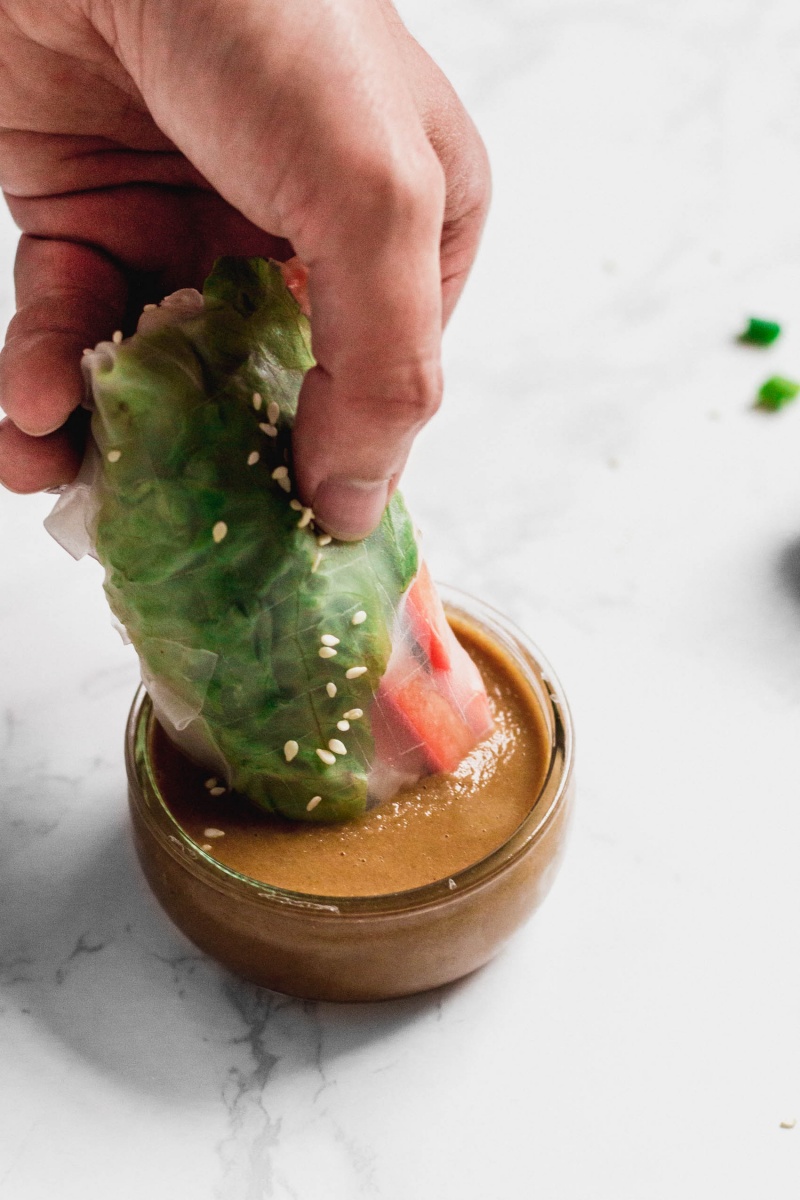 How to Make Spring Rolls
For these vegetable spring rolls, I marinated the tofu in a ginger-sesame-soy sauce, which features many of the same ingredients as our dipping sauce to pull the flavors together. I like to sprinkle the tofu with sesame seeds before baking for crispiness. I also cooked some Dr. Praeger's Super Greens Veggie Burgers to add to the spring rolls. This is optional, but it adds more veggie power!
Spring roll wrappers are made of rice. Here's how to prepare them: place hot water in a large bowl. Add a wrapper to the hot water. Wait until it's completely soft, about 1 minute. Place on a plate (keep this wet to prevent sticking). Then, add all your fillings: vegetables, tofu, and strips of Dr. Praeger's Super Greens Veggie Burgers.
To roll up the spring rolls, bring opposite sides of the wrapper over the fillings. Then, roll up from one side. Tuck the fillings as you go to get a tight roll. Place the vegetable spring rolls on a wet plate to prevent sticking.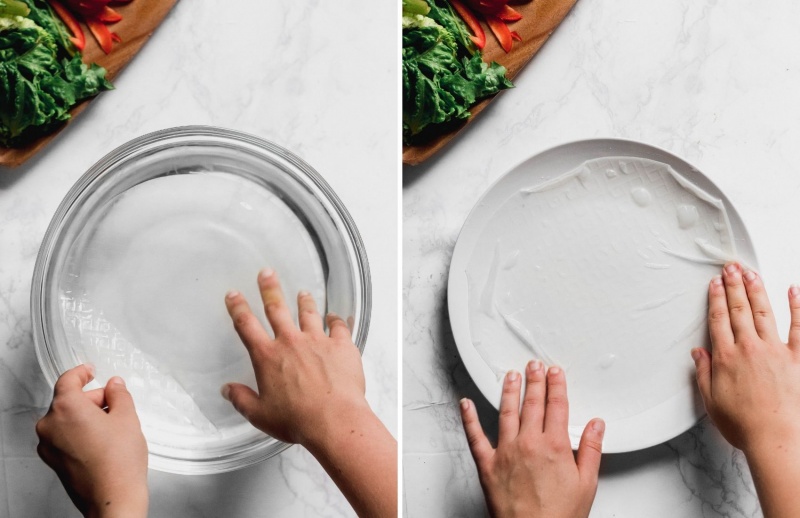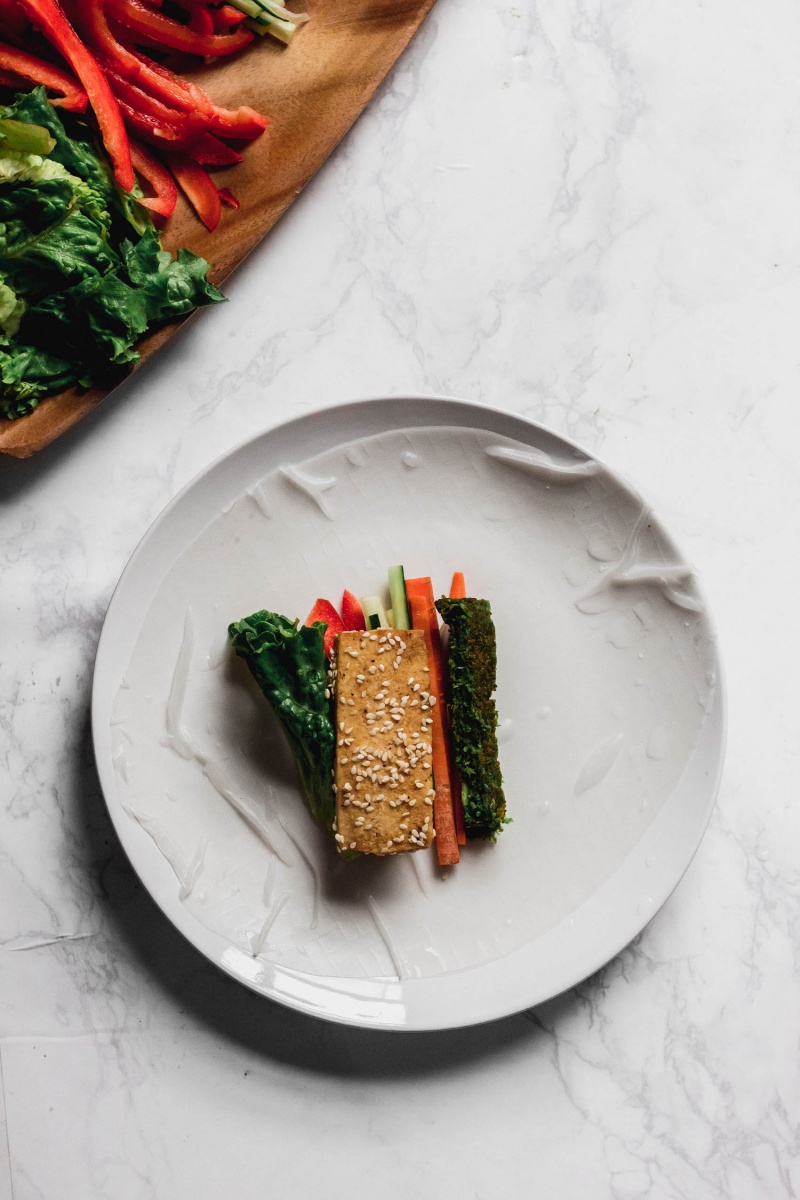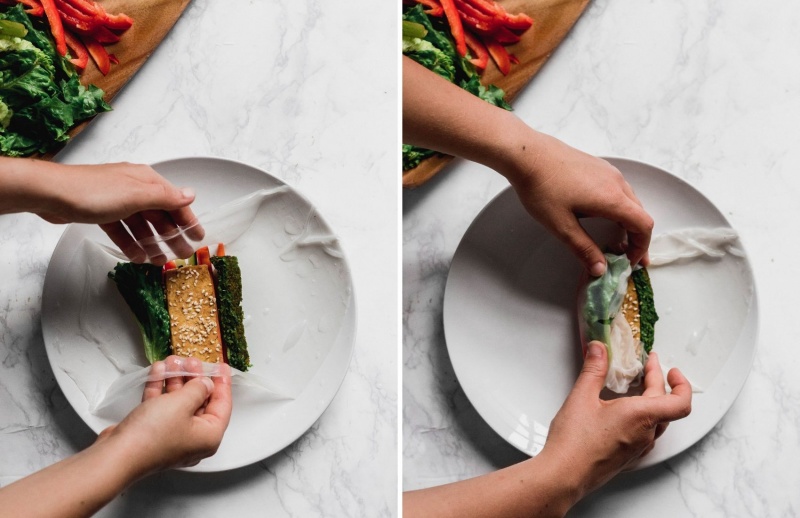 How to Eat More Vegetables
My best tip for eating more vegetables is to eat them with sauces and dressings you like. It's smart to pair vegetables with healthy fats because vegetables contain fat-soluble vitamins – aka you need fat in your diet to absorb them! This could look like dipping raw veggies in hummus, roasting broccoli in olive oil, adding dressing to your salad, or dipping vegetable spring rolls in a ginger sesame sauce rich in healthy fats.
Side note: did you know nine out of ten Americans don't eat the USDA-recommended 3 cups of vegetables per day? Of course, vegetable intake is affected by factors outside of just not liking vegetables, like food insecurity, living in a food desert, and socioeconomic status. I am always an advocate for eating fruits and vegetables in whatever way fits into your budget; canned and frozen are usually cheaper and more convenient for those who are time-crunched. I am waiting for the day when we subsidize fruit and vegetables.
For those of us lucky enough to have a budget that allows for fruits and vegetables, we should try to meet the 3-cup recommendation. We all know how good vegetables are for our bodies – I don't think I have to tell you that. Dr. Praeger's just launched an amazing tool called Veggie Tracker that allows you to track your vegetable consumption. When you sign up on Veggie Tracker, you'll receive recipes, tips for eating more vegetables, and motivation!
If you're trying to eat more vegetables, try these vegetable spring rolls, or one of these delicious veggie forward recipes!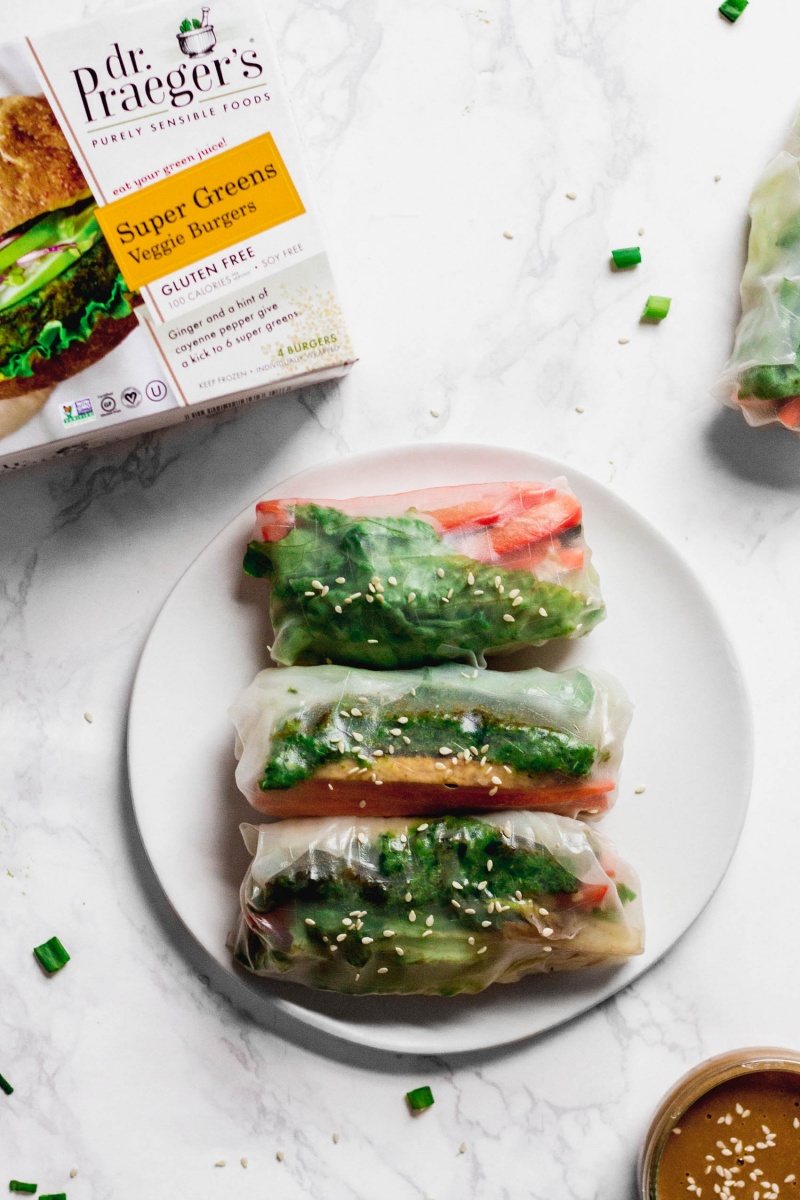 Print
How to make:
Vegetable Spring Rolls with Ginger Sesame Tofu
These Vegetable Spring Rolls are a flavorful way to eat more veggies! Packed with marinated tofu, fresh vegetables, and a delicious ginger sesame sauce.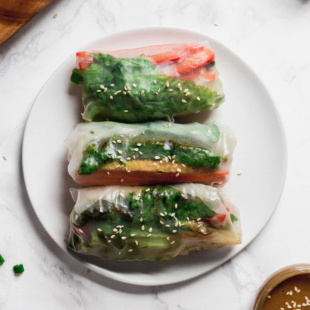 Ingredients
For the spring rolls:
1

14-ounce block extra-firm tofu, drained and pressed*

1/3 cup

low-sodium soy sauce

1 tablespoon

sesame oil

1/2 teaspoon

ground ginger

1/4 teaspoon

ground black pepper

2 tablespoons

sesame seeds

2 cups

lettuce

1

medium carrot

1

cucumber

1/2

bell pepper
Optional: 3 Dr. Praeger's Super Greens Veggie Burgers

12

spring rolls wrappers
For the sauce:
1/2 cup

low-sodium soy sauce

1/4 cup

tahini

2 tablespoons

water

1 tablespoon

sesame oil

1 teaspoon

ground ginger

1/2 teaspoon

ground black pepper
Dash of hot sauce
Instructions
Preheat oven to 375ºF.
Cut tofu into 12 thin strips. In a bowl, add soy sauce, sesame oil, ginger, and pepper; whisk to combine. Add tofu and coat evenly; let sit for 5 minutes. Place tofu on a baking pan. Sprinkle on sesame seeds and press into tofu. Bake for 25 minutes.
Chop lettuce. Cut carrot and cucumber into thin strips. Thinly slice bell pepper. If using, cook veggie burgers according to package direction. Cut each into four strips.
Fill a large bowl or pot with hot water. Place spring roll wrapper into the water; let sit for 1 minute, then place on a large plate. Fill the center of the wrapper with vegetables, tofu, and a piece of veggie burger. Bring in opposite sides of the spring roll wrapper, then roll (see photos). Place on a damp plate to prevent sticking. Repeat with all spring roll wrappers.
In a medium bowl, add all sauce ingredients. Whisk until smooth.
Notes
*Use a tofu press, or wrap the tofu in paper towels and place in the sink with a heavy object on top. Press for 10-15 minutes.
Thanks to Dr. Praeger's for sponsoring this post! I love working with brands whose products I really love and would honestly recommend. Thank you for supporting this blog that I love oh-so-much!