This post was sponsored by Natalie's Orchid Island Juice Company. I only work with brands whose products and missions I truly believe in. Thanks for supporting my blog!
How's the weather where you are? April marks the beginning of the sauna season down here in Louisiana, where you should expect to be dripping in sweat after approximately 8 seconds of being outside. But sometimes the weather is unpredictable – one day I'll be in tank tops and shorts, then the next day I'll have to bring my jacket to face cold 30 mph winds. I've been seeing some of you still dealing with snow up north. What's up with that??
No matter what the weather is like, I'm always dreaming of summer days so we're getting reeeeeal summery with the perfect hot day treat – delicious strawberry orange mango popsicles!
During the summer, I could probably live 100% off of fruit. I mean, really, what's better than sitting by the pool with nothing to do while munching on some fresh, juicy pineapple or grapes? Take me there.
I'm so excited for this summer I can barely focus on my school stuff. Who wants to think about 19th century history when there are pools to swim in and trips to be taken?? I have a super exciting trip planned to visit my blogger BFF Addie in my favorite city, Chicago. Get ready for so many food pics!
Other than that, I want to: tan, eat, sleep. Repeat.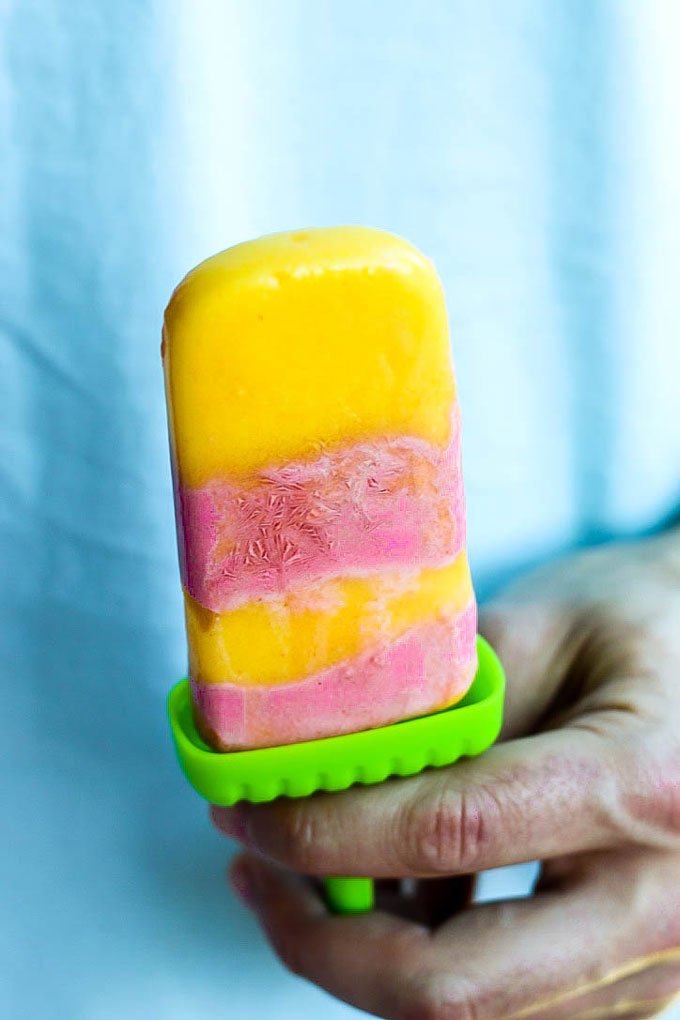 One thing I'm going to be eating on repeat: these fruity popsicles! I can just picture it now – soaking up all the sun rays with the Summer Hits of the 2000s Pandora station blaring (the soundtrack to my life) enjoying a few popsicles and loving life.
The key to the best popsicles you've ever made? Super fresh juice. I was so happy when Natalie's reached out to me because you really can't get fresher store-bought juices than theirs. Their juices have actually been voted America's best tasting juices by Real Simple, Cook's Illustrated, Good Housekeeping, Woman's Day, and Bon Appétit magazines!
If that doesn't tell you something, I don't know what will. These juices are freshy fresh, y'all.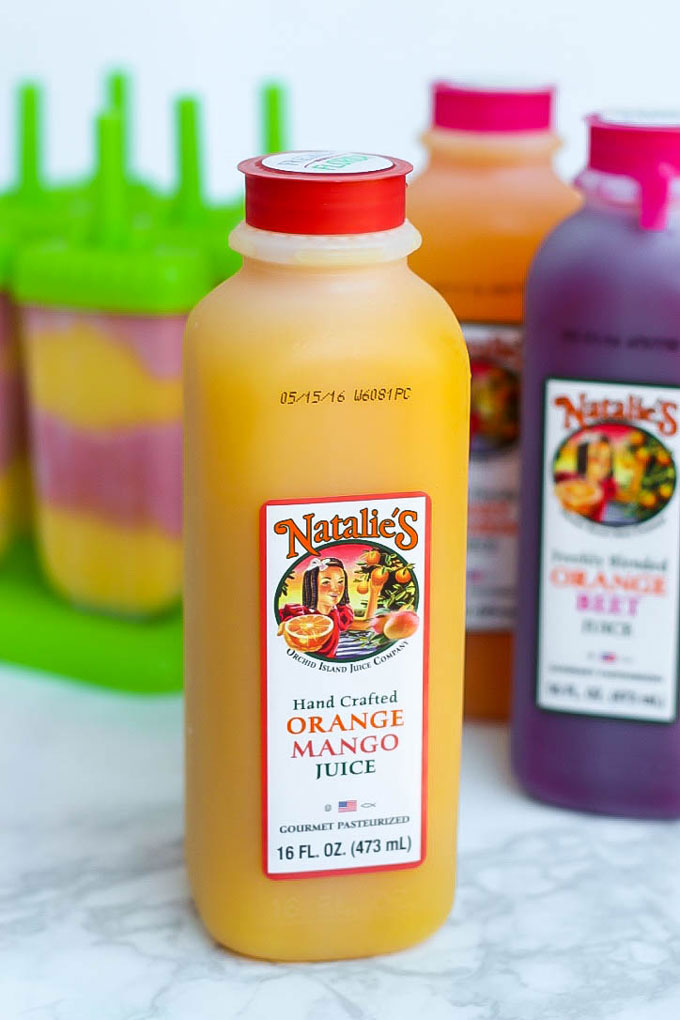 There are so many delicious Natalie's juice flavors that I really didn't even know where to begin. How does Honey Tangerine sound? Strawberry Lemonade? Orange Beet?? And, of course, the classic Orange juice that we all love.
How cool is this – all the juices are made from locally sourced Florida citrus and American produce, and are squeezed fresh. Never do they add any preservatives or added ingredients. Just fruit. Just amazing.
Plus, they're a family-operated, woman-owned company. Who run the world?? GIRLS.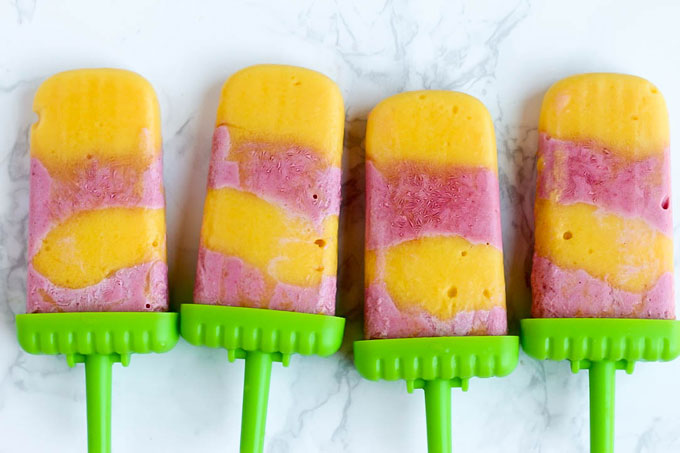 The Orange Mango juice was one of my favorites (so hard to pick!) so I knew I definitely wanted to use those flavors in these popsicles. To make things fun, I added a simple strawberry layer. Tasty and pretty, just the way I like my food.
You really only need a handful of ingredients for these: Natalie's juice, coconut milk, and frozen fruit. That's it!
You'll also need popsicle molds – I bought some for less than $10 on Amazon. If you don't want to buy any, use paper cups and wooden popsicle sticks! #kitchenhacks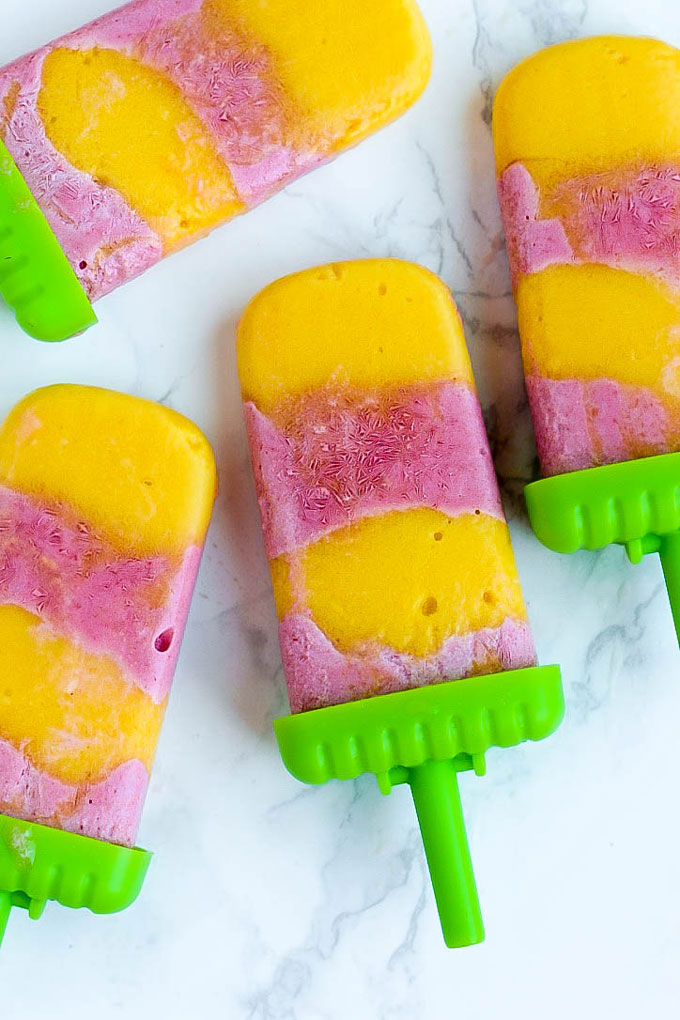 I know some of you might still be facing cold weather, but we can always dream about summer, right? Just think about popsicles and pools and lazy days, and the cold will be gone in no time.
You definitely need to save this easy recipe for all your summer fun! If you get to try the recipe, let me know in the comments how you liked them. Snap a pic and share it on Instagram!
Be sure to check out all of the fresh juices from Natalie's; use the store locator on their website to find the BEST juices you'll ever lay mouth on in a store near you!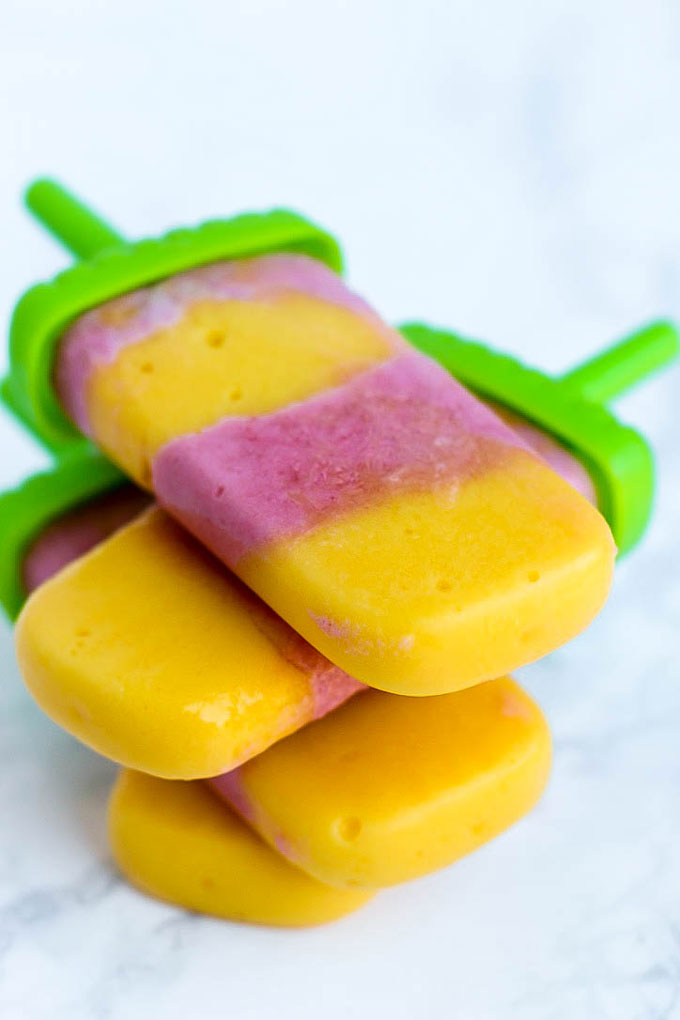 Print
How to make:
Vegan Strawberry Orange Mango Popsicles
Satisfy your sweet tooth with these healthier Vegan Strawberry Orange Mango Popsicles! Only a few ingredients for a delicious treat that will cool you off.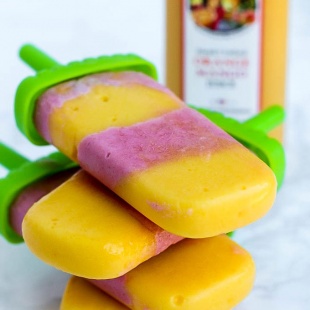 Ingredients
For the orange mango layer:

3/4 cup

Natalie's Orange Mango Juice

1 1/2 cups

frozen mango chunks

1/4 cup

canned coconut milk (light or full-fat)
For the strawberry layer:

1 cup

frozen strawberries

1/2 cup

canned coconut milk (light or full-fat)
Instructions
In a blender, add juice, mango, and 1/4 cup milk. Blend until smooth. Transfer to a large cup.
In the blender, add strawberries and 1/2 cup milk. Blend until smooth.
Scoop a spoonful of the orange mango mixture into each popsicle mold, then scoop a spoonful of the strawberry mixture. Continue alternating between scoops of each mixture until the molds are full.
Place the top of the molds on the popsicles; freeze overnight, or at least 4-6 hours.
Notes
Depending on the size of your molds and how many are in a set, you may have some mixture leftover, or you may need to make more.
Thanks to Natalie's for sponsoring this post! I love working with brands whose products I really love and would honestly recommend. Thank you for supporting this blog that I love oh-so-much!