Hi friends! Today's post is going to be short and sweet since I have a huge weekend ahead of me and my mind is in a million different places.
Plus, I know you all come for the food anyway. 😉 I mean, that's why I would come here. You all went CRAZY on Instagram when I posted a sneak peek of this recipe, so here it is in all its glory: Vegan Parmesan Cauliflower Steaks over Hemp Pesto Zoodles. Can we just take a second!!!
I love cauliflower. I eat it each and every way: roasted, riced, in pizza crust, in potato mash. Now: as steaks! Yes, friends, cauliflower steaks are a thing and they are deliciously filling and meaty in all the right ways.
Then I took it up a notch and coated those babies in vegan parmesan (!!!). Cue the angels singing.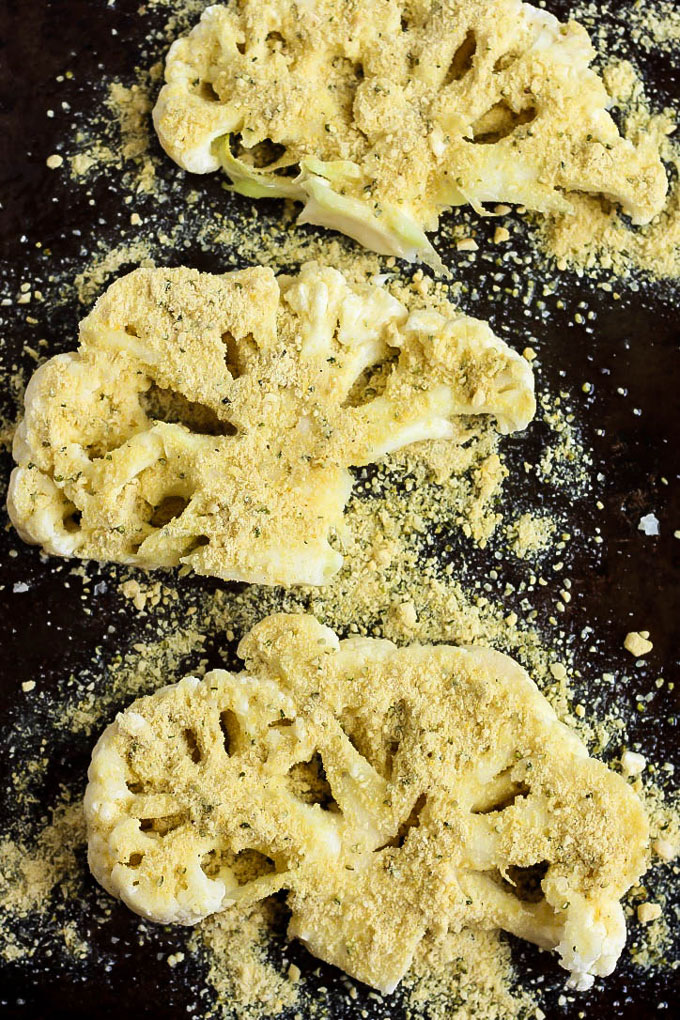 The vegan parmesan is a simple mix of raw cashews, nutritional yeast and spices adapted from my fave Minimalist Baker. Every hunk of beautifully roasted cauliflower is full of cheesy flavor without the dairy.
I think I could spoon the parmesan in my mouth on its own and skip the cauliflower all together. It's that good. But alas, we need our veggies and these cauliflower steaks are worth it.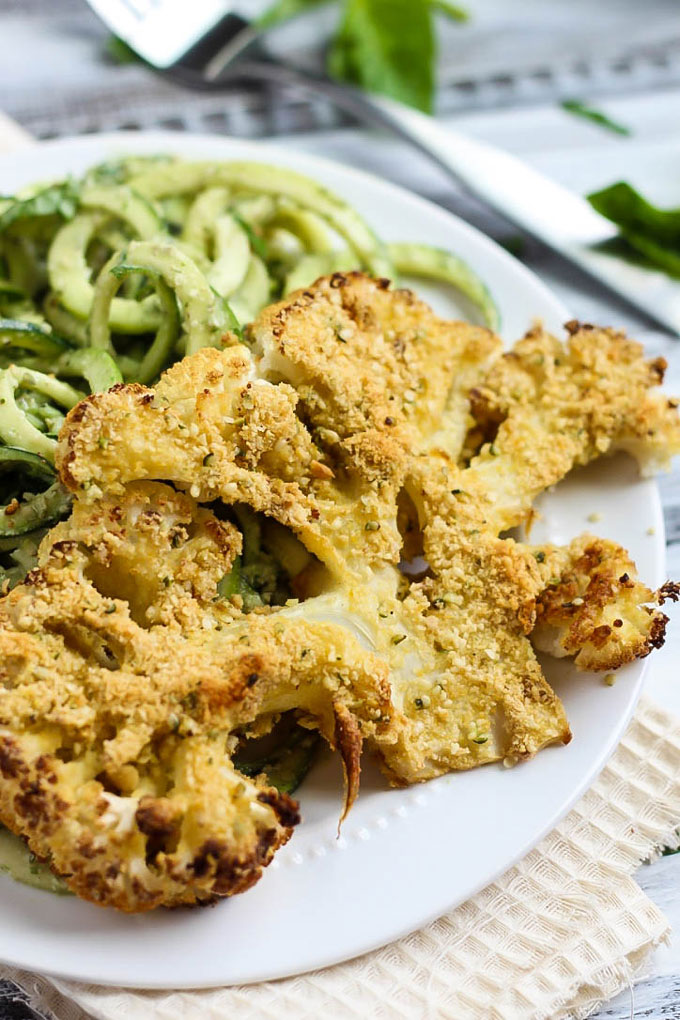 While the cauliflower is getting all roasty and toasty, you're going to make your noodles. I've been seeing some lovely local zucchinis pop up at my farmer's markets, which means it's time to spiralize all. the. zucchini. Woo! Summer is coming – I can feel it.
As always I used my fancy Inspiralizer (you can buy it on Amazon, too!) which is seriously the best $50 I ever spent. I plan on spiralizing so many more fresh vegetables and fruits as spring produce starts to pop up in the farmer's markets. Zucchini is one of my favorite vegetables to spiralize, as it's very low calorie but still really filling. It takes any flavors you combine it with; I love it the best raw, which we're doing here!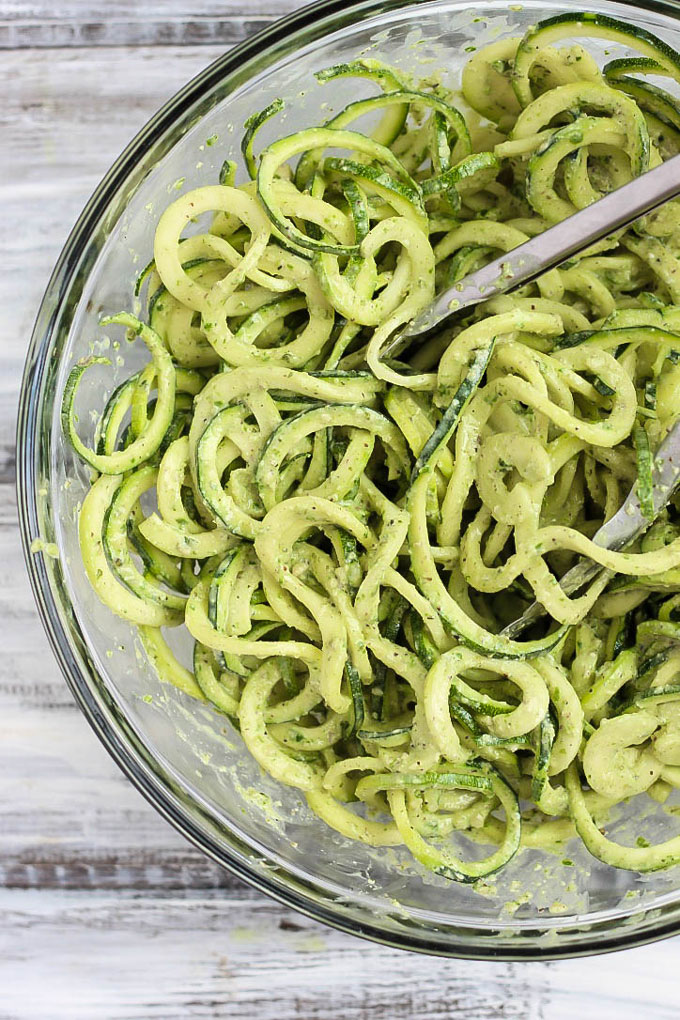 Also on my list of things I'm obsessed with, next to cauliflower and vegan parmesan and spiralized veggies: pesto. Gosh, I could drink that stuff straight up. Fresh basil is also starting to pop up, which is perfect for pesto making! Every time I go to Whole Foods, I stop to smell the basil in their herb section and just smile. Yeah, I'm that weirdo. Sorry not sorry.
We're tossing the zucchini noodles (affectionately called zoodles) with a thick hemp pesto sauce that'll make you want to drink it right out of the blender. I love hemp seeds because they're a great protein and healthy fat source! I sprinkle them on everything.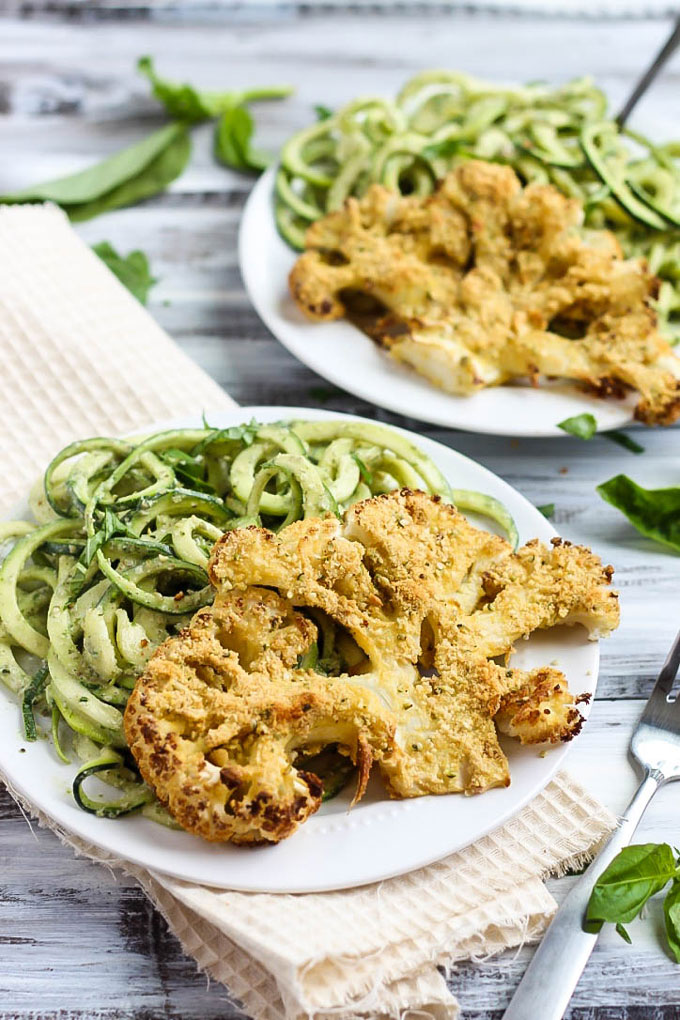 Plate up your noodles and patiently desperately wait for the oven timer to go off so you can pull the cauliflower steaks out. It may be hard to wait, I know, but good things are coming.
Slap a cauliflower steak on those noodles, and voila! A pretty simple meal that seems totally gourmet. Like, I should open a restaurant. Okay TBH I just want to be Hummusapien. #goals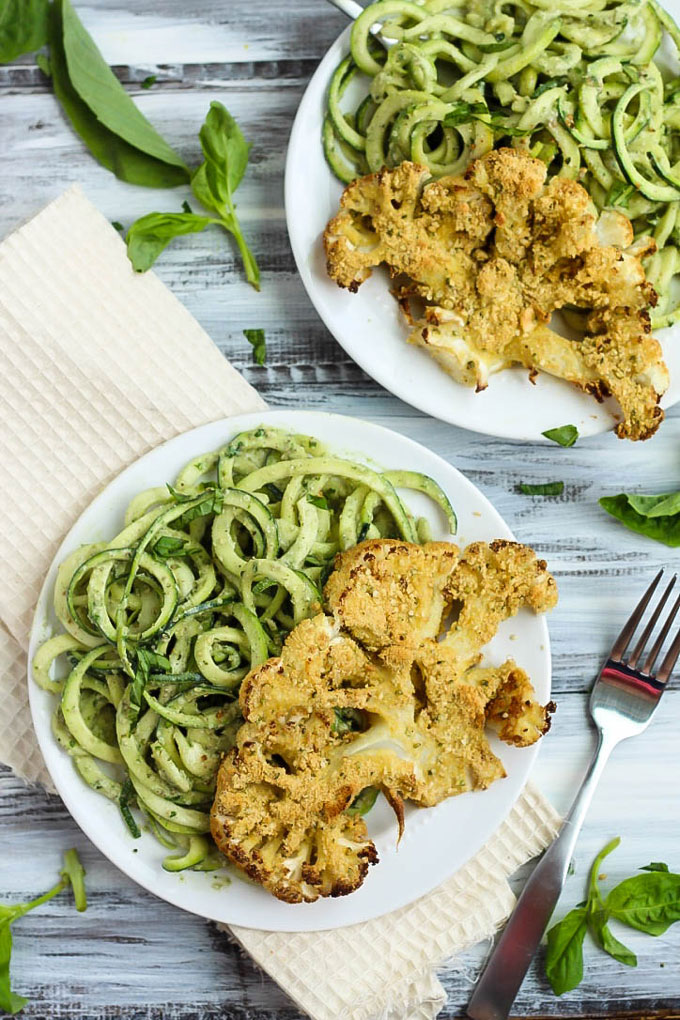 I sent this meal over to my best friend Hilary (who gave up meat for Lent! woo!), and she could not stop raving about it. She even shared it with her sister, who has been patiently waiting for me to post this recipe because she loved it so much.
It's those moments that keep me cooking and blogging. Honestly. I just love making food that people love and shows them eating healthy is fun and delicious.
Hilary was even shocked when I told her each serving of this packs 16 grams of protein. Plants for the win!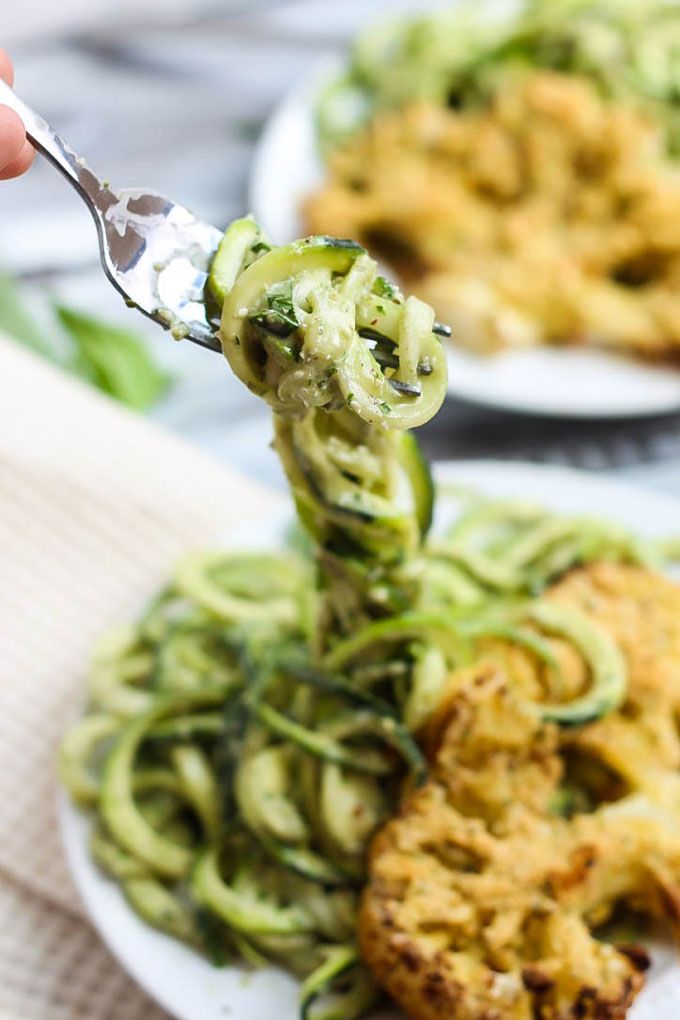 I seriously want to make this all day every day for every meal for the rest of my life. It's a great dish to impress a crowd, or to make your boo for date night. Followed by some almond butter bars, of course.
If you make this, be sure to snap a fancy pic and share it on Instagram; tag me and hashtag #emilieeats.
Side note: The reason my mind is running a million miles a minute this week is because I'm competing in my school's Miss LSU-USA pageant on Sunday! I've been preparing for this for months, and I've worked harder than I ever have. I'll be taking a mini social media break this weekend to clear my mind as well. I would really appreciate it if you could send me some good vibes and keep your fingers crossed for me! Hopefully I'll have some good news to report back to you on Tuesday. <3
Now go cook this!!!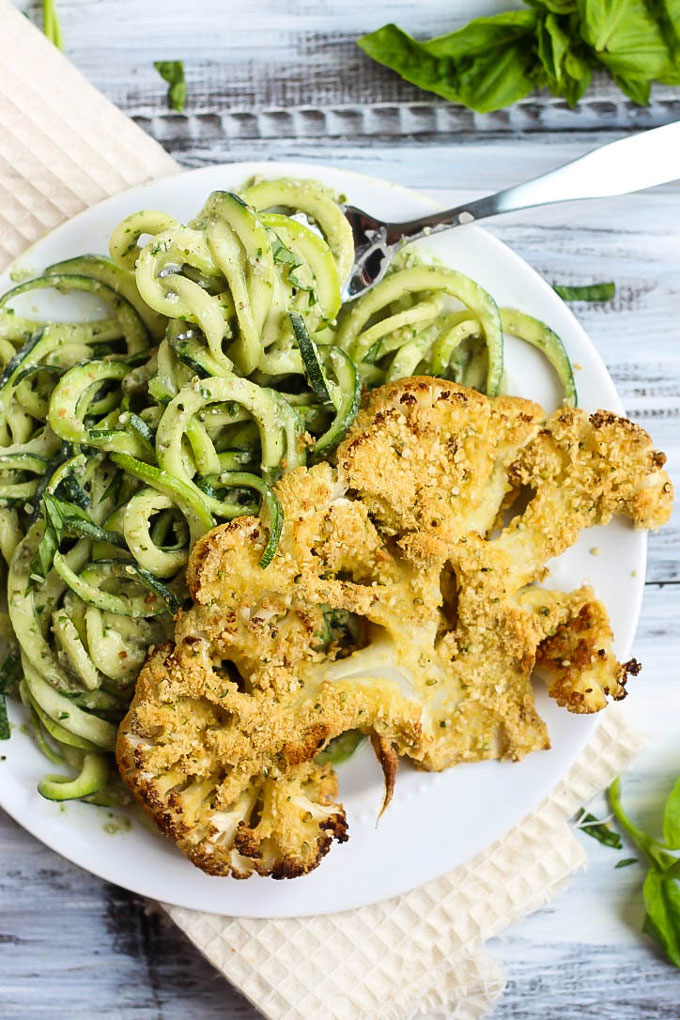 Print
How to make:
Vegan Parmesan Cauliflower Steaks over Hemp Pesto Zoodles
These Vegan Parmesan Cauliflower Steaks over Hemp Pesto Zoodles feel gourmet but are done in 1 hour! This gluten-free dinner is perfect to impress anyone.
Ingredients
Olive oil or cooking spray

1/2 cup

raw cashews

2 tablespoons

nutritional yeast

1/2 teaspoon

salt

1/4 teaspoon

garlic powder

1/8 teaspoon

black pepper

1/4 cup

+

2 tablespoons

hemp seeds, divided

1

medium head cauliflower

3

medium zucchinis

2 tablespoons

olive oil

1/4 cup

unsweetened almond milk

1/2

lemon, juiced

1/4 cup

walnuts or pine nuts

1/3 cup

fresh basil leaves, packed

3/4 teaspoon

salt

1 teaspoon

garlic, minced (about

2

cloves)

1/4 teaspoon

pepper
Instructions
Preheat oven to 400°F. Lightly grease a baking sheet with olive oil or non-stick spray.
In a food processor or blender, add cashews, nutritional yeast, salt, garlic powder and pepper. Process until it resembles fine sand. Stir in 2 tablespoons hemp seeds.
Remove the leaves from the cauliflower. Vertically slice the cauliflower into 3/4-inch steaks. You should get about 3-4 slices. Place the cauliflower on the baking sheet; drizzle each side with a little olive oil. Sprinkle the parmesan mixture onto both sides of each cauliflower steak.
Bake for 40-45 minutes, until the edges of the cauliflower are slightly browned and crispy.
While the cauliflower is cooking, spiralize, julienne, or thinly slice the zucchinis into noodles or thin strips. Place in a large bowl.
In the food processor or blender, add 1/4 cup hemp seeds, olive oil, almond milk, lemon juice, walnuts, basil, salt, garlic, and pepper. Process until smooth. Pour the sauce onto the zoodles; toss until fully combined.
Divide the zoodles evenly onto 4 plates. Top each with a cauliflower steak.