Today I have a guest post for you from the oat queen herself, Rachel Mansfield! You've probably drooled over her decadent creations on Instagram where she delivers some serious #oatporn. You definitely need to check out her Instagram and blog! Thanks so much for guest posting, Rachel! <3
Hi there! I'm Rachel, the oat obsessed food blogger @rachLmansfield. I have a passion for making delicious recipes (particularly breakfasts and desserts) and "healthifying" them so we can love what we eat and how we feel. If you like oatmeal, chocolate, nut butter and appreciate a good pizza, I think there's a good chance we will get along.
Today I am here on my gal Emilie's amazing blog to share my Almond Joy Overnight Oats recipe.
 I have to say I am not 100% obsessed with Almond Joys. They were in the pile of candy bars I would give to my Dad when I was younger after trick-or-treating on Halloween. I didn't like the combination of almonds, chocolate & coconut (um, I know what you are thinking…)Fast forward 15 or so years and here I am, loving/obsessing/drooling over anything involving the combination of dark chocolate, almonds and coconut. I think that coconut is an acquired taste that you can learn to love over time. I love the texture it adds to my oats and how the flavors of dark chocolate and almond butter compliment it.
In case you aren't familiar with overnight oats, they will seriously change your breakfast game. They are easy, delicious and SO versatile to make. All you have to do is throw oatmeal, your milk of choice and chia seeds in your favorite mason jar or tupperware, shake it well and place in the fridge overnight.
The best part of overnight oats are the ENDLESS possibilities. Seriously, I am always thinking of new toppings and combinations to switch things up. A few of my favorite recipes are here.
Okay now back to the Almond Joy Overnight Oats…
Print
How to make:
Almond Joy Overnight Oats from Rachel Mansfield
These Almond Joy Overnight Oats from Rachel Mansfield are a healthy twist on the popular candy! Make them the night before for an easy breakfast.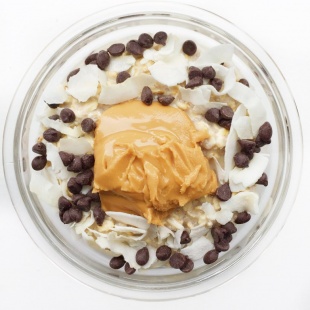 Ingredients
3/4 cup

old fashioned oatmeal

3/4 cup

unsweetened almond milk

1 tablespoon

chia seeds
Splash of almond extract

1 tablespoon

Barney Butter Bare Almond Butter, or other almond butter
Coconut flakes
Vegan mini chocolate chips (Enjoy Life brand is great!)
Instructions
Combine oats, milk, chia seeds, and almond extract in a tupperware or mason jar.
Place in fridge overnight to let the overnight oats form.
Add Barney Butter, coconut flakes, and chocolate chips.