I bet you are SO shocked that I am bringing you yet another gingerbread recipe. I just can't help it. It's the holiday season, all I want to do is bake, and all I want to bake is gingerbread cookies/cake/brownies/anything else you can make gingerbread.
Of course I was going to make you some vegan gingerbread cookies. You can't beat a classic.
It's scientifically proven that these cookies are 140% more delicious because they're shaped like little men and they have faces. Okay, maaaybe there's no actual scientific proof but from personal experience, I know this to be true. I mean, THEY ARE SMILING.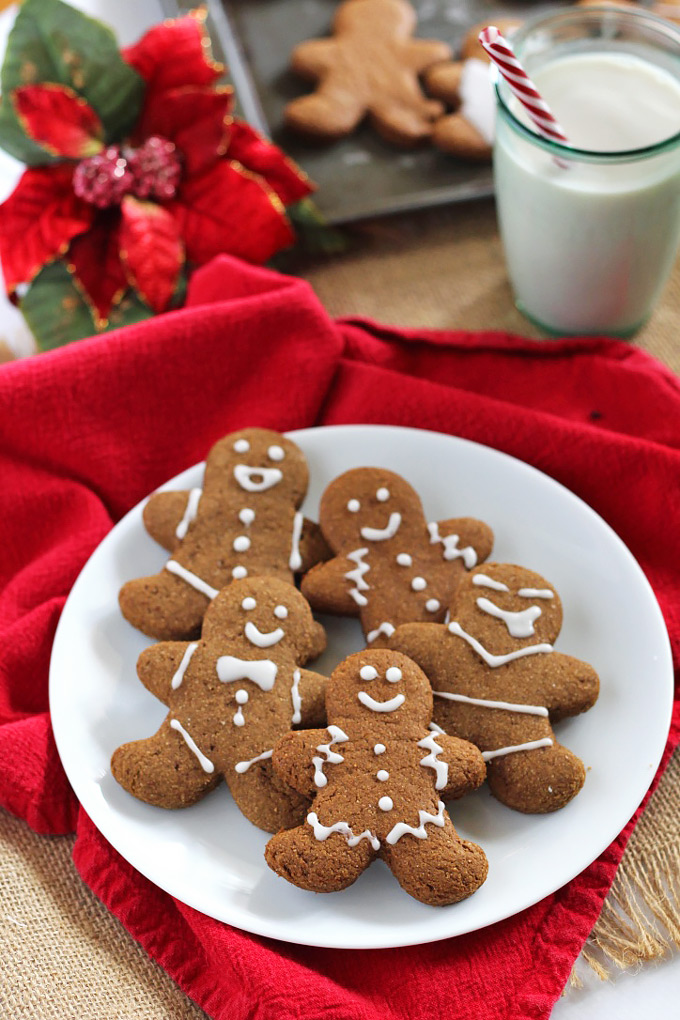 I'm on Christmas break right now, so I decided to drive a couple hours to visit my boss Laura, who I intern for. I love to come for a few days becauase: 1. I love her kids; 2. I get to do social media and blog stuff all day; 3. there's always a ton of food.
I give Laura a lot of credit for my blogging journey – she's taught me pretty much everything I know, from Pinterest analytics to dealing with brands to how to style a food shoot. Oh, and she helped me get Adele tickets today so I pretty much owe her my life.
While I visited these last couple days, Laura let me borrow one of her cameras to take this shoot. I'm obsessed with the camera! (She has this one, if you're curious.) Thanks for being the best boss ever, Mrs. MOMables?
Also a big thanks for letting me use your kids as hand models…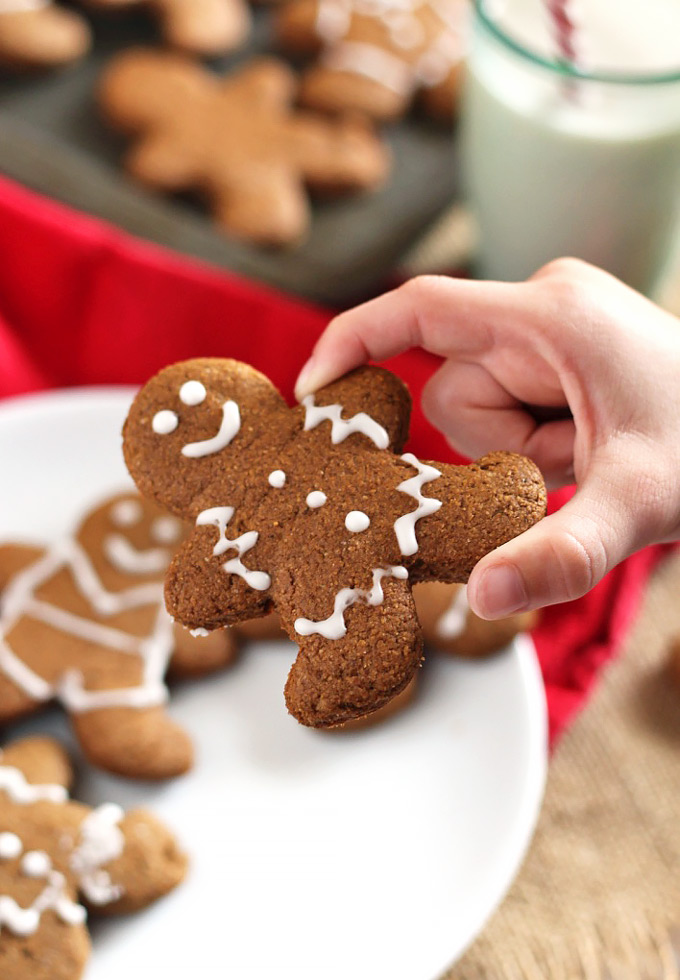 To make these a bit healthier than the packaged cookies, I used white whole wheat flour; you can also use whole wheat pastry flour, or maybe even spelt flour! Or unbleached all-purpose flour, if you're 'bout that life.
They're also stupid easy to make – beat wet ingredients, pour into dry, refrigerate overnight, cut little men (or normal rounds!), and bake to make your house smell like all the winter things. Easy as 1, 2, gingerbread.
Then you get to decorate! You can go the classic route like I did with a few, but then I started having a little fun. I tried putting a dress on one that ended up looking like gym shorts (top cookie), then I tried to make that middle guy an emoji. Eh, better luck next time?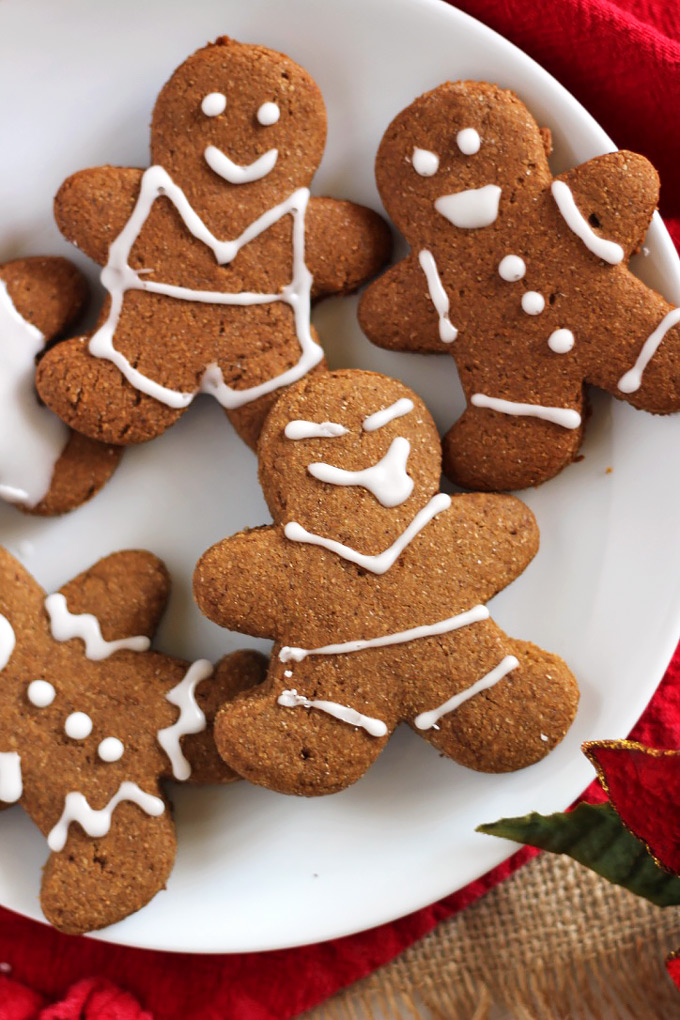 These cookies turned out just like I wanted them to – not super spicy, but just spicy enough to get that classic gingerbread flavor. With just the right amount of sweetness. But my number one requirement when it comes to gingerbread cookies is that they're not gingerbread crisps. Like, what? Who wants a thin, crispy cookie? If that's your type of cookie, come over to the dark side, where there's an abundance of thick, soft, fluffy cookies. You'll never go back.
The point is, these things are fluffayyyy. As if you're taking a bite into a magnificent gingerbread-flavored pillow. (<– Do they make that, and can I get one?)
Finally, let us all pause for a moment of silence to this poor little fellow who lost the battle against a hangry, gingerbread-lovin' gal. May he rest in Candyland peace.
Before…
After the tragedy…still smiling like the trooper he is.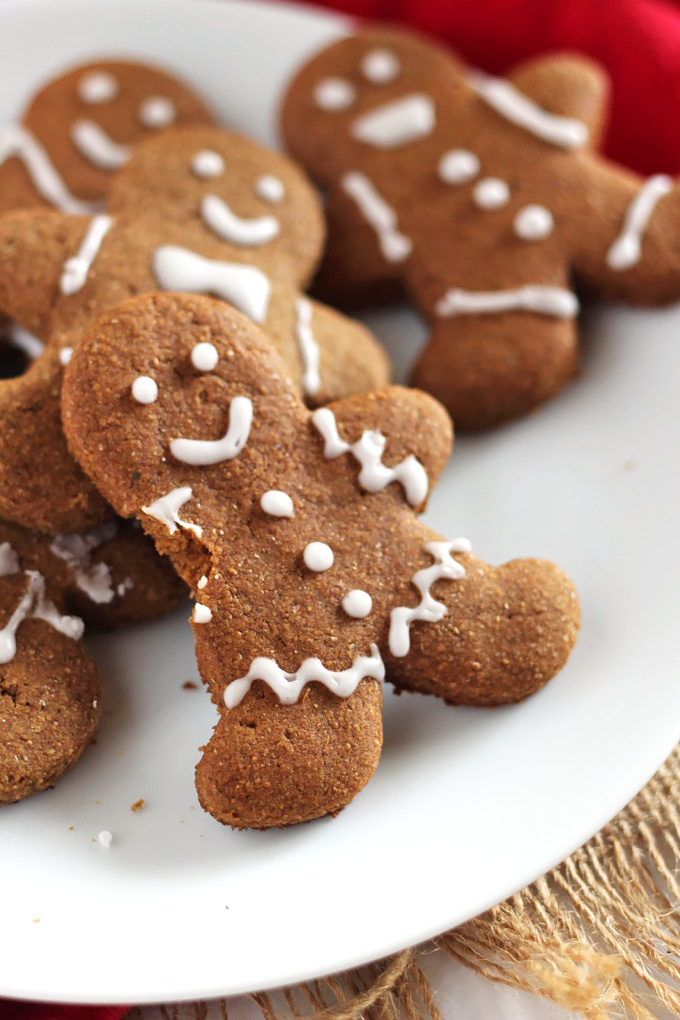 I think I'm getting too attached to these adorable little guys (and possible gals). They're just so stinkin' cute, I can't help it! It's like they're talking to me. "Eat me, eat me!"
Well, I guess I've freaked you out enough for now since I told you I think gingerbread cookies talk to me. Just, make the cookies. You'll love them.
Let me know in the comments or on Instagram if you try them! Make sure to tag me and add #emilieeats to your pic! Until next time, peeps <3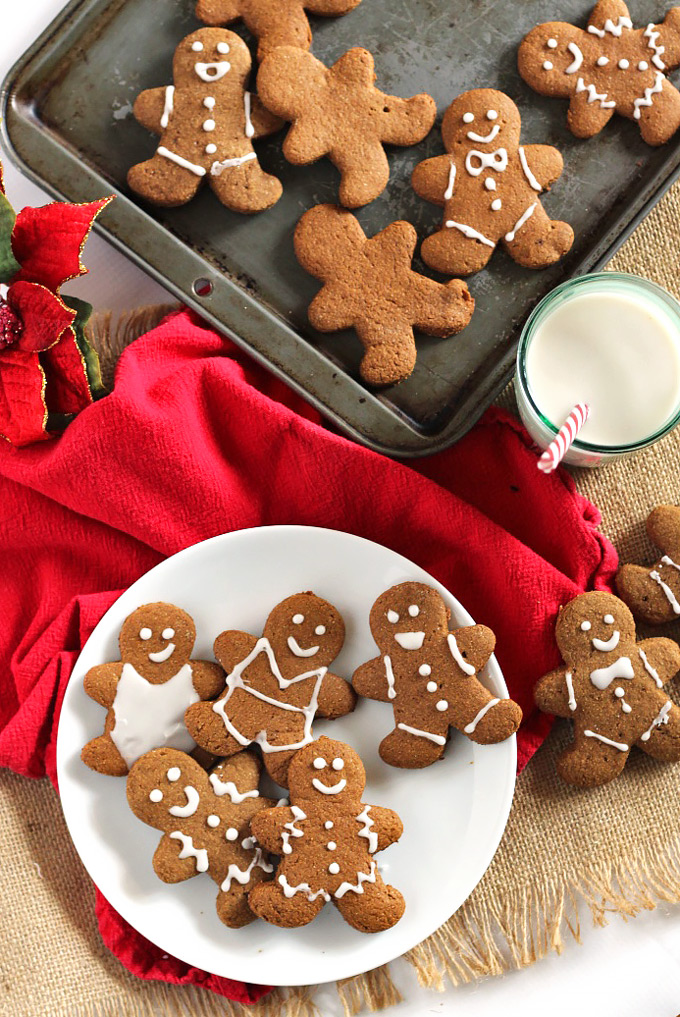 ---
In other exciting news besides gingerbread, I am part of an amazing blogging community called BGB (bloggers gonna blog) Community started by Georgie and Christina. I am so lucky to have found the community right when I started blogging, because I would not be here without the support of all the girls – and it wouldn't be as fun! I've met so many cool people who have the same interests and struggles as me when it comes to health, blogging, etc. I love getting to know them and reading their blogs!
Georgie and Christina decided to start a Secret Santa gift exchange this year, which is SUCH a great idea! I got chosen as Megan's Secret Santa – she blogs over at Eat Simple Love Yoga! I was so excited to be paired with her because I love her recipes and her dedication to health and wellness. I made her some gluten-free banana granola and a travel-inspired painting (I'm such a DIYer!), as well as some coconut chips, Larabars, a candle, and a mug! Hope you enjoy everything, Megan 🙂
My amazing Secret Santa was Brie from Lean, Clean, & Brie! She's an awesome blogger who blogs some delicious healthy recipes and great workouts! She's in college, so it was cool to get someone who understands the struggles of trying to stay healthy as a college student. That's what I love about BGB – it brings girls together who are around the same age and love the same things!
Brie got me some great hairbands and an adorable Owl Be Sweatin' headband! These will definitely come in handy during my group fitness classes that I love oh so much. She also MADE ME (!!!) a cute AF apron!! It's funny because I was JUST thinking of how cute an apron would be for cooking, and then I got her package! I love to give handmade gifts because I think it shows a lot of love, so receiving homemade gifts is heartwarming. Thanks so much Brie! It's already had it's fair share of time in the kitchen 😉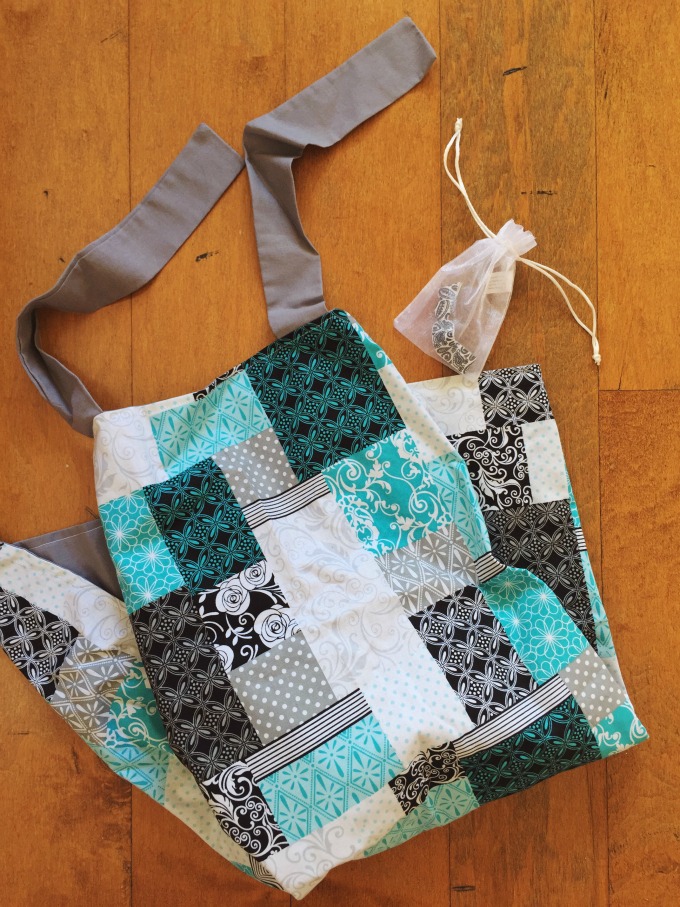 If you're a blogger and interested in joining the BGB Community, feel free to contact me! <333
Print
How to make:
Vegan Gingerbread Cookies
These adorable Vegan Gingerbread Cookies have that classic gingerbread spice and hint of sweetness, but they're whole wheat and made with real ingredients!
Ingredients
2 cups

white whole wheat flour

2 teaspoons

ground ginger

1 1/2 teaspoon

cinnamon

1 teaspoon

baking powder

1/2 teaspoon

cloves

1/2 teaspoon

baking soda

1/2 teaspoon

salt

1/2 cup

coconut sugar

1/4 cup

coconut oil, softened (not melted)

1/4 cup

molasses

1/4 cup

unsweetened applesauce

2 tablespoons

+

1 teaspoon

almond milk, or other non-dairy milk

1/3 cup

vegan powdered sugar
Instructions
In a large bowl, add flour, ginger, cinnamon, baking powder, cloves, baking soda, and salt. Stir to combine; set aside.
In a medium bowl, add sugar and oil. Use an electric beater to beat the mixture until fully combined. If you don't have an electric beater, whisk the mixture for 1 to 2 minutes until combined.
Add molasses, applesauce, and 2 tablespoons milk to the bowl; continue to beat or whisk until fully combined.
Pour the wet ingredients into the large bowl. Stir until a dough forms, adding a little flour at a time if it's too sticky. Don't add too much flour.
Lightly flour a flat surface. Pour the dough onto the surface and knead a few times, until the dough ball is smooth.
Wrap the dough in plastic wrap; refrigerate overnight, or for least 2 to 4 hours.
Preheat the oven to 350F.
Lightly flour a flat surface. Knead the dough a couple times, then use a rolling pin to roll the dough out to about 1/4 inch thick. Use cookie cutters to cut the dough (or you can roll the dough into balls and flatten slightly for round cookies). Roll the leftover dough into another ball; repeat the rolling and cutting steps until all dough is used.
Place the cookies on an ungreased baking sheet. Bake for 14 to 16 minutes.
In a small bowl, add powdered sugar and 1 teaspoon milk. Whisk to combine. Pour into a piping bag, or zip bag with a corner cut off.
When the cookies are cooled, decorate the cookies however you want with the icing. Enjoy!
Craving some more gingerbread? Me too. Here some other recipes I love:
Homemade Gingerbread Almond Butter
Healthy Gingerbread Energy Balls from In It For the Long Run
Vegan Apple & Gingerbread Baked Oatmeal from Diary of an Ex-Sloth
Vegan Gingerbread Cupcakes from It Doesn't Taste Like Chicken