Why hello there!!! I feel like I haven't talked to you in forever since I decided not to post anything on Christmas. I mean, who was reading blogs instead of stuffing their face with a million gingerbread cookies? Not I!
I'm coming back strong with THESE ?Mexican Stuffed Avocado? drizzled with some Buffalo Tahini Sauce that's basically a fiesta in your mouth? Let's ring in 2016 with these festive avocados 'cause why not? *cue Lizzie McGuire soundtrack*
What are your plans for New Years? Are you still hanging out with your fam or traveling around? Going to a party? Snuggling with your cat? Ok.
My boyfriend and I are (wait for it) just going to stay in, probably watch a movie, and munch on some goodies courtesy of me. I know, we are exciting. I promise we do fun things, but c'mon – how do you beat movie night with fresh baked banana bread? Yeah, that's what I thought.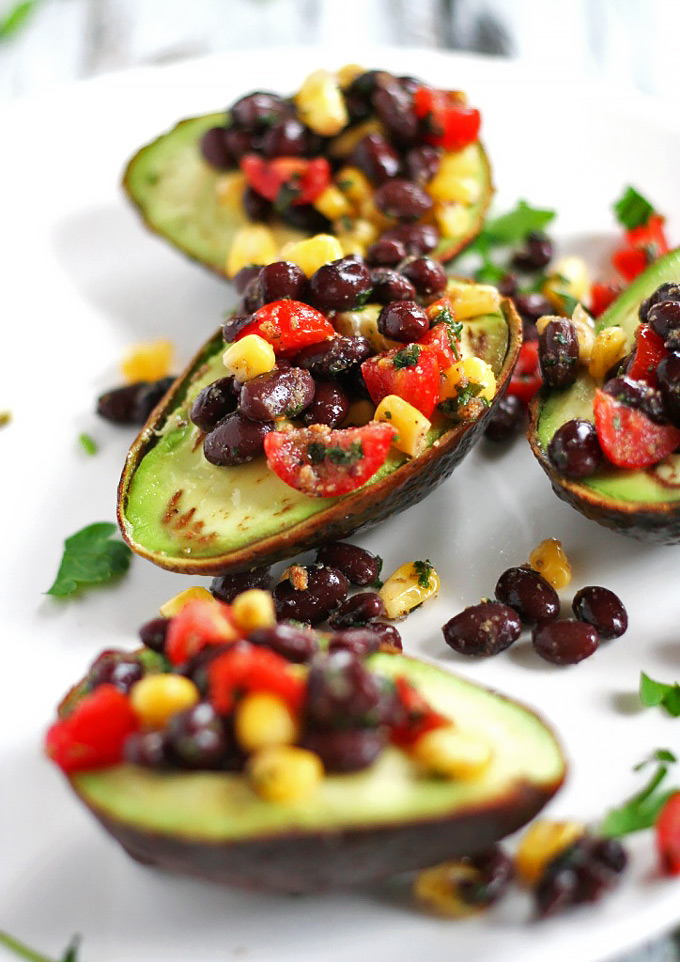 I'm still in shock that 2015 has come and gone. Does it not feel like you blinked and now we're at the end of December? It doesn't help that it's literally 80 degrees down here so it still feels like an eternal summer. But alas, friends, we only have a short time left in 2015, so you better hold on tight.
SO much happened in 2015. Hmm let's see…I continued freshman year, competed in another pageant, met my current boyfriend, got a bada$$ internship, travelled to Chicago AND Hawaii, quit a job I hated, started a blog, began my sophomore year, watched the blog grow more than I could've imagined, road tripped to Dallas, and got promoted to social media manager. Whew, what a year.
I am beyond thankful for everything that happened in 2015, but most importantly I'm thankful for the relationships I've formed and strengthened – with myself, family, friends, fellow bloggers (shoutout #BGBcommunity), and YOU, my lovely readers. Ugh, I wish I could hug all of you. You have made 2015 more amazing than I could've ever imagined, and I can't wait to take on 2016 with you!
Okay Emilie, stop getting sappy and start talking about these avocados. Would you just look at them? What beauties. (I can't take all the credit – shoutout to my awesome boss for the new camera lens!)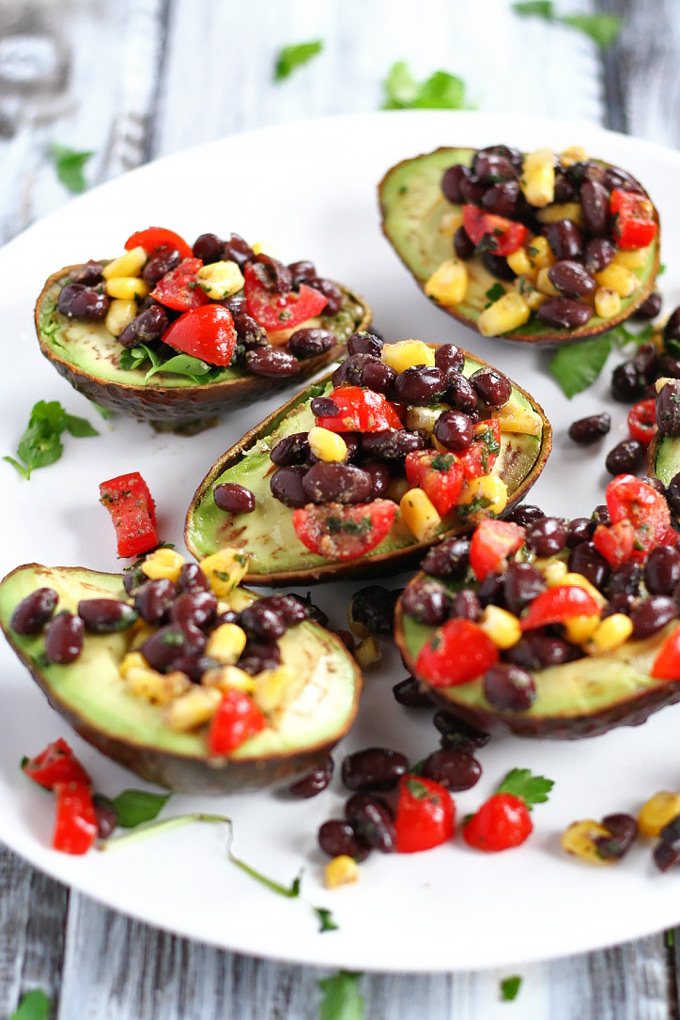 While I'm not planning on attending any New Years party, if I WAS going, I'd definitely bring these showstoppers. They're easy to make and use only a handful of ingredients. Plus, they're probably healthier than any other appetizer you'll find on New Years, so you can keep your "eat healthy" resolution as you're ringing in 2016?
Grilling the avocados is optional, but it really does bring out a great smoky flavor! Other than that, it's just mixing the stuffing, topping the avocados, and then drizzling that sauce! Mmmm, the sauce. It's perfectly spicy to give your 'cados some kick.
People love their 'cados. So help them start off 2016 right with some stuffed 'cados. You can't go wrong.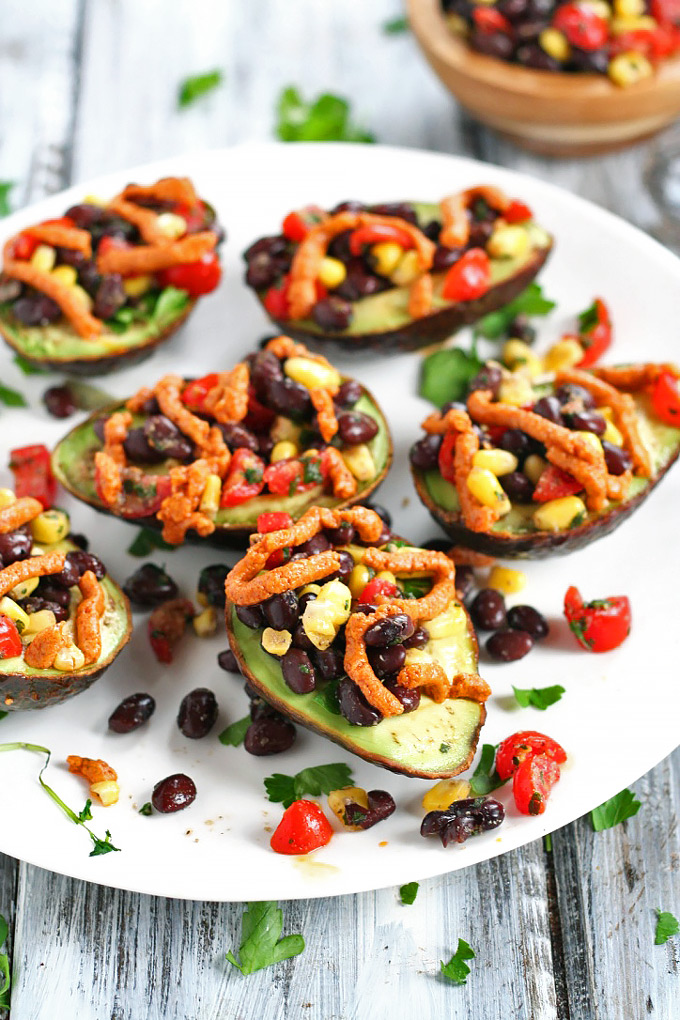 If you're going to a New Years party, please be safe! (Okay sorry, that's just my internal 30-year-old mom talking.)
Let me know if you bring some Mexican Stuffed Avocado to a fancy schmancy gathering (or a couch party at your place)! I know they'll be a hit.
Let's all raise our 'cados to 2015! You did us well, friend!?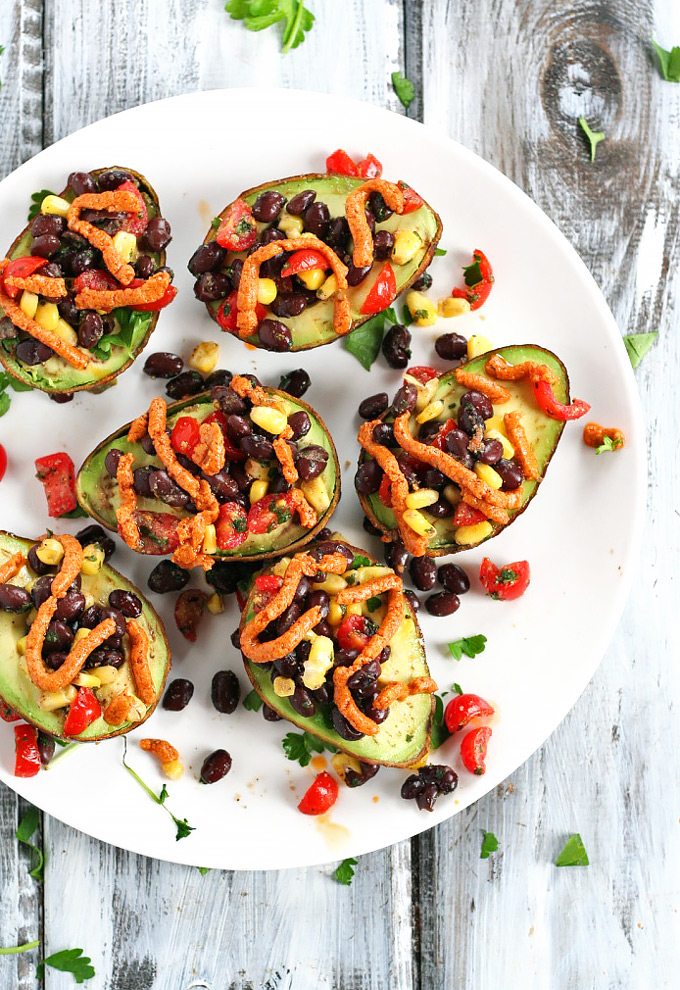 One more thing before you go! My friends Erika and Jessica over at Urban Alchemy are hosting a two-week whole foods, plant-based cleanse starting January 4, and they're offering my readers (aka YOU!) $30 off with code emilieeats. They're two serious #girlbosses who work as health coaches to reconnect people to their mind and bodies through nourishing food.
Don't worry, it's not a juice cleanse or one of those weird things where you only eat grapefruit or cabbage. You'll be eating satisfying meals, including my chickpea pancakes which I love oh so much. So if you're feeling really blah after all the holiday indulging and need a kick in the right direction, head over to Urban Alchemy for this awesome cleanse!
Now, back to your regularly scheduled avocados 🙂
Print
How to make:
Mexican Stuffed Avocado with Buffalo Tahini Sauce
Looking for a healthy party appetizer? This Mexican Stuffed Avocado with Buffalo Tahini Sauce recipe is the perfect one to cook for any gathering.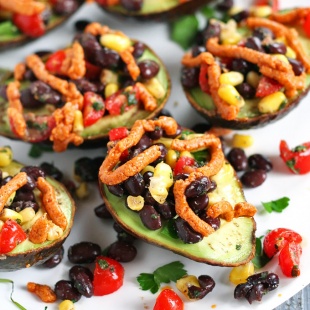 Ingredients
4

avocados, halved and pitted

1 cup

black beans, rinsed and drained

1/2 cup

corn kernels (preferably organic)

1/2 cup

tomatoes, chopped

1 tablespoon

fresh cilantro, chopped, plus more for garnish

1/2 teaspoon

cumin

1/2 teaspoon

chili powder

3/4 teaspoon

salt, divided

1/2 teaspoon

onion powder, divided

1/2 teaspoon

garlic powder, divided

1/4

+

1/8 teaspoon

black pepper, divided

1 tablespoon

tahini

1 teaspoon

olive oil

1 teaspoon

water

1 teaspoon

hot sauce

1/2 teaspoon

paprika
Instructions
(Optional) Heat up grill. Place avocados flesh side down on grill and cook for about 2 minutes. Transfer to a plate.
In a medium bowl, combine black beans, corn, tomatoes, cilantro, cumin, chili powder, 1/2 teaspoon salt, 1/4 teaspoon onion powder, 1/4 teaspoon garlic powder, and 1/4 teaspoon pepper. Mix until combine.
Spoon mixture into the cavity of each avocado.
In a small bowl, place tahini, olive oil, water, hot sauce, paprika, 1/4 teaspoon salt, 1/4 teaspoon onion powder, 1/4 teaspoon garlic powder, and 1/8 teaspoon black pepper. Mix until smooth.
Transfer the tahini mixture into a squeeze bottle or zip bag with a corner snipped off. Drizzle the sauce over each avocado.
Garnish with extra cilantro, if desired.