College.
It can be a time of  knowledge, curiosity, hard work, and self-discovery. It can also be a time of bottomless coffees, late nights at the library, binging on pizza, and bad habits.
But you CAN be healthy in college! Sure, we're all going to have those days (weeks? months?) when we don't work out or when we just want brownies for dinner. That's totally fine! But this is also a great time to create healthy habits that we'll carry with us for the rest of our lives, so trying to be as healthy as possible in body & mind is amazing. Plus, you'll be more productive, do better in your classes, and feel so much better. Time to take on college like a CHAMP!🏆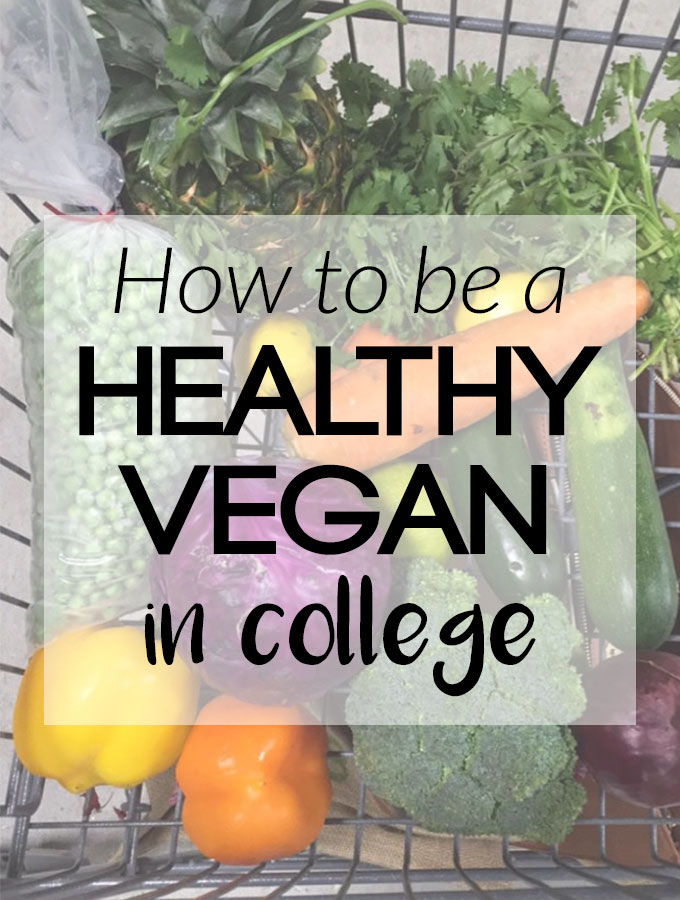 Being a vegan in college may seem like an impossible feat, but alas, friends, it can be done! With a little knowledge and lots of room in your mini fridge, you can keep up your healthy lifestyle even if you're living in a dorm or tiny apartment. Even though these tips are how to be a healthy vegan in college, they're really useful for anyone looking to eat and live healthier in college. everyone can benefit from more whole plant foods and being active!
As a FREE BONUS (!!!), I'm sharing a healthy vegan grocery list at the end of the post with all the groceries and kitchen supplies you need to be successful in your healthy lifestyle in college! Everything on the list can even be made in the microwave in a dorm. Make sure to get your grocery shopping list at the end of the post!
[Tweet "Survive the dorm – how to be healthy & #vegan in college, plus a grocery list🍏"]
1. Shop at your local farmer's or produce markets when possible.
Not only will you be supporting local farmers and getting quality produce, you'll be saving lots of cash. Try to shop at the farmer's market every week and base your meals around what's in season. You'll be scoring fruits and vegetables for much less (about $1-$2 less per pound, for me) than a traditional grocery store. For items you can't buy at the farmer's market, though, find a grocery store around you with low prices, like Trader Joe's or ALDI.
My favorite fruits & vegetables to keep in a dorm are bananas, apples, oranges, dates, carrots, cucumbers, celery, spinach, and potatoes (here's how to cook them in the microwave!).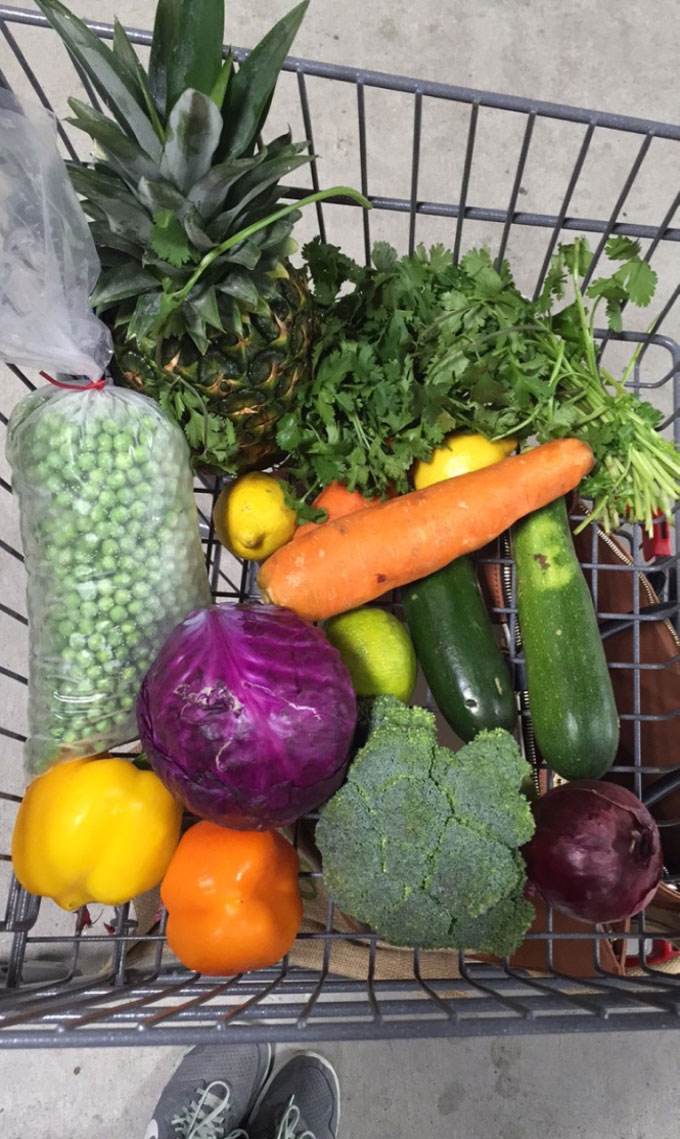 2. Load up on frozen fruits and vegetables, and the occasional frozen meal.
One problem eating in a dorm room could be getting in enough vegetables. It takes mere minutes to throw some frozen vegetables into the microwave. While it's not the most ideal or tastiest way to cook vegetables, it can be delicious mixed with some beans and grains for an easy meal. My favorites are frozen green beans, broccoli, edamame and green peas. Frozen fruit is also great to have for smoothies or mixing into oatmeal.
You may also want to keep a frozen meal or two on hand for hanger emergencies. I try to eat mostly whole foods, but there are times when you need something quick. Look for higher quality frozen meals, like Beyond Meat, Hilary's, some Sweet Earth meals, and some Amy's Kitchen meals.
3. Stock up on healthy non-perishables.
Canned beans are your BFF. Other healthy pantry foods to have on hand are oats, nuts, dried fruit, canned soup, cereal, granola, rice and quinoa. These foods virtually don't expire, are portable, and can be the base of an easy meal.
*Fun fact: I cleared out one of the drawers in my dorm to store food instead of clothes. If you're a hardcore foodie like me, you may want to try this. Or get some other storage. Whatever works.
4. Get your own mini fridge if you're in a dorm.
Don't even try sharing. I know many people share fridges with their roommates, but if you're trying to eat a healthy, whole foods, plant-based diet, you'll want as much fridge space as you can get. You'll need the room for fresh fruits and vegetables, frozen food, and foods you can bulk cook. Which leads me to #5…
5. Use your dorm kitchen to bulk prep food.
I'm pretty sure I'm the only person who ever used the kitchen in our residence hall, but there's no shame in my health game. If you're in an apartment with your own kitchen, you don't have to worry about this one. But if you're in a dorm like I was, use the kitchen to your advantage. I went down every Sunday and cooked staple foods like quinoa and roasted vegetables to have throughout the week. You'll thank yourself when you're just getting back to your dorm at 9:00 p.m. and you already have food cooked.
You can also use it to bake vegan cookies to share with everyone. 😊
6. Make a collection of recipes you can make, and make them often.
Meals like oatmeal, beans & rice, tempeh salad, and smoothies will become staples. When you find something online or think of something that you can make it your dorm, write it down. You'll always have that list to go back to when you're trying to think of what you can make with your limited resources.
Google and Pinterest are your best friends for finding healthy meals you can make in your dorm. PETA also has their Vegan College Cookbook on Amazon which is inexpensive. Here's some awesome vegan recipes you could make in a dorm: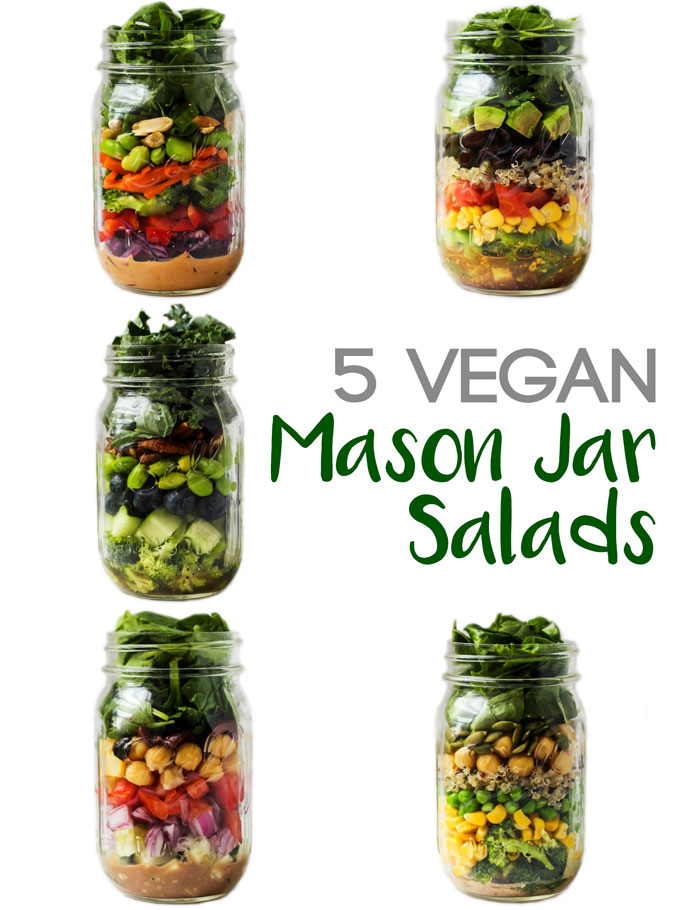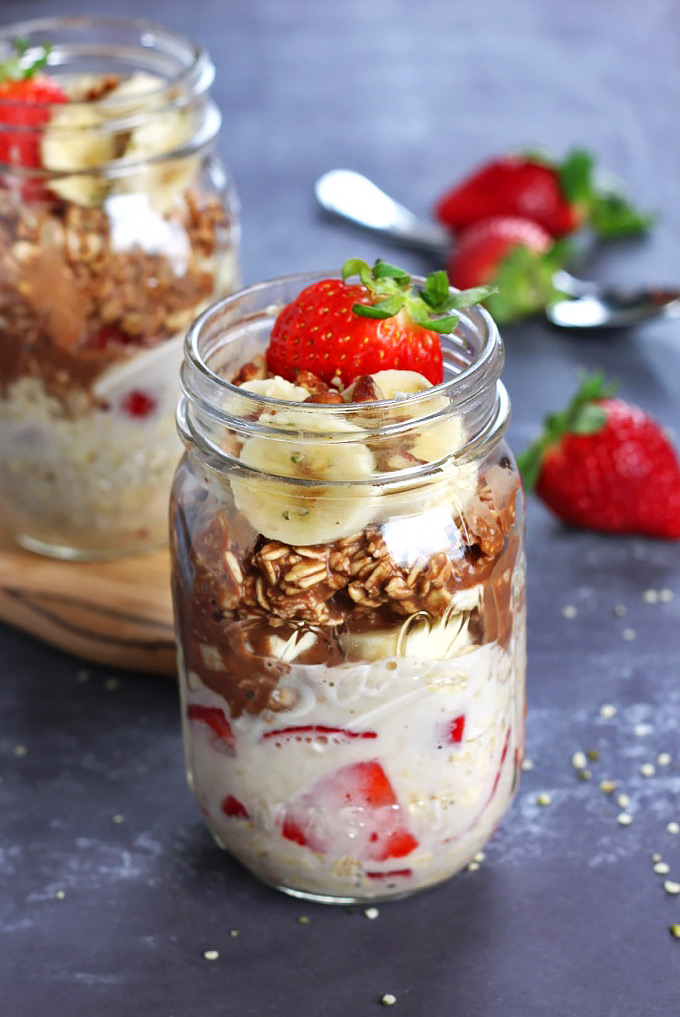 Oatmeal with fruit and nuts
Chia seed pudding
Avocado toast
7. Always pack snacks.
You will never find me out of the house without food. Whether it's fruits, vegetables & hummus, or a granola bar, I'm always ready for a hanger emergency. This is especially important during college – late nights at the library or long days of classes can leave you in a bind for healthy options. Always having something on hand to eat will give you energy to get through the day and the brainpower to kick ass in your classes. 💯
Fruit is the ultimate fast food – grabbing a banana or an apple is easy peasy. If you're out & about and need something to snack on, you find fruit at some coffee shops and other spots on campus. Some homemade trail mix or a granola bar are great options too! I love Squarebar, Clif Bar, Larabar, and Pure Organic.
8. Stay hydrated!
Water, water, water. All day errrrrrry day. But please, I beg of you, don't buy plastic water bottles all the time. I had a Brita water filter pitcher in my dorm, which was super helpful for having clean water without all that plastic. Carry a reusable water bottle on campus and fill it up at water fountains.
9. Get to know on-campus eating spots.
I went to the same salad shop every day for lunch because I knew I could make my own salad that would fill me up and was cheap. Do some research on what's available on your campus and what vegan options they offer. If you are eating in the dining hall, load up on all the veggies at the salad bar. Depending on your school, you may or may not have vegan-friendly hot bar options, but watch out for super greasy, processed foods. You could also check to see if they offer foods like plain brown rice to amp up your salad.
I also stole fruit from the dining hall, but I'm pretty sure this isn't recommended. But I'm just sayin'… 
This also goes for off-campus restaurants. I love using Happy Cow to find vegan-friendly restaurants in my area – you may be surprised at the restaurants that have vegan options! Once you get to know where you can get a vegan meal, you can recommend these restaurants to your friends when they want to go out.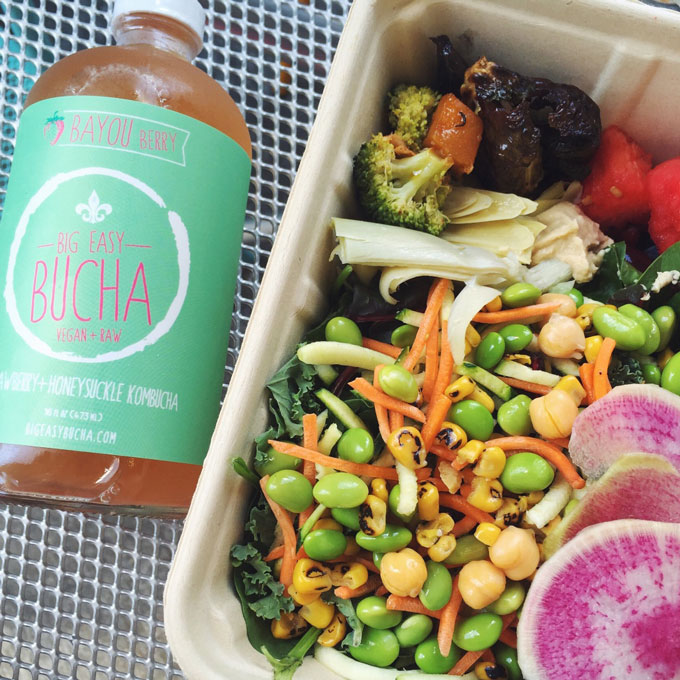 10. Don't be afraid to ask.
If you're wondering about vegan options in the dining hall or other food spots on campus, ask someone! Email the director of the dining halls, and I bet they'll be more than happy to accommodate you.
This also goes for ordering at restaurants. I am always that girl who has a million questions for the waiter about if they have vegan options, can they cook the vegetables without butter, etc. But I make sure to be respectful to the waiter! You don't want his/her first encounter with a vegan to be a negative experience. 😒
11. Find something active you love to do.
For me, staying on the elliptical for an hour a day just doesn't sound fun. The key to staying active and healthy is to find something that feels good for your body. One day it may be yoga, one day it may be a run around the lake, another day it may be just taking a walk to enjoy the fresh air. Don't force yourself to do exercise you don't feel good doing – you won't be able to keep t up. Your school gym (if you have one) is a great place to explore new workouts and group classes. Oh, and walk or bike around your campus as much as you can!
As Elle Woods says, exercise produces endorphins, and endorphins make you happy. 😊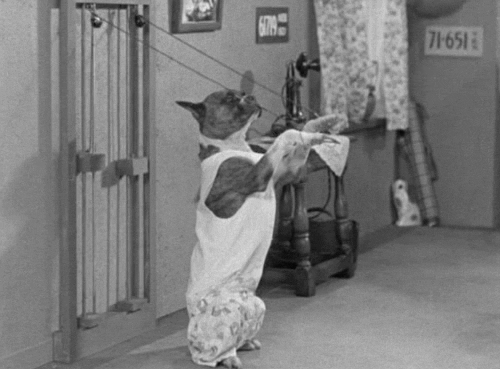 12. Connect!
Look for groups on campus or in your area that are dedicated to a plant-based vegan lifestyle, reducing animal suffering, or restoring the environment. I'm a member of several Facebook groups that have hundreds of vegans/vegetarians in the area who share restaurant recommendations and meet-up info. My friend Elizabeth actually started a Plant-Based Society on our campus, so that's cool to be a part of!
Connecting with people who share your interests is a great way to make friends and memories while you're in college. Have a movie night where you watch a documentary, or go out for vegan pizza and ice cream.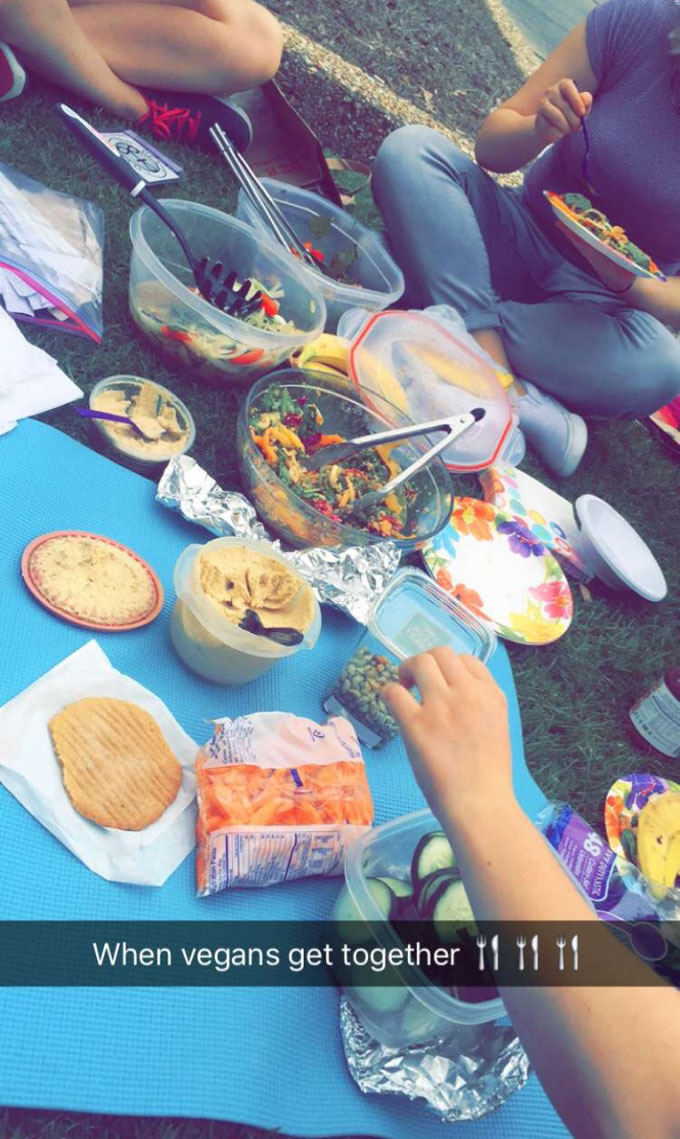 13. Remember that this won't last forever.
If you're in a dorm and feeling frustrated with your kitchen situation, I feel ya. I couldn't WAIT to have a full kitchen – I had a Pinterest board of everything I wanted to cook once I was able to move into an apartment. The good thing is, living in a dorm with limited cooking resources won't last forever, whether you're in there for only one year or the full four years. There will come a time when you'll have an oven and stove and food processor and can make all the yummy vegan food you want!!! Just be patient, grasshopper.
14. Take care of yourself. <3
I know I focused a lot on your physical health, but your mental health is just as (if not, more) important than that. College is a tough time, especially if it's your first year. You're finally on your own, and you have a million assignments and to-dos and responsibilities on your plate. On top of that, you're at a time in your life when you're really discovering who you are as a person and what you want out of life. WHOA. That's a lot.
I've been trying to incorporate more pleasure and things that make me happy into my daily life. Practicing self-care and self-love is necessary – before you can fill anyone else's cup, you have to fill your own. I try to make time every day to do something enjoyable, like painting or reading or just binging Netflix shows.
Also, don't be too hard on yourself when you screw something up. It happens. It's college. Be compassionate with yourself, learn from it, and do better next time!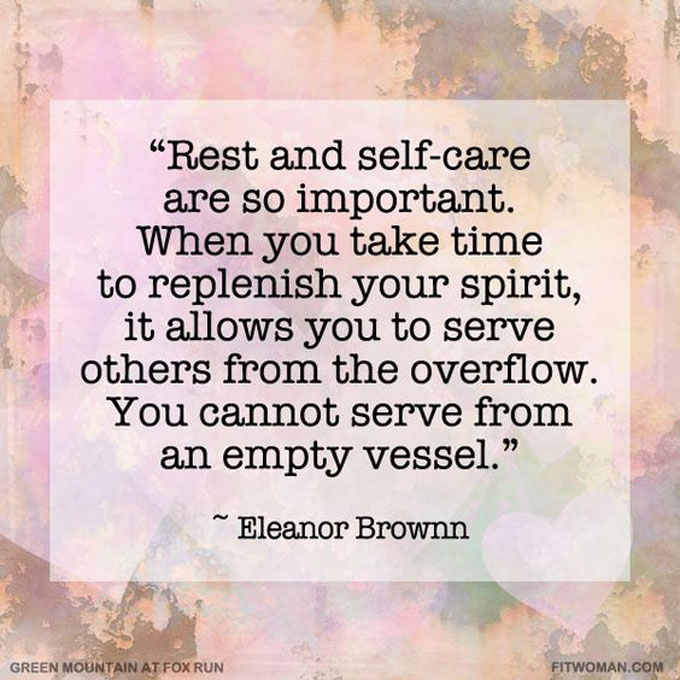 ---
As a special bonus to make your life EVEN easier in college (because I know how real the struggle can be), I created the ultimate guide to grocery shopping for a dorm room! You could even use this list if you're in an apartment with a kitchen. Everything can be prepared with just a microwave, and you'll be able to create fresh, healthy meals even with limited resources.
The grocery shopping list covers everything from produce to beans & grains to refrigerated items, as well as a kitchen supplies list that has all the essentials you'll need to survive a dorm room.
All you have to do is CLICK HERE or on the picture below to get your free healthy vegan dorm room grocery shopping list! I hope you enjoyed all of these healthy living tips for college, and I really hope the grocery shopping list comes in handy. Let me know if you use it!