Repeat after me, friends: Salads are not boring. Salads are not boring.
Now that we have that out of the way, on to these super easy, adorable, easily packable mason jar salad recipes! Hooray!
I feel like salads are the stereotypical meal of vegans, or really anyone who tries to eat healthy. People be hatin' on salads, calling them boring and tasteless and gross. Well, I don't know what kind of traumatizing salad experiences those people have had in the past, but we're moving on to good days of loaded salads with lots of nutritious ingredients and, most importantly, FLAVOR. I try to have a big salad for one meal a day; I make it by literally adding every vegetable I have in the fridge, drizzling on some dressing and eating it out of the biggest bowl I have. THAT'S how you do salads. 🌱
As great as it is to lounge around with a huge bowl of salad, we don't always have the luxury of having a calm, relaxing meal at home. Most of us are go go go all the time, whether it be for work, school or whatever else you have going on. Enter: mason jar salads! First off, who doesn't love mason jars? They're cute AF. Second, you can prep a few at the beginning of the week and not have to worry about lunch one bit during the week. Just grab and go go go!
I'm sharing 5 deeeeelicious mason jar salad recipes for you today: Crunchy Asian Salad, Mexican Black Bean Salad, Fruity Kale Salad, Greek Chickpea Salad and Protein-Packed Quinoa Salad. There's something for everyone to love! Now, these really aren't legit recipes – more just the ingredients you'll need and how to layer them. It's up to you how much you want of each ingredient (or really, how much you can stuff in the jar). But I do provide the measurements for the dressings for one serving. The most important thing to remember is dressing first, then tougher veggies, soft veggies, protein, extras, then greens!
[Tweet "Need some lunch-packing inspo? These 5 vegan mason jar salads will transform your lunch routine!"]
We're dispelling two rumors in this post: 1. that salad is boring, and 2. that packing lunch is hard. Nope, not with these mason jar salads! You'll be eating lots of nutritious vegetables and fruits in an adorable little jar that took you approximately 5 minutes to arrange. BOOM. You go head, lunch champ.
Let me know if you try any of these mason jar salad recipes! Take a pic for Instagram and tag me @emilieeats & #emilieeats. I hope these help you make lunch easier & a lot more fun!
1. Crunchy Asian Salad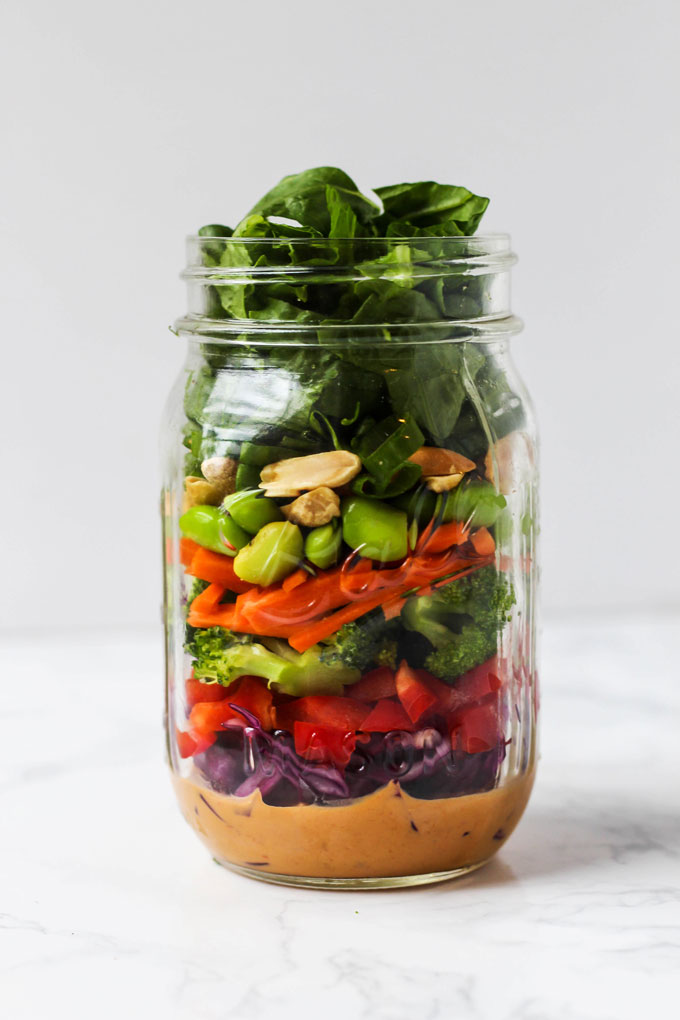 For the dressing: 1 tablespoon peanut butter + 1 tablespoon organic soy sauce + 1/2 teaspoon Sriracha hot sauce
For the salad:

Shredded cabbage
Diced red bell pepper
Chopped broccoli florets
Shredded carrots
Shelled edamame
Chopped peanuts
Sliced green onions
Romaine lettuce
2. Mexican Black Bean Salad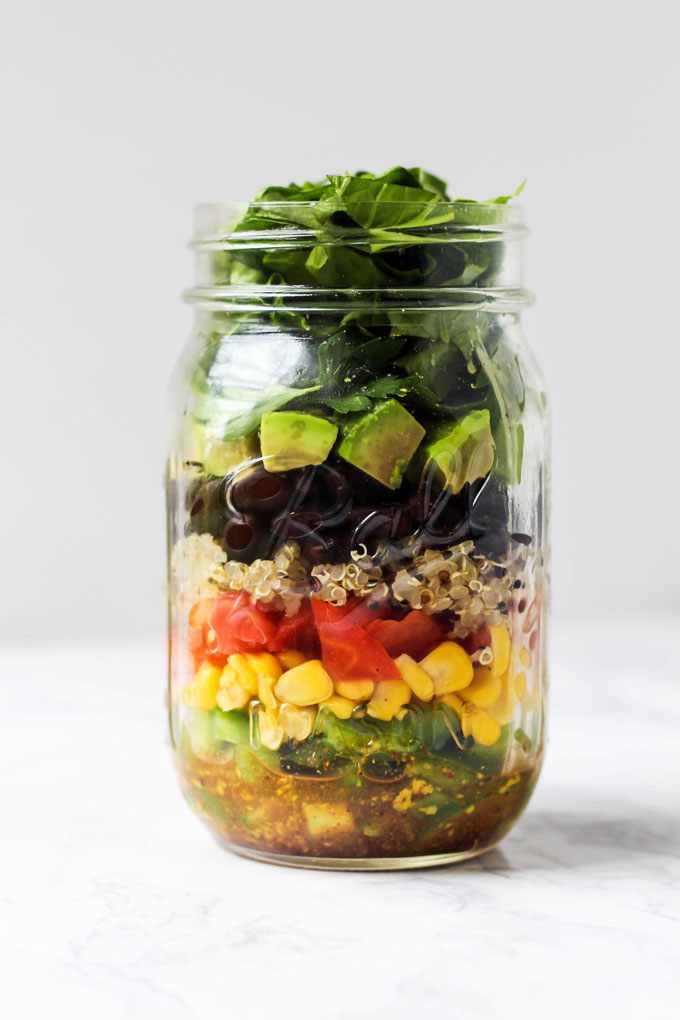 For the dressing: 2 tablespoons salsa + 1/2 teaspoon chili powder + 1/4 teaspoon cumin
For the salad:

Diced green bell pepper
Corn kernels
Chopped tomatoes
Quinoa
Black Beans
Chopped avocado
Spinach
3. Fruity Kale Salad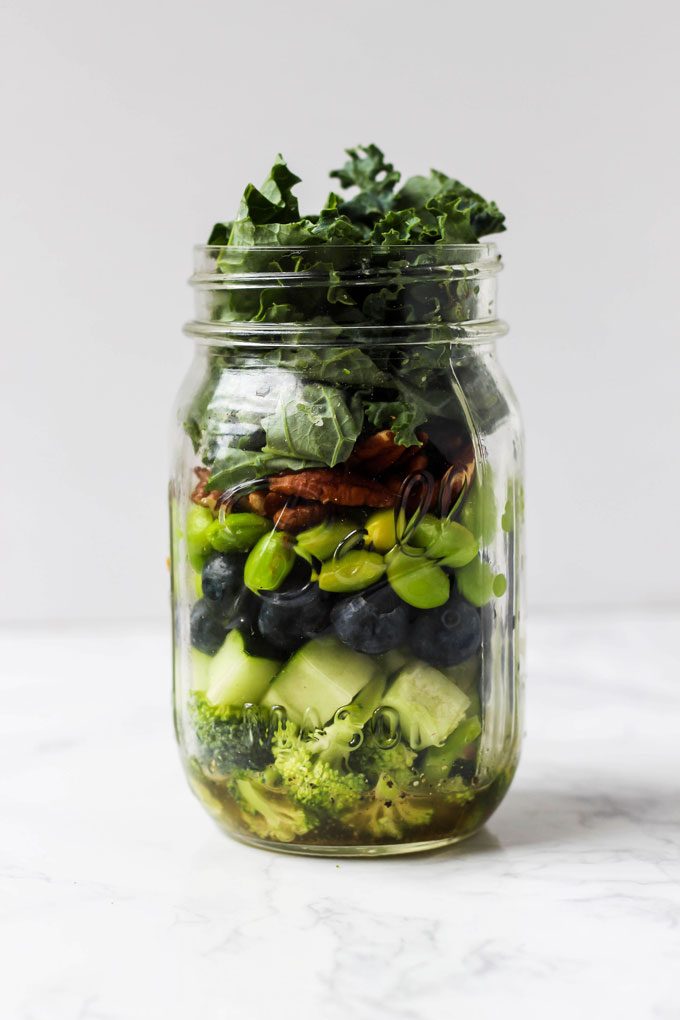 For the dressing: 1 tablespoon lime juice + 2 teaspoons maple syrup + 1/4 teaspoon salt
For the salad:

Chopped broccoli florets
Chopped cucumbers
Blueberries
Shelled edamame
Chopped pecans
Kale
4. Greek Chickpea Salad
For the dressing: 1 tablespoon hummus + 1 tablespoons balsamic vinegar
For the salad:

Chopped cucumbers
Diced red onion
Chopped tomatoes
Chickpeas
Chopped olives
Parsley
Spinach
5. Protein-Packed Quinoa Salad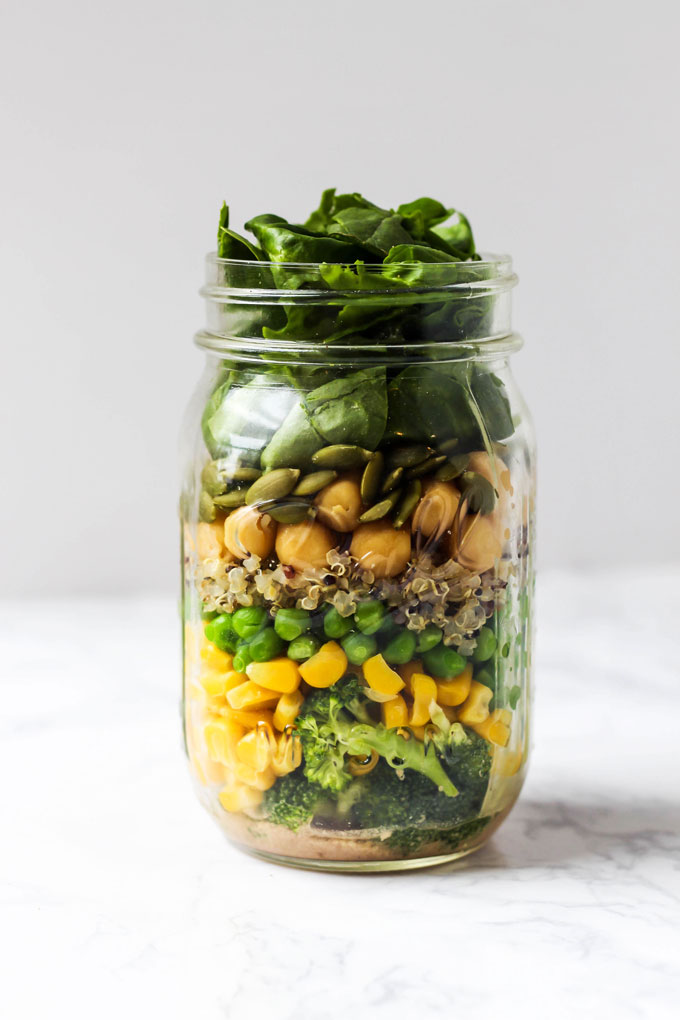 For the dressing: 1 tablespoon balsamic vinegar + 2 teaspoons tahini
For the salad:

Chopped broccoli florets
Corn kernels
Green peas
Quinoa
Chickpeas
Pumpkin seeds
Spinach
---
Liked these mason jar salad recipes? You'll love these easy recipes that are great for lunch-packing:
10 Healthy Vegan Lunches for Work (or School!)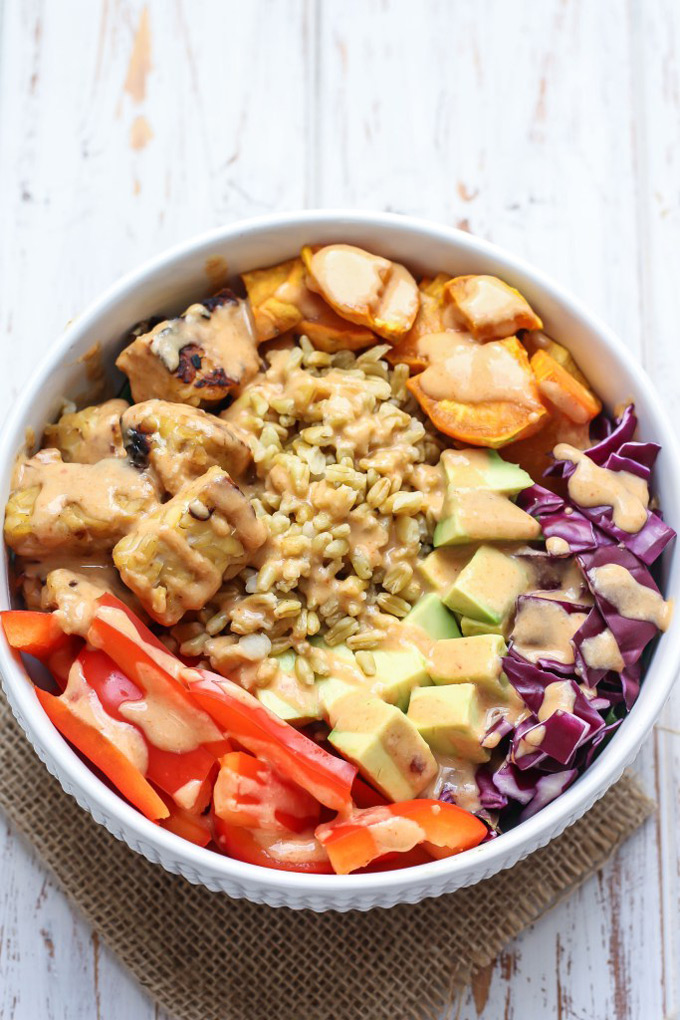 Strawberry Avocado Chickpea Salad Sandwich
5 Vegan Sandwiches from It Doesn't Taste Like Chicken