This post was sponsored by Simple Mills. I only work with brands whose products and missions I truly believe in. Thanks for supporting my blog!
What kind of snack person are you? Crunchy, creamy, sweet, salty? Personally, I've always been a savory over sweet kind of girl (Unless we're talking about fruit. Fruit > everything). Don't get me wrong, I love my chocolate Squarebars and sweet snacks every now and then, but I'm much more likely to reach for the hummus & carrots or salty crackers.
The exception? These vegan graham crackers. 👇🏼
Didn't we all love graham crackers when we were kids? It's definitely on the list of "childhood classics." My favorite way to eat graham crackers was in the crust of my MawMaw's chocolate pudding pies (which I gave a healthy makeover!).
Wait, I almost forgot about s'mores. How dare I! What's better than sitting around a fire on a cool night with good friends and a gooey, messy s'more made with sweet graham crackers? I remember so many nights as a Girl Scout – anyone else?? – when we went camping, ate s'mores, and made friendship bracelets. Can I go back to that??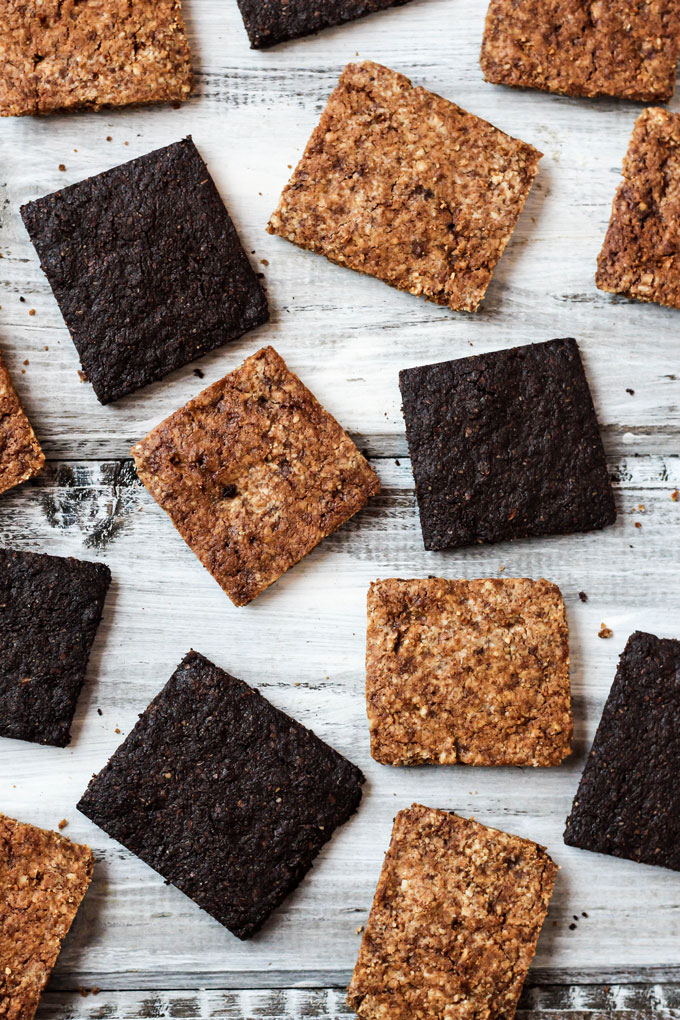 No matter if you enjoyed graham crackers in a pie crust, a s'more, or straight from the box, we all loved them. But I feel like we forgot about them. That kind of happens when you grow up – the things you loved, the things that made you happiest and were the most fun, the things that lit your soul on fire, we kind of forget about them. We put them aside for "adulting" and think we don't have time for them.
But we do have time. We have time for impromptu ice cream and movie nights with friends, painting art for your new apartment, breaking up the work day to take a walk outside, and crispy, sweet graham crackers we loved as kids.
Try doing something FUN that you used to love when you were younger – because you deserve to have fun. And, if you want, you can start by making these vegan graham crackers!
[Tweet "Crispy, sweet graham crackers like the ones you loved as a kid – but vegan & gluten/grain-free!"]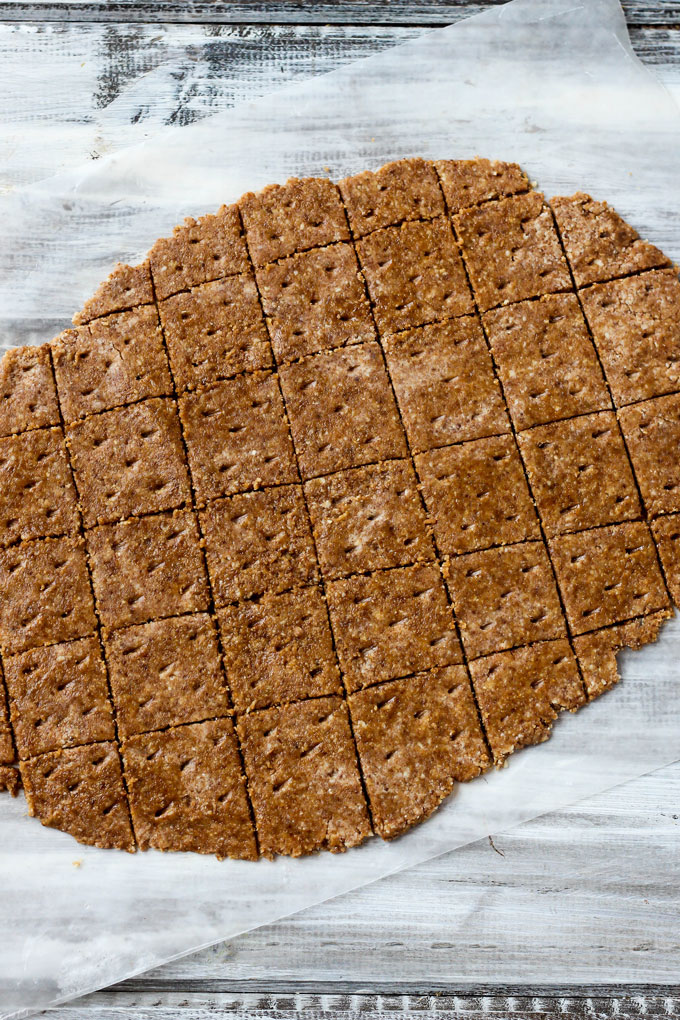 To make life super easy, we're making these crackers out of Simple Mills' cake mixes! If you haven't spotted them at your local Whole Foods or health store, you can get them online. Trust me, you'll want to grab a few boxes! All of their mixes are gluten-free, grain-free and vegan-friendly.
This recipe is simple and ready in under 30 minutes, which means you can get your snack on ASAP. All you have to do is mix, roll out, cut and bake. You could even make fun-shaped crackers if you have cookie cutters! Brb going order animal-shaped cutters to make these cutest darn graham crackers.
The great thing about this recipe is that it's a two-for-one. You can pick between vanilla and chocolate graham crackers, and the recipe is the same! I'm a vanilla girl at heart <3 but my boyfriend is a choco-holic, so we made both. Done and done.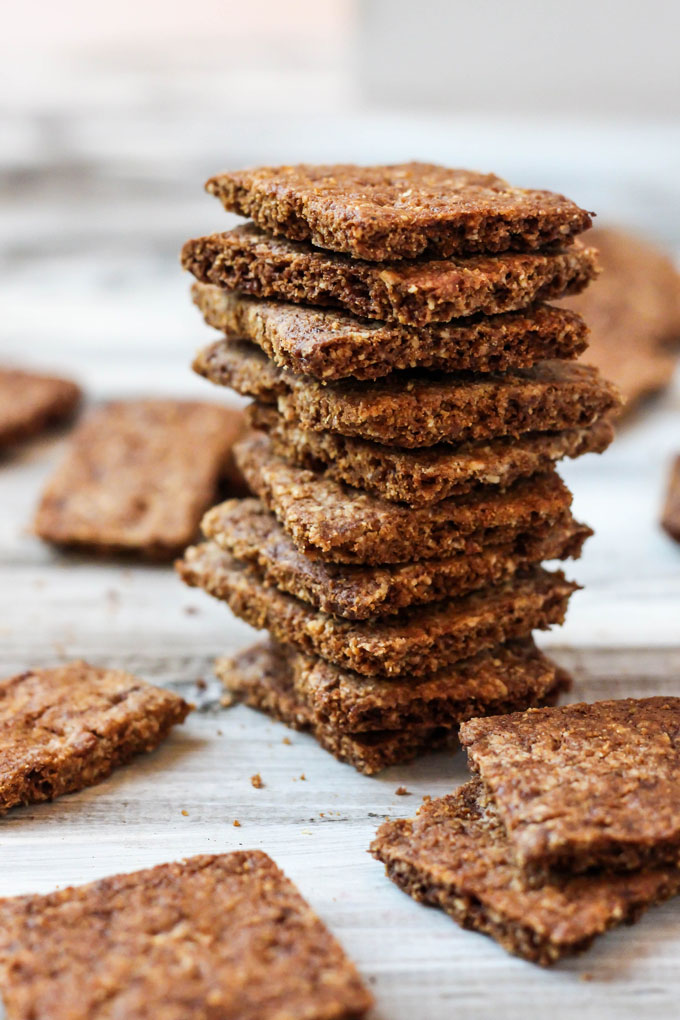 These are great for plain old snacking, but I'm also working on using them in a pie crust – stay tuned for that deliciousness!
If you get to try these out, let me know in the comments and post a pic on Instagram – tag @emilieeats & #emilieeats. Bonus points if you make a super messy s'more!
Tell me: What is something you enjoyed doing as a kid that you'd like to start doing again? For me, I'd love to get back into painting and art more. I want to hear about you!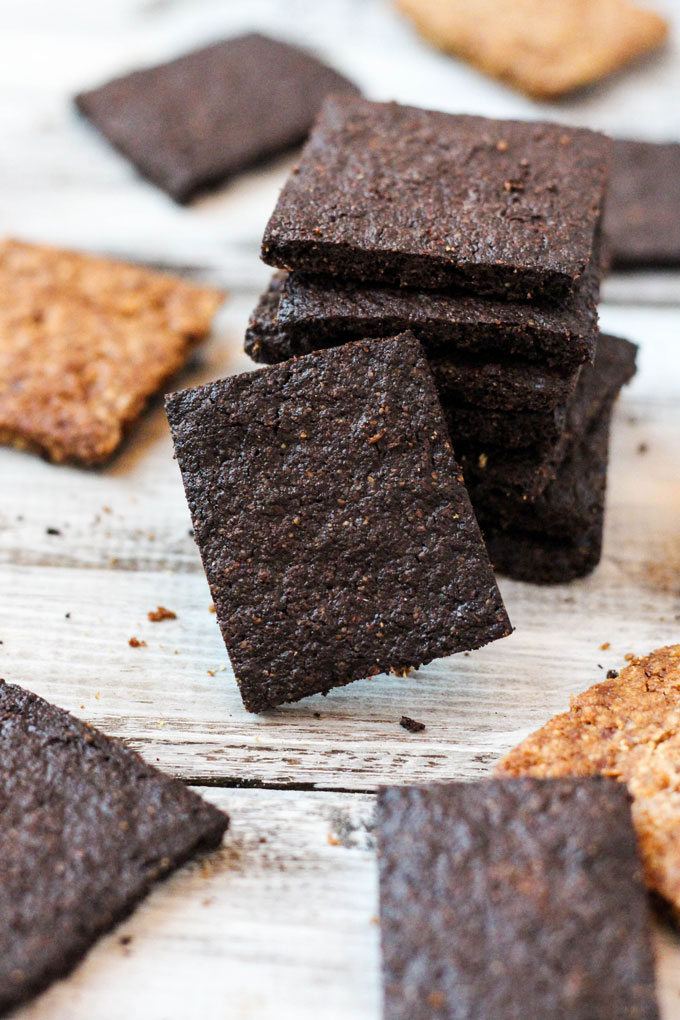 Print
How to make:
Vegan Graham Crackers (Vanilla & Chocolate!)
The classic snack just got a vegan & grain-free makeover! These vegan graham crackers are a great sweet snack between meals. Vanilla & chocolate recipes!

Ingredients
1

box Simple Mills Vanilla or Chocolate Cake Mix

1/4 cup

coconut oil, melted

1 tablespoon

non-dairy milk

2 teaspoons

vanilla extract

1/2 teaspoon

ground cinnamon
Instructions
Preheat oven to 350F. Lightly grease a baking sheet
In a large bowl, add cake mix, oil, milk, vanilla and cinnamon. Stir to combine until a dough forms.
Place a sheet of parchment paper on a flat surface and put the dough on it. Top the dough with another sheet of parchment paper. Using a rolling pin, roll the dough out until it is 1/4-inch thick. Remove the top layer of parchment paper.
Cut the dough into squares and poke holes, if desired. Transfer the crackers to the prepared baking sheet. You may need to bake them in two batches.
Bake for 13-15 minutes, until they are crispy. Let them cool for 10 minutes on the pan.
Thanks to Simple Mills for sponsoring this post! I love working with brands whose products I really love and would honestly recommend. Thank you for supporting this blog that I love oh-so-much so I can bring you delicious recipes!