If there are loved ones in your life who are health and wellness enthusiasts, check out this holiday gift guide to get them a meaningful gift they'll love! Of course you can also treat yourself to a few things, too. 😉
Hi everyone! I've never done a gift guide on the blog, but many of you requested it via Instagram poll, so I had to oblige by the people's requests. There's a first for everything!
This gift guide is perfect for that person in your life who loves to live a healthy lifestyle, enjoys cooking, buys environmentally-friendly products, and is committed to overall wellness! Or, it might be that person who wants to be into those things but needs a little bit of encouragement. Help 'em out and grab a gift from the list!
These are some of the products I use almost daily, from my insulated tumbler to an essential oil diffuser to my clutch purse! I prefer giving and receiving really meaningful gifts that I know I (or the person I'm buying for) will actually use instead of stuffing it in a closet. I know that these products will bring a lot of value to whoever you gift them to!
KITCHEN & FOOD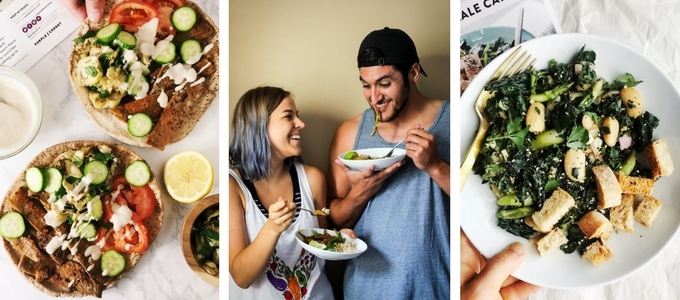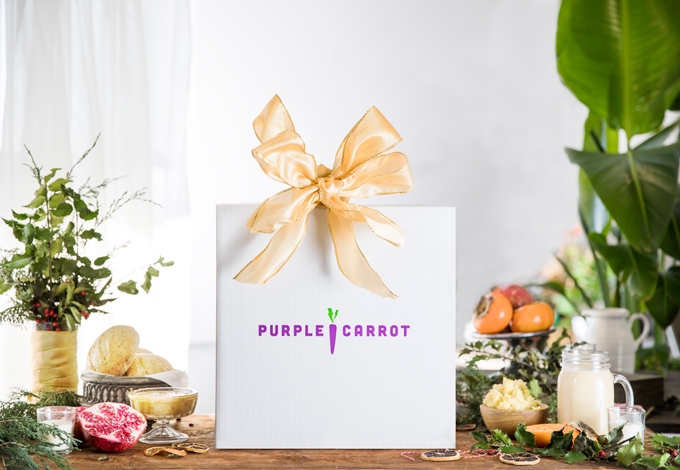 1. Purple Carrot.* The ultimate meal delivery service for plant-based eaters (or people who are plant-curious😉)! Here's how it works:
You choose how many people to cook for.
Purple Carrot will send a box (recyclable!) once a week with all the pre-measured ingredients you need for your meals. They use plant-based ingredients of the highest quality that are good for you and the environment!
You take about 30 minutes to an hour to cook a delicious meal, learning new cooking techniques and about different ingredients in the process.
I'm always impressed with the creativity of Purple Carrot's meals – Sweet Potato Lasagna with Tofu Ricotta, Malai Chickpea Dumplings, Seitan Gyros…all so delicious! I order the two-person box to split between me and Cayden, and even he has enjoyed the unique, globally-inspired meals I've cooked. A Purple Carrot box would be the perfect gift for someone who: 1. loves to cook or wants to learn how, 2. is busy but still wants to cook at home, and 3. loves plant-based meals or just wants to try them out! It's the gift that keeps on giving. 💜
Head to PurpleCarrot.com to order a box for your friend or family member, and order one for yourself while you're there!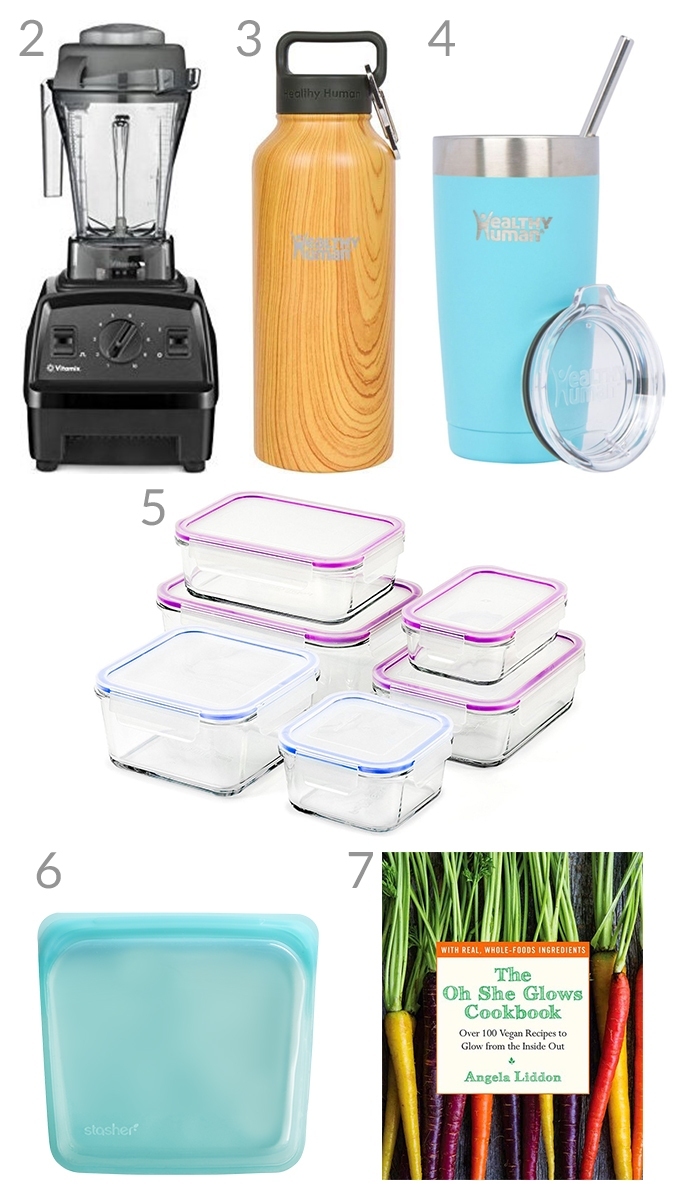 2. Vitamix E310 Explorian Blender* or Vitamix E320 Explorian Blender. Ever since I got my beloved Vitamix, I've been using it every single day. These two models are pretty affordable and will last for years!
3. Healthy Human Water Bottle.* A day does not pass when I don't fill this up 3-4 times per day. It keeps me hydrated during classes, at the gym, at home… it doesn't leave my side. I love the 32-ounce size!
4. Healthy Human Insulated Tumbler.* I use this every morning for my matcha! Perfect for coffee or tea lovers.
5. Glass Tupperware Set.* These are great for anyone who meal preps or cooks a lot! I store leftovers in these or pack them with an on-the-go lunch.
6. Stasher Bags.* If you have someone in your life who wants to reduce their plastic use, these Stasher Bags are great replacements for plastic ziplock bags! Great for packing lunch sandwiches, snacks, or fresh cut fruit & veggies.
7. The Oh She Glows Cookbook.* My favorite cookbook – and my first introduction to plant-based cooking! Great for anyone who's interested in plant-based cooking but still wants to eat really delicious food.
SELF-CARE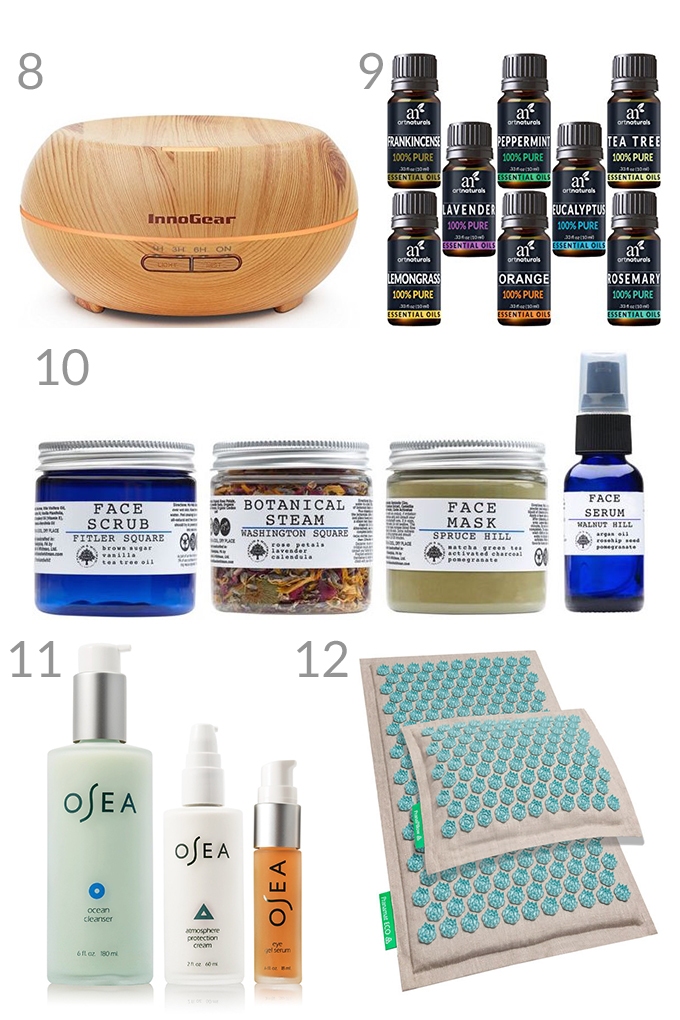 8. Essential Oil Diffuser.* I already have one of these, but another one is on my Christmas list for the living room. A great alternative to candles if your loved one is in a dorm or apartment!
9. Essential Oil Set.* Of course you need some oils to go with that diffuser. This set has all of the most popular essential oils so your loved one can try them all.
10. Franklin & Whitman.* Vegan & cruelty-free skin care and hair care. They also have products for men and pets! I especially love any of the masks (Queen Village is my fave!) and the dry shampoo. Their products contain fun ingredients like activated charcoal, raw cacao, turmeric and coffee. You can use code EMILIE for 20% off!
11. OSEA Malibu.* Totally vegan, cruelty-free & mostly organic skincare. If you have  oily skin like me, these products might work for you!
12. Pranamat.* Use code EMILIE10 for 10% off! A Pranamat is a great gift for anyone who needs to relax and relieve stress. It's like acupuncture any time you need it! Perfect for stressed AF college students.
OTHER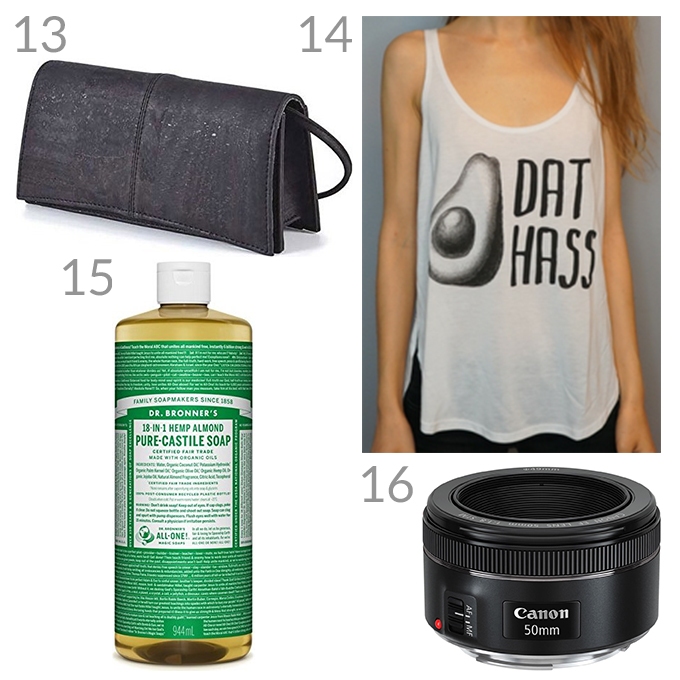 13. Eve Cork Crossbody Bag.* This is the perfect small purse for going out, taking to a sports game, and so much more. It's totally vegan, too!
14. Vegetaryn Clothing. Taryn designs the *cutest* vegan-inspired clothes for your veggie-loving family member! My favorite shirts are "Dat Hass" and "Lettuce Eat Plants."
15. Dr. Bronner's Castile Soap.* The ultimate natural cleaning product. You can pretty much clean your whole house with just this soap, so give this to your minimalist family member or friend. Get one for yourself, too!
16. Canon 50mm f/1.8 Lens.* For all the bloggers or wanna-be-bloggers in your life. I use this lens for absolutely every food photo on my blog; it's also great for portraits!
---
This post was sponsored by Purple Carrot, a service that I truly love and recommend. Thanks for supporting Emilie Eats!
A * indicates an affiliate link. This just means that I receive a little commission should you purchase a product through these links. This doesn't cost you more money, but it does support the work I do here at Emilie Eats!