A slice of this Vegan Pecan Pie is all you need this holiday season! The sweet, gooey pecan filling tops a flaky crust that is irresistible. A must-have!
I hope you have a napkin right next to you, because these pictures are about to make you DROOL. 👅
This year I really wanted to veganize some of my favorite Cajun dishes for the blog. Unfortunately I didn't get to any (oops), but I still have this vegan red beans & rice recipe that you guys go crazy for. That'll do for now!
I promise that next year, I'll try to give you some more Cajun-inspiring recipes: king cake, alfredo, gumbo. But for now, vegan pecan pie, plz!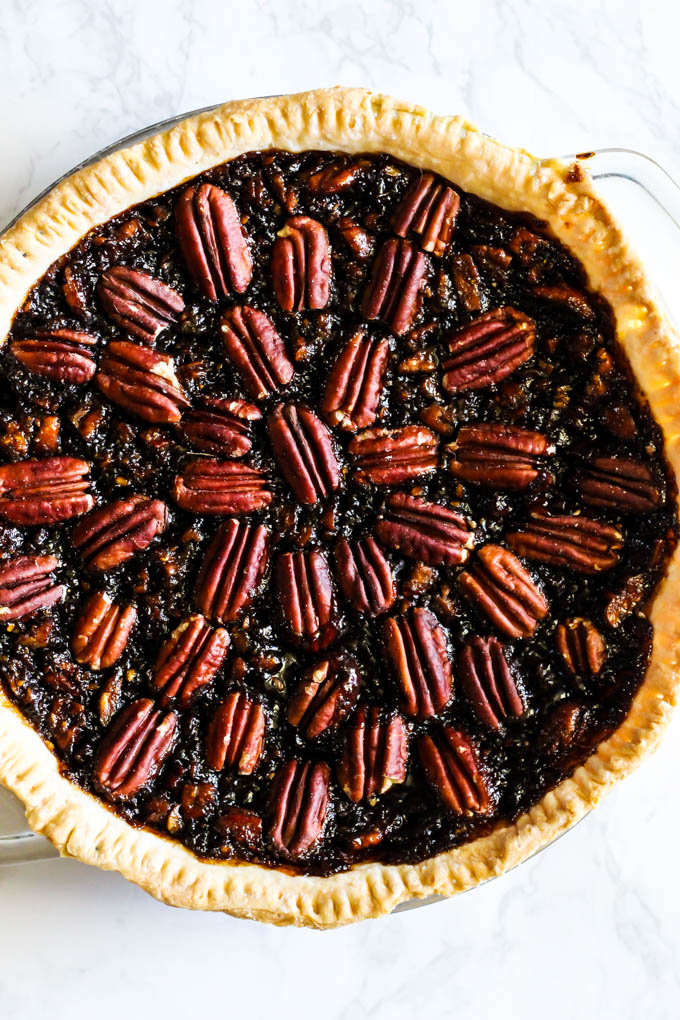 I guess you could argue that pecan pie isn't really a Cajun tradition, but I consider it to be a Southern dish since we grow the BEST pecans down here. No holiday is complete without a slice of sweet, gooey, decadent pecan pie!
Although I'm not much of a dessert person, I do love a good slice of pecan pie. Flaky crust + sugary filling + toasted pecans = pie heaven.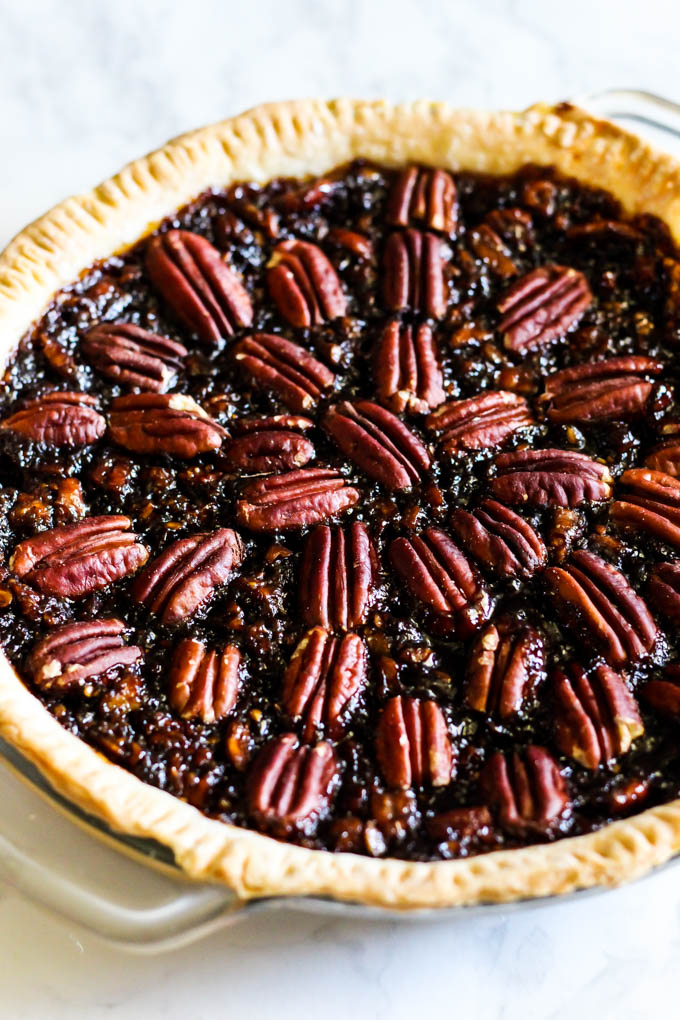 You can totally skip over making your own crust and buy one at the grocery store. I'm all about saving time, especially during 18-hour cooking days for the holidays.
If you do go the homemade route, all you need is all-purpose flour and vegan butter/coconut oil. My favorite vegan butter is Earth Balance, but use what you can find!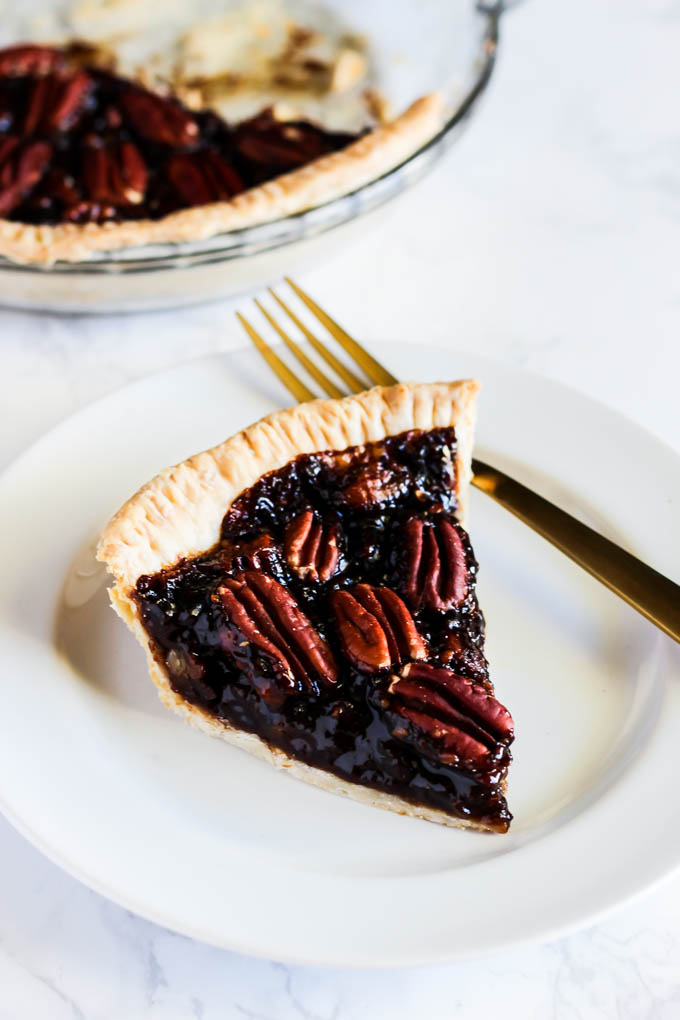 Okay, about the filling. I know you may be thinking, that's a lot of different sugars I need to buy! Coconut sugar (or cane sugar) + maple syrup + dates + molasses (optional). But I promise the result is so worth it! Plus, I have a ton of dessert recipes you can make with all those different sweeteners.
The key here is to cook the sugars on medium-low and stir, stir, stir! You don't want the mixture to stick to the bottom of the pan and burn—you'll get that burnt sugar taste in your pie. I mean, unless that's what you're going for?
Anyway, after the filling is nice and gooey and makes your house smell like sweet heavenly goodness, pour it in the pie crust and bake!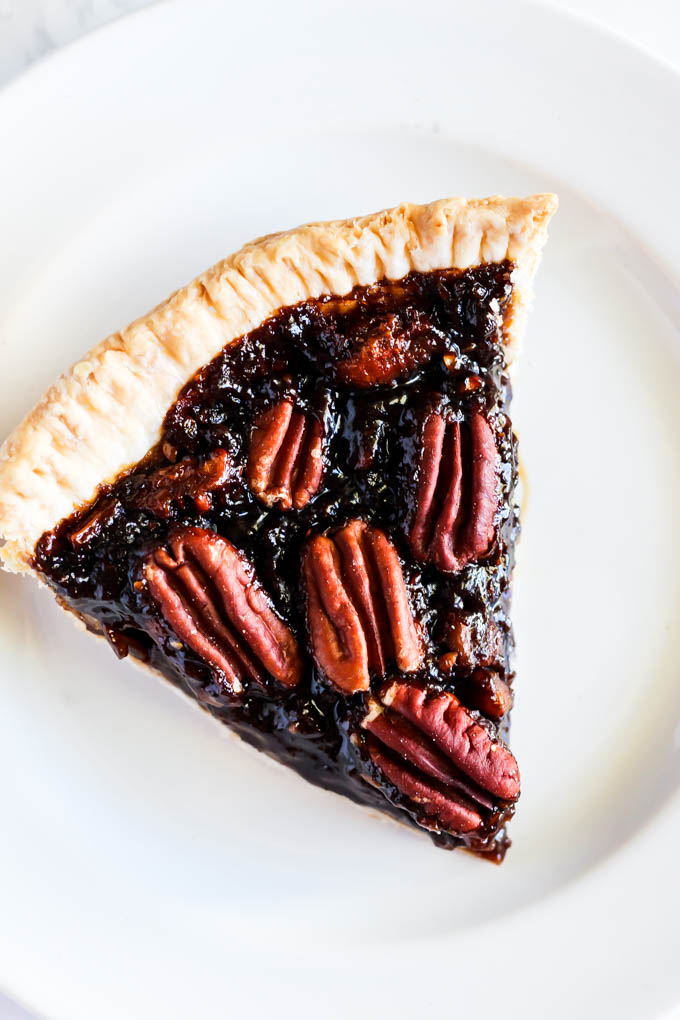 So, who's making this vegan pecan pie this holiday season and inviting me over?! Any invitations welcome. 😉
Let me know how this recipe turns out for you if you try it. I know for sure that no one will be able to resist this sweet, sweet pie. Enjoy!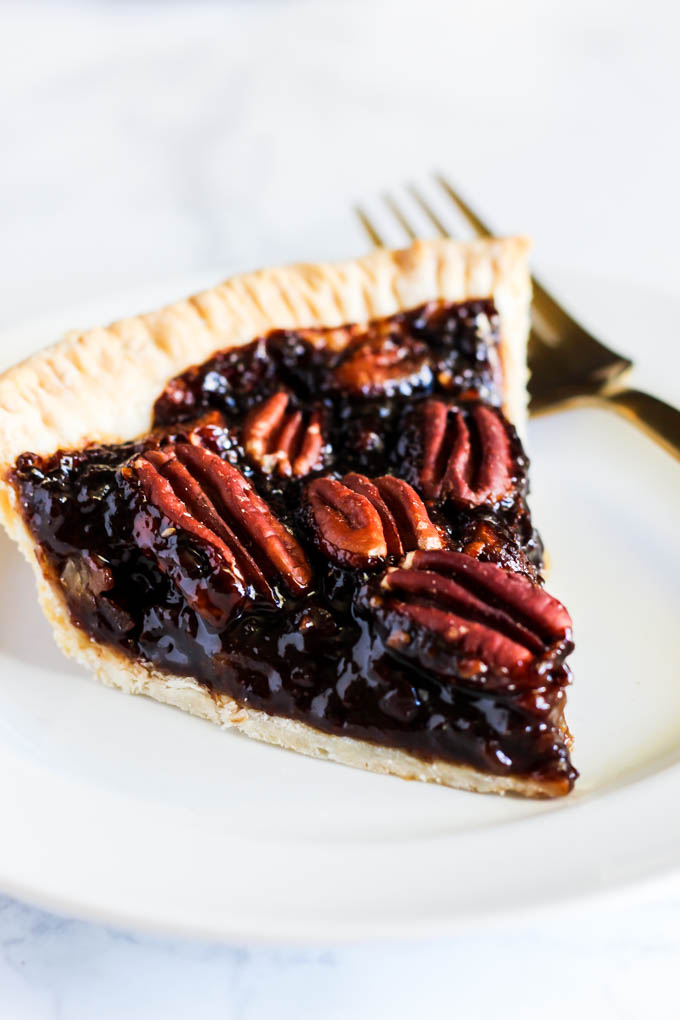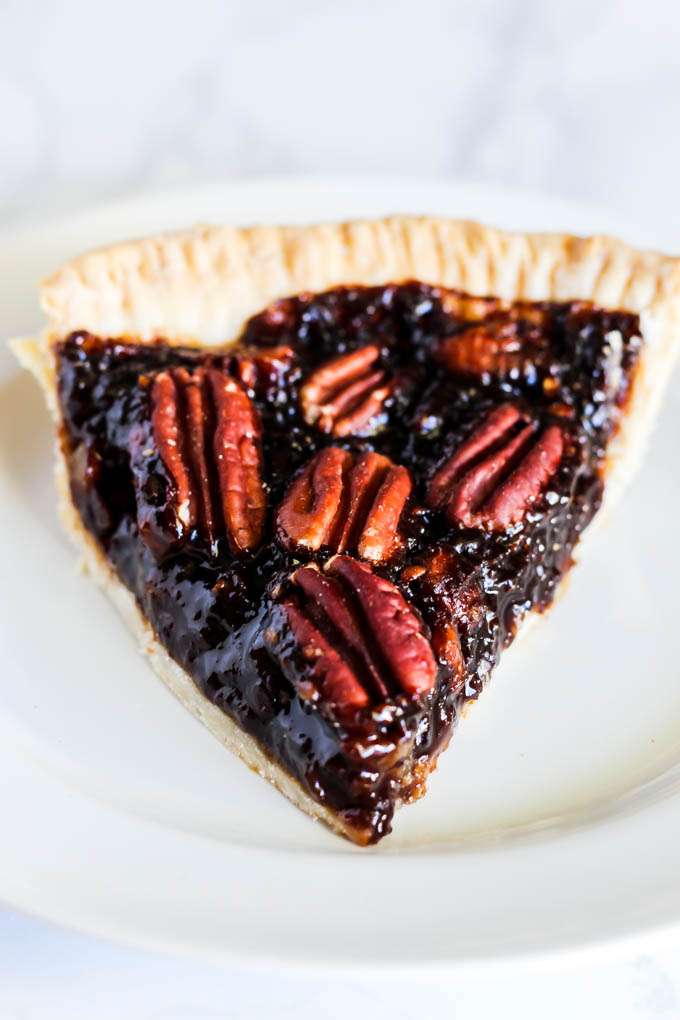 Print
How to make:
Vegan Pecan Pie
A slice of this Vegan Pecan Pie is all you need this holiday season! The sweet, gooey pecan filling tops a flaky crust that is irresistible. A must-have!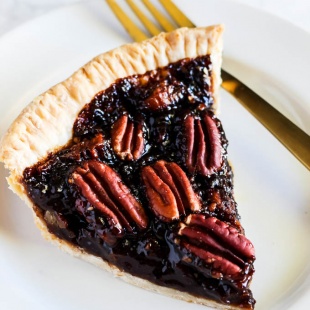 Ingredients
2 cups

unbleached all-purpose flour

2/3 cup

dairy-free butter* or coconut oil (butter or oil should be solid)

5

–

6

tablespoons ice cold water

1 cup

pitted dates

1/2 cup

unsweetened non-dairy milk

1 cup

coconut sugar

1/2 cup

maple syrup

1/2 tablespoon

blackstrap molasses (optional)

1 tablespoon

flax meal

1 tablespoon

tapioca and arrowroot starch

1 1/2 teaspoons

vanilla extract

1 teaspoon

ground cinnamon

1/2 teaspoon

salt

1 1/2 cups

pecan halves
Instructions
Preheat oven to 400F. Lightly grease a pie pan.
In a large bowl, add flour. Add dairy-free butter; using a pastry blender or fork, cut butter into small pieces and incorporate into the flour. The mixture should look like coarse, wet sand.
Slowly add water 1 tablespoon at a time, stirring, until a dough forms. Dump dough onto a floured surface; knead until a smooth dough forms. Using a rolling pin, roll dough in a circular shape about 1/4-inch thick. Carefully place dough into the pie pan; cut off excess dough. Use a fork to decorate the edges of the dough.
Add pitted dates and non-dairy milk to a blender. Blend until smooth.
Warm a medium saucepan over medium-low heat. Add date mixture, coconut sugar, maple syrup and molasses, stirring constantly. Cook for 10-15 minutes, until the mixture begins to thicken. Add flax meal, tapioca starch, vanilla, cinnamon and salt; stir. Cook for 5-10 more minutes, stirring constantly.
Chop 1 cup of the pecan halves. Add the chopped pecans to the sugar mixture; stir to combine.
Pour the mixture over the pie crust. Arrange remaining 1/2 cup pecan halves on top of the filling.
Bake for 35-40 minutes, until the edge of the crust is golden.
Let sit for 10-15 minutes until the filling has hardened a bit.
Notes
*I use Earth Balance Buttery Spread.