Serve up a plate of these Loaded Vegan Chili Cheese Tots as a delicious appetizer perfect for sharing! Full of bean chili, dairy-free cheese, and veggies. Made in partnership with Dr. Praeger's Sensible Foods! ❤️
Did you have chili cheese chips a lot growing up? I have really vivid memories of going to my brother's baseball and basketball games and ordering a bag of chili cheese Fritos with extra chili and that weird fake cheese on top. Those were my favorite chips ever. 
Side note: they served the weirdest foods at kids' sporting events, but everyone loved them. Frozen pickle juice shooters? SIGN ME UP. I could totally go for a few right now – I'm definitely still a sour-flavor lover.
Anyway…it was only time I put a vegan spin on chili cheese something. First up: tater tots. Load 'em up!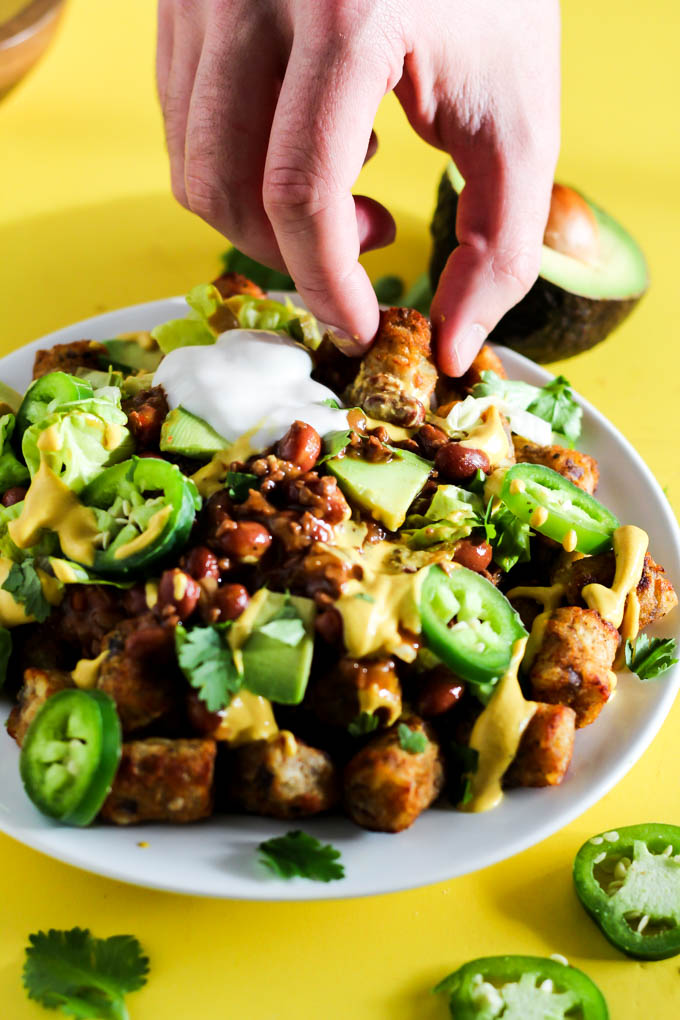 The base of these chili cheese tots is a batch of Dr. Praeger's Four Potato Puffs! You already know I love Dr. Praeger's (see: mushroom spaghetti squash and vegan breakfast sandwiches!), and these cute little potato puffs took my love to the next level. Obviously, they're made with four different kinds of potatoes to get all those nutrients. They're great on their own as a snack, but they're even BETTER loaded. 🙌🏼
Anything topped with this magical vegan cashew queso is a winner in my book. The queso recipe is right from my cauliflower nachos (another delicious loaded creation), and I could literally swim in the stuff. Many spoonfuls were consumed in the making of these tots!
Another side note: I feel like "tots" is such a fun word for a food. It brings me back to when I was a kid eating little finger foods. Lettuce all discover the fun-loving, chili-cheese-tots-eating child within us. 🌟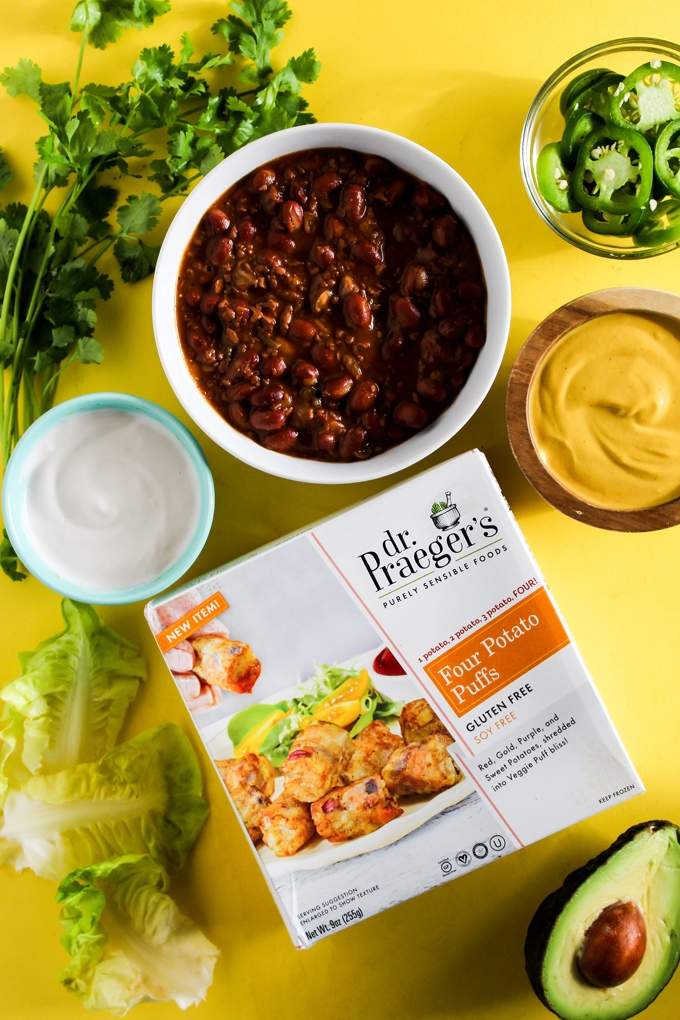 A plate of these as written in the recipe will serve about four people (or 2 super hungry people!). Feel free to bake another box of Four Potato Puffs and double the toppings if you're feeding a crowd. The puffs will start to get a little soggy after awhile, so these are definitely best eaten right after preparing instead of saving for leftovers.
I mean, there's no doubt they'll be gone within 10 minutes of serving them… so no worries about leftovers there.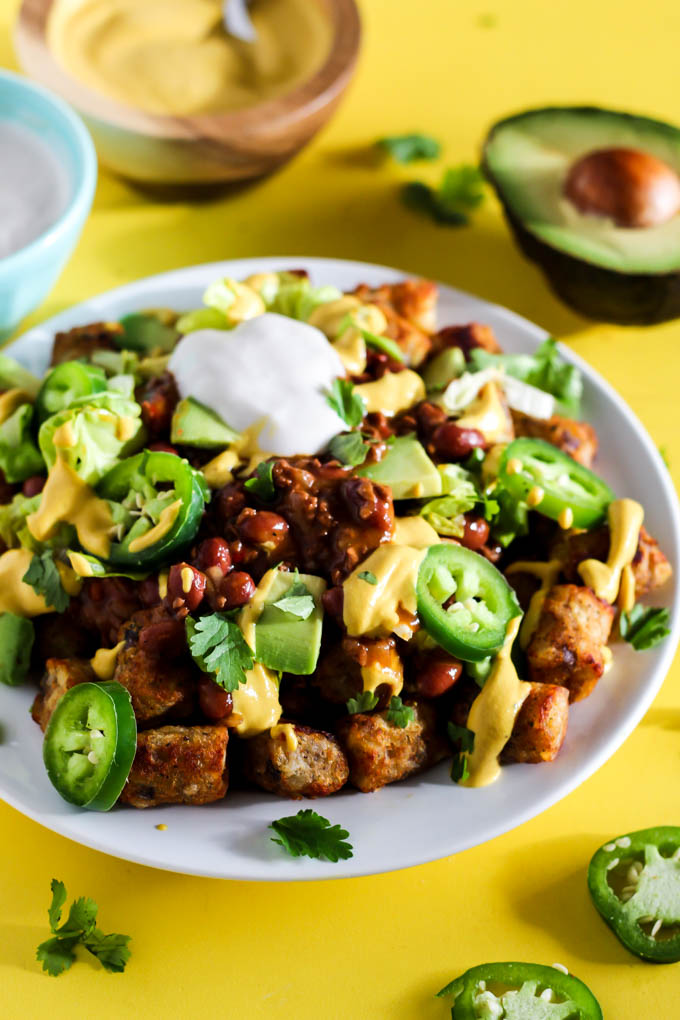 There are only 30 minutes sitting between you and loaded chili cheese tots. I know you're staring at the pictures… drooling… wait, is that just me? That happens a lot when I write a blog post. 😉
Plan on sitting around a fire with your favorite people eating s'mores, wearing fuzzy socks, and listening to chill music?? (<– goals) Pass around a plate of these chili cheese tots to take your cozy night to the NEXT LEVEL.
I hope these make all of your chili cheese dreams come true!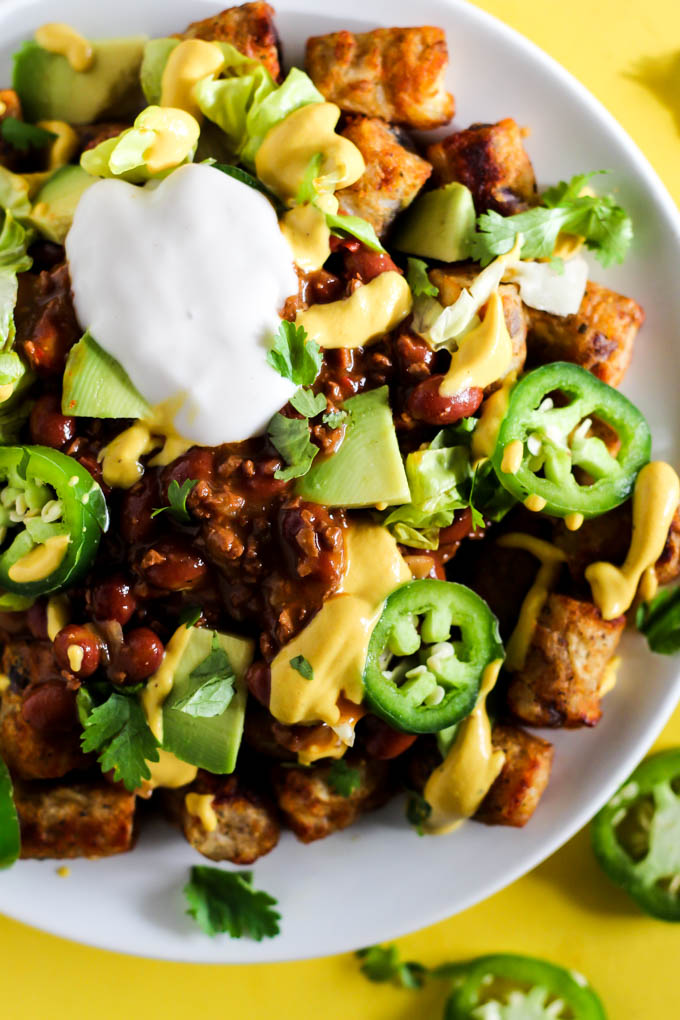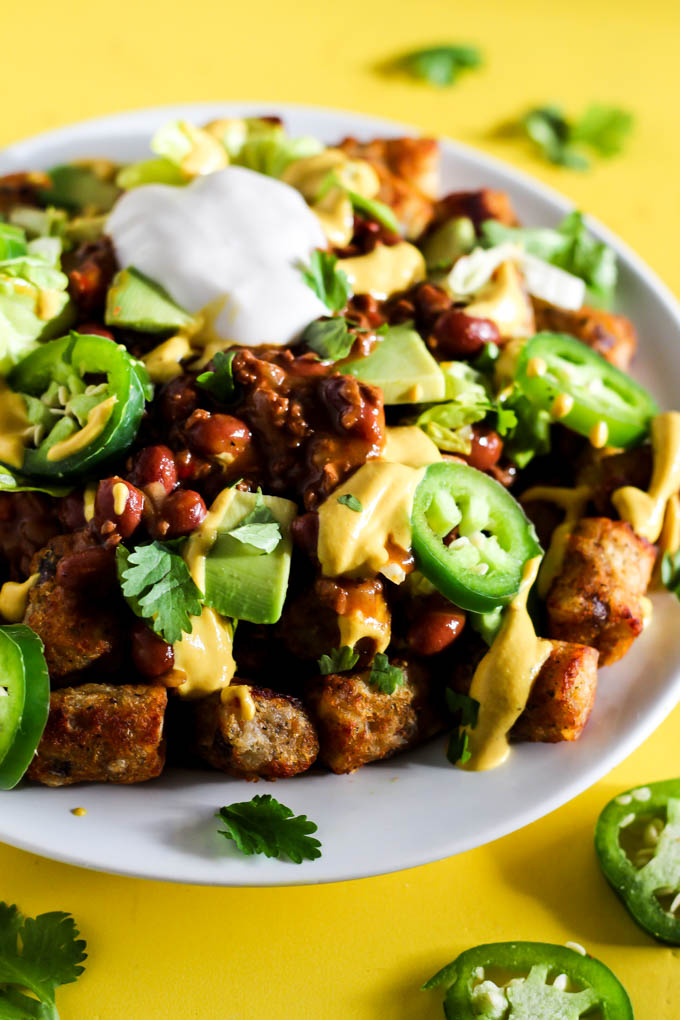 Print
How to make:
Loaded Vegan Chili Cheese Tots (vegan & gluten-free)
Serve up a plate of these Loaded Vegan Chili Cheese Tots as a delicious appetizer perfect for sharing! Full of bean chili, dairy-free cheese, and veggies.
Ingredients
1

box Dr. Praeger's Sensible Foods Four Potato Puffs

1/2 cup

raw cashews

1/2 cup

carrots, chopped into

1/2

-inch chunks

3/4 cup

unsweetened non-dairy milk

1/4 cup

nutritional yeast

2 tablespoons

salsa

1 teaspoon

miso paste (optional)

1

clove garlic

1/2 teaspoon

onion powder

1/4 teaspoon

ground turmeric

1/4 teaspoon

ground cayenne pepper
Salt & pepper, to taste

1

15-ounce can vegetarian chili

1 cup

romaine lettuce, chopped

1

jalapeno, sliced

1/2

avocado, cut into small pieces

1/4 cup

vegan sour cream (or unsweetened non-dairy yogurt)
Fresh cilantro, for garnish
Instructions
Cook Four Potato Puffs according to package directions.
In a small pot, add cashews and carrots; cover with water. Bring to a boil; boil for 10 minutes. Drain.
To a blender, add cashews, carrots, non-dairy milk, nutritional yeast, salsa, miso, garlic, onion powder, turmeric, cayenne pepper, and a touch of salt & pepper. Blend until smooth; add more milk if needed.
Warm chili in the microwave or over medium-low heat on the stove until heated through.
Arrange puffs into a single layer on a plate or serving tray. Scoop chili on top and drizzle cashew cheese sauce.
Top with lettuce, jalapeno, avocado, sour cream, and cilantro.
Thanks to Dr. Praeger's Sensible Foods for sponsoring this post! I love working with brands whose products I really love and would honestly recommend. Thank you for supporting this blog that I love oh-so-much!