This post was sponsored by LuckyVitamin. I only work with brands whose products and missions I truly believe in. Thanks for supporting my blog!
I'm admittedly obsessed with Mediterranean and Mexican food. Anyone else with me? I wish I had giant deliveries of chickpeas, guac, hummus, tacos, and falafel to my apartment every day (#goals, amiright?!).
But these peanut soba noodles were born out of my odd (and very strong) craving for Asian food lately. What?! I went from chickpeas –> sushi real quick. Oh well, we're going with the flow.
I'm not sure what sparked these cravings, but I can't get vegetable sushi and peanut-soy noodles and General Tso's chickpeas (SO GOOD) off the brain. Maybe it's the distinct sweet-and-salty combo in most Asian foods that's so addicting. Whatever it is, I want it. Every meal.
I've never been huge on Asian takeout because I feel like I have to take a 348230-hour nap after finishing it. It is so heavy; I'm not too keen on thick, too-sweet sauces. Plus, most of it is fried or sautéed in a gallon of (heavily processed) oil. Nah, son, I'm good.
Solution to curb Asian food cravings? Make it at home, of course!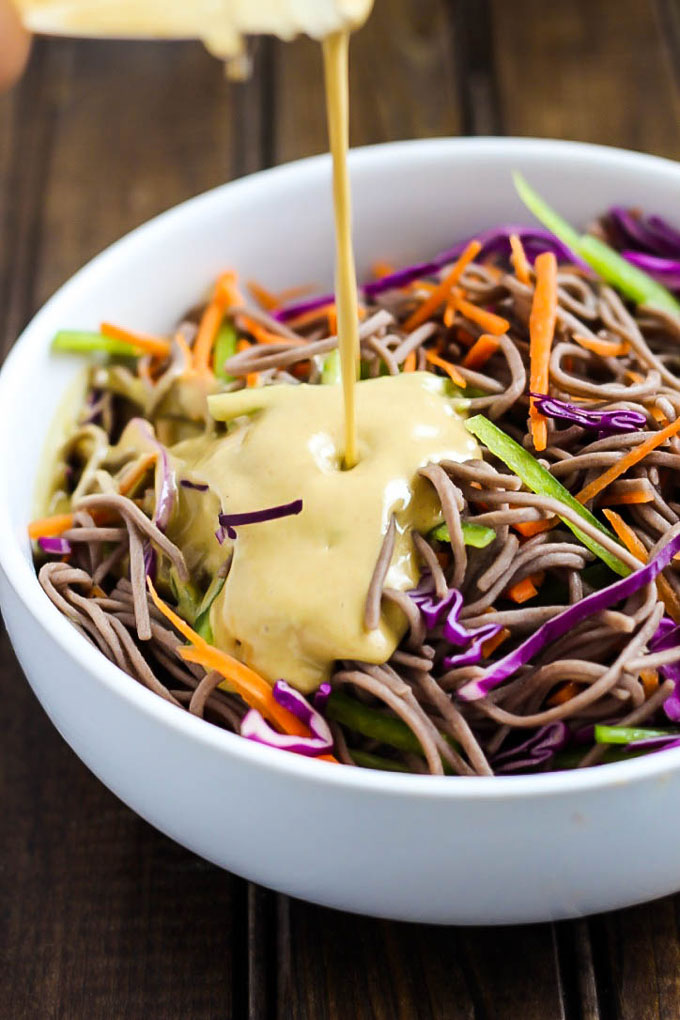 This was the first time I've ever made buckwheat soba noodles, and I already want to go buy more! They're made with buckwheat flour, which is high in fiber and protein with a nutty flavor. Tossed with a bunch of fresh, crisp vegetables and an ah-mazing peanut sauce, these noodles make a hearty, nutritious meal.
THE SAUCE. Let's just talk about it for a hot second. It's not like the sauce on your typical takeout noodles that weighs you down for hours; I swear the sauce to noodle ratio is so off most of the time. I like to actually enjoy my noodles, thank you very much.
The spicy peanut sauce is infused with a little jalapeño for a kick of spice? but it's full of peanutty flavor to balance it out. It's the perfect balance of sweet, salty, and spicy! It's also a light sauce, so you get all the flavor you want without feeling super blah after eating.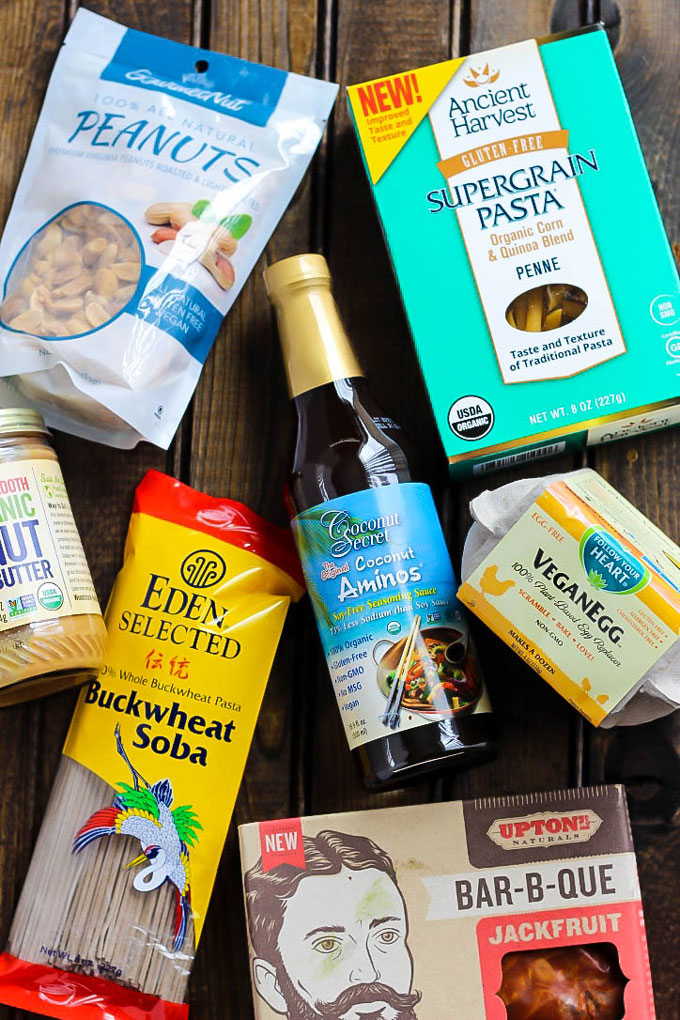 I stocked up on everything I needed for this recipe thanks to LuckyVitamin! If you haven't checked out their website, you NEED to go take a look. I was able to snag some buckwheat soba noodles, coconut aminos, organic peanut butter, and peanuts for this recipe. I also got to try some goodies that are hard to find in my local grocery stores, including the Vegan Egg (SO excited for this one), BBQ jackfruit, and quinoa pasta.
Who's coming over to eat all this with me?!
I was really excited to order from LuckyVitamin because they're a family-owned business that started as a local pharmacy and eventually transitioned into the online grocery store they are now! I'm all about supporting small businesses making health available to everyone. Their online store has over 35,000 health & wellness products available, from vitamins to pantry items to beauty products. There's products for all types of diets, including vegan, vegetarian, and gluten-free.
The reason I love LuckyVitamin so much is that the products are up to 75% off retail prices! Can I get an amen??? On a college budget, I'm always looking for ways to pinch pennies; I know many of you are on a budget, too! They also offer fast & free shipping on orders over $49 to help you save a few extra bucks. Plus, if you aren't happy with something you order, there's a 90 Day Happiness Guarantee, so you can return it even if it's opened. Seriously, the people at LuckyVitamin are super caring & generous.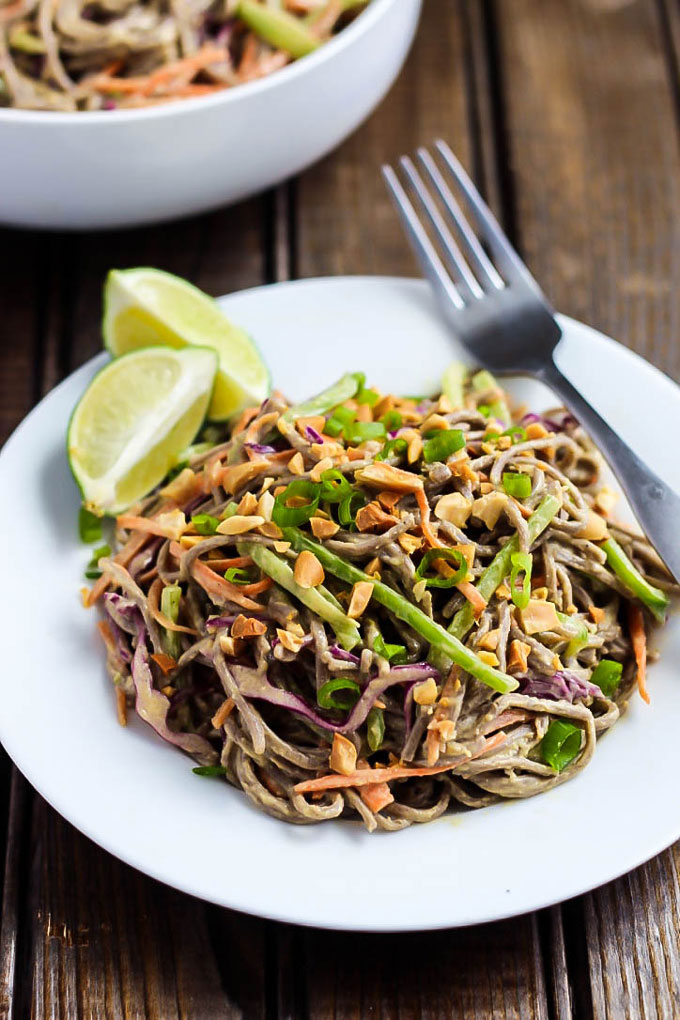 I'm really excited that these noodles are sitting in my fridge for me to enjoy all throughout the week so I can satisfy those Asian food cravings. I suspect that I'll be wanting all the falafel and guac and tortillas in no time, but we'll enjoy these noodles until then. ?
I know you guys love quick, easy meals, so I know you'll love these 15-minute peanut soba noodles! It's the perfect dish to make when you get home at 7:30 p.m. starving and hangry (trust me, been there – not fun). The noodles are hearty and satisfying, the fresh vegetables give it some crunch and nutrition, and the peanut sauce is perfectly sweet-and-salty.
If you try out these noodles, let me know how you like them – snap a pic and tag #emilieeats on Instagram. Be sure to check out LuckyVitamin to get all the ingredients for this recipe, plus so many other healthy goodies!
What cuisine do you crave the most? What's your favorite Asian dish?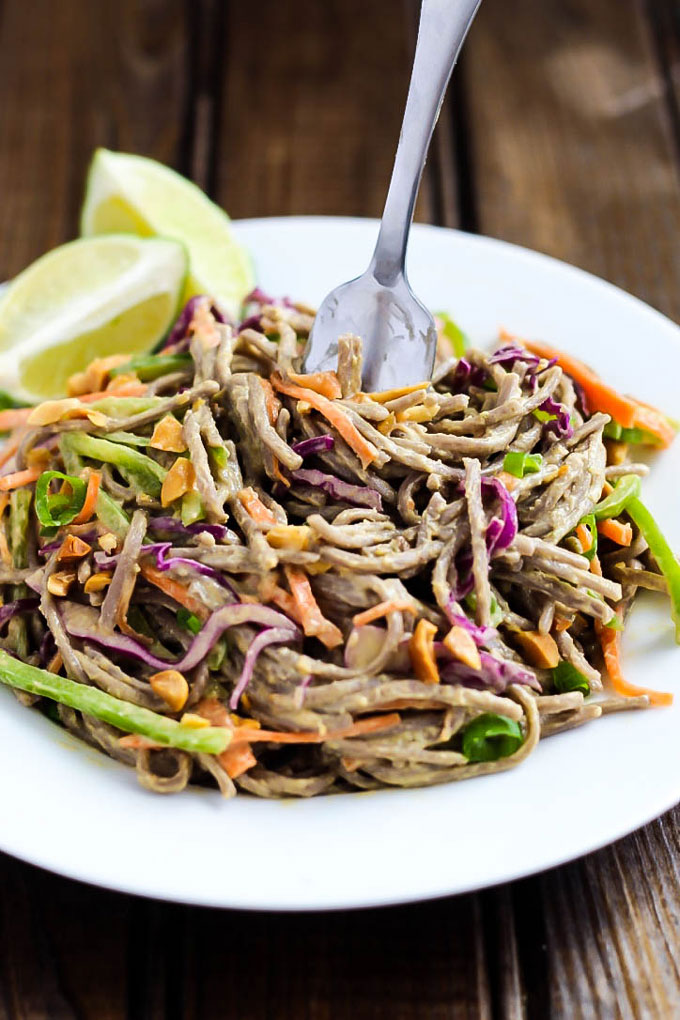 Print
How to make:
Spicy Vegetable Peanut Soba Noodles
A healthy 15-minute meal, these Spicy Vegetable Peanut Soba Noodles are full of fresh vegetables and tossed in a light (and flavorful!) peanut sauce!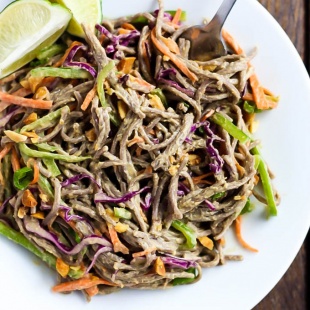 Ingredients
1

8-ounce package soba noodles

1/2

jalapeno, seeds removed

1/4 cup

peanut butter

1/4 cup

coconut aminos or soy sauce

2 tablespoons

rice vinegar

1 teaspoon

agave nectar

1 teaspoon

garlic, minced (about

2

cloves)

1/4 teaspoon

ground ginger

1/4 teaspoon

Sriracha (optional)

1

bell pepper, thinly sliced

1 cup

carrots, thinly sliced

1 cup

red cabbage, thinly sliced
For garnish: chopped peanuts, sliced green onions, chopped cilantro
Instructions
Cook noodles according to package directions.
While the noodles are cooking, prepare sauce. In a blender or food processor, add jalapeño, peanut butter, coconut aminos, vinegar, agave, garlic, ginger, and Sriracha. Blend until smooth.
Drain noodles; place in a large bowl. Add sliced bell pepper, carrots, and cabbage; toss to combine.
Pour peanut sauce over the noodles; toss until noodles are fully coated.
Garnish with chopped peanuts and sliced green onions or cilantro. Serve cold.
Thanks to LuckyVitamin for sponsoring this post! I love working with brands whose products I really love and would honestly recommend. Thank you for supporting this blog that I love oh-so-much!