A simple 15-minute meal, these Spicy Peanut Soba Noodles are full of fresh vegetables and tossed in a flavorful vegan peanut sauce! This post was sponsored by LuckyVitamin. I only work with brands whose products and missions I truly believe in. Thanks for supporting my blog! (Originally published June 14, 2016)
Vegan Spicy Peanut Soba Noodles
One of my go-to easy vegan lunches is always to boil some noodles, make a delicious sauce, and pair it with whatever veggies I have in the refrigerator. There aren't many things that are much easier to make, it's easy to mix it up by swapping out the veggies, type of pasta and sauce you're using, and you can fit it to any mood you're in!
For a long time I had my Vegan Drunken Noodles on repeat, by lately my new favorite take on this formula is definitely this recipe for spicy peanut soba noodles! The sauce is so creamy and deeply savory, the peanuts are satisfyingly crunchy and all the veggies make it feel so fresh! What's not to like?
The soba noodles are perfect for this Asian-inspired recipe. They're made with buckwheat flour, which is high in fiber and protein with a naturally nutty flavor. They're perfect paired with this vegan peanut sauce and a bunch of crisp veggies!
You're gonna want to save this vegan soba noodle recipe so you can get it into your lunch rotation! I promise you're going to be craving it on repeat.
Ingredients for Peanut Soba Noodles
Not only are these peanut soba noodles done in 15 minutes, but the ingredients are also super simple and easy to customize. Here's everything you'll need to make them:
Soba noodles. You could also use ramen noodles, rice noodles or even spaghetti.
Jalapeno. You can scale the jalapeno up or down based on your preference.
Peanut butter. Creamy or crunchy!
Coconut aminos. Soy sauce is also great.
Rice vinegar. Fresh lime or white distilled vinegar also work.
Agave nectar. To sweeten the sauce and balance the flavor.
Garlic. You'll need two cloves of garlic.
Ground ginger. Freshly grated ginger is also delicious!
Sriracha. A drizzle of Sriracha is delicious alongside the jalapeno.
Veggies. I'm using bell pepper, carrots, and red cabbage.
Toppings. Chopped peanuts, lime wedges, sliced green onions and cilantro are all delicious on top!
I stocked up on everything I needed for this recipe thanks to LuckyVitamin including the buckwheat soba noodles, coconut aminos, peanut butter, and peanuts.
I was really excited to order from LuckyVitamin because they're a family-owned business that started as a local pharmacy and eventually transitioned into the online grocery store they are now! I'm all about supporting small businesses making health available to everyone. Their online store has over 35,000 health & wellness products available, from vitamins to pantry items to beauty products. There's products for all types of diets, including vegan, vegetarian, and gluten-free.
The reason I love LuckyVitamin so much is that the products are up to 75% off retail prices! They also offer free 1-2 day shipping on orders over $49 to help you save a few extra bucks. Plus, if you aren't happy with something you order, there's a 90 Day Happiness Guarantee, so you can return it even if it's opened.

How to Make Spicy Peanut Soba Noodles
These vegan soba noodles could not be easier to make. It comes together in just 15 minutes in 5 easy steps. And believe me when I tell you that this is one of those recipes that gets better the longer it sits in the fridge, so it's perfect for meal prep. The sauce gets better and better and I love eating this as a cold noodle salad, so you'll definitely want to add it to your list of go-to meal prep recipes for lunches.
Here's how to make these spicy peanut soba noodles:
Cook your noodles according to the package
Make the spicy peanut sauce by blending jalapeño, peanut butter, coconut aminos, vinegar, agave, garlic, ginger, and Sriracha in a blender
Drain noodles and add your sliced vegetables
Pour the vegan peanut sauce over the noodles and toss to combine
Garnish with toppings like chopped peanuts and sliced green onions or cilantro and serve cold

More Vegan Soba Noodle Recipes
Soba noodles are so delicious, protein-packed and such a great noodle to reach for if you're looking to mix things up! If you're looking for inspiration for other ways to use them, check out these other vegan soba noodle recipes!

Print
How to make:
Vegan Spicy Peanut Soba Noodles
A simple 15-minute meal, these Spicy Peanut Soba Noodles are full of fresh vegetables and tossed in a flavorful vegan peanut sauce!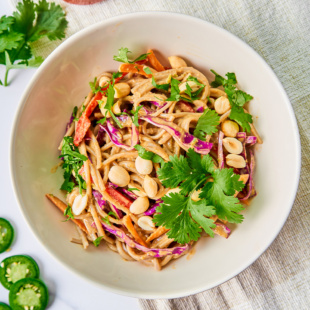 Ingredients
1

8-ounce package soba noodles

1/2

jalapeno, seeds removed

1/4 cup

peanut butter

1/4 cup

coconut aminos or soy sauce

2 tablespoons

rice vinegar

1 teaspoon

agave nectar

1 teaspoon

garlic, minced (about

2

cloves)

1/4 teaspoon

ground ginger

1/4 teaspoon

Sriracha (optional)

1

bell pepper, thinly sliced

1 cup

carrots, thinly sliced

1 cup

red cabbage, thinly sliced
For garnish: chopped peanuts, sliced green onions, chopped cilantro
Instructions
Cook noodles according to package directions.
While the noodles are cooking, prepare sauce. In a blender or food processor, add jalapeño, peanut butter, coconut aminos, vinegar, agave, garlic, ginger, and Sriracha. Blend until smooth.
Drain noodles; place in a large bowl. Add sliced bell pepper, carrots, and cabbage; toss to combine.
Pour peanut sauce over the noodles; toss until noodles are fully coated.
Garnish with chopped peanuts and sliced green onions or cilantro. Serve cold.
Thanks to LuckyVitamin for sponsoring this post! I love working with brands whose products I really love and would honestly recommend. Thank you for supporting this blog that I love oh-so-much!