This post was sponsored by Tessemae's All Natural. I only work with brands whose products and missions I truly believe in. Thanks for supporting my blog!
Stop whatever you're doing. Run to your kitchen to check if you have all the ingredients for these tacos – and if you don't, get to a grocery store now.
Y'all, these buffalo cauliflower tacos are SO BOMB. I'm literally drooling looking at these pictures again – like, when is lunch time so I can scarf down one of these??!?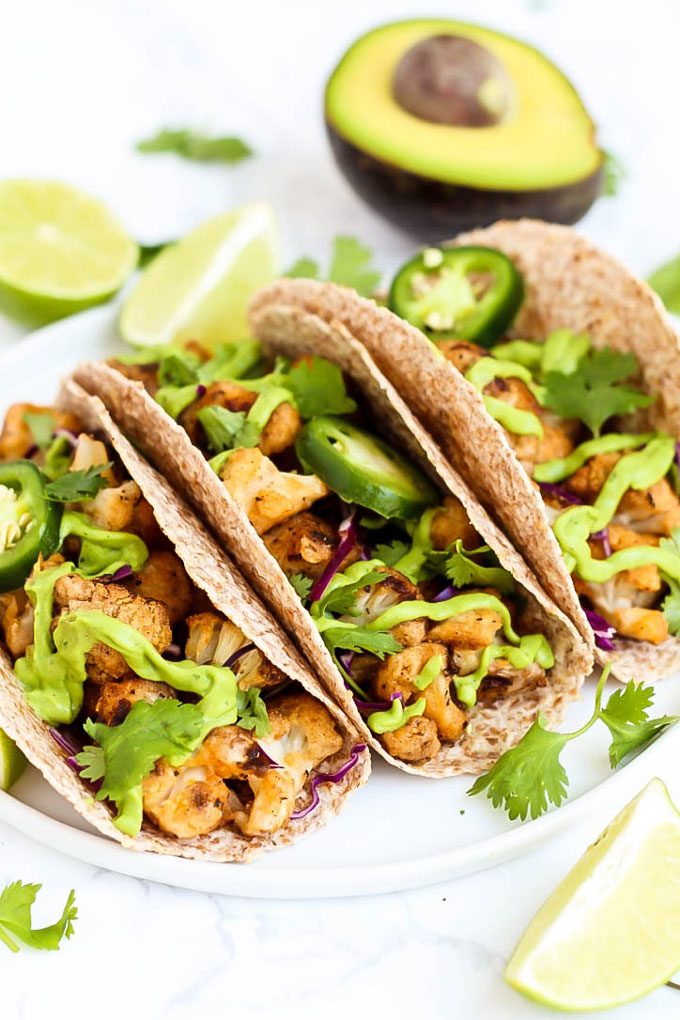 If you asked me to name my favorite foods, roasted cauliflower, buffalo sauce, Mexican food, and avocado would definitely make the list, right next to green apples, vegan cheesecake, and kombucha. Is that a weird mix of food? Give me an endless supply of all of those things for the rest of my life and I could die a happy foodie.
Well, surprise, I stuffed FOUR of the foods on my favorites list into one recipe. Does it get any better than this?
No. The answer is NO. I honestly don't know how it gets better than hearty, spicy, buffalo-y (?) vegan cauliflower bites stuffed in a tortilla with a creamy avocado sauce. Can we get an amen??
[Tweet "Hearty buffalo cauliflower TACOS with avocado cilantro sauce…does it get better than this? NOPE."]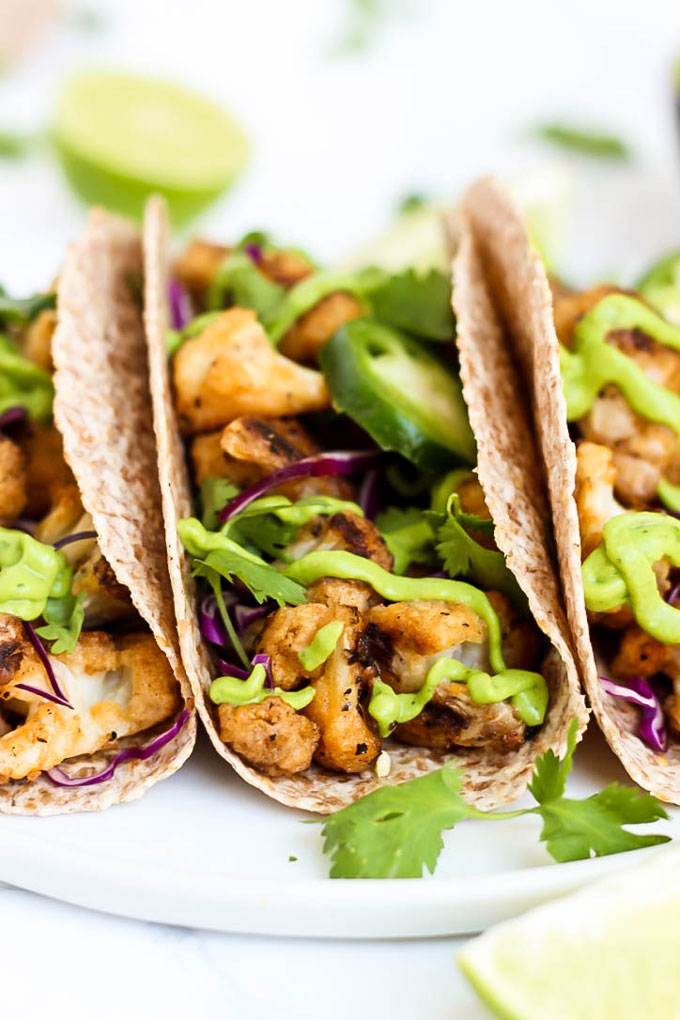 I'm a fan of any and all Mexican foods, but Addie's deep love for tacos must have rubbed off on me while I was in Chicago because I've been cravings tacos like no other. It doesn't matter what the fillings are – I just need something tasty on top of a tortilla with a whole lotta guac on top.
But THIS combo of mild (& a little spicy) buffalo sauce + meaty cauliflower topped with fresh, crisp veggies and cooling avocado cilantro sauce has got to be the best taco creation I've ever made. Maybe the best meal creation I've ever made. That's saying a lot – my tempeh tostadas have been my go-to meal for weeks, but these buffalo cauliflower tacos may take the top spot. Tacos & tostadas…notice a trend?
These are surprisingly super easy and come together in just under an hour – the best kind of meals, in my opinion. Hosting a party? These would be absolutely amazing for pleasing a crowd and are super customizable for everyone to make their perfect tacos with their favorite toppings. Taco bar, anyone??
You only need a handful of simple ingredients for these tacos – cauliflower, a little flour & milk, seasonings, tortillas, avocados, and, of course, buffalo sauce! If you've never made roasted buffalo cauliflower, you're in for a delicious treat. It's one recipe my mom always requests me to cook when I'm home! The cauliflower is hearty enough for even the most carnivorous of meat-eaters, and the buffalo sauce gives it a traditional "chicken wings" feel. Hey, anything to get people to eat more vegetables!
Since the buffalo cauliflower is the base of this recipe, you want to use a good quality buffalo sauce – my absolute favorite is Tessemae's All Natural Mild Buffalo Sauce! Most store-bought dressings and condiments have lots of funky AF ingredients and added sugars, but Tessemae's uses minimal natural ingredients. The buffalo sauce we're using here is just a little oil and organic spices!
The first thing you'll do to make these tacos is bake the cauliflower! We're tossing the florets in a light batter, just to make them more hearty and kind of like real wings. Bake 'em up, then remove them from the oven to toss in the buffalo sauce. Stick them back in the oven to bake a little longer, and prepare the rest of the tacos while you're waiting!
To balance the spicy kick of the buffalo sauce, I made a creamy avocado cilantro to drizzle on top! All you have to do is blend up the sauce ingredients; I love using my NutriBullet to make it extra creamy. Then you can prepare any other toppings you want: sliced jalapeño, chopped cilantro, chopped red cabbage, or even diced mango! If you're serving for guests or a party, I think it would be awesome to place all the toppings in individual bowls to make a taco bar – you'd be the ultimate hostess with the mostess.
You can use any type of tortillas you want for these tacos. I used the Ezekiel Sprouted Grain Tortillas, but you can also use corn, brown rice, or another tortilla if you're gluten-free. I think this would also be delicious in lettuce wraps!
I plan on making these minimum once a week this summer – no, I'm not kidding. I just can't get over how awesome all the flavors blend together, and how surprisingly light the tacos are. Which means I can have like, five, right?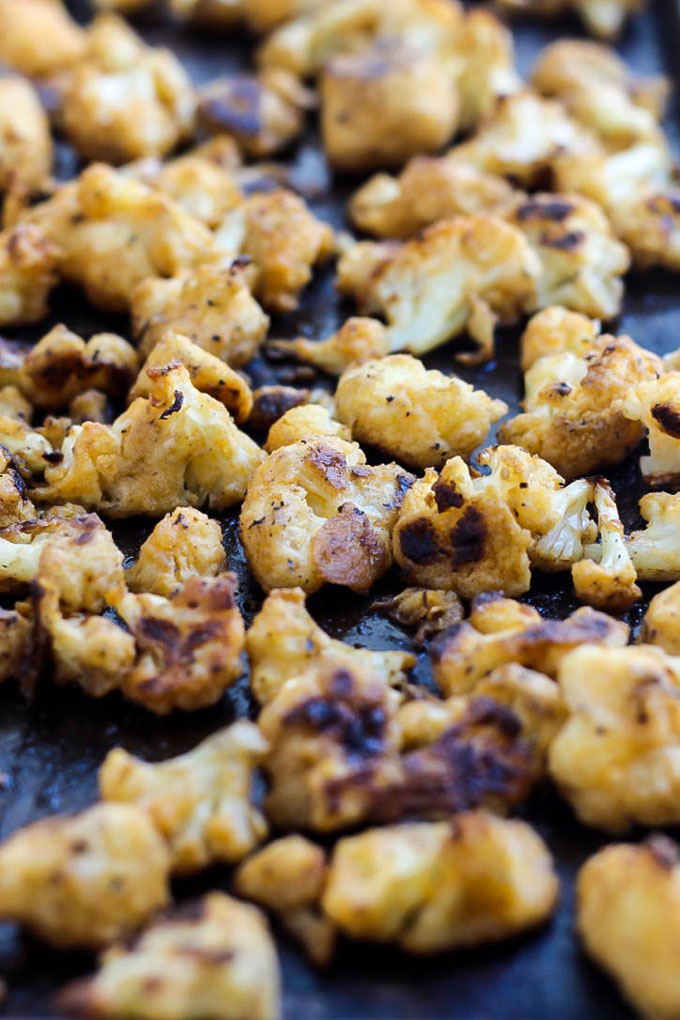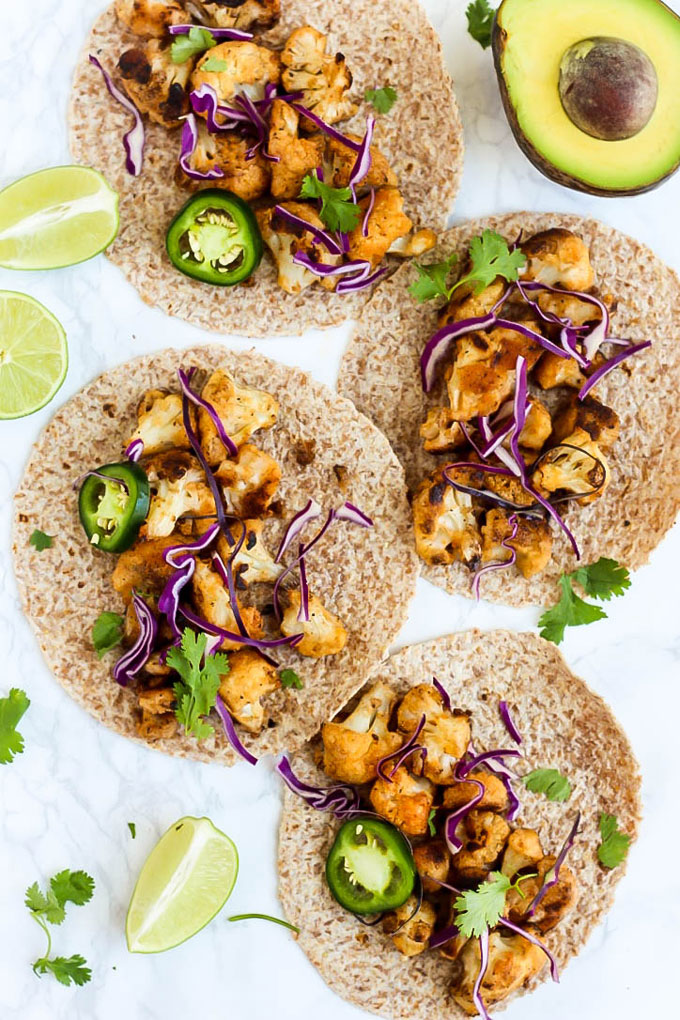 When you think of summer, you think lots of (veggie) burgers, fries, and grill foods. Of course, we need our condiments to add a little more flavor?? to all of our favorite foods! Tessemae's All Natural has the BEST marinades and condiments for all your summer cooking needs. They have a variety of grill packs to choose from with different combinations of their best products!
Not all of Tessemae's products are vegan, but you can create your own grill pack with your choice of products to have the tastiest summer ever! And (super exciting news alert!!!) Tessemae's is offering you awesome people 10% off a custom grill pack with code EmilieEats so you can enjoy their vegan products. You can go here to start creating your custom grill pack!
Here are the flavors I got in my grill pack (all vegan): Organic Lemon Chesapeake, Organic Ketchup, Organic Yellow Mustard, Southwest Ranch, Mild Buffalo Sauce, and Organic BBQ Sauce.
Tessemae's wants you to "Savor Summer with a Better BBQ Experience," so they're hosting an epic giveaway. The grand prize is worth $1,300+ and includes a Big Green Egg Grill, a YETI Hopper 20, and a Tessemae's condiment pack, plus more!? Visit their Facebook for more info and to enter!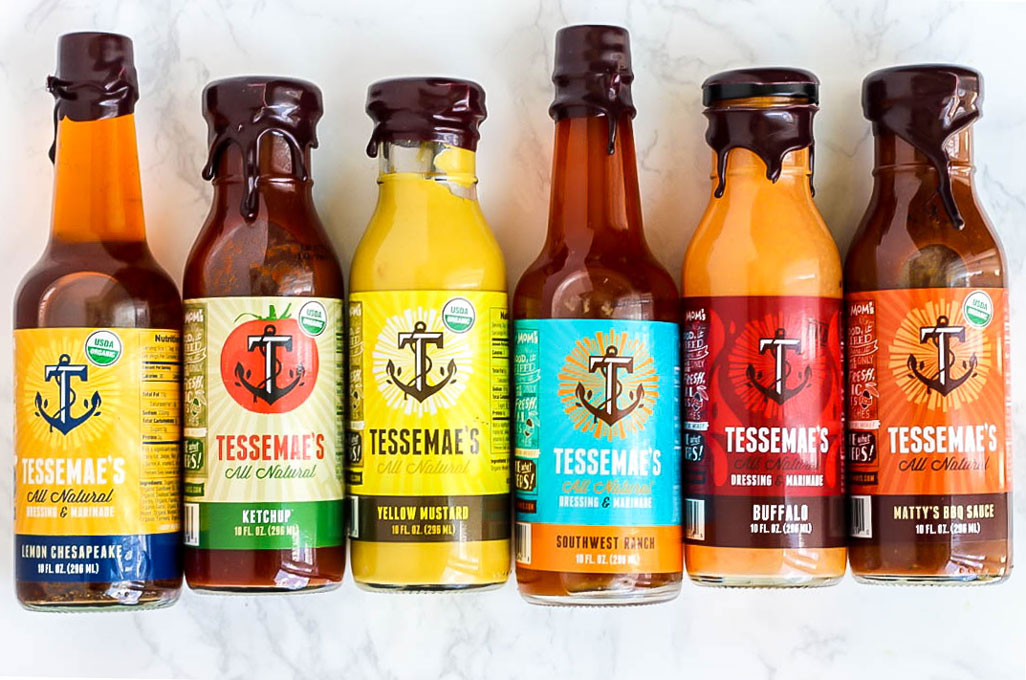 If you couldn't tell from the post, I am SUPER pumped to share this recipe with you guys (and to eat these tacos for lunch). I really hope you get to make these! I promise that everyone will enjoy them, and you'll feel like the ultimate champ? knowing you made plants EXTRA delicious.
I would love to see your versions of these buffalo cauliflower tacos, so snap a pic, post it on Instagram, and tag #emilieeats. I can't wait to see your taco masterpieces!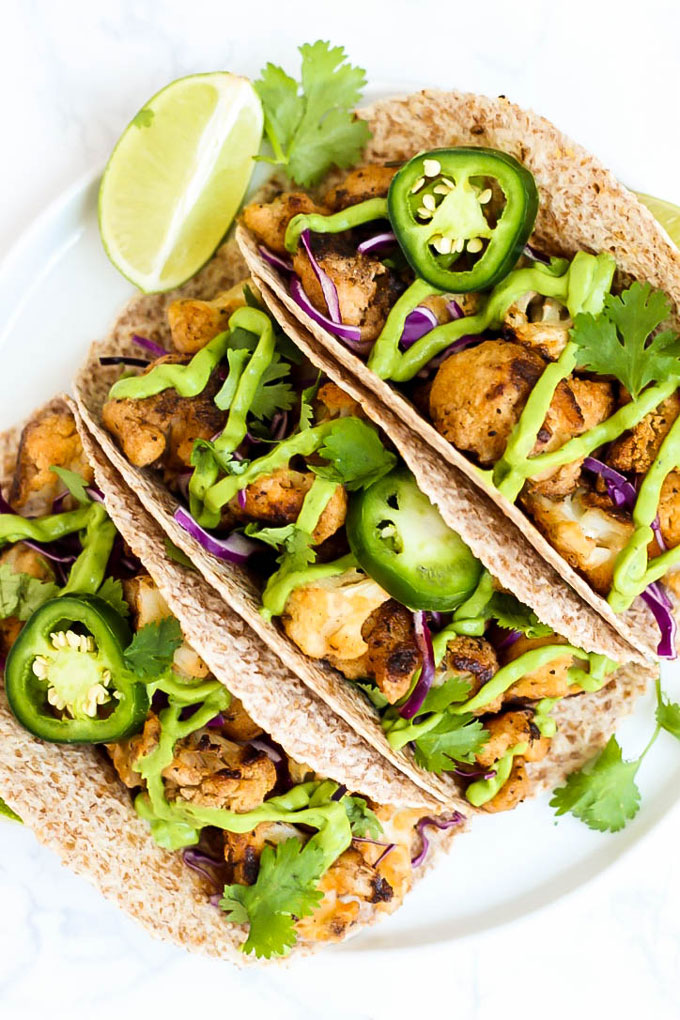 Print
How to make:
Vegan Buffalo Cauliflower Tacos with Avocado Cilantro Sauce
These Vegan Buffalo Cauliflower Tacos with Avocado Cilantro Sauce are PACKED with flavor & a healthy option for taco night! Vegan, gluten-free & delicious.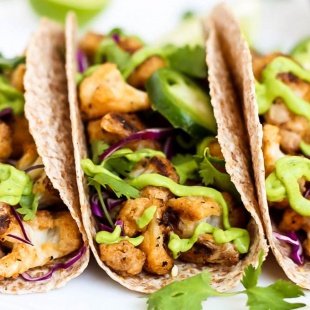 Ingredients
1/2 cup

brown rice flour*

3/4 cup

unsweetened almond milk, divided

1 1/2 teaspoons

onion powder, divided

1 teaspoon

garlic powder

1/2 teaspoon

salt, divided

1/2 teaspoon

pepper, divided

1

medium head of cauliflower

1/2 cup

Tessemae's Mild Buffalo Sauce

1/2

ripe avocado

1/2 cup

cilantro, chopped

1/2

lime, juiced

1/2 teaspoon

garlic, minced (about

1

clove)

6

–

8

tortillas (I used sprouted grain tortillas)
Toppings: red cabbage, chopped cilantro, lime wedges, jalapeno slices
Instructions
Preheat oven to 425F. Lightly grease a baking sheet with cooking spray.
In a large bowl, add flour, 1/2 cup milk, 1 teaspoon onion powder, garlic powder, 1/4 teaspoon salt, and 1/4 teaspoon pepper. Whisk to combine.
Remove the leaves and stem of the cauliflower and break it up into bite-size florets. Add the cauliflower to the flour mixture; toss until the florets are evenly coated. Spread the florets in an even layer on the baking sheet.
Bake at 425 for 30 minutes, then remove. Pour the buffalo sauce over the cauliflower, toss until evenly coated, then bake for 10 minutes.
To make the sauce, add avocado, cilantro, lime juice, garlic, 1/4 cup milk, 1/2 teaspoon onion powder, 1/4 teaspoon salt, and 1/4 teaspoon pepper to a blender or food processor. Blend until smooth.
Assemble the tacos by adding a scoop of cauliflower onto each tortilla. Drizzle with avocado cilantro sauce and add optional toppings. Dig in!
Notes
*You can use any flour you have on hand, such as spelt, whole-wheat, or gluten-free.
Thanks to Tessemae's All Natural for sponsoring this post! I love working with brands whose products I really love and would honestly recommend. Thank you for supporting this blog that I love oh-so-much so I can bring you delicious recipes!