Enchiladas don't have to be complicated! These vegan green chili enchiladas are simple and sure to satisfy everyone at the dinner table.
This post is written in partnership with HERDEZ®. All opinions are my own!
White Bean Green Chili Enchiladas
I have to admit: the only time I've ever made enchiladas at home was, like, 6 years ago. I don't know why I've neglected to make a pan of delicious tortillas stuffed with delicious fillings topped with a delicious sauce. What could be better than that?
That all changes NOW. I vow to make vegan enchiladas as much as possible, because *news flash*: they're actually pretty easy to make! And did I mention how delicious they are?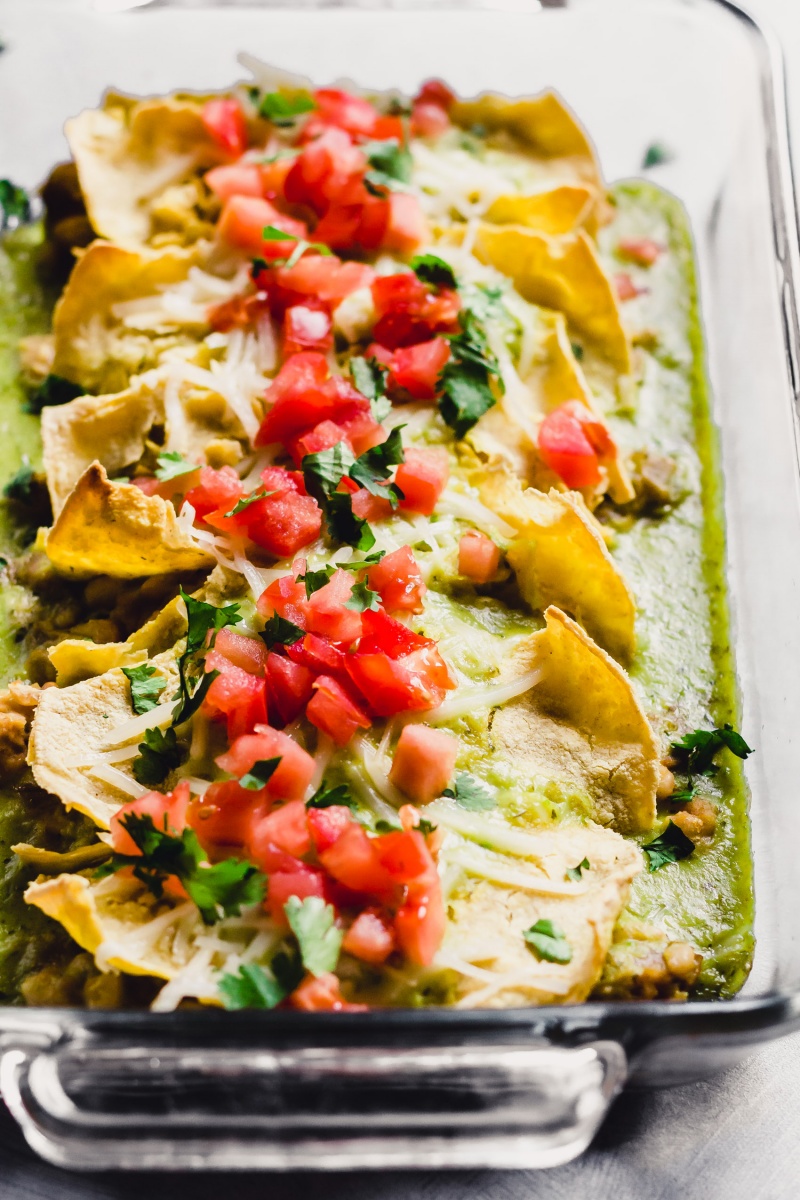 Green Enchilada Sauce
We're adding a little twist to traditional enchiladas in this Green Chili Enchiladas recipe. First off, we're stuffing them with plant-based ingredients like white beans and vegan shredded cheese.
Next, we're replacing traditional red enchilada sauce with HERDEZ® Guacamole Salsa! I know what you're thinking… the two best things in life, guac and salsa, in one product?? Am I dreaming?!? Nope! This is real.
The HERDEZ® Guacamole Salsa is creamy, smooth, and tangy. It's got a little bit of kick, but not too much! I love using it on these vegan enchiladas, for dipping chips, and as dressing on Mexican-style bowls.
You've probably seen the HERDEZ® label at your local grocery store. Fun fact: HERDEZ® Salsa is the #1 selling salsa brand in Mexico! That's how you know it's good stuff, people. HERDEZ® brings modern Mexican flavors to life and helps people connect with the delicious and authentic flavors of Mexico. In addition to the Guac Salsa they make a variety of other tasty salsas and sauces; you can head to the HERDEZ® website for more.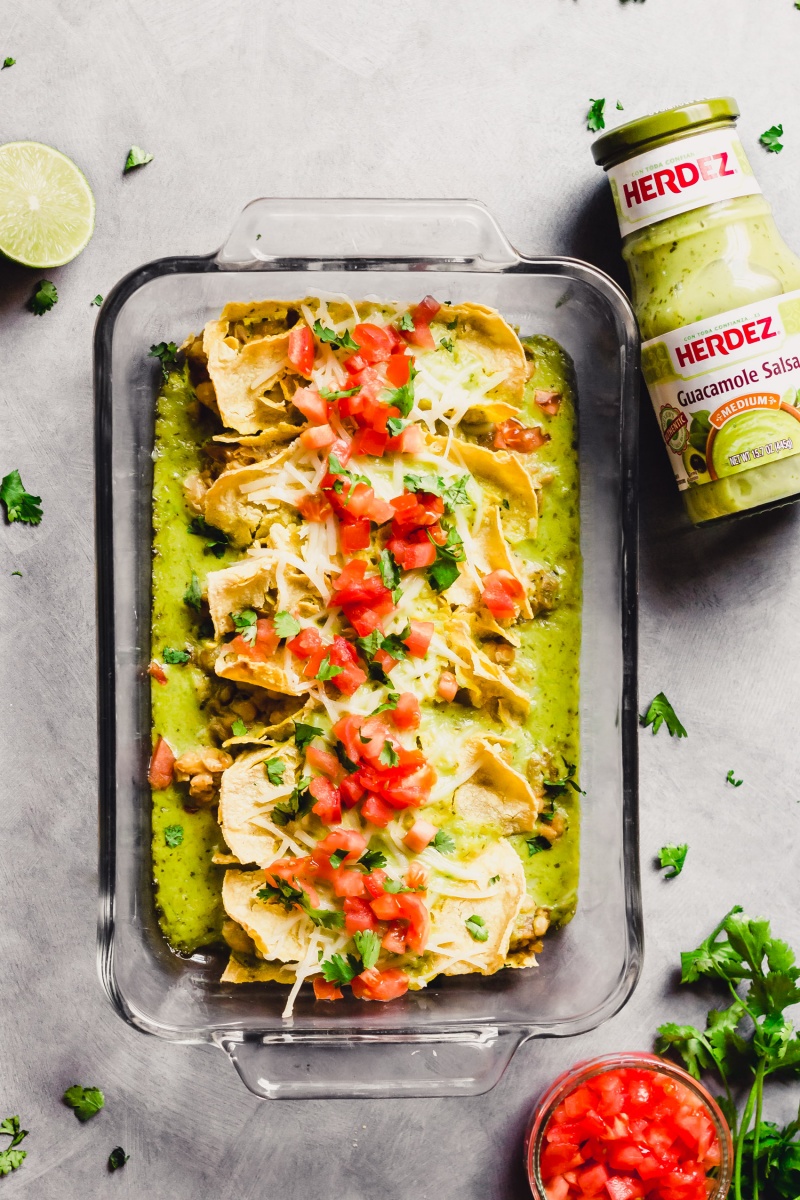 Ingredients in Green Chili Enchiladas
Oil. I recommend using olive or canola oil. 
Yellow onion and garlic. These will be the flavor base of our vegan enchilada filling.
Green chilis. Of course green chili enchiladas need green chilis! You can find 4 oz cans of diced green chilis at most grocery stores. They're pretty mild so don't be too afraid of heat if you're sensitive to spicy food!
White beans. Cannellini, navy or great northern beans would all work well. But by all means, use what you have on hand – if that means pinto or black beans, those would also taste great in this recipe!
Chili powder, black pepper and cumin. This is our blend of spices for the vegan enchiladas and work in conjunction with the green enchilada sauce to pack in a ton of flavor
Corn tortillas. The best part! It's really important to use corn tortillas instead of flour tortillas. Flour tortillas will not hold up the same way that corn tortillas do against the green chili enchilada sauce.
HERDEZ® Guacamole Salsa. We'll be using most of the bottle in this recipe! No dry vegan enchiladas over here!
Vegan shredded cheese. Pick your favorite! A vegan cheddar or mozzarella style works well. You can also omit the vegan cheese altogether if you prefer.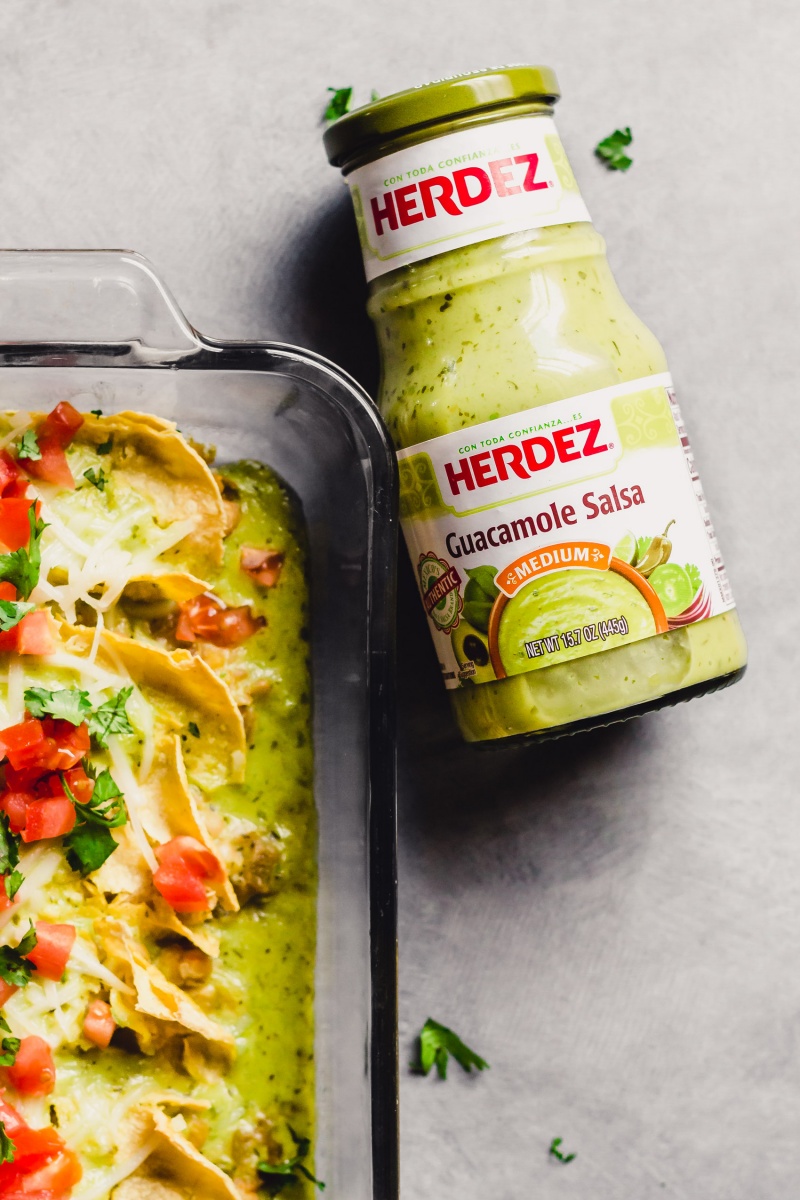 How to Make Vegan Enchiladas
You need three components for green chili enchiladas: corn tortillas, fillings, and sauce. See, enchiladas really are simple.
We're stuffing these vegan enchiladas with white beans, green chiles, onion, and vegan shredded cheese (totally optional, but totally tasty). We already know that we are smothering the stuffed tortillas in the rich, smooth HERDEZ® Guacamole Salsa!
One of the most frustrating parts of making enchiladas is that corn tortillas tend to crack and fall apart when you roll them. Steaming your tortillas before filling them helps big time! Simply wrap your tortillas in a damp towel and pop them in the microwave for 30 seconds. This will make them much easier to work with.
Then grab a tortilla, add some Guacamole Salsa, the white bean / green chili / onion mixture, and vegan cheese. Wrap it up and place it seam side down in a casserole dish so it doesn't open. Repeat with all of your tortillas, or until your dish is full.
Then, (very) generously pour some Guacamole Salsa on top, and sprinkle with some vegan shredded cheese. Bake and get ready to eat some delicious green chili enchiladas!
How to Store Vegan Enchiladas 
You can totally freeze these green chili enchiladas and reheat for a quick weeknight meal. Casserole dishes like enchiladas are the best freezer-friendly meals! You could freeze the whole tray if you plan to eat them all in one go, but if you prefer to enjoy them one portion at a time, I recommend packing the enchiladas into separate single-serve containers and then freezing. 
If you plan to eat them within a couple days, they'll hold up for 2-3 days in an airtight container in the refrigerator. I recommend reheating them in a 350 degree oven versus using the microwave to prevent them from getting soggy.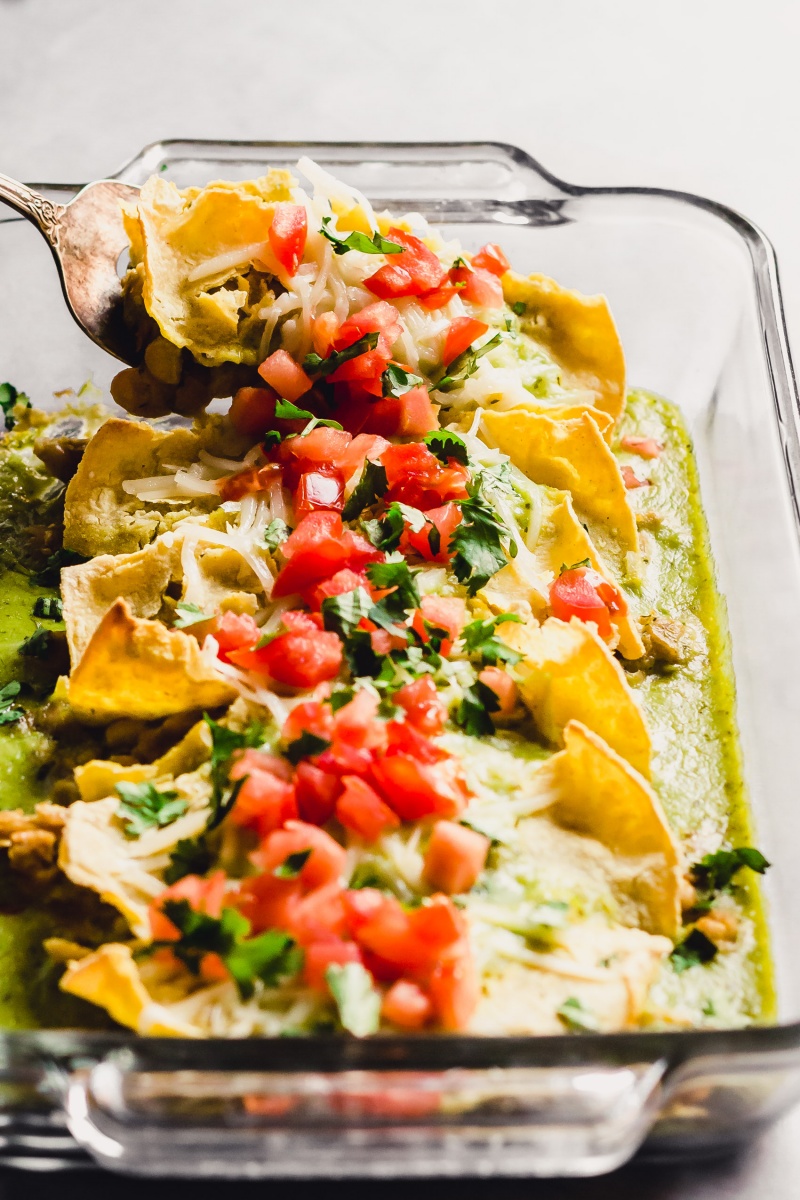 More High Protein Vegan Dinners
These green chili enchiladas are packed full of protein and fiber from the beans. If you're looking for more high protein vegan meals or ways to use up those beans sitting in your pantry, check out these other recipes on my site!
Print
How to make:
White Bean Green Chili Enchiladas
Enchiladas don't have to be complicated! Make these easy vegan White Bean Green Chili Enchiladas for your next dinner party to satisfy everyone, including your plant-based friends and family.
Ingredients
1 tablespoon

cooking oil

1

yellow onion, diced

2

cloves garlic, minced

1

4-ounce can green chiles

1

15-ounce can (1 1/2 cups) white beans, drained and rinsed

1/2 teaspoon

chili powder

1/2 teaspoon

ground cumin

1/4 teaspoon

ground black pepper

8

corn tortillas

1

bottle

HERDEZ® Guacamole Salsa

1 cup

vegan shredded cheese

Optional toppings: diced tomatoes, salsa, cilantro, avocado
Instructions
Preheat oven to 350ºF.

In a medium skillet over medium heat, add oil. When hot, add onion. Cook for 5 minutes, until translucent. Add garlic; cook for 1 more minute, until fragrant.

Add green chiles, white beans, chili powder, cumin, and pepper; stir. Cook until heated through, about 2 minutes.

In the bottom of a 9×13 baking dish, add 1/2 cup Guacamole Salsa; spread out evenly.

Lay tortillas flat. Spread 1 tablespoon Guacamole Salsa onto each tortilla; scoop about 1/4 cup of bean filling into each tortilla. Add 1 tablespoon vegan shredded cheese on top. Roll up each tortilla and place into baking pan, seam side down; repeat with all tortillas. Top evenly with 1/4 cup Guacamole Salsa and 1/2 cup vegan shredded cheese.

Bake for 20 minutes, until cheese is melted.

Top with tomatoes, cilantro, or any other desired toppings.
Thanks to HERDEZ® for sponsoring this post! I love working with brands whose products I really love and would honestly recommend. Thank you for your support!