This is the BEST recipe for Vegan Funfetti Cake! It is soft, fluffy, and only requires 10 ingredients & one bowl. Top with vanilla frosting and extra sprinkles!
Vegan Funfetti Cake
Two weeks ago I turned 24. Then yesterday, I finished my master's degree. So it's time to celebrate!!!
Despite still being in quarantine (going on 60+ days), I feel incredibly happy and excited about my life, the people in it, and my career. I truly don't know a better way to celebrate all those things than vegan funfetti cake!
I swear to you, this is the BEST vegan funfetti cake recipe – it is so light and fluffy! Altogether it took me five (!!!) attempts to get this recipe juuuust right, but the work was well worth it. Plus, I got to eat five confetti cakes – unquestionably my favorite part about being a food blogger.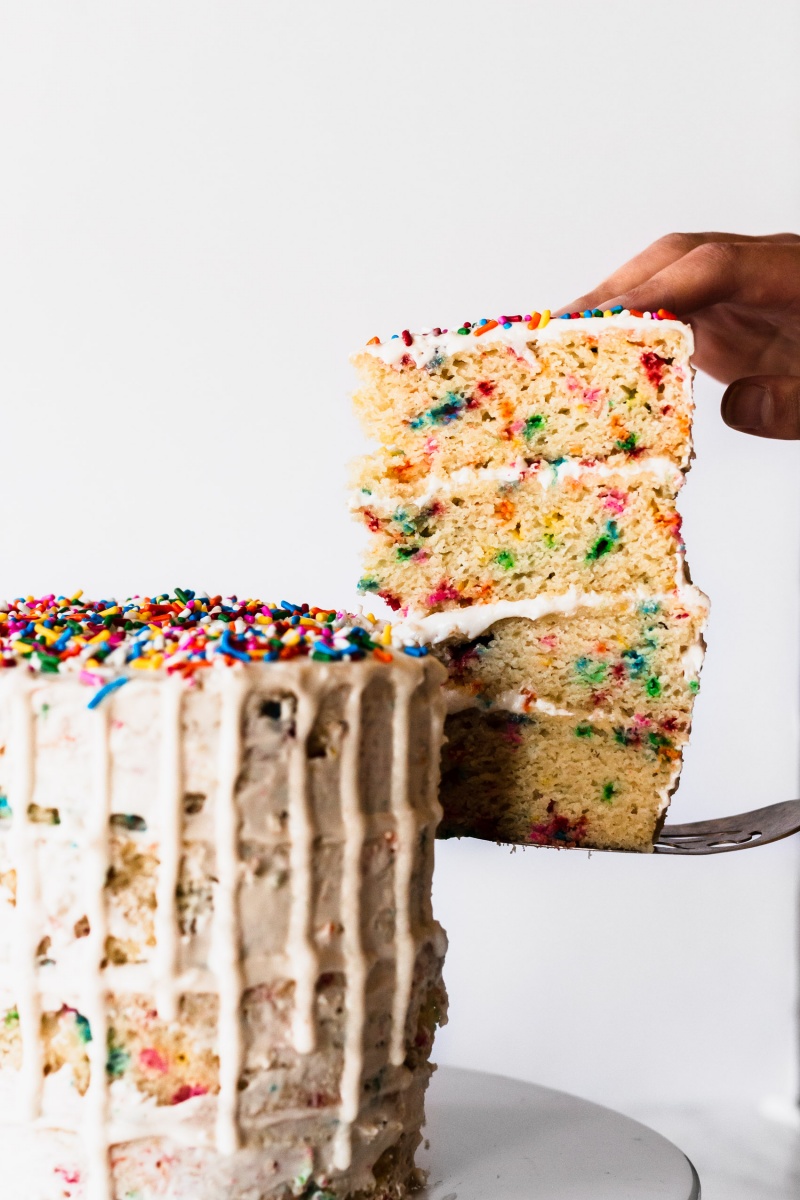 How To Make Funfetti Cake

Developing a vegan cake recipe is notoriously tricky. I was never able to perfect a vegan cake recipe, until I read that vegan cake batter should be thicker like soft-serve ice cream rather than the thin cake batter we're all used to.
Why is that? I'll try to not get too food science-y, but basically, we want to decrease the liquid and the fat of a cake recipe to maximize gluten formation, because we're relying on that to give the cake structure (rather than eggs).
The ingredients in this confetti cake are unbelievably simple—no speciality ingredients needed.
All-purpose flour. I don't even bother with cake flour because… why would I? Basic all-purpose flour provides the gluten that holds this cake together.
Sugar. Regular granulated sugar works here. I wouldn't recommend coconut sugar because its flavor is too caramel-like.
Baking soda. The baking soda + the vinegar react to create carbon dioxide, which gives this vegan funfetti cake a good rise as a result.
Salt. Every sweet thing needs a hint of salt so that you end up with a balanced flavor.
Non-dairy milk. Make sure you're using unsweetened, instead of a sweetened version. Varieties such as soy, almond, coconut (not canned), oat, or any other non-dairy milk will work.
Oil. Choose a neutral oil for baking such as canola, vegetable, or grapeseed oil.
Vinegar. This reacts with the baking soda, and consequently gives the cake rise.
Vanilla extract. We're using a whole tablespoon for a big punch of vanilla flavor.
Sprinkles. Because of course! You can't have vegan funfetti cake without sprinkles.
Frosting. You can use a store-bought mix, or by all means make your own!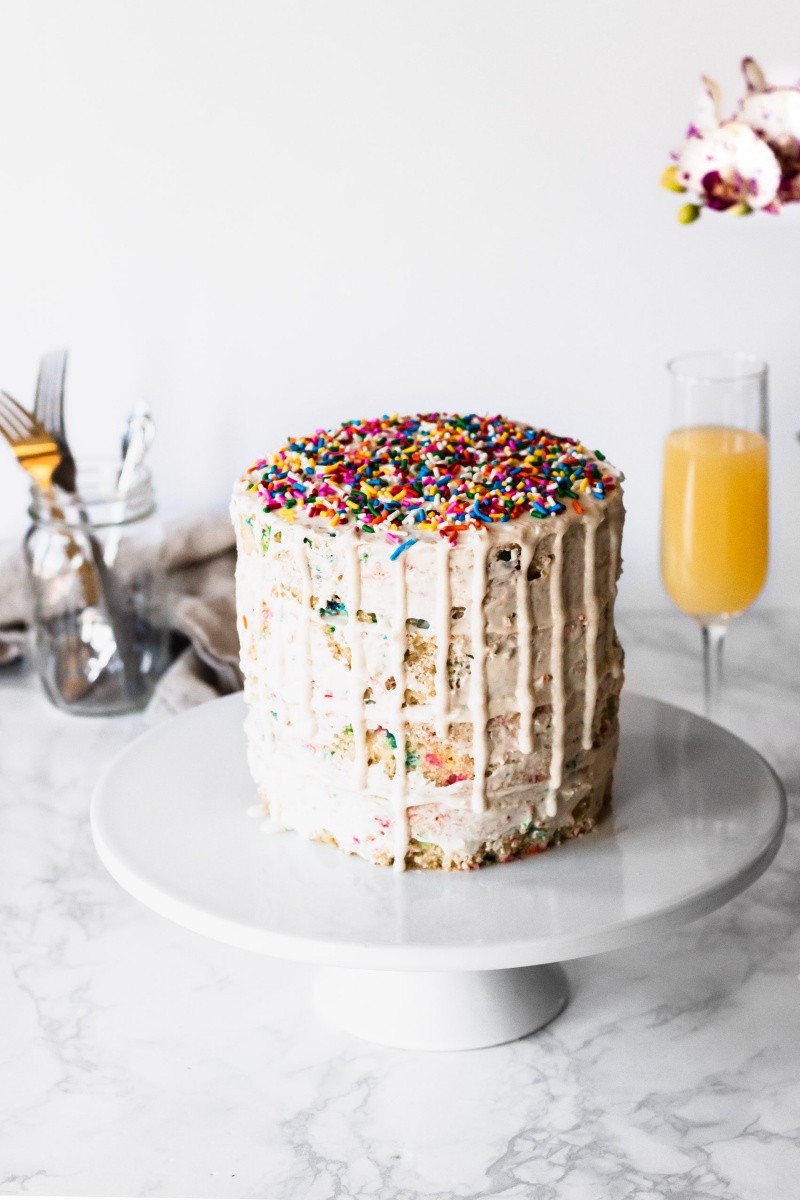 How to Measure Flour

Guess what? You're probably measuring flour wrong! Don't worry—I was also making this mistake until a few months ago when another blogger (much more skilled in baking than I) pointed out how to measure flour.
Do not: Scoop the measuring cup directly into the bag of flour! This is going to pack the flour and consequently give you way more than you need, which will mess up this vegan funfetti cake.
Do: Follow the steps in the video below. Instead of measuring straight from the back, use a spoon to scoop the flour into a measuring cup. Additionally, do NOT shake the cup at all; this will also pack the flour. Once you've got the cup overflowing with flour, brush off the excess with a spoon or your finger. It may seem tedious, however it's worth the little extra effort!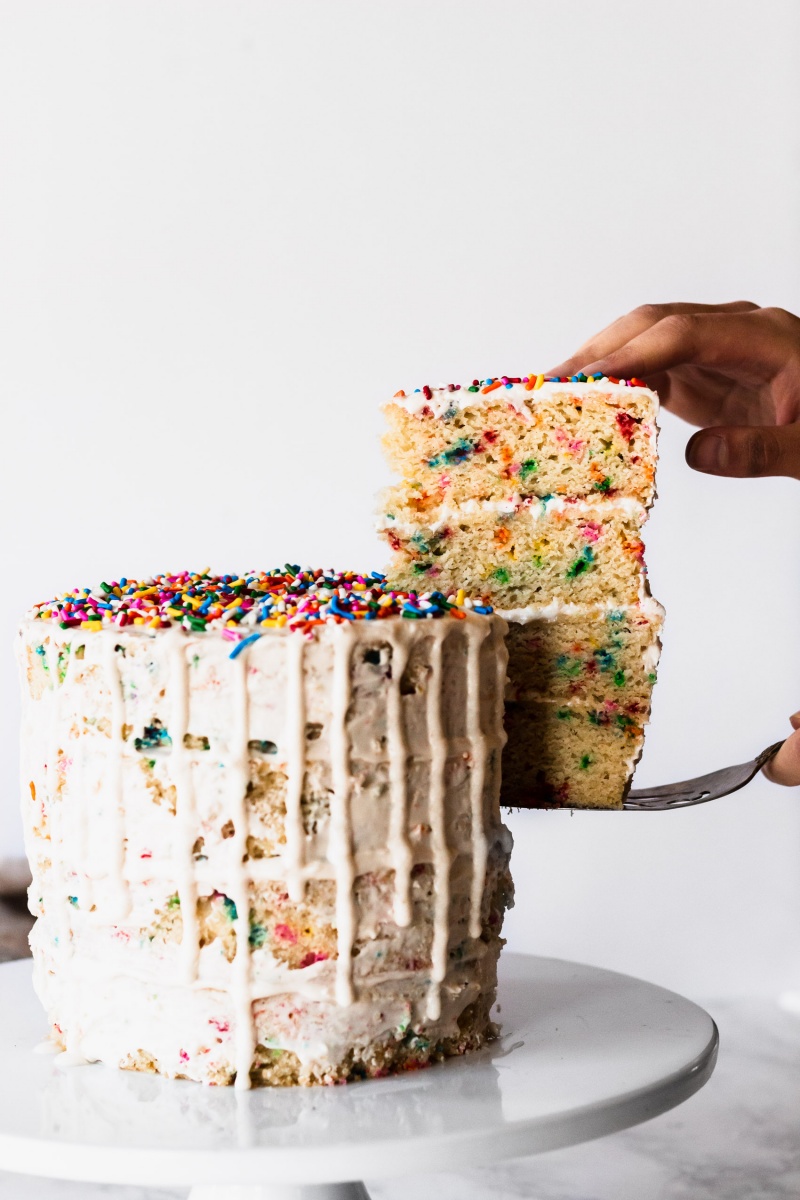 Vegan Cake FAQs
This confetti cake really is simple to make, however I know vegan baking can still be a little intimidating! Here are some vegan cake FAQs to guide you on your journey of baking the best vegan cake recipe.
What egg substitutions do I use in a vegan cake recipe?
I wouldn't recommend using store-bought vegan egg substitutes in this confetti cake because they will weigh the cake down. I find that those egg substitutes are better for recipes that don't need a ton of rise, such as cookies or brownies. Stick with the baking soda and vinegar combination in this recipe, which will give you a confetti cake that is super light and fluffy.
Can I use gluten-free flour?
I have not tested this with gluten-free flour. However, it is on my list of things to do because my roommate Amanda is vegan and has celiac disease. My guess is that a gluten-free vegan cake recipe will not rise nearly as much and will have poor structure because you don't have gluten or eggs. This gluten-free flour blend looks promising. I will report back with results as soon as I test it!
What size cake will this vegan funfetti cake recipe make?
This funfetti cake recipe will make a two layer cake using an 8 or 9-inch round pan. Additionally, this recipe would probably yield 24 cupcakes. Specifically for the pictures in this blog post, I doubled the recipe and made a four layer cake using an 8-inch pan. It's so perfect for a stunning birthday cake!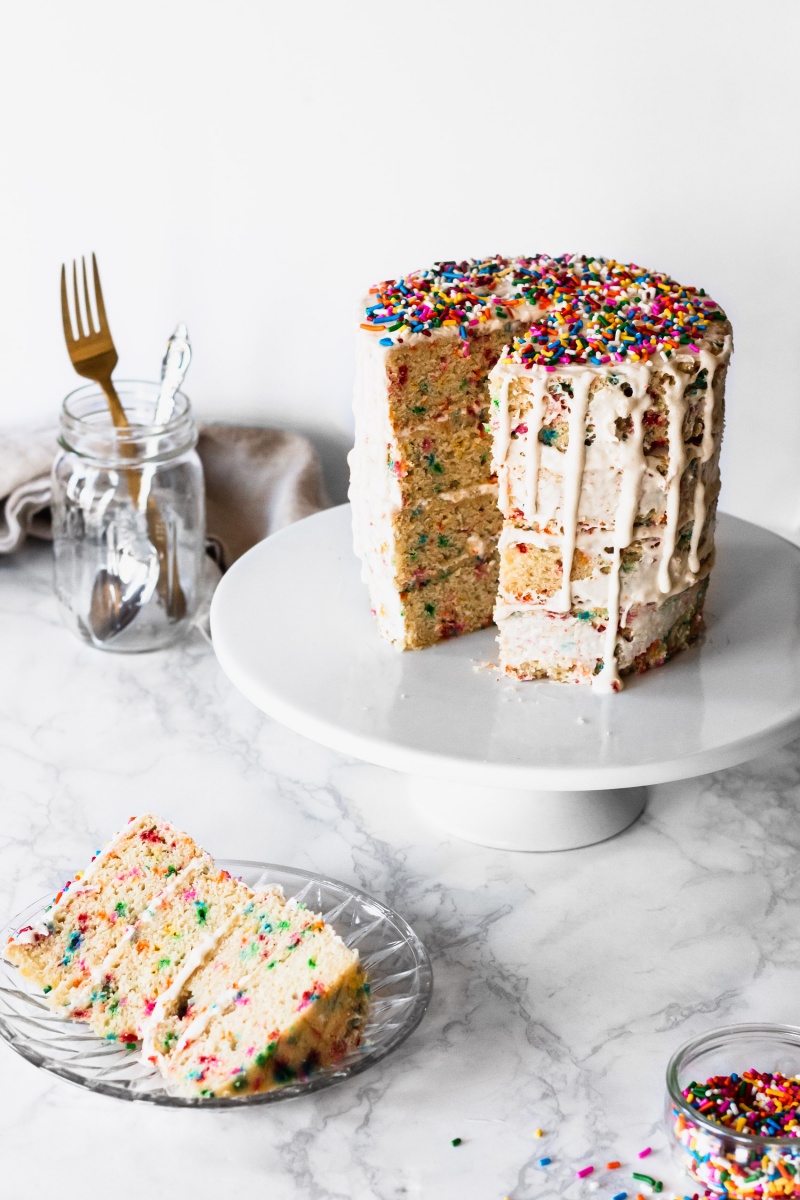 Print
How to make:
Vegan Funfetti Cake
This is the BEST recipe for Vegan Funfetti Cake! It is soft, fluffy, and only requires 10 ingredients & one bowl. Top with vanilla frosting and extra sprinkles!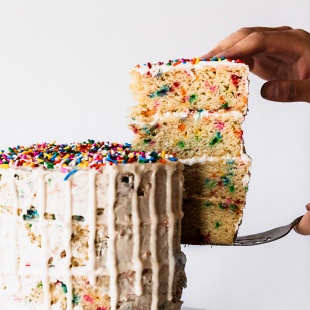 Ingredients
3 cups

all-purpose flour

1 1/4 cups

granulated sugar

1 teaspoon

baking soda

1 teaspoon

salt

1 1/2 cups

unsweetened non-dairy milk

1/2 cup

oil (canola, grapeseed, or vegetable)

2 tablespoons

white vinegar

1 tablespoon

vanilla extract

1/2 cup

sprinkles, plus more for decoration
Non-dairy vanilla frosting
Instructions
Preheat oven to 350ºF. Lightly grease two 8- or 9-inch cake pans. Sprinkle a little flour into each pan, then shake the pan around to evenly distribute the flour.
In a large bowl, add flour, sugar, baking soda, and salt. Whisk to combine. Add milk, oil, vinegar, and vanilla; whisk until just combined. Do not overmix; it's okay if there are some lumps. Add sprinkles; gently stir into the batter. Divide the batter evenly between the two pans.
Bake for 35 minutes, until a toothpick inserted into the center of the cake comes out clean.
Set pans aside for 10 minutes to cool, then remove cake from pan and place on a cooling rack (a trick: place a plate on top of the pan, flip it over so that the cake comes out on the plate, then flip the plate over onto the cooling rack).
When completely cool, decorate with frosting and sprinkles.
Nutrition
Serving Size:

1 slice (without frosting)

Calories:

374.8

Sugar:

32.4

Sodium:

388.3

Fat:

11.7

Saturated Fat:

0.9

Unsaturated Fat:

10.5

Trans Fat:

0

Carbohydrates:

61.2

Fiber:

1.1

Protein:

4.1

Cholesterol:

0