A bowl of this easy Vegan Black Bean Soup is the perfect weeknight meal! This slow cooker recipe requires little prep and is full of plant-based protein.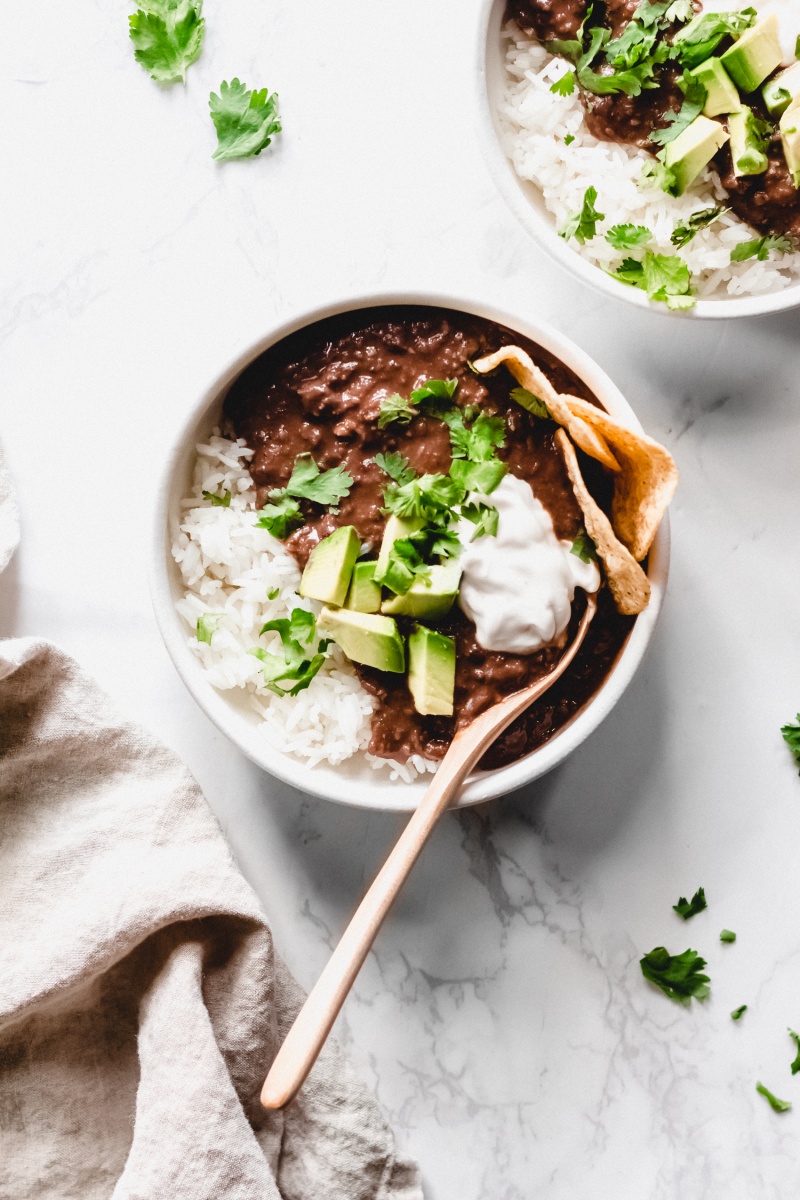 An ode to black bean soup…
So warm and so cozy for long winter nights. You taste so good with avocado and rice. All of the beans make you so hearty. This soup makes me want to throw a big party.
Ok, seriously impressed by my rhyming skills there. But I'm even more impressed by the new photos I shot for this 4-year-old black bean soup recipe!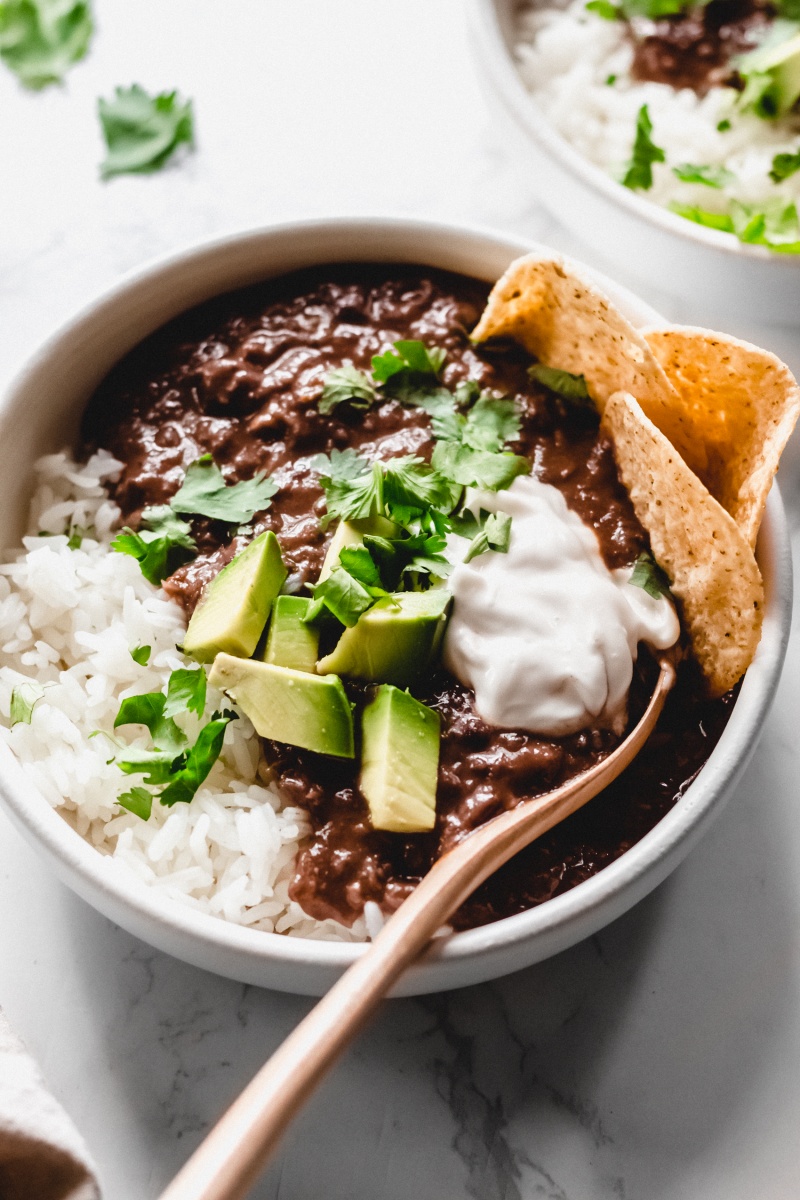 That's right—I posted this recipe back in November 2015, and it quickly became a reader favorite. From then until now, 212,517 people have visited this post to get this delicious slow cooker recipe. WOWZA that's a lot of people visiting my little slice of the Internet.
This recipe really has withstood the test of time. It's a classic recipe you'll keep in your dinner repertoire for years, because it's healthy, made with affordable ingredients, and made in a slow cooker aka you have to do, like, no work.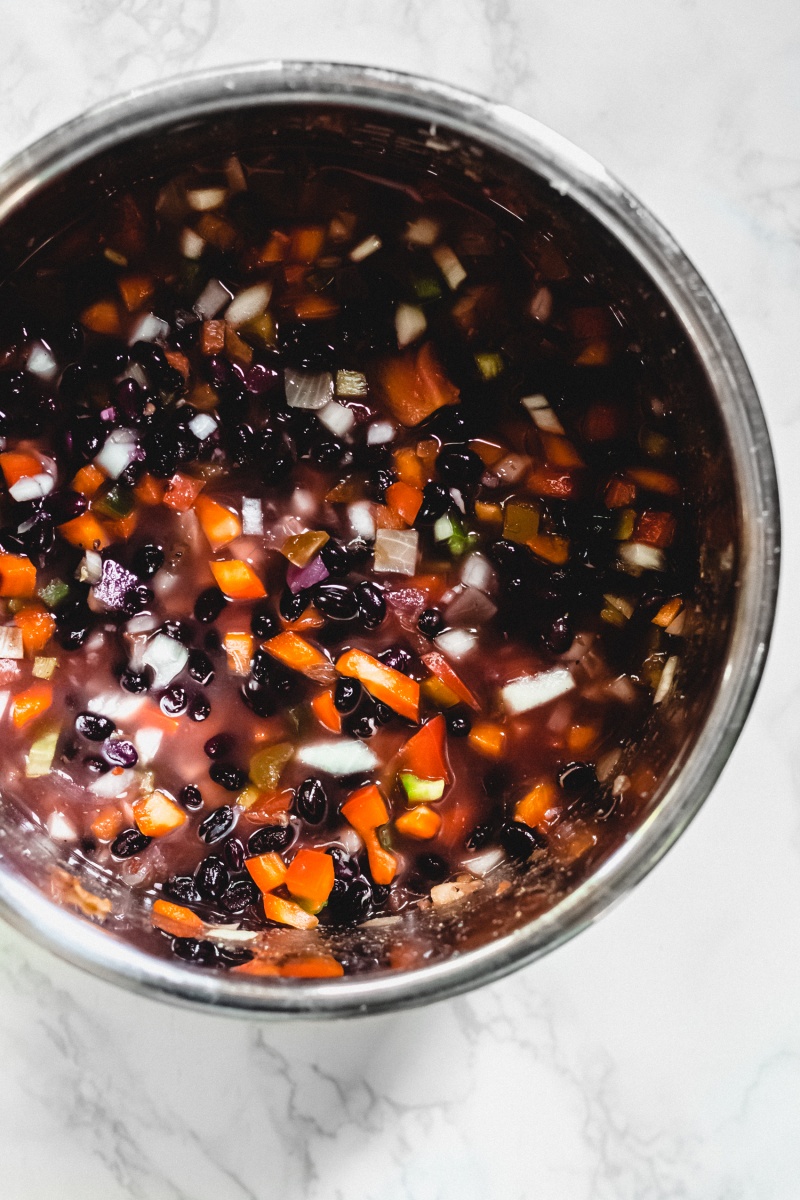 What's in this black bean soup?
Black beans, of course! Dry beans are some of the cheapest foods in the grocery store, plus they're full of fiber and plant protein. I'd say that's good value.
Add beans to the pot of your slow cooker with vegetables like onion, bell pepper, and jalapeños, and a ton of spices. That's basically it!
Note: I really like serving this black bean soup over cilantro lime rice topped with avocado and cilantro. To die for.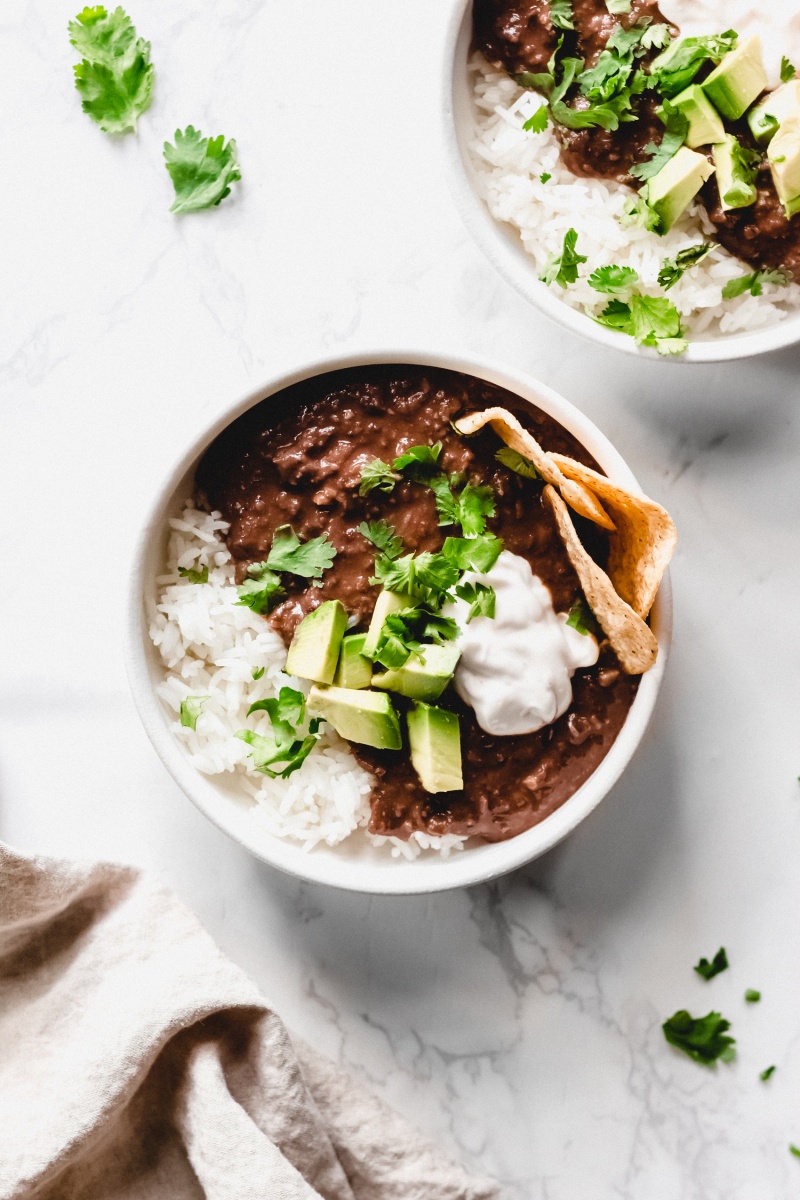 Slow cooker recipe for the win
Do you own a slow cooker? Truth be told… I don't! But I do have a pressure cooker which has a slow cooker function, which is nice because #consolidation and #lessthings.
This slow cooker is only $25, but I would just get this 8-in-1 pressure cooker for $100 (we use this so much!).
You could prep the ingredients for this slow cooker recipe at night, throw the ingredients in the pot of your slow cooker, set it to cook in the morning before you leave, and then BOOM… you come home to cozy smells of perfectly spiced black bean soup.
Then, blend the black bean soup to make it smooth, but leave a little bit of texture. This blender is great if you want to splurge, but this $50 food processor does the job!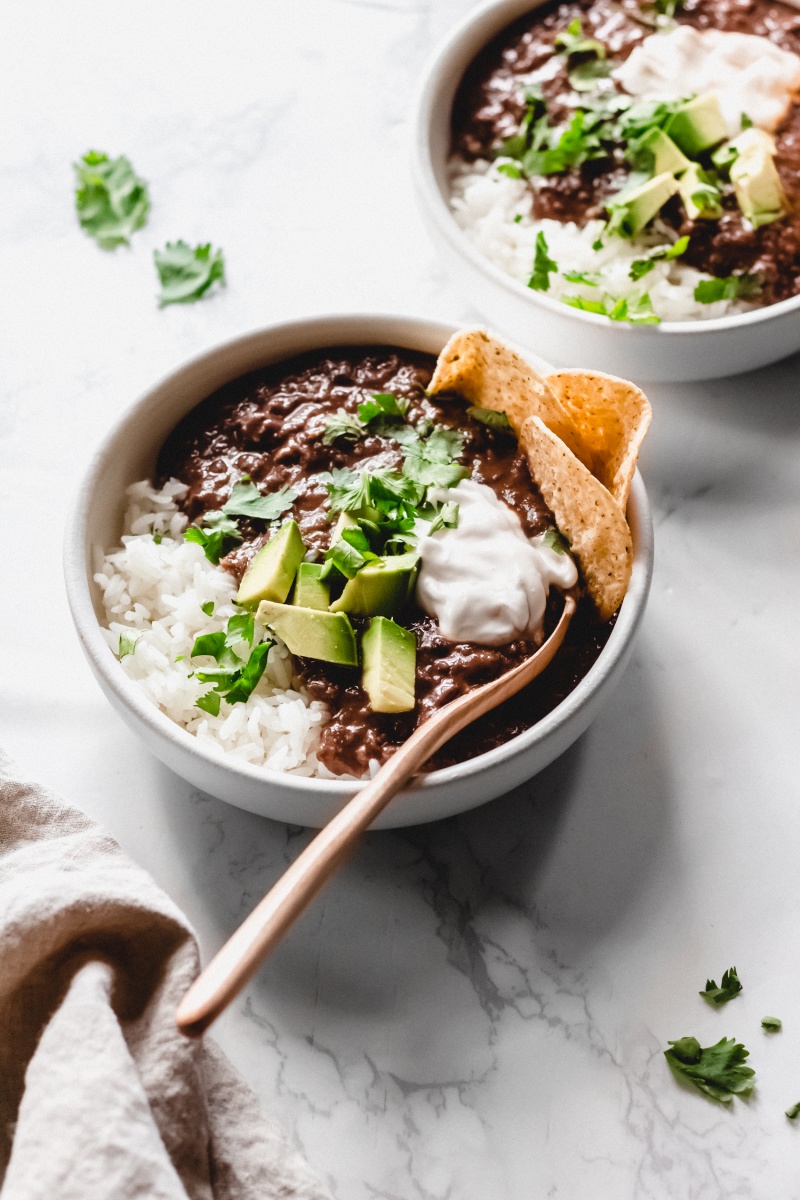 Looking for more slow cooker recipes to get you through the winter? I got you!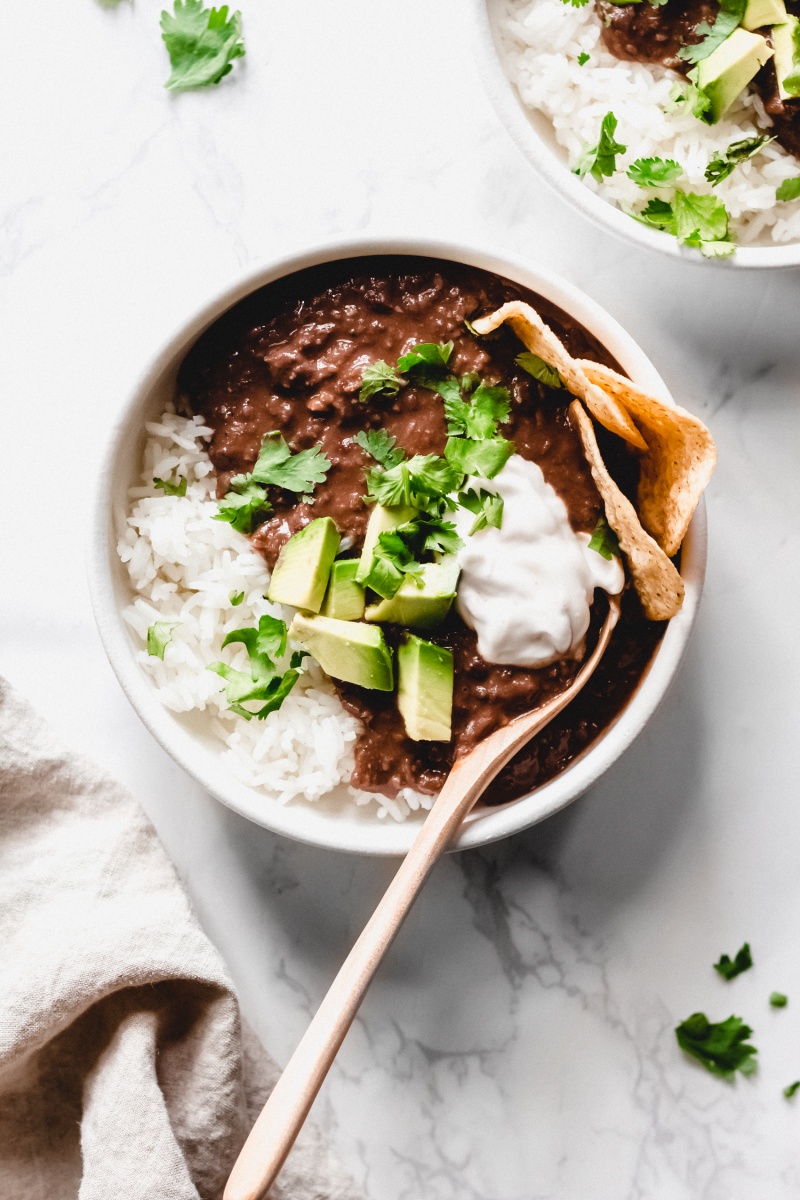 Print
How to make:
Vegan Slow Cooker Black Bean Soup
A bowl of this easy Vegan Black Bean Soup is the perfect weeknight meal! This slow cooker recipe requires little prep and is full of plant-based protein.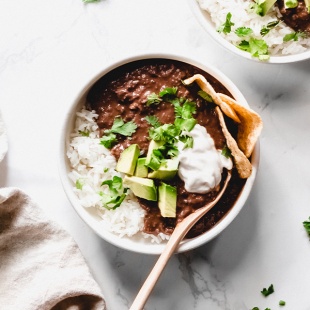 Ingredients
1

pound dry black beans

4 cups

low-sodium vegetable broth

1

yellow onion, finely chopped

1

red bell pepper, finely chopped

2

jalapeños, seeds removed and finely chopped

1 cup

salsa or diced tomatoes

2 teaspoons

minced garlic, about

4

cloves

1

heaping tablespoon chili powder

2 teaspoons

ground cumin

1 teaspoon

ground pepper

1/2 teaspoon

salt

1/2 teaspoon

ground cayenne pepper (decrease or omit for a milder soup)

1/2 teaspoon

paprika
Avocado and cilantro for topping, if desired
Instructions
In a large bowl, place beans. Fill with water about 1 inch over the beans. Let them soak overnight.
Drain and rinse the beans.
In the bowl of a slow cooker, place beans, broth, onion, pepper, jalapeños, salsa, garlic, chili powder, cumin, salt, pepper, cayenne, and paprika. Stir to combine.
Cook on high for 6 hours, until beans are completely cooked.
When the soup is done, you can either leave it as is, process or blend half the soup until smooth and return it to the pot, or process or blend all of the soup until smooth.
Serve warm; top with avocado and cilantro.
Notes
Storage: Store in an airtight container in the fridge for up to 5 days. You can also freeze the soup and reheat when ready to eat.
Nutrition
Serving Size:

1 serving

Calories:

269.7

Sugar:

5.4

Sodium:

635.7

Fat:

1.6

Saturated Fat:

0.4

Unsaturated Fat:

0.9

Trans Fat:

0

Carbohydrates:

49.8

Fiber:

17.0

Protein:

17.1

Cholesterol:

0
*The links that redirect to Amazon are affiliate links, which means I receive a commission on your purchase if you order anything through these links. Thanks for supporting me and my blog!