Keeping your gut healthy doesn't have to be difficult or expensive! Here are 5 easy ways to maintain a healthy gut in your everyday life. In partnership with GoodBelly!
Gut health has become such a trendy term. Keeping your gut healthy has become almost as important in people's routines as brushing your teeth. And for good reason! Our gut health, good or bad, can dictate our overall health.
So many bacteria (think trillions!) live in our digestive system. Don't freak out by the word bacteria! I know we were raised to believe bacteria are bad and should be wiped out, but the bacteria in our guts do us so many favors. They help us digest foods and turn the nutrients into stuff our bodies can actually use.
What exactly is a healthy gut? It's one with a balance of "good" and "bad" bacteria. The "good" bacteria crowd out the "bad" bacteria which, in excess, can cause a variety of digestive issues. Eating a variety of whole foods helps maintain this healthy balance!
There is so much information out there about what to do to maintain a healthy gut, but some of the advice is expensive, unnecessary, or not supported by science. And we keep it affordable, realistic, and evidence-based here. 🤓 I've listed 5 ways to maintain a healthy gut that you can easily incorporate into your normal routine!
I am so excited to partner with GoodBelly today to chat about gut health! GoodBelly makes truly delicious drinks, like their JuiceDrink and PlusShot, that are full of live and active probiotic cultures. The probiotic strain GoodBelly uses in their products have been shown to promote digestive health and balance digestive microbes!
GoodBelly is hosting a 12 Day Belly Reboot to challenge YOU to drink GoodBelly for 12 days to feel the difference with probiotics! Plus, you get your money back if you don't love it, so what is there to lose?
When you sign up for the 12 Day Belly Reboot, GoodBelly will send you tips on maintaining gut health AND a coupon! 
Click HERE to sign up for the GoodBelly 12 Day Belly Reboot.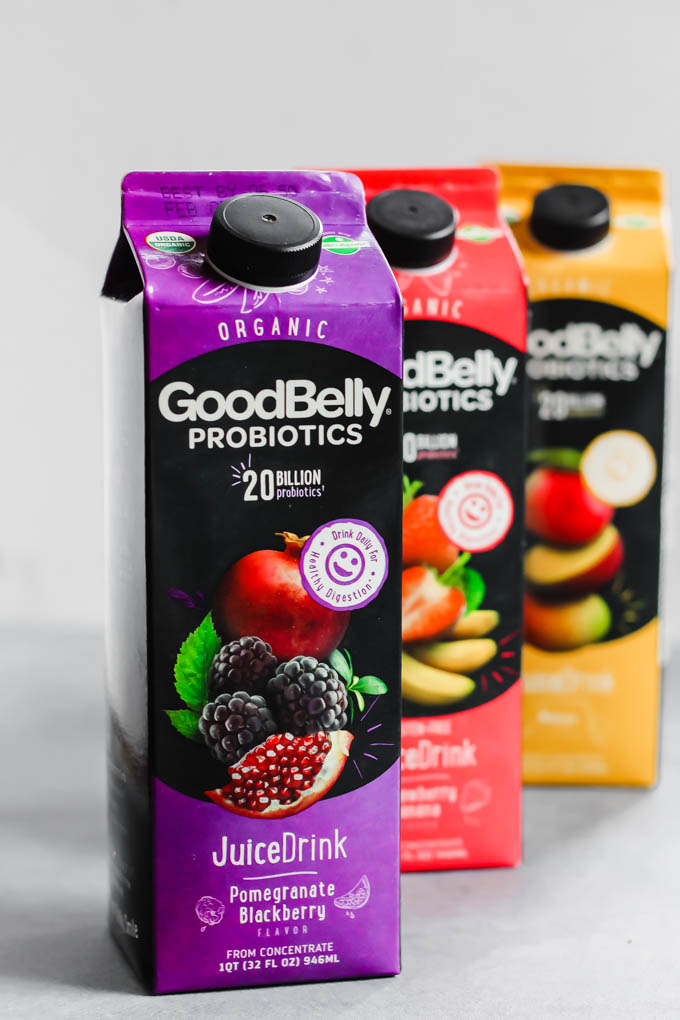 Onto the 5 tips for gut health!
---
1. Eat probiotic-rich foods.
The probiotics in foods are those "good" bacteria we were talking about earlier. Foods that contain live probiotics are either fermented or have had probiotics added to them (like GoodBelly drinks!). Examples of fermented foods include tempeh, sauerkraut, kimchi, cultured dairy-free yogurt, kombucha, miso, and sourdough bread.
Here is an easy recipe for a tropical green smoothie loaded with active probiotics, thanks to GoodBelly, that you can enjoy for breakfast or a snack!
Print
How to make:
Tropical Green Smoothie
This tasty Tropical Green Smoothie is a gut-friendly way to start the day or enjoy snack time! It's full of probiotics, fiber, and (hidden) vegetables.
Ingredients
1

banana

2 cups

raw spinach

1 cup

GoodBelly Mango Probiotic Drink

1

scoop plant-based vanilla protein powder

2 tablespoons

hemp seeds

1 tablespoon

psyllium husk (optional)
Instructions
Add all ingredients to a blender. Blend until smooth.
Optional: Top with crunchy toppings with granola, seeds, nuts, or chocolate chips!
2. Eats lots of fiber.
As if I didn't love fiber enough already, turns out our gut bacteria LOVE fiber! Bacteria are able to eat fiber that we cannot digest and then produce short-chain fatty acids, which are used in a variety of bodily mechanisms that influence overall health.
Fiber comes in two forms: insoluble and soluble. Insoluble fiber creates bulk for regular, healthy poops; soluble fiber can lower blood cholesterol and help balance blood sugar. All good things!
Quiz: where do you get fiber? Okay, fine, I'll give you the answer… only PLANTS! Fruits, vegetables, starches, whole grains, beans, nuts, and seeds and awesome sources of fiber. Eat up!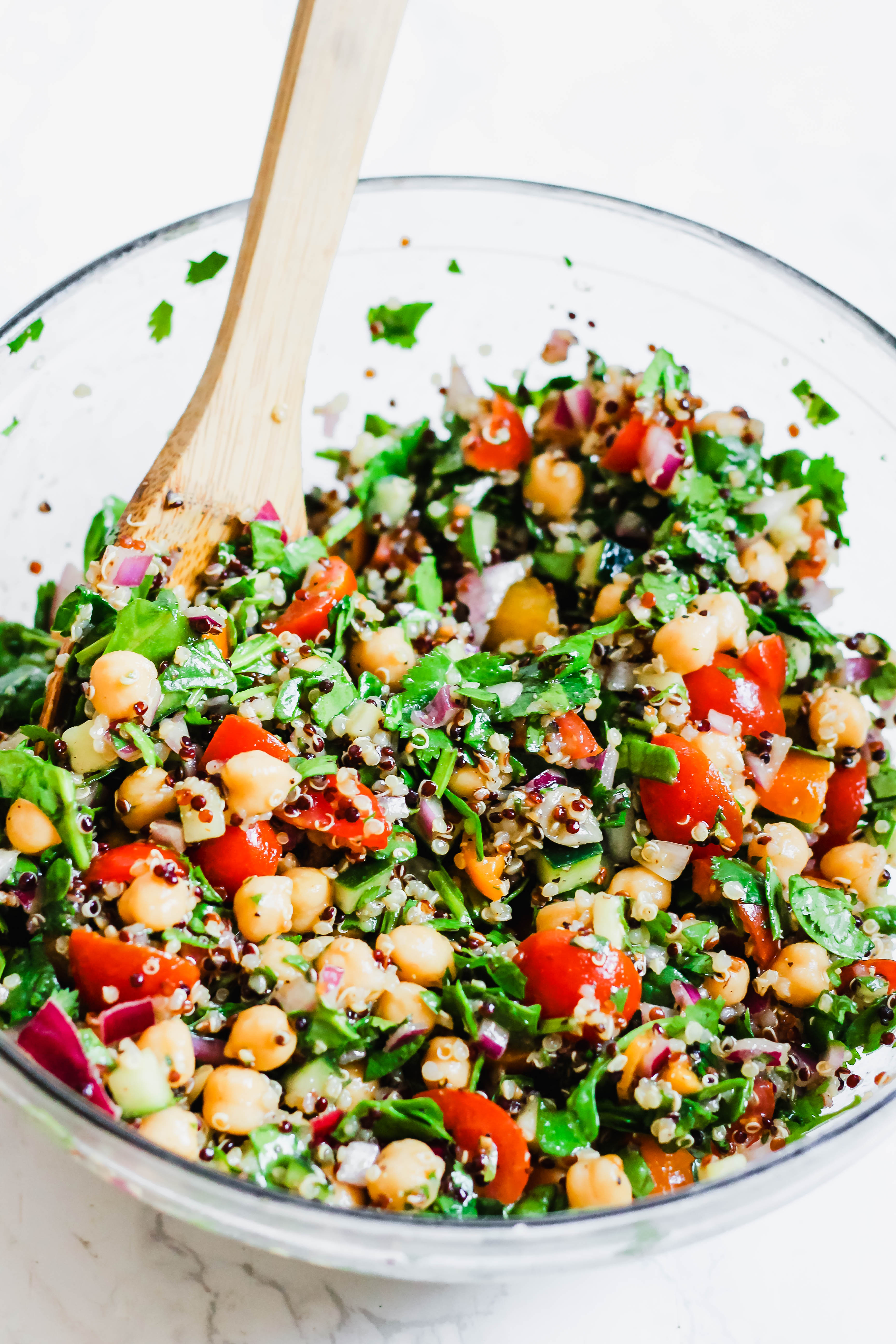 3. Eat prebiotics.
Not to be confused with probiotics (actual bacteria). Prebiotics are what the bacteria feed off of! Prebiotics come from carbohydrates and fiber that humans can't digest. The "good" bacteria eat these prebiotics and help maintain a healthy balance of microflora in your gut.
Foods that contain prebiotics include: oats, berries, legumes, beans, bananas, asparagus, garlic, and onions.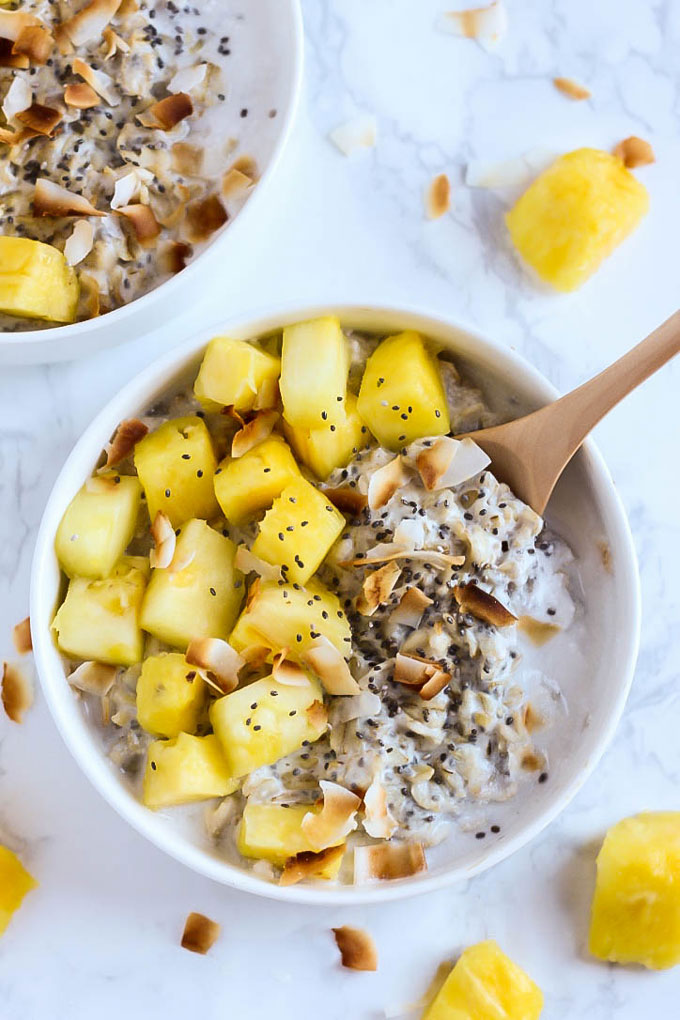 4. Drink enough water.
I think we all know the importance of drinking water, right? I hope so! Water plays so much roles in the body, but when it comes to gut health, water helps to keep everything moving. Water is especially important when you're increasing your fiber intake (to feed those "good bacteria") to avoid constipation!
5. Stress less.
This is probably the least simple one, honestly. It can be really hard to reduce your stress level—what if most of your stress is coming from the job you rely on to support yourself? your education? a situation you have no control over?
Our brains directly communicates with our gut via the gut-brain axis, so how you're feeling and what you're thinking can affect how your digestive system is working. Basically, stress in the brain —> stress in the gut.
My best advice is to reduce stress as much as possible in these uncontrollable areas, and then focus on other situations. If you're stressing about food choices, traffic, missing a workout, etc… stop, breathe, everything's okay.
---
Thanks to GoodBelly for sponsoring this post! I love working with brands whose products I really love and would honestly recommend. Thank you for supporting this blog that I love oh-so-much!