It's always a great time to start eating more plant based foods! Read on for 10 easy ways to incorporate more wholesome and sustainable plant foods into your diet. In partnership with Dr. Praeger's!
New year, same me. But new goals! And new adventures I'm excited for! 2020 is going to be a great year, y'all – I'm excited we're finally back in an even-numbered year. Just me?
I will always believe that any time is a good time to establish new habits or try new things. But I will say that the new year feels like an especially good time to start new things! If one of your goals for 2020 is to eat more plant based foods, you're in luck! Whether you're passionate about animal welfare or want to reduce your carbon footprint or want to reap the health benefits of plants (0r a mix of all three!), I've got 10 ways to incorporate more plant based foods into your diet.
I approach anything food- and nutrition-related with moderation, compassion, and pleasure. Focus on what you can ADD rather than what you rather than what you can remove. My motto is – let's start with adding, not subtracting. That is usually less overwhelming for us, because removing a ton of staple foods from our diet can be intimidating. Be kind to yourself in this process of eating more plants, and remember that your mental, emotional, and social health is important too!
1. Use plant-based burger patties for burger night.
You can find delicious, meaty burgers made from PLANTS at many grocery stores nowadays! I have really been loving the new Dr. Praeger's Perfect Burger. It's made with ingredients like pea protein, beets, sweet potato puree, and oat fiber. It packs 20 grams of plant protein in one burger! I like to serve it on a whole-wheat bun with avocado, tomato, and vegan cheese for the most satisfying plant-based burger you ever had!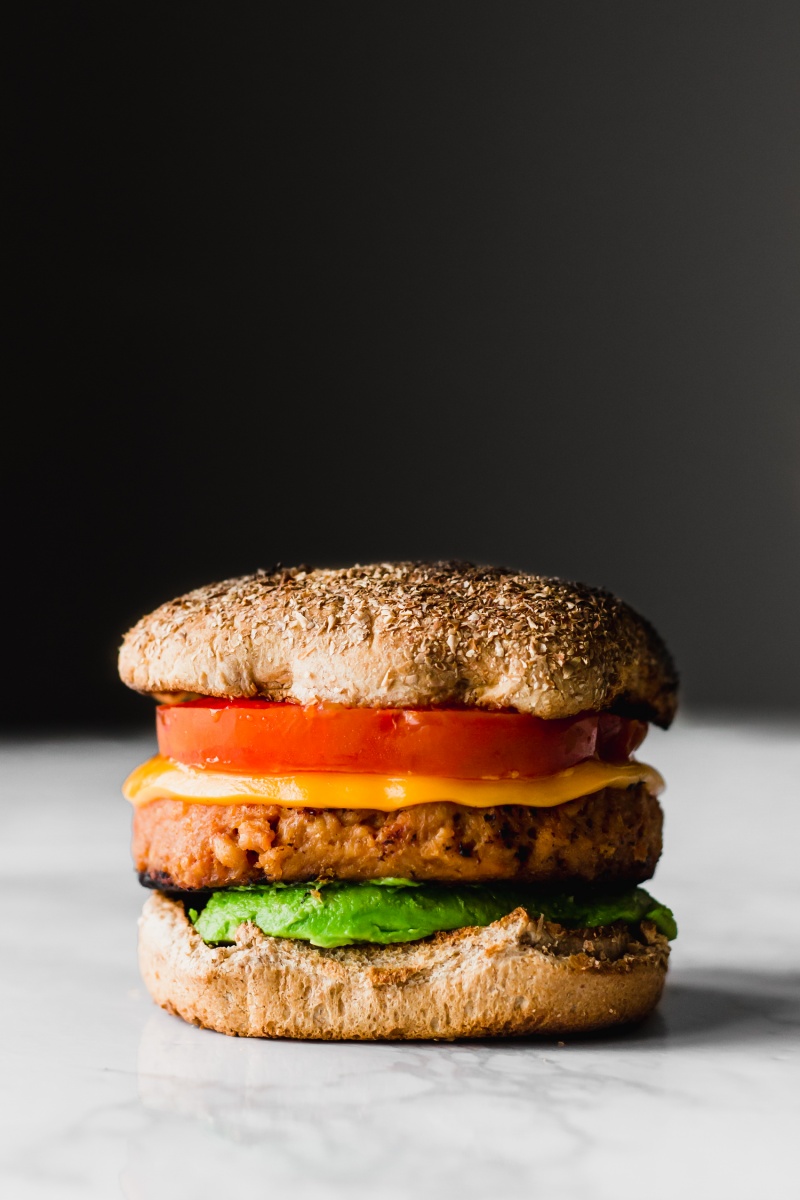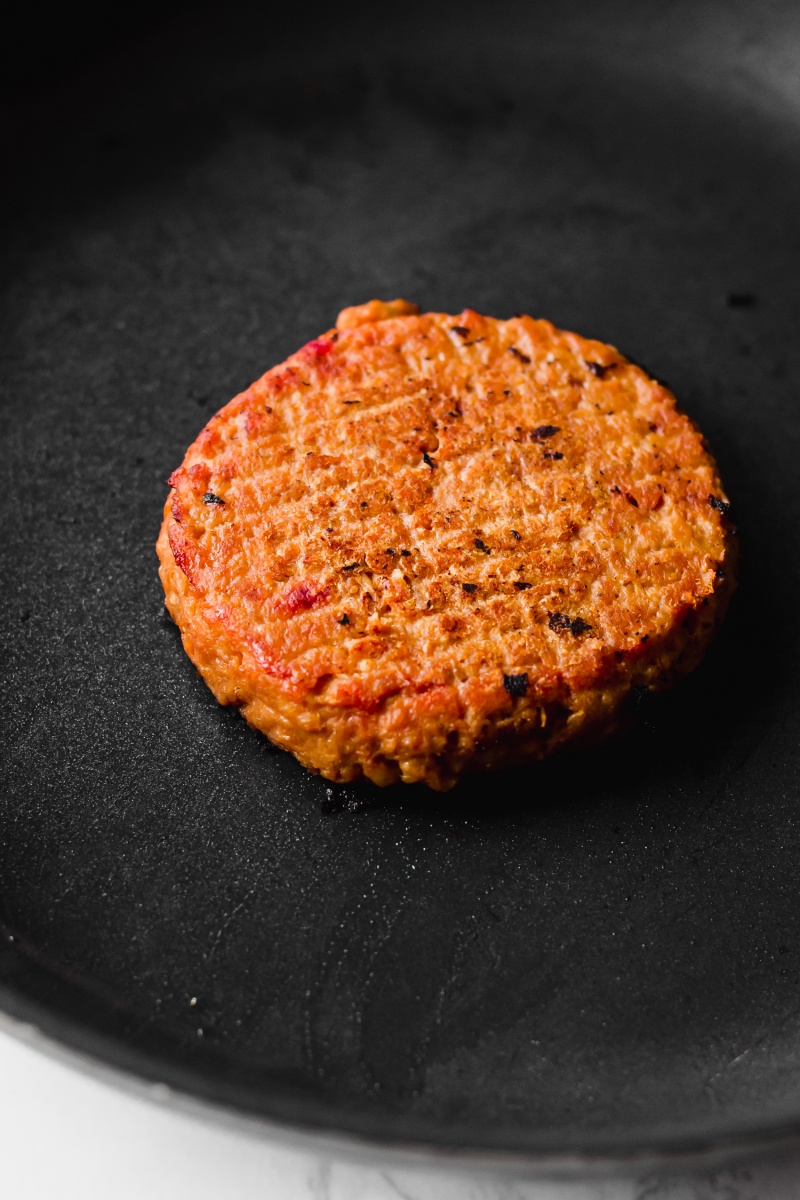 If burger night is a frequent event at your house, try swapping out beef burgers for these Dr. Praeger's Perfect Burgers. Maybe start with once a month, then once a week! You can find them in a store near you here.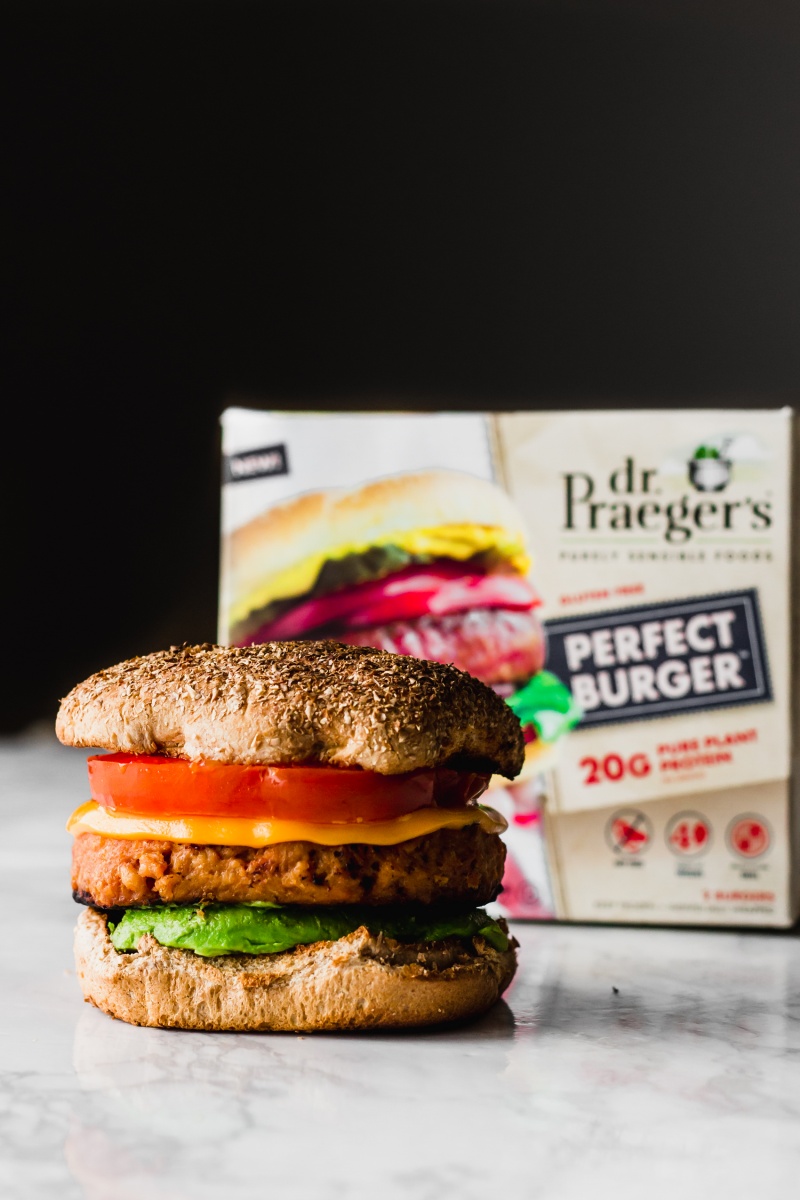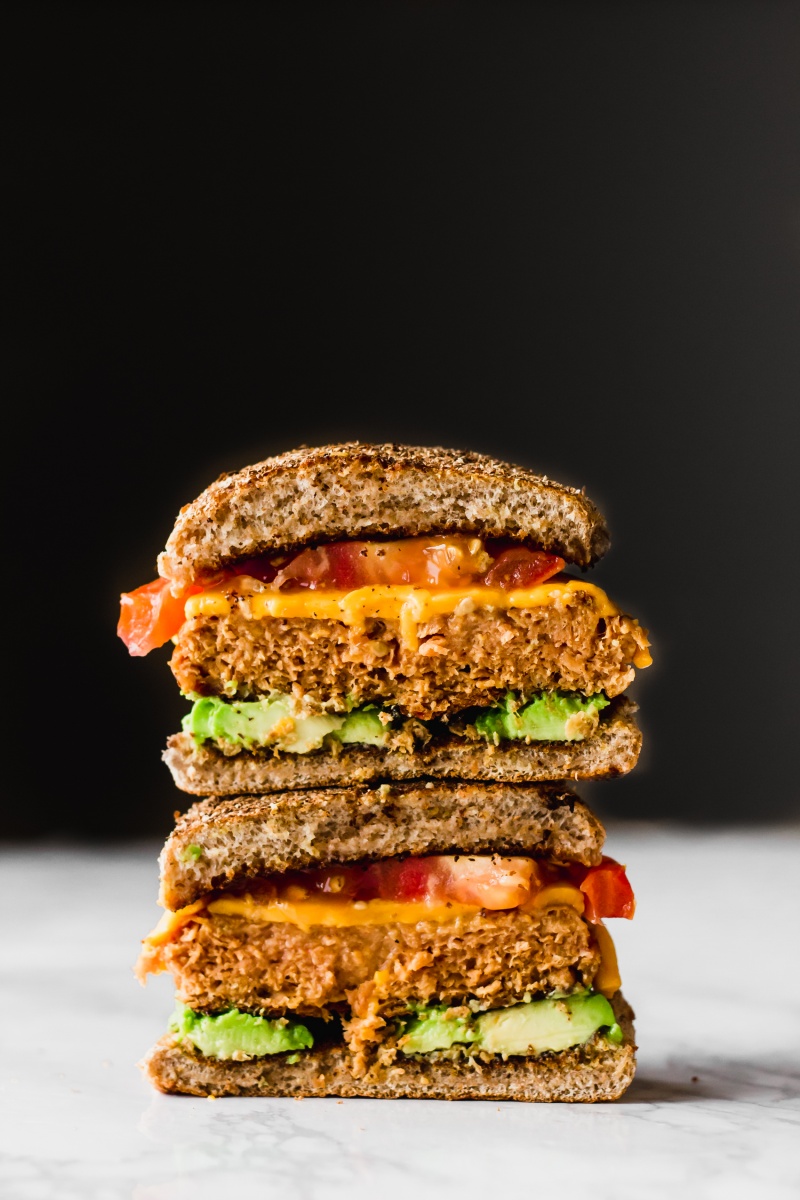 2. Add fruit to your everyday breakfast.
No matter what you're already eating for breakfast on a regular basis – oatmeal, eggs and bacon, toast, nothing – you can ate some plant-powered goodness just by adding some fruit. A cup of berries, an orange, a banana, or an apple (or any other fruit!) will antioxidants and fiber to start your day.
3. Switch out dairy milk for non-dairy alternatives.
If you're looking to switch out your dairy milk for a plant-based alternative, you're in luck! There are SO many non-dairy milk options now. If you're drinking a significant amount of dairy milk every day (and thus, it's contributing lots of protein, calcium, and calories to your diet), I would suggest switching to soy or pea milk. Soy milk will be the most inexpensive and widely accessible option, plus it's comparable to dairy milk in its nutritional content. (Psssst worried about soy? Check out my myth-busting post here).
4. Add vegetables to your favorite dinner.
We can't talk about plant based foods without taking about vegetables! Do you eat a steak and mashed potatoes for dinner often? Add some grilled asparagus or broccoli. Boom, plants!
If you're cooking a spaghetti sauce, soup, or stew, add in some chopped spinach. Whip up a simple side salad of greens, chopped raw veggies, maybe some dried fruit, nuts or seeds, and a yummy dressing (I like this ranch). I also really love the Dr. Praeger's Kale Puffs for some greens – they're perfect for picky eaters. Think about what you can ADD to your plate to make it more plant-powered!
5. Pack a plant-based sandwich for lunch.
For many of us, a turkey and cheese sandwich is the go-to for lunch – whether we pack it or buy it at a restaurant. If sandwiches are a big part of your life, try packing a plant-based sandwich 1 to 2 times per week. You could make chickpea salad sandwiches or hummus vegetable sandwiches. You could also use one of Dr. Praeger's Veggie Burgers to make a veggie-packed sandwich! I love this combo: whole-wheat bread, Asian Veggie Burger, teriyaki sauce, shredded carrots and cabbage, and avocado.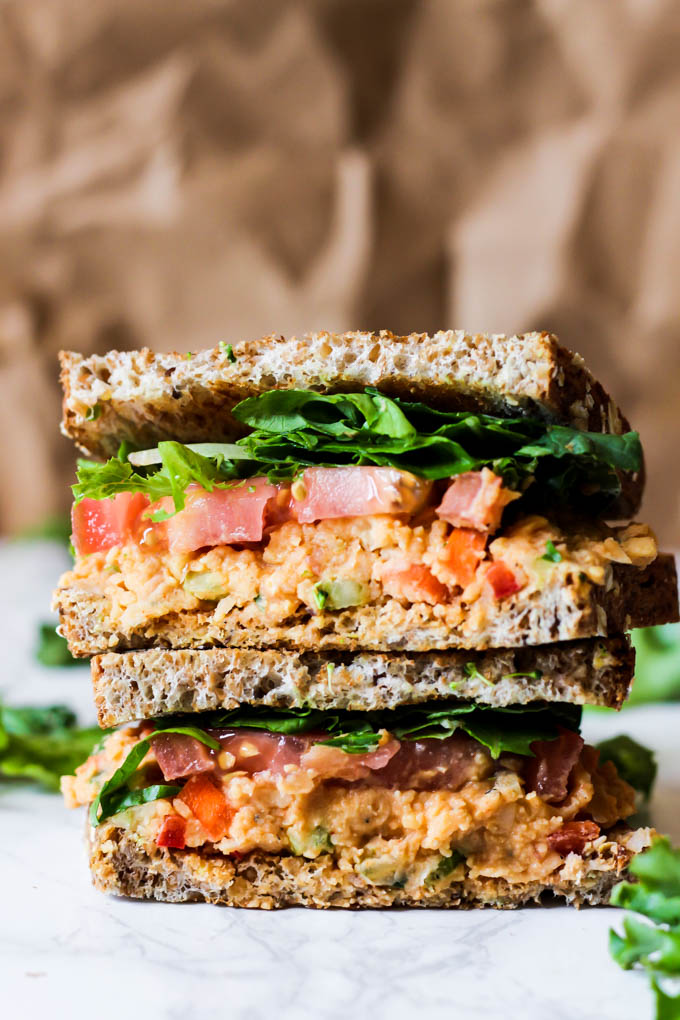 6. Find alternatives to your favorite comfort foods.
We all need some good ole comfort food sometimes. Thankfully, we have SO many plant based foods on the market for when you just need something fun. My favorite fun meal is chicken tenders, mac & cheese, and broccoli. These Dr. Praeger's Classic Chick'n Tenders are seriously SO GOOD. I'm also obsessed with these Gametime Buffalo Chick'n Tenders because hellooooooo… buffalo sauce is the best.
Whatever your favorite comfort foods are, I guarantee you there are plant-based options on the market to try!
7. Keep energy-dense snack packs on hand.
When we get hangry at work or at school, we're more likely to binge on whatever we can find – vending machine chips, an office cookie, an icee, etc. None of these things are bad, but they're rather unsatisfying and will give us a quick blood sugar spike and drop, which is not what we want!
We want sustained energy throughout the day to avoid spikes and crashes, which leave us feeling really exhausted. How do we do that? Satisfying meals and snacks! Make sure to have meals with a balance of protein, carbohydrates, fat, and fiber, and make snacks with some mix of those elements. I like to make grab-and-go snack packs filled with plant-based fuel like nuts, seeds, dried fruit, chocolate chips, and coconut. These come in handy when I'm hangry!
8. Scope out the plant-based options at restaurants near you.
I highly recommend expanding your horizons when it comes to restaurants in your area! You might never know the best comfort food vegan restaurant is right around the corner from your office if you never look. I recommend HappyCow for finding plant-based options near you. Also, traveling is a great time to scope out plant-based options at restaurants, especially if you're traveling to a bigger city like New York, Los Angeles, or D.C.
I have a guide of my favorite vegan-friendly restaurants in Denver and Boulder here!
9. Make satisfying salads.
No one likes a sad salad. If you really want to learn to love eating greens, make salads actually satisfying. That means NO dry salads and no iceberg lettuce, tomato, and cucumber combos. Here's a good formula for satisfying salads: leafy greens, raw or cooked veggies, fresh or dried fruit (optional), protein (if serving as a main dish), crunchy things, and fatty dressing.
My favorite satisfying salads are this chicken fajita salad (made with Dr. Praeger's Classic Chick'n Tenders) and this crispy tofu caesar salad.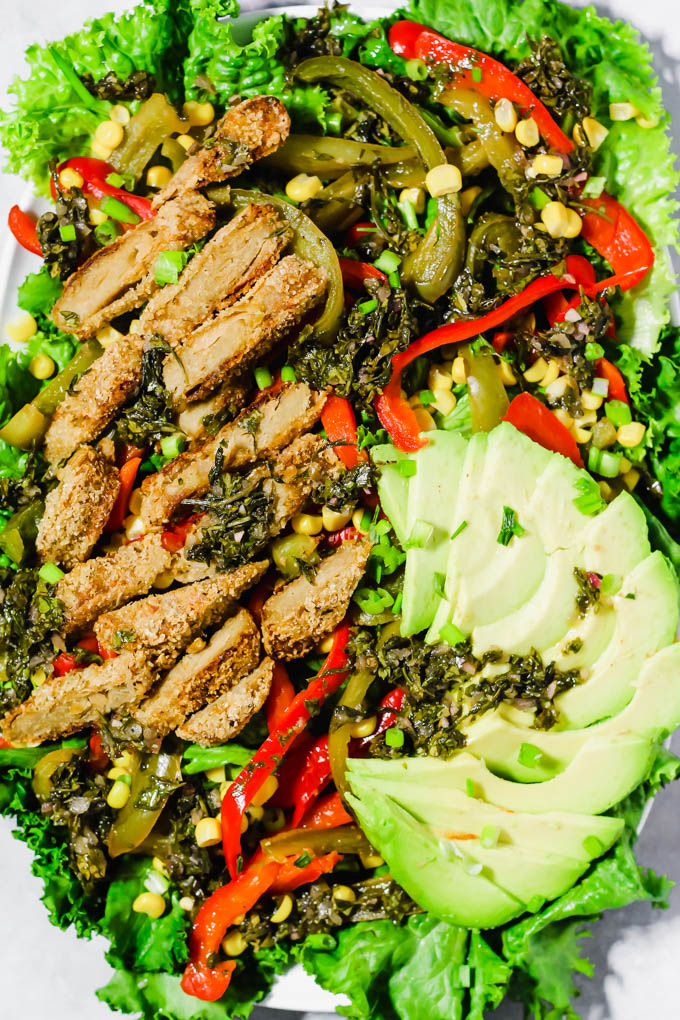 10. Cook whole grains with refined grains for a 50/50 mix.
You don't have to eat whole grains 100% of the time to reap the benefits! Even eating half whole grains, half refined grains is amazing. Whole grains are packed with fiber, protein, and B vitamins.
Maybe you swap out your morning bagel for a whole-wheat version a couple times a week, or you try whole-grain bread on your sandwich. If you're completely new to eating whole grains, cook 1/2 whole 1/2 regular to get used to it. For example, you could cook a mix of brown and white rice, whole wheat and regular spaghetti, etc.
Thanks to Dr. Praeger's for sponsoring this post! I love working with brands whose products I really love and would honestly recommend. Thank you for your support!