This post was sponsored by Hope Foods. Thanks for supporting my blog!
I live for snacks. People who only eat 3 meals a day seem crazy to me. Not that there's anything wrong with that – you do you, boo. But do you know how much more delicious life would be with some snacks?!?
Fruit, avocado toast, muffins, nuts, dark chocolate, hummus…the snacking possibilities are endless. But even I, Queen of Snacks, get stale on snack ideas sometimes.
If you're like me, hummus is a separate food group in your diet. I have no shame about my love affair with hummus. I'm currently obsessed with any and all Hope Foods flavors (though Kale Pesto has a special place in my heart and stomach). But if you've ever gotten bored with plain ole hummus + veggies and thought, hmmm what to eat with hummus that's fun and easy and delicious?…. These 5 healthy snack recipes are just 4 you!
Sometimes I like to take my snacks to the next level💯 just to make my week a little more interesting. There's nothing wrong with hummus + plain veggies, but just a teensy bit more effort produces the tastiest snacks that are equally creative and easy to make!
I'm so happy to team up with Hope Foods for this post to show you some ways to take snacking with hummus to the next level! I hope this shows you that hummus is super versatile and that there are many things to eat with hummus besides just plain carrots. Let's get a little more crazy than that, shall we?
To go along with the theme of hummus = best kitchen asset EVER, Hope Foods has some great tips on their blog about what to serve with hummus and some creative pairing ideas! Think: ultimate party platter. With hummus. You'll be the hostess with the mostess.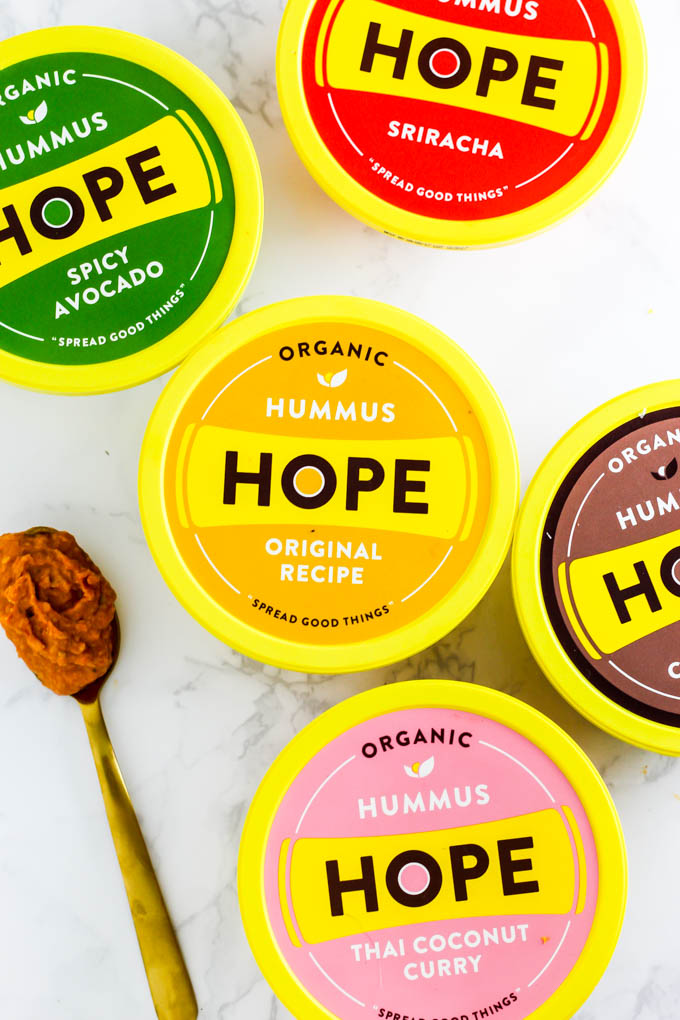 All of these snack recipes are super easy to make and can be made ahead of time to pack if you're running off to work or school. Honestly, all of the Hope Foods hummus flavors are so dang good (it's the truth), so feel free to use whatever flavor you're digging in a recipe.
I'm super excited to share all of these recipes with you because these are some of my go-to healthy snack recipes when I'm feeling hungry in between meals. Avocado toast? Every damn day. Add hummus? Life = changed. We're also making sweet & savory versions of sweet potato toast because #trendy. Don't forget chocolate hummus bananas – that one might be my favorite.
Okay, let's get to the recipes 👇🏼
1. Hummus Sweet Potato Toast
Slice sweet potato vertically into long slices slightly thinner than 1/4-inch thick.
Place slices in the toaster. Toast each batch of slices on high 3-4 times, until cooked through.
Top with desired toppings and eat!
2. Cucumber Hummus Bites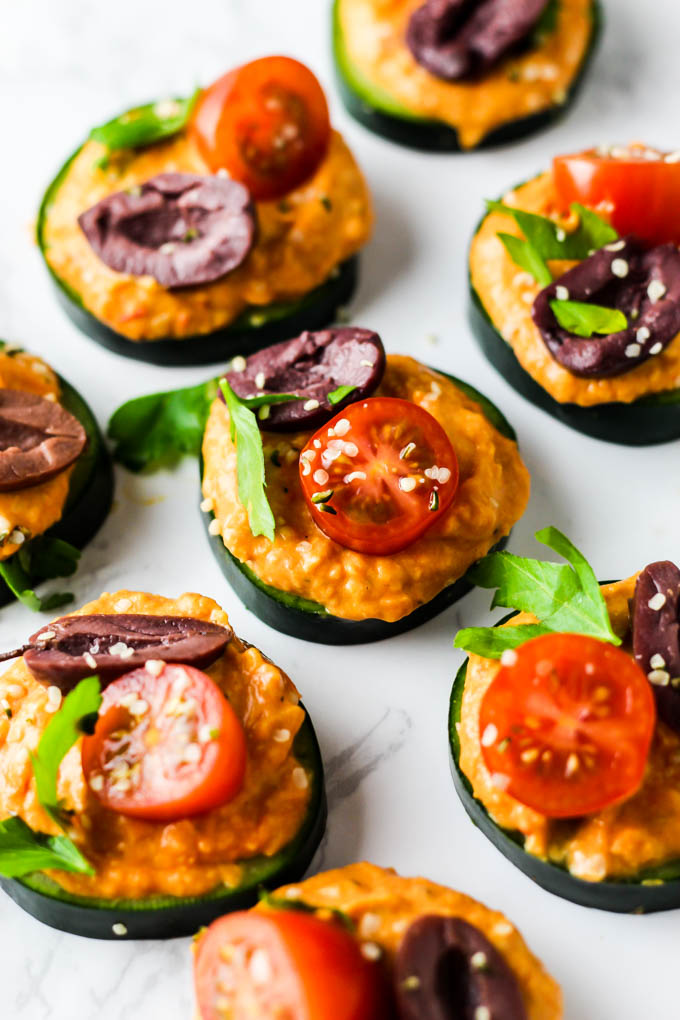 1 cucumber, sliced into 16 slices
1/4 cup Hope Foods Red Pepper Hummus
8 cherry tomatoes, halved
8 Kalamata olives, pitted and halved
Fresh parsley, chopped
Hemp seeds
Place cucumber slices on a flat surface. Top each slice with a small dollop of hummus.
Top each slice with a tomato half and an olive half. Sprinkle fresh parsley and hemp seeds on top.
3. Hummus Dipped Bananas
1 banana, peeled and halved
2 – 4 tablespoons Hope Foods Dark Chocolate Hummus
Optional toppings: coconut flakes, peanut butter, hemp seeds, goji berries, flax seeds
Cut banana in half; stick a popsicle stick in the bottom of each half.
Spread 1-2 tablespoons of hummus on each banana half. Top with desired toppings.
Store in the freezer; remove 5 minutes before enjoying.
4. Hummus Avocado Toast
1 slice of whole-wheat or gluten-free bread
2 tablespoons Hope Foods Sriracha Hummus
1/4 avocado, sliced
Toast bread. Spread hummus on bread. Top with avocado slices!
5. Hummus & Vegetable Sushi Rolls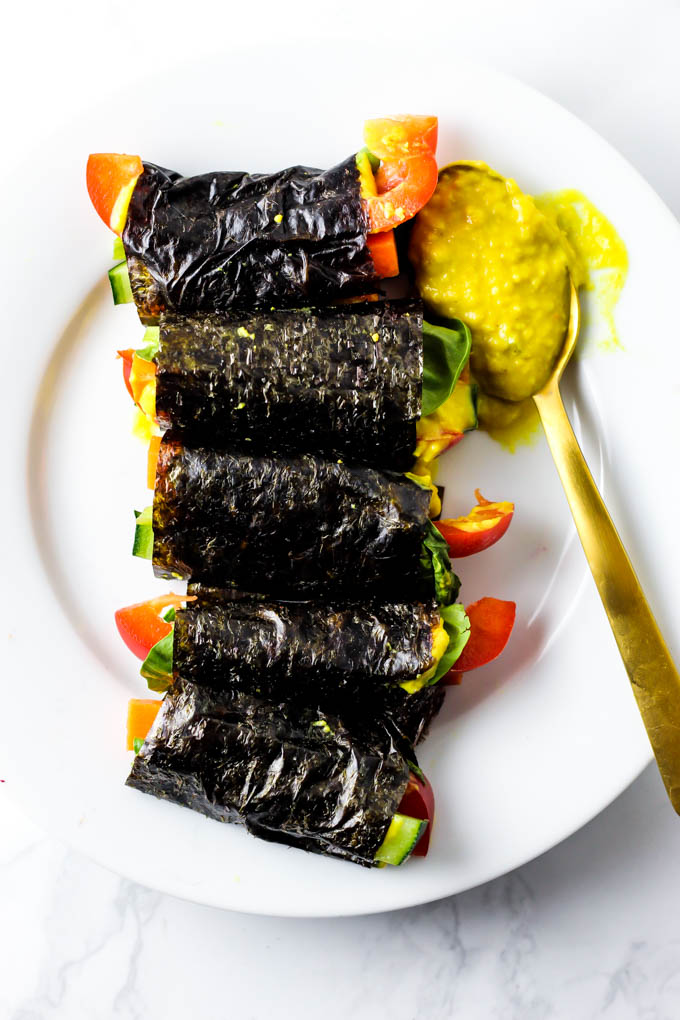 1 nori sheet
1/4 cup Hope Foods Thai Coconut Curry Hummus
Spinach leaves
Carrots, thinly sliced
Bell pepper, sliced
Cucumber, thinly sliced
Cut nori sheet into 2-inch strips. Spread a layer of hummus on each strip. Place a couple spinach leaves, carrot slices, one bell pepper slices, and cucumber slices on top.
Roll up the nori sheet. Store in the fridge.
---
And that's all folks! I hope you found these recipes creative, inspiring, and (of course) totally mouth-watering.
What snack recipe from these 5 are you dying to try? Of course I can't say no to chocolate, but the cucumber hummus bites are also super satisfying. How can a girl choose?!?
Let me know in the comments below how YOU and your family use hummus in the kitchen; I'm always looking for new, fun ways to use the magical stuff in my cooking. Next up on my list: vegan hummus queso dip. Who wants to see THAT?!!
If you get to try any of these healthy snack recipes, let me know how you like them! Take a pic and post it on Instagram tagging me @emilieeats and #emilieeats. I'll probably put your pic on my Instagram stories, so do itttttt!
Happy hummus-ing, everyone. 😊
Thanks to Hope Foods for sponsoring this post! I love working with brands whose products I really love and would honestly recommend. Thank you for supporting this blog that I love oh-so-much!