This post was sponsored by Peanut Butter & Co. I only work with brands whose products and missions I truly believe in. Thanks for supporting my blog!
Does anyone else love snickerdoodle cookies as much as I do? It seems that everyone only enjoys them in the winter, but I'm over here in 100 degree heat with my oven on full blast baking snickerdoodle cookies. There's really nothing like pulling a fresh batch of cookies out the oven, all soft and warm and pillowy. I can't even imagine what I'm going to be like as a grandma – cookies all. day. long. for my little munchkins. Anyways…
As if I couldn't love snickerdoodle cookies more, I stuffed them with heavenly snickerdoodle ice cream and made a true masterpiece. Be still my heart. These Almond Butter Snickerdoodle Ice Cream Sandwiches may just be the best dessert I've ever made (right next to my vegan cheesecake💗).
I really wanted some snickerdoodle cookies, but I wanted to make them more summer-appropriate. So, obviously ice cream had to be involved! Just like that feeling of pulling fresh cookies out of the oven, I love digging into the first bite of a cold pint of (vegan) ice cream on a hot – like, Louisiana 100 degree hot – summer day.
Snickerdoodle cookies + ice cream = perfect snickerdoodle ice cream sandwiches. The only equation you ever need to know. Sorry, calculus.
Of course, like all of my desserts, I wanted to make these with real, healthier ingredients so we can feel good and treat ourselves💆🏼. The cookies actually use very basic ingredients – oats, nut butter, coconut sugar, applesauce, almond milk, cream of tartar (necessary for snickerdoodles!), and some baking essentials. Then you just need some ice cream, which you should already have in your freezer because ice cream. Seriously, if you haven't tried So Delicious Cashew Milk Snickerdoodle Ice Cream, please RUN to the store and get two pints – one for these sandwiches and one for immediate spoon –> mouth enjoyment. You will thank me.
[Tweet "Snickerdoodle cookies + ice cream = the BEST summer dessert ever🙌🏼 Vegan & gluten-free!"]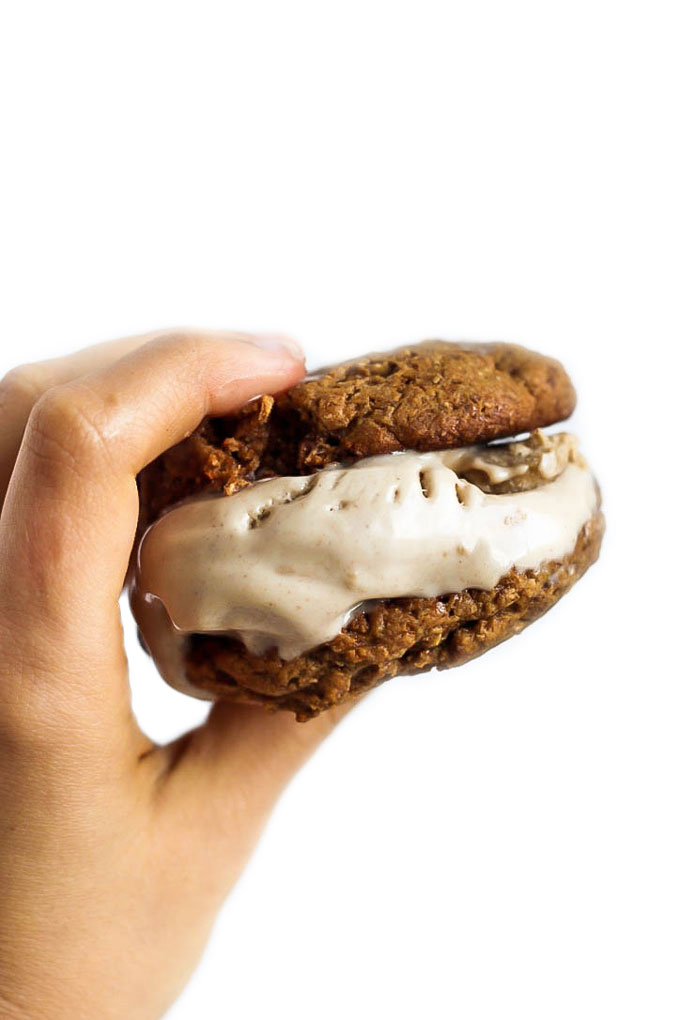 I love baking with nut butters because it gives the recipes lots of moisture without having to use oil, plus nuts are a great source of plant-based protein! Nutrition in our desserts? Yes, let's do this.
For the snickerdoodle cookies, we're using lots of Peanut Butter & Co.'s new Bestie Almond & Cashew Butter! To be honest, I've never really been a fan of cashew butter; all the ones I've tried have been too thick, and over here we like our nut butters drippy, amiright?! I was pleasantly surprised to open the jar and find the drippiest, creamiest, dreamiest nut butter in the land.
Another reason I love Bestie is that there's NO added sugar or oil, just almonds, cashews, and salt. It makes the perfect neutral base for the cookies. Okay, time to make sandwiches!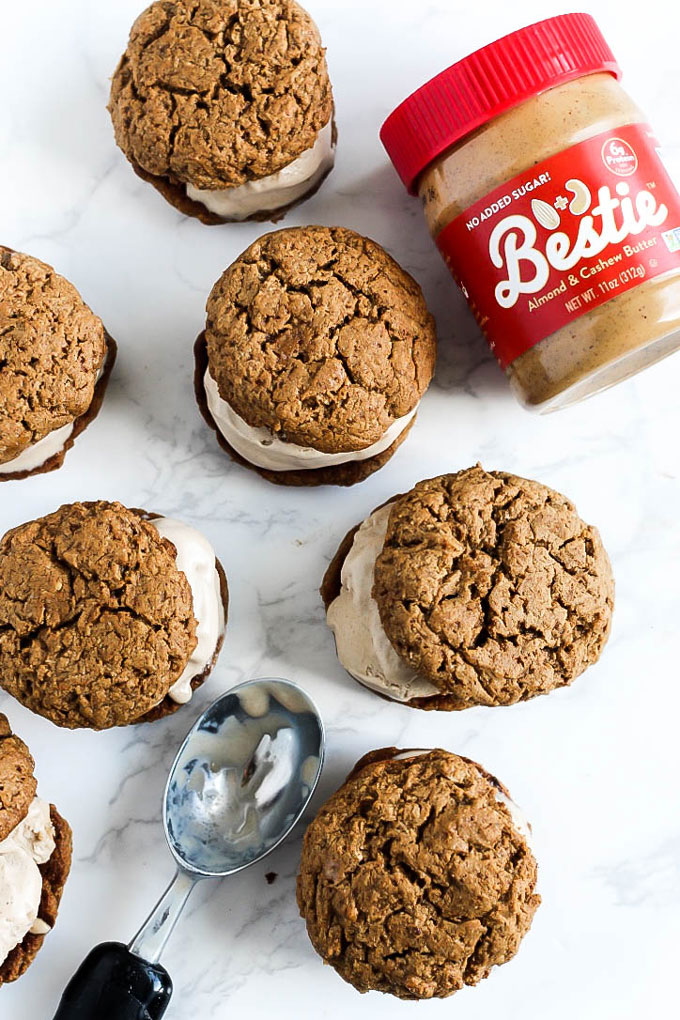 The cookie dough is a little on the wetter side for these, but don't fear – they turn into the softest cookies I've ever baked.  I like that we're keeping them softer here so that when you freeze the sandwiches, the cookies won't be super hard to bite into.
You'll want to let your cookies cool off in the freezer before adding a scoop of ice cream. I've seen tricks where people form discs of ice cream onto foil and freeze for easy assembly, but I went the messy route and just scooped it right on the cookies. Whatever floats your boat! Then, you can serve them immediately, or individually wrap them up and store in the freezer for future snickerdoodle ice cream sandwiches. You'll be happy you did.
To show you how to make and assemble the sandwiches, I made a video for you guys! If you like these videos, I'd love for you to subscribe to my channel and let me know what kind of videos you want to see!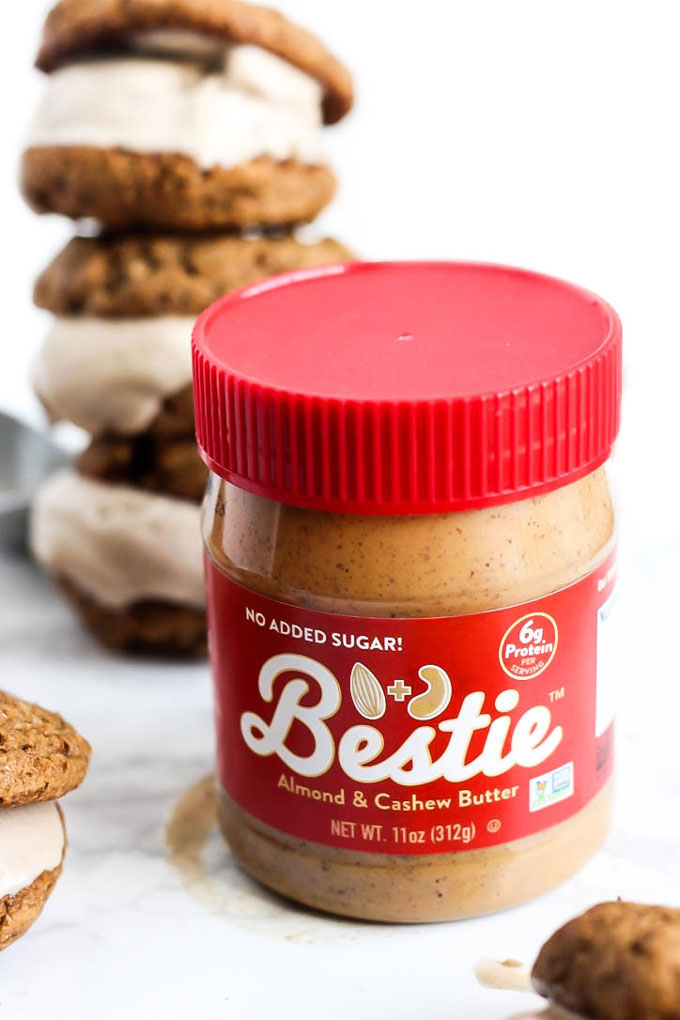 And because I know you guys are going to LOVE this Bestie Almond & Cashew Butter, I'm giving away a jar so you can make these snickerdoodle ice cream sandwiches at home. Don't miss out on it!
I know you guys are going to go crazy once you bite into one of these ice cream sandwiches, so leave me a comment if you try them! I'd love to know how you enjoyed them. Be sure to post a pic on Instagram, too!
Print
How to make:
Almond Butter Snickerdoodle Ice Cream Sandwiches (vegan + gluten-free)
Cookies & ice cream are a match made in heaven in these Almond Butter Snickerdoodle Ice Cream Sandwiches! A decadent vegan & gluten-free treat for any time.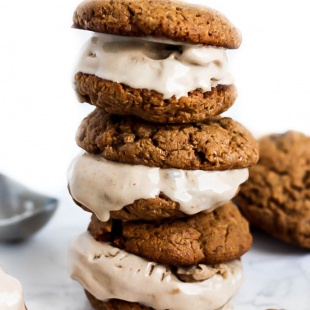 Ingredients
1 cup

rolled oats

1 teaspoon

baking soda

1/2 teaspoon

baking powder

1/2 teaspoon

cream of tartar

1/4 teaspoon

cinnamon

1/8 teaspoon

salt

1 cup

Bestie Almond & Cashew Butter

1/2 cup

coconut sugar

1/4 cup

unsweetened applesauce

1/4 cup

almond milk

1 teaspoon

vanilla extract

1 pint

vegan ice cream
Instructions
Preheat oven to 350°F. Lightly grease a baking sheet.
In a blender or food processor, add oats, baking soda, baking powder, cream of tartar, cinnamon, and salt. Blend until the mixture forms a fine flour. Set aside.
In a large bowl, add Bestie Almond & Cashew Butter and coconut sugar. Beat with an electric mixer until the ingredients are fully mixer, about 1 minute. Add applesauce, milk, and vanilla; stir to combine.
Slowly add the oat mixture to the large bowl while stirring, forming a soft dough. Keep folding the ingredients together until they are fully combined. Form 24 balls of dough (about 1/2 inch in diameter) and place on the baking sheet; you may need to bake in two batches. Slightly flatten each cookie.
Bake for 13-15 minutes, until the edges of the cookies are slightly crispy. Remove, let cool for 5 minutes, then place the cookies in the freezer.
When the cookies are fully cooled, place a scoop of ice cream onto one cookie, then place another cookie on top, forming 12 sandwiches. Return to the freezer until ready to serve*.
Notes
*To store the sandwiches to enjoy later, individually wrap each sandwich in foil or plastic wrap and keep in the freezer.
Thanks to Peanut Butter & Co. for sponsoring this post! I love working with brands whose products I really enjoy and would honestly recommend. Thank you for supporting this blog that I love oh-so-much so I can bring you delicious recipes!