You only need three simple ingredients for this healthy & refreshing Cherry Watermelon Sorbet. A delicious, fruity treat that's vegan & gluten-free!
I seem to make a lot of recipes based on classics that I've never actually had. I made key lime pie chia pudding parfaits and I've never had key lime pie. This peach blueberry cobbler is a total winner and was also my first bite of cobbler ever. So, it's only fitting that I make you sorbet without ever actually having sorbet.
Do you trust me?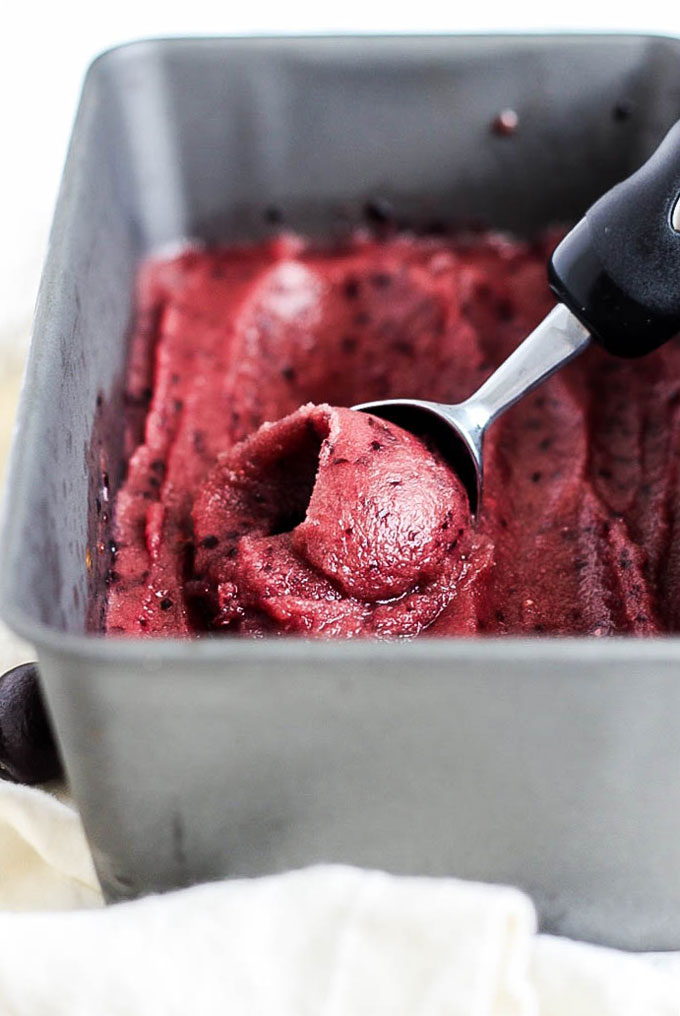 I've never been a huge dessert person – I'd rather go all out on a good, food-coma-inducing meal. But when I do enjoy dessert, I've never really opted for fruity things. Which is extremely strange, since I could literally live off of fruit. But for some reason, I wasn't drawn to sorbets or anything fruity. Just give me a good classic vanilla cupcake plz.
My friend Sarah and I were actually out looking for vegan self-serve froyo a couple weeks ago, and the only non-dairy options we found were sorbet. Eh no thanks. So, it's pretty ironic that I'm making sorbet for you today.
Oh, by the way, we never found vegan froyo. :/ BUT we did run to the store and buy pints of coconut milk ice cream. Finding the positives in the negatives one day at a time. 💯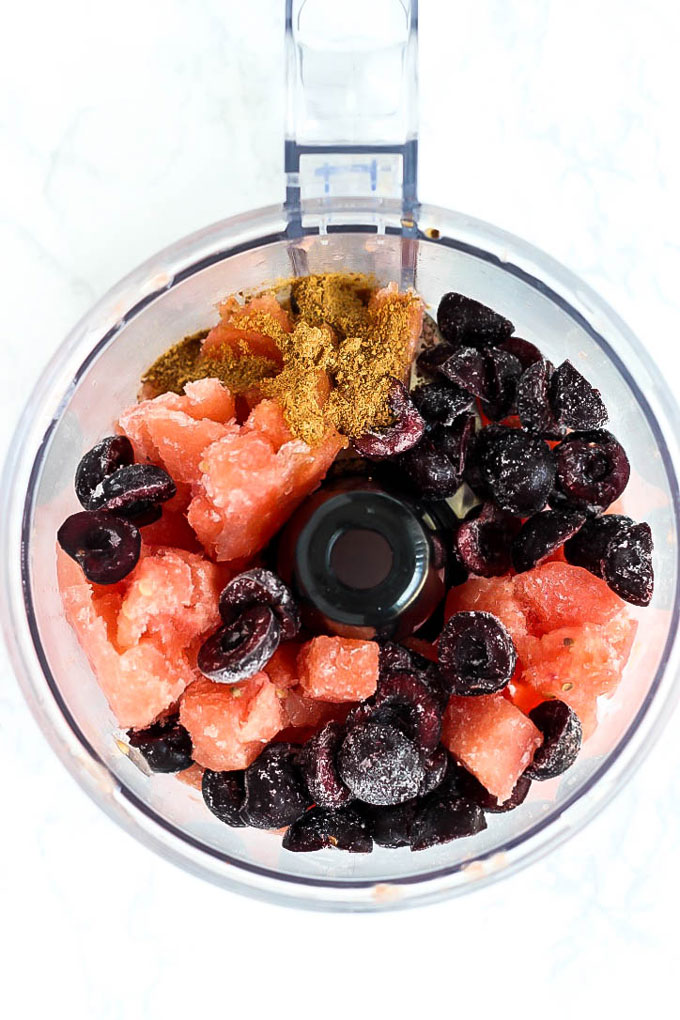 This sorbet is a combination of two of the best fruits to get ahold of this summer: cherries and watermelon! Seriously, watermelon is the blood that runs through my veins in the summer. South Louisiana has the sweetest, juiciest watermelons, so I'm definitely taking advantage of them while they're here. I'm loving adding fresh cherries to my oatmeal, salads, or just popping them in for immediate enjoyment.
You only need three simple ingredients (two, if you opt-out of the sugar!) plus water for this easy sorbet. Cherries + watermelon + a touch of coconut sugar = that's it!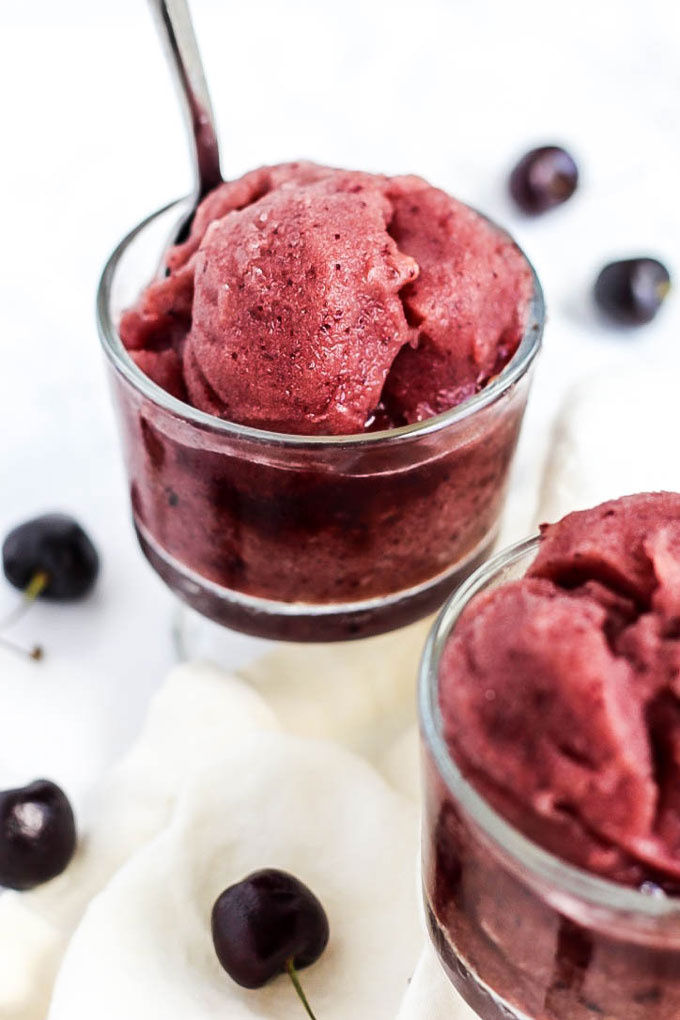 I used my food processor to blend everything up, but if you have a high-speed blender (like a Vitamix) first, I'm jealous; second, that will work to make this, too! You can serve it immediately once it's a texture you like, or you can freeze to store it. You'll want to remove it from the freezer a few minutes before serving again so it's easy to scoop.
I still have some left in my fridge that's calling my name as I'm writing this… anyone want to join me for a late night Hulu & cherry watermelon sorbet party?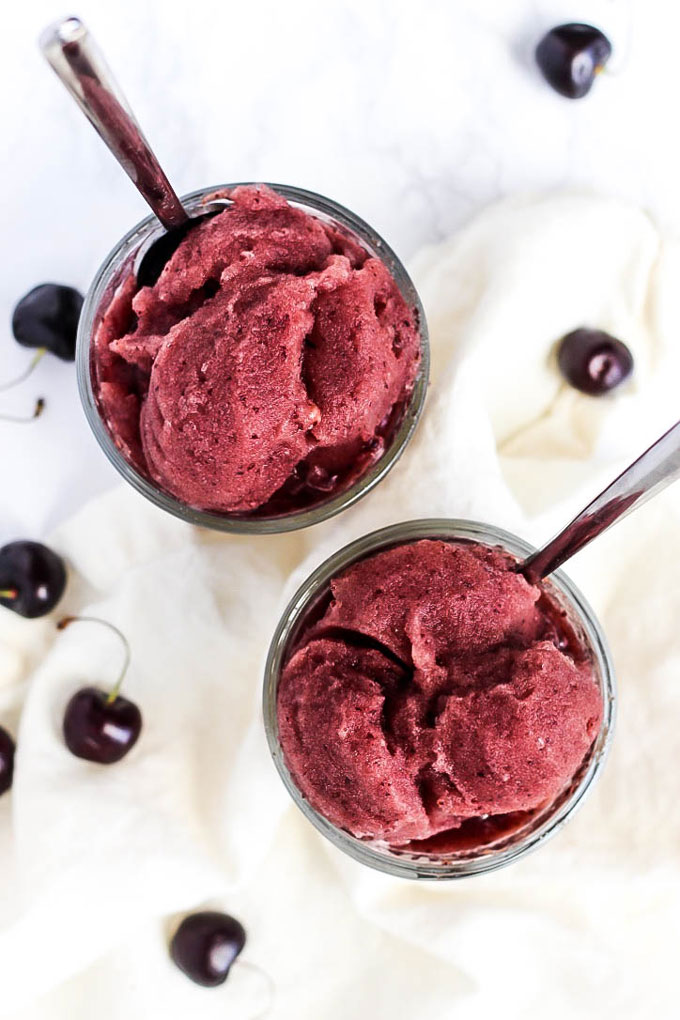 This is such a great refreshing treat to enjoy this summer, especially if you're in 100 degree heat like me. Juicy fruit is all I'm craving! Cherry watermelon sorbet to the rescue.
I know you guys will love this super simple dessert, so take a pic if you try it, post it on Instagram and tag me with #emilieeats. I'd love to see your fruity creations!
What are your favorite types of dessert?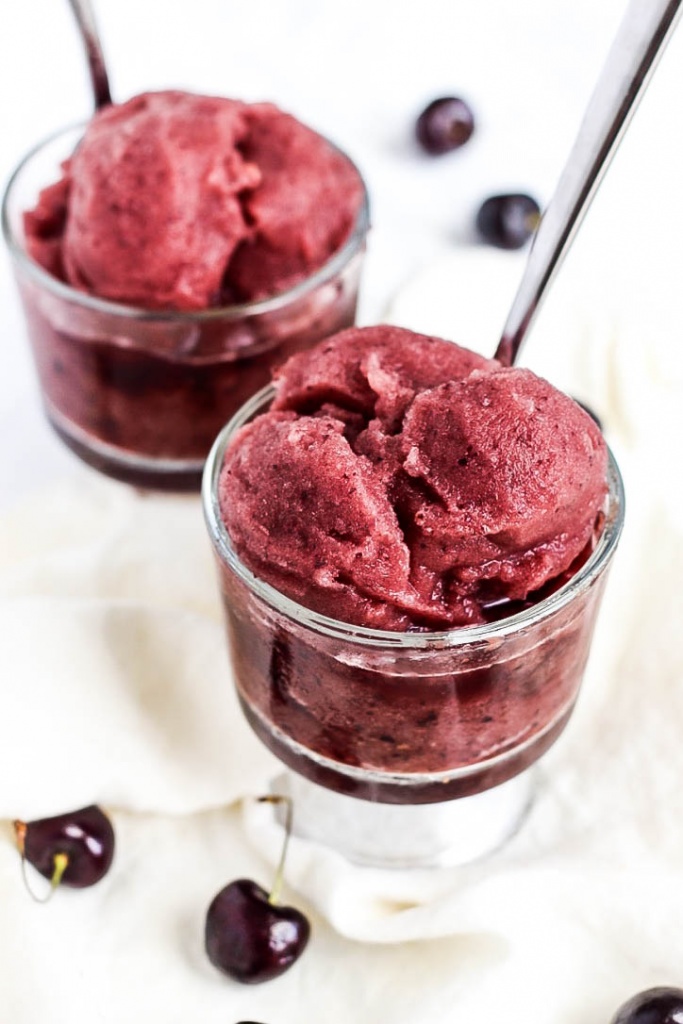 Print
How to make:
3-Ingredient Cherry Watermelon Sorbet
You only need three simple ingredients for this healthy & refreshing Cherry Watermelon Sorbet. A delicious, fruity treat that's vegan & gluten-free!

Ingredients
3 cups

watermelon, frozen

1 cup

cherries, deseeded and frozen

1

–

2

tablespoons coconut sugar (optional)

1/4

–

1/2

cup water
Instructions
In a food processor or high-speed blender, add watermelon, cherries, coconut sugar (if using), and 1/4 cup water. Start blending to break up the frozen chunks, slowly adding more water until it reaches your desired consistency.
Serve immediately, or store in an airtight container in the freezer. Remove from the freezer about 10 minutes before serving.