Peanut butter, banana & chocolate come together perfectly in this oil-free Chunky Monkey Granola! It's a healthy, sweet snack or breakfast to fuel your day.
I've got to be honest with you guys – I'm not really a huge granola person. GASP.
Not for the reasons you might think, though. I think granola is absolutely delicious. It's sweet, crunchy and perfect for topping anything and everything from toast to smoothie bowls to my hand as I scoop it straight from the bag.
So why don't I like it that much? Well, I'm kind of scared of it.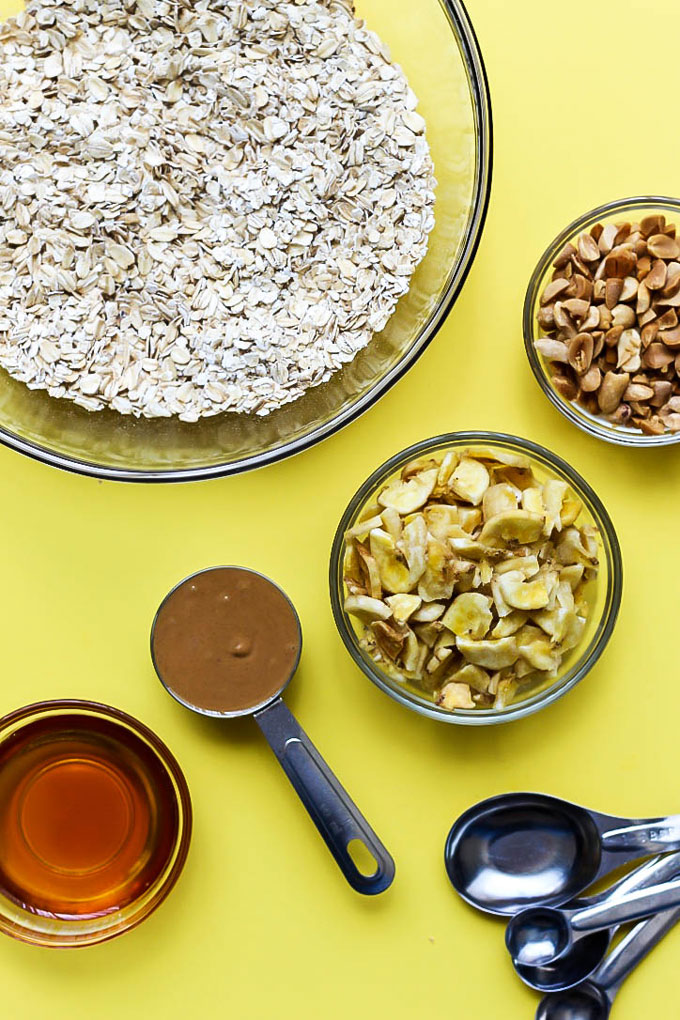 I've talked a little bit about my sometimes difficult relationship with food and my journey to heal it. In the last few years, I've learned so much about health and nutrition, but I've also developed some fears around foods that I love – granola, nut butter, potatoes, and even fruit at times…the list goes on. Like, how could we be afraid of fruit? When you really start to reflect, you hear how crazy all these worries sound.
I was recently talking to my best friend about how I was doing and my struggles with food, and I looked at her and said, This probably all sounds insane to you; you don't understand any of this. You're…normal.
My friend has never had a bad relationship with food, never dieted, never had serious body image problems. She eats what she wants, when she wants, stops when she wants, and moves on without giving it a second thought. It's that simple.
Why'd we have to go and make things so complicated? *sorry had to throw that in there*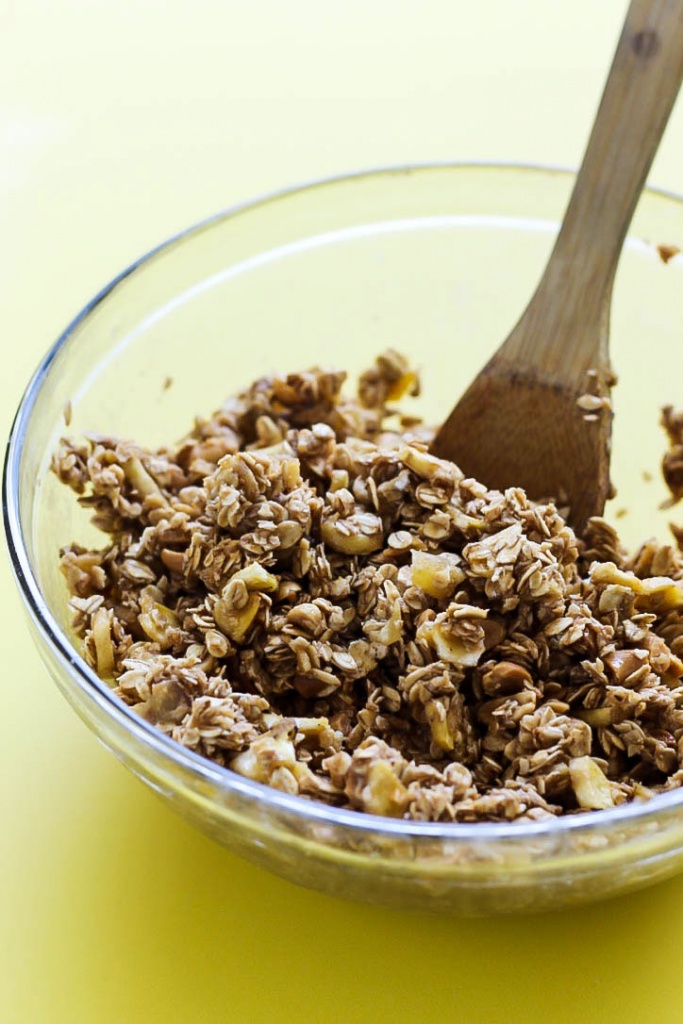 I can't imagine her position of simply eating without stressing or worrying about it, just like she can't imagine my position of having to constantly fight fears around food. I learn a lot from eating around her (and most people, since most are "normal eaters") because she's so casual about what she eats. No worries, no stress, nada.
More importantly than learning about how to eat from her, I learn how to not even think about the food at all. Yes, food is good and brings us together, but at the end of the day, what's more important – stressing about the amount of hummus I just ate, or listening to my best friend talk about what's going on in her life and enjoying time with her? I think you can guess the right answer.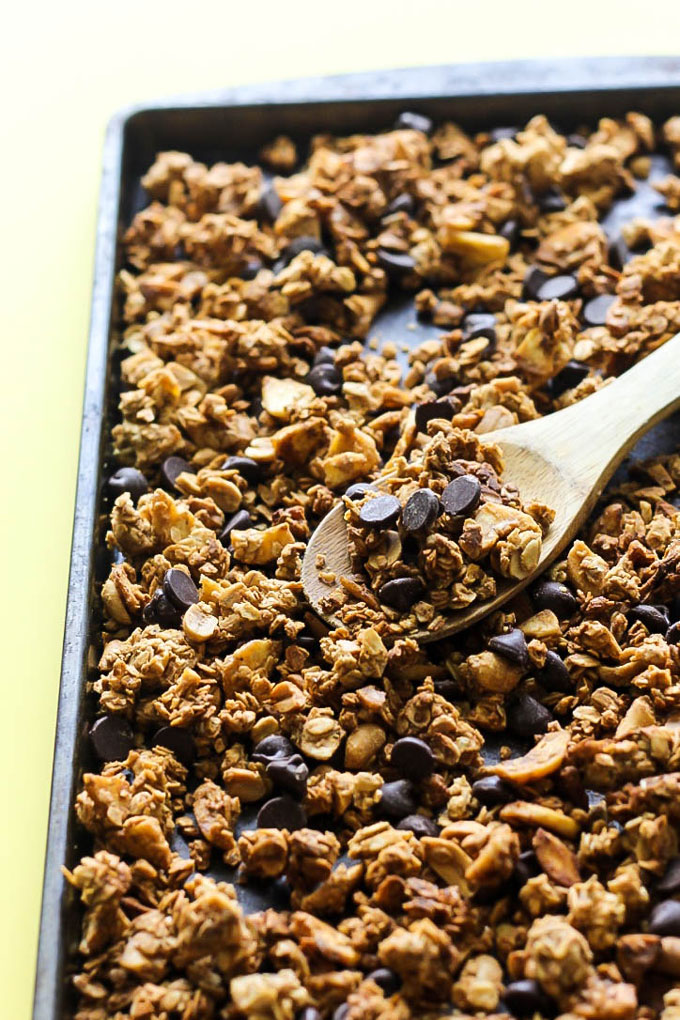 So I'm learning to not be afraid of granola. A spoonful of nut butter on toast won't make me gain five pounds. Extra roasted sweet potatoes? Bring 'em on. Catching up and laughing with my best friend over coconut milk ice cream? Worth it.
That all brings me to this 'nola – in short, it's SO GOOD. Wow, what a great description. It's full of hearty oats for lots of fiber and whole grains, mixed with warm peanut buttery goodness and crunchy banana chips. Mixed with chocolate chips, of course. No skimping out on chocolate here.
We're not using oil here – peanut butter does an excellent job holding this granola together. Just look at those CHUNKS – it's called chunky monkey granola for a reason, friends.
[Tweet "Peanut butter, banana and chocolate make this granola the CHUNKIEST you've ever had. 🐵🍫🍌"]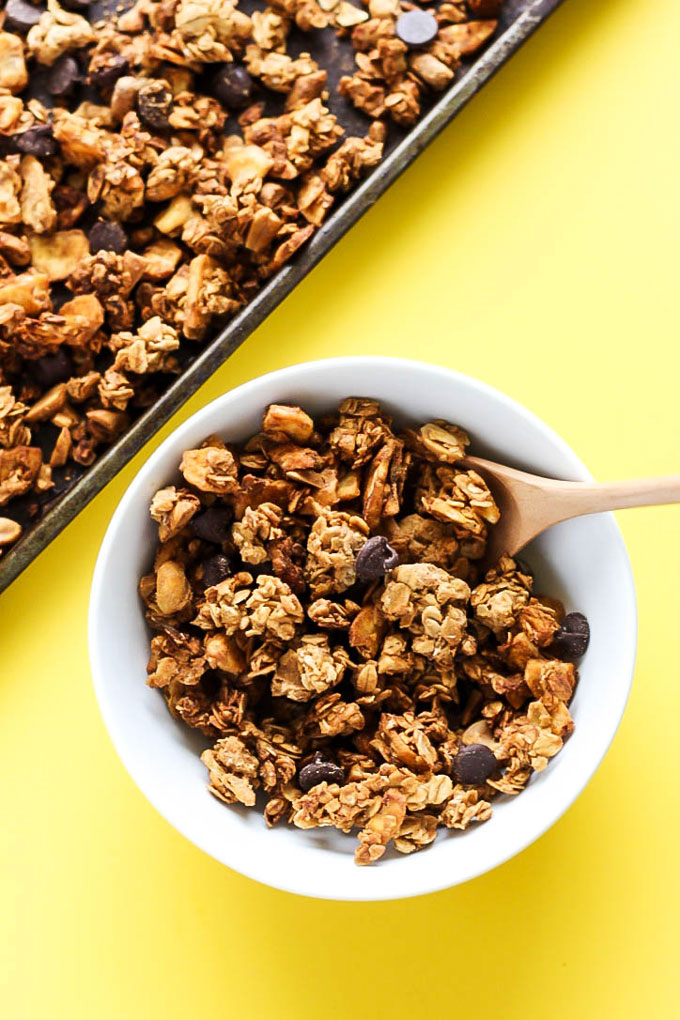 You just need a few ingredients and one bowl for this easy recipe! Store-bought granola can get kind of pricey, so making it at home is definitely more affordable, plus you can make any flavor you want (hint: chunky monkey). Watch my video to see just how simple it is to make your 'nola at home!
Cayden ate most of this granola before it even saw the light of day (what's new) but I was able to snack on a bowl of it over some almond milk! It'd be great as a breakfast, smoothie bowl topper, or an on-the-go snack. Perfect for when school rolls back around!
Let me know if you get to try this super delicious chunky monkey granola by leaving a comment below! I'd love to see a picture of it, too – so post it on Instagram and tag me @emilieeats with #emilieeats. Virtual granola party?? Yes please. 🐵🍫🍌
I'd love to hear from you guys – Do you have certain foods that you struggle with? How do you overcome those fears? So much love for all of you. <3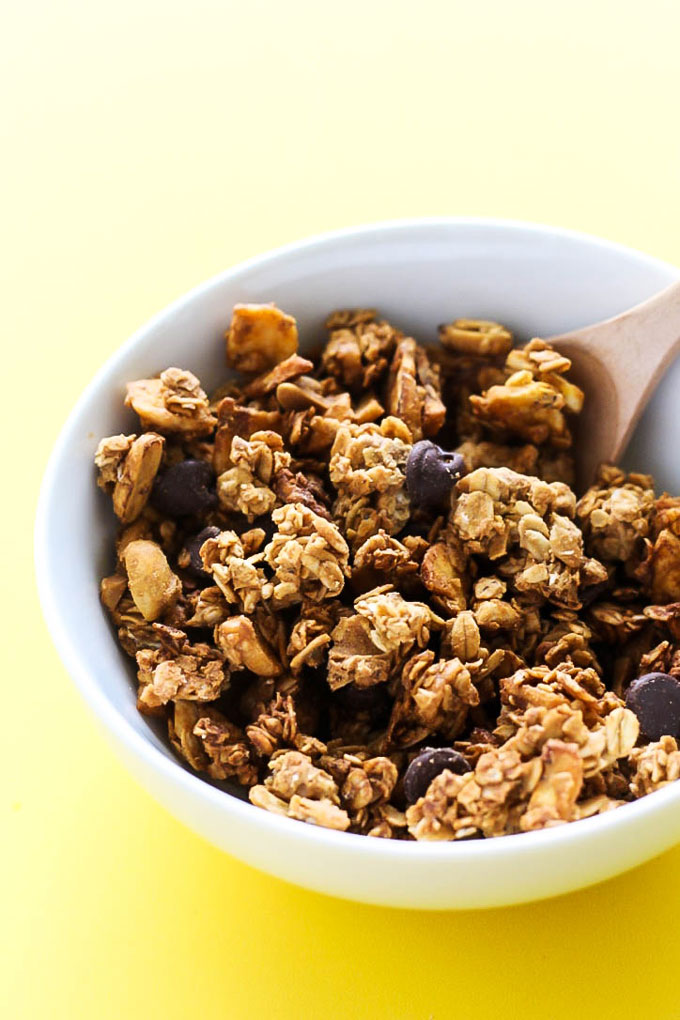 Print
How to make:
Oil-Free Chunky Monkey Granola
Peanut butter, banana & chocolate come together perfectly in this oil-free Chunky Monkey Granola! It's a healthy, sweet snack or breakfast to fuel your day.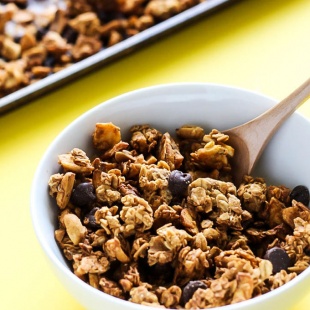 Ingredients
1/4 cup

+

2 tablespoons

peanut butter

1/4 cup

maple syrup*

2 teaspoons

vanilla extract

2 cups

rolled oats

1 cup

banana chips, chopped into smaller pieces

1/2 cup

peanuts, chopped

1/4 teaspoon

salt

1/2 cup

chocolate chips
Instructions
Preheat oven to 325F. Lightly spray a baking sheet with cooking spray.
In a large bowl, add peanut butter, maple syrup and vanilla. Whisk to combine. Microwave for 15-20 seconds, if needed, to make the mixture easier to stir.
Add oats, banana chips, peanuts and salt. Stir to combine until all ingredients are evenly coated with the peanut butter mixture. Spread granola into a single layer on the baking sheet.
Bake for 23-25 minutes, until slightly crispy and browned. If you like less chunky granola, stir the granola every few minutes. For chunky granola, don't stir.
Remove from the oven and let cool in the pan for 10 minutes. Stir in the chocolate chips.
Store in an airtight container or bag for up to 5 days.
Notes
*This granola isn't overly sweet, so if you want it sweeter, add more maple syrup or sweetener of choice.