These Barbecue Lentil Stuffed Sweet Potatoes are the perfect plant-based entree to serve on game day or at a party. Hearty and satisfying with a BBQ kick!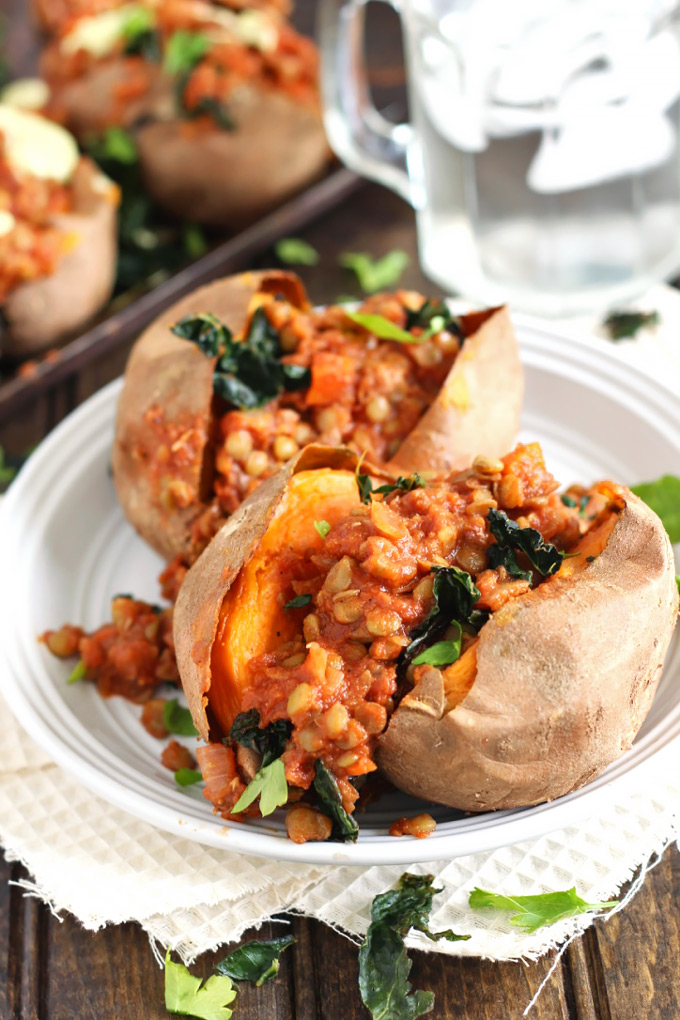 Howdy, friends! I've got a recipe coming at you today that's been in my back pocket for a few weeks now, and I thought it would be perfect for this week since the Super Bowl is Sunday!
Do you watch the Super Bowl? Only watching for Beyonce? Only go to the parties for the food? I get you. Don't get me wrong, I love watching football. It's HUGE down here in the South. But I will admit, the best part about football season is the food. All the dips you could want (hummus, guac, salsa…oh my), hearty chilis, sweet potato fries – touchdown, indeed.
If you're still planning your Super Bowl party menu, or staying in but want to participate in the football festivities, add these stuffed sweet potatoes to the menu. It's like a sloppy joe stuffed inside a potato aka serious MAN FOOD. And woman food. Because anyone can enjoy these babies.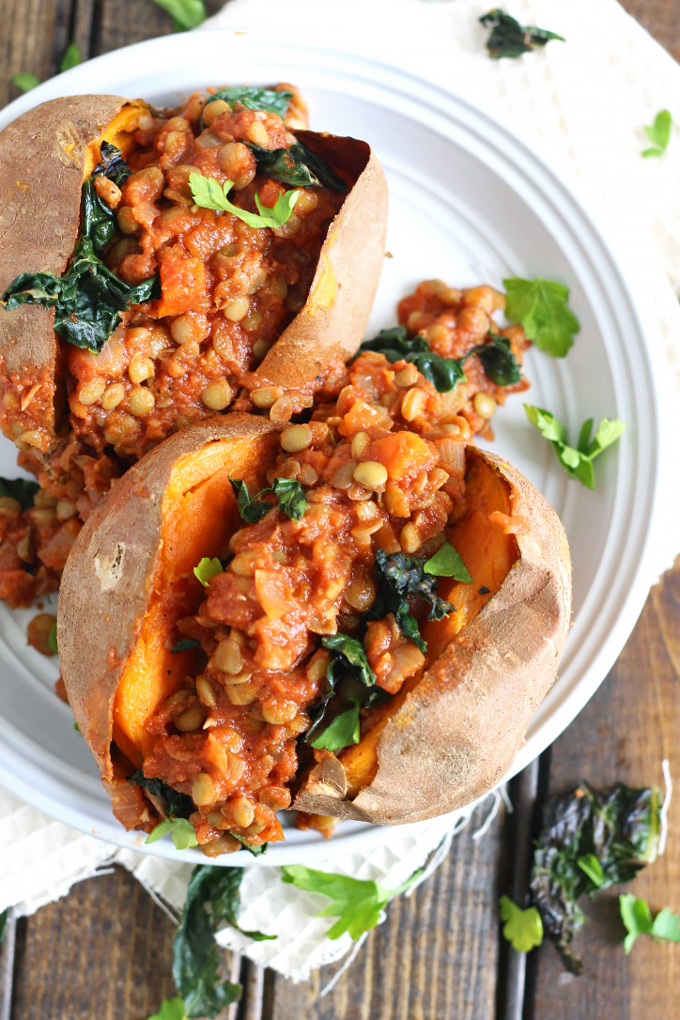 I made these for the first time for my mom and step-dad (and avid meat-eater), who then proceeded to say, Emilie, those were freaking awesome. You need to put those on the blog. Uhhhh yeah, that was the plan!
Even the boyfriend approved of these! I don't mean to toot my own horn, but he's discovered his love of lentils, vegetables, spaghetti squash, and pea protein because of me cooking for him. Can I get an amen?!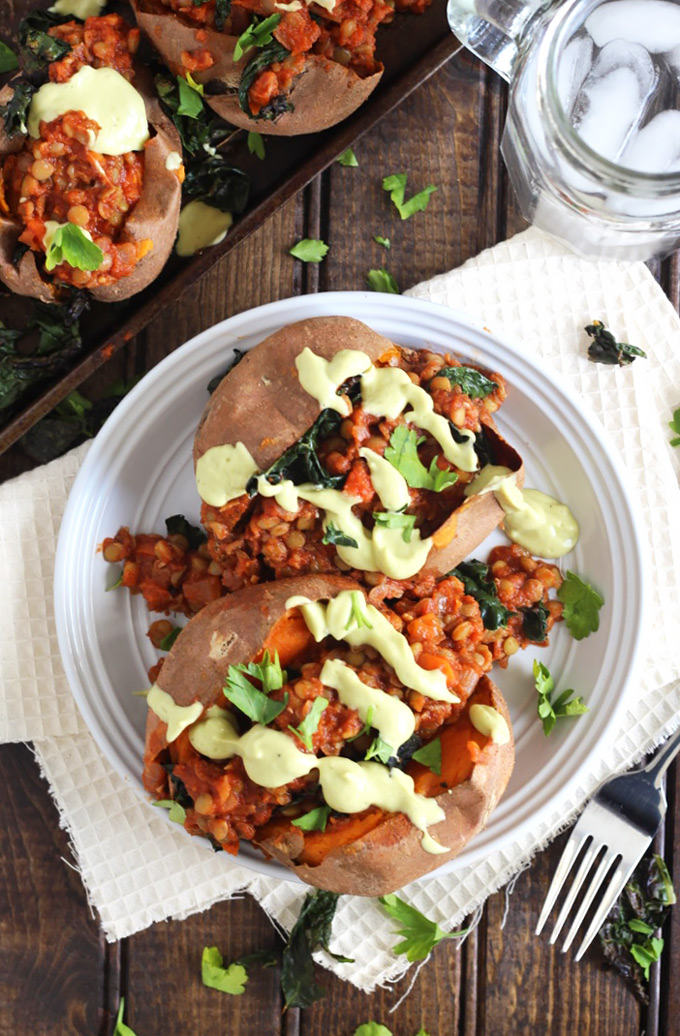 These are actually quite simple to make, so you can whip these up and then enjoy the game (or the show you're binge watching on Netflix). First, bake the sweet potatoes. A word of wisdom from my momma from her grandmother: bake the sweet potatoes until caramelized goodness starts oozing out. That's when you know they're ready!
This is optional, but I topped them with some sautéed kale for a green punch. You could go with bell peppers, mushrooms, or anything else!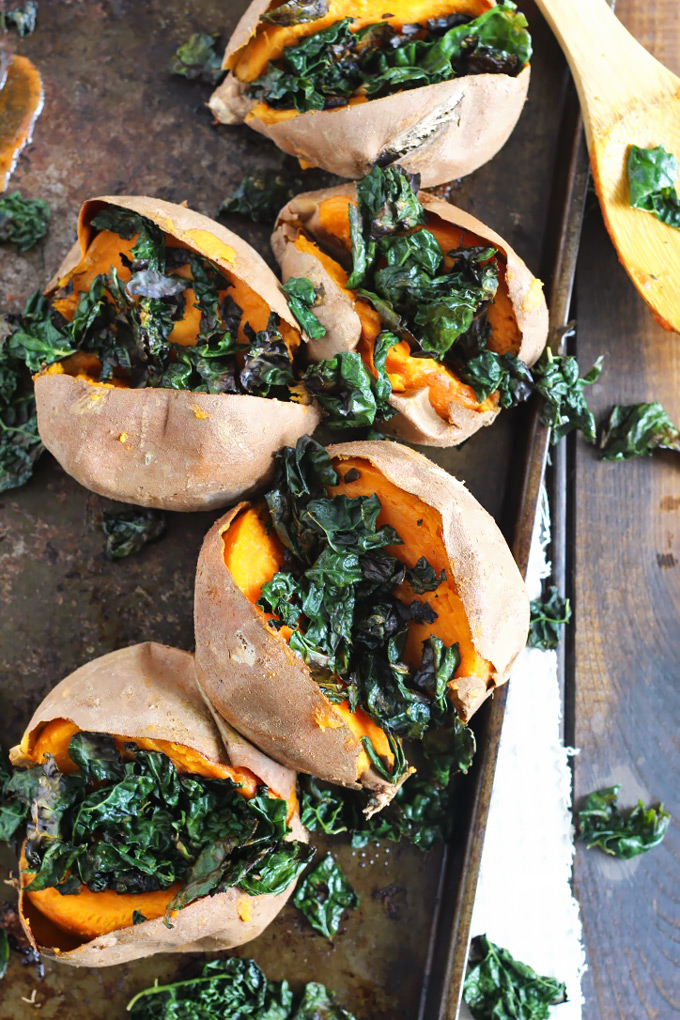 Here comes the barbecue lentils! I used my Healthy Barbecue Sauce in this recipe, which I love for spicing up beans, grains, or using as a dip for veggies. It only calls for a handful of ingredients, most of which you probably already have. If you don't want to make your own (which I highly recommend, as it's so cheap), you can use about 1 cup of pre-made barbecue sauce.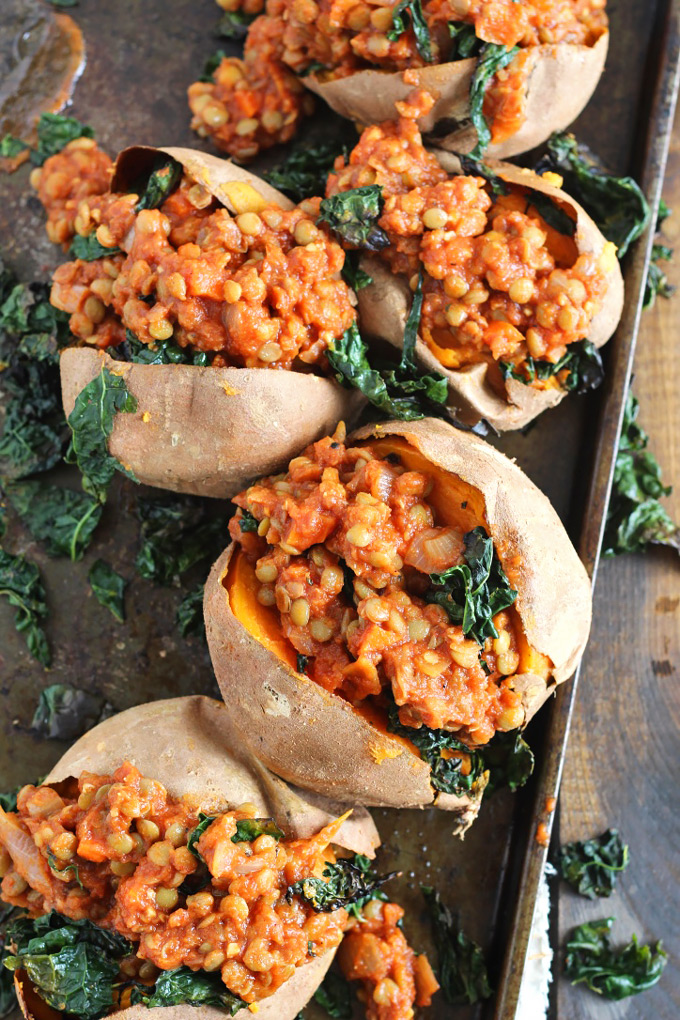 Don't you just want to face plant into one of these?! They're so fun and messy and hearty and game day ready. Heck, if there was a Sweet Potato Bowl, these guys would win. Hands down.
I love enjoying these with some veggies or salad on the side, but if you're making these for a crowd, you could serve them with a huge hunk of hummus (alliteration much?) or guac and chips. Or both, because how could I make you choose between hummus and guac?
If you make this recipe, I'd love to see it! Snap a pic, post it, and tag #emilieeats. Happy Game Day munching!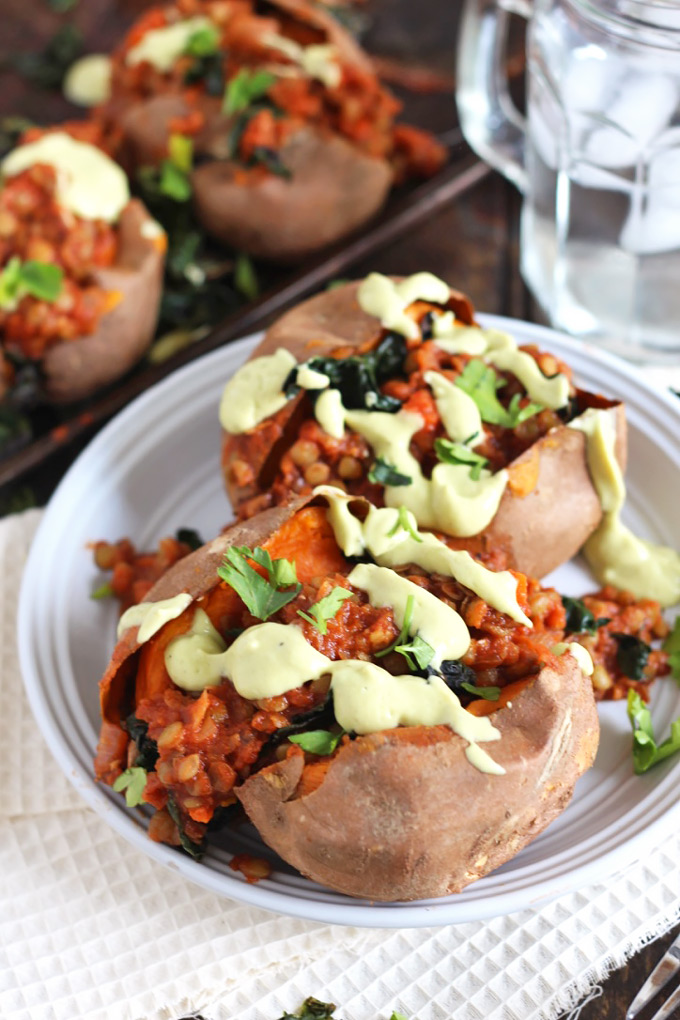 Print
How to make:
Barbecue Lentil Stuffed Sweet Potatoes
These Barbecue Lentil Stuffed Sweet Potatoes are the perfect plant-based entree to serve on game day or at a party. Hearty and satisfying with a BBQ kick!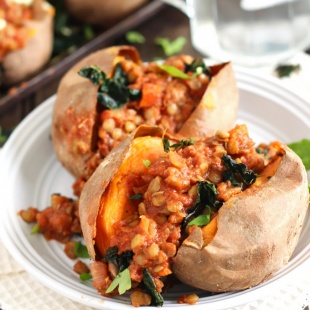 Ingredients
4

–

5

medium sweet potatoes

1 cup

dry lentils

2 teaspoons

olive oil

1

medium yellow onion, chopped

1/2 cup

carrots, chopped

2

cloves garlic, minced (about

1 teaspoon

)

1

batch Healthy Barbecue Sauce (see below), or 1 cup store-bought barbecue sauce
Avocado sauce (optional):

1/2

avocado

1/3 cup

unsweetened almond milk

1/2 teaspoon

hot sauce

1/2 teaspoon

salt

1/4 teaspoon

onion powder

1/4 teaspoon

garlic powder

1/4 teaspoon

black pepper
Instructions
Preheat oven to 350°F. Place sweet potatoes on a baking sheet; bake for 1 to 1.5 hours, until they are tender and oozing.
In a large pot, add 3 cups water; bring to a boil. Add lentils; bring water back to a boil. Reduce heat to simmer, cover, and cook for 15-20 minutes, until lentils are tender. Remove from pot and set aside.
In the same pot over medium heat, warm oil. Add chopped onion and carrots; cook for 5-7 minutes, until tender and browned. Add garlic; cook for one more minute.
Add all the ingredients for the Healthy Barbecue Sauce (or 1 cup store-bought sauce) into the pot; stir until all the veggies are coated. Bring to a boil; cover, and reduce to simmer for 10-12 minutes.
Add the lentils to the sauce; stir to combine. Add more water if needed.
In a blender or food processor, add avocado, milk, hot sauce, onion powder garlic powder, and pepper.
Slice the potatoes down the middle; top with sautéed vegetables (optional). Spoon the lentil filling into each sweet potato. Top with optional avocado sauce.
*You can use 1 batch of the Healthy Barbecue Sauce or 1 cup store-bought barbecue sauce. This is a good vegan option!