Make this wholesome Cheesy Chickpea, Quinoa & Broccoli Casserole and enjoy leftovers for days! Each serving is full of plant protein, whole grains & vegetables. Vegan & gluten-free!
We're 1/12th of the way through 2018. Isn't that crazy to hear?! I know this is such a cliche thing to say, but it really feels like just yesterday I was relaxing during the holidays. Ah, the good ole days without amino acid structures and learning every bone in the body…
Speaking of that, this semester is already TOUGH, and we're only 2 weeks in. Yay. It's my last semester of undergrad, so I obviously want to go out strong (aaaand have good grades for my grad school application, let's be real). That being said, I'll probably have to lessen the posting frequency here at EmilieEats.com to spend more time studying. It's not what I want to do, but I accept that this is just a busy season of life—and that's okay!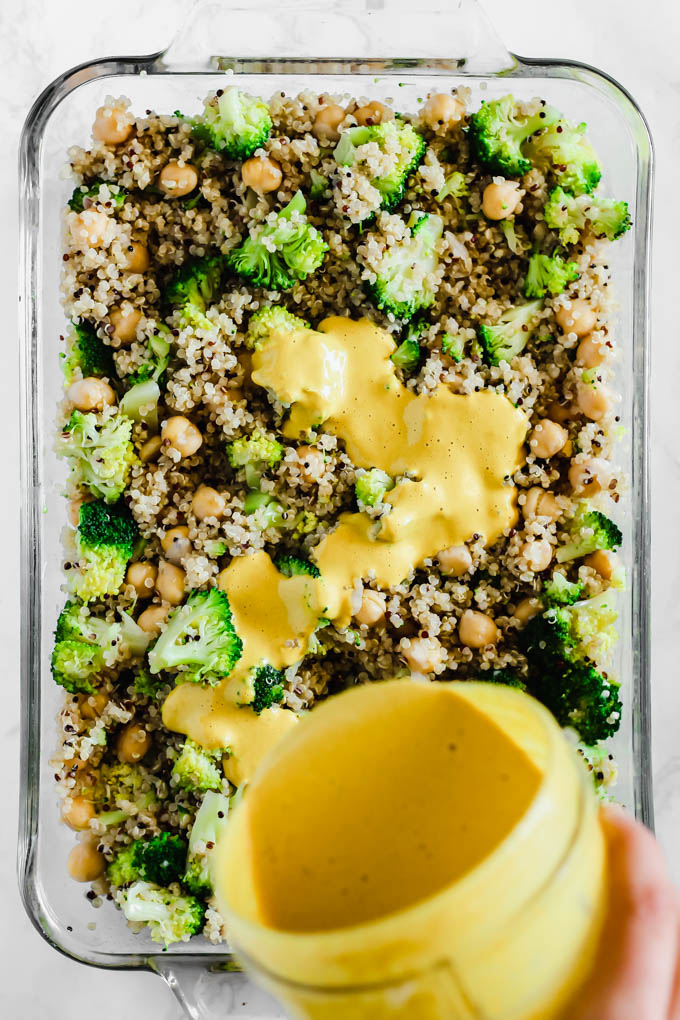 The plan as of now is to share one recipe per week (mostly meals, since that's what you guys love) and then recipe round-ups or personal, non-recipe posts bi-monthly. I think recipe round-ups are really helpful because you get a whole slew of new recipes to try, so if you have suggestions for round-ups (like this one), let me know!
Thankfully I have help from my amazing intern Emily to keep Emilie Eats running smoothly while my head is buried in textbooks. But no worries, fam—I'm not going anywhere. This is just the beginning of a long journey to make Emilie Eats a fun, evidence-based space with KILLER recipes.
Speaking of which…let's make some cheesy broccoli casserole, shall we?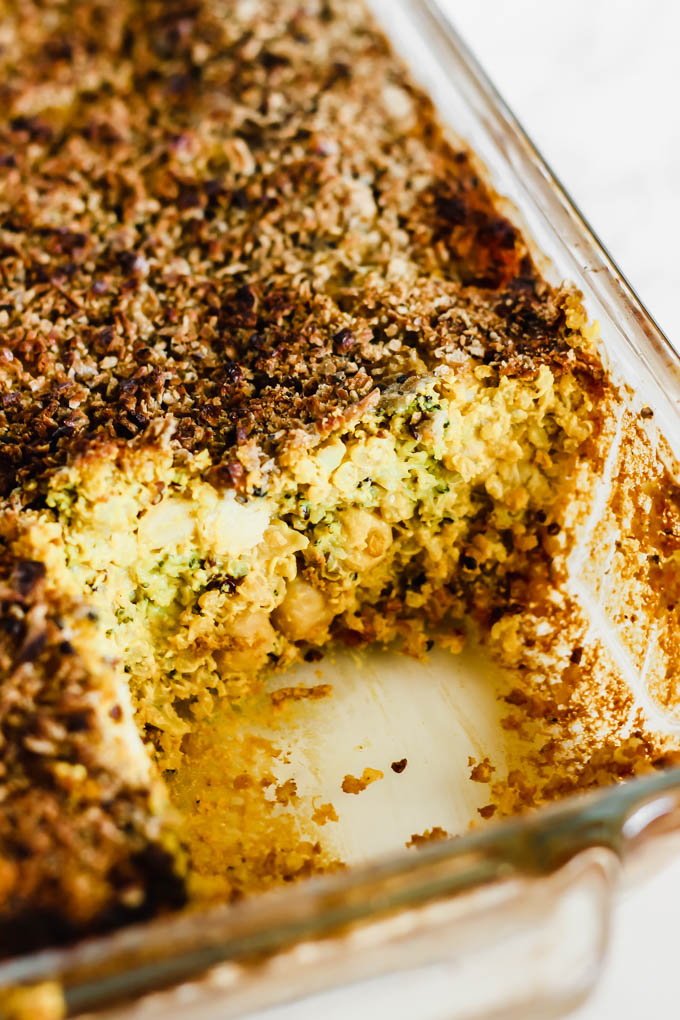 I've been having the idea for this broccoli casserole in my head for awhile, and during the holidays I finally had time to make it come to life. That was a GREAT IDEA! It cooked up perfectly and sliced into the most perfect squares that held their shape but were still soft and slightly gooey from the cashew cheese.
Let's go through all the parts of this vegan broccoli casserole:
Chickpeas
Quinoa
Steamed broccoli
Cashew cheese
Breadcrumbs or crackers
And that's it! It may seem like a lot of ingredients, but it's just a few simple components coming together to make an epic dinner that'll make your whole family go MHHHMMM. Well, at least that's how we sounded when we ate this…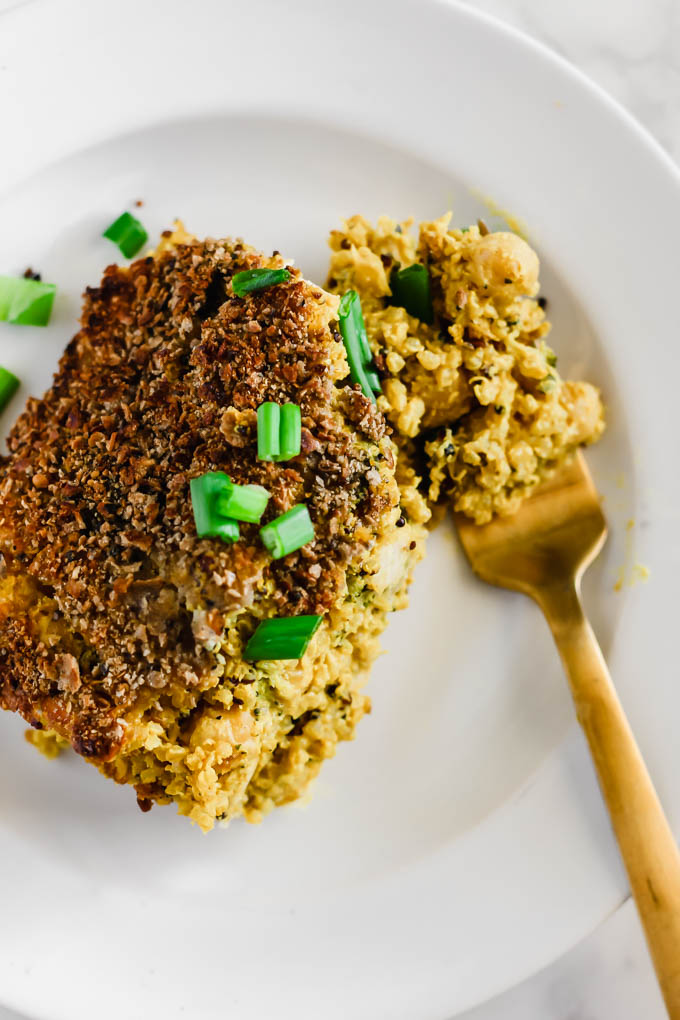 The things I love about this vegan cheesy broccoli casserole (besides its delicious flavor and stellar nutrition) are that it's easy to pack for on-the-go meals and it's freezer friendly! Just stick a slice or two in a lunch container with a few snacks, and you're set for the day.
If you're only cooking for one or two people, freeze half of the casserole to save for easy dinners when you're just not in the mood to cook. We all have those days—trust me.
Please, please, please don't skip on the crunchy topping…it's really the icing on the cake. Or I guess the crunch on the casserole!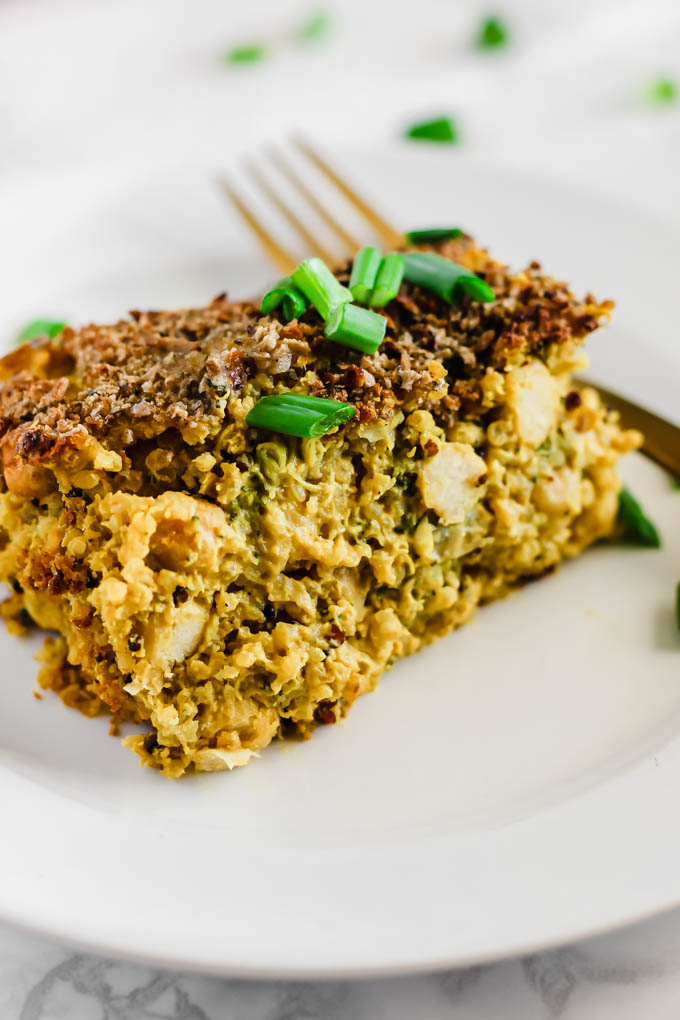 Print
How to make:
Cheesy Chickpea, Quinoa & Broccoli Casserole (vegan & gluten-free)
Make this wholesome Cheesy Chickpea, Quinoa & Broccoli Casserole and enjoy leftovers for days! Each serving is full of plant protein, whole grains & vegetables. Vegan & gluten-free!
Ingredients
1 cup

dry quinoa

4 cups

broccoli florets, chopped

2

15-ounce cans (3 cups) chickpeas, drained and rinsed

1 cup

raw cashews

1 cup

carrots, chopped into

½

-inch chunks

1 ½

–

2

cups unsweetened non-dairy milk or water (or a mix)

½ cup

nutritional yeast

2 teaspoons

miso paste (optional)

2

cloves garlic

1 teaspoon

onion powder

½ teaspoon

ground turmeric

¼ teaspoon

ground cayenne pepper

Salt & pepper, to taste

½ cup

whole grain bread crumbs or crackers, processed into crumbs
Instructions
Preheat oven to 375ºF.

In a medium saucepan over high heat, add quinoa and 2 cups water. Bring to a boil; cover and reduce heat to simmer. Cook for 13-15 minutes, then fluff with a fork. Set aside in a medium bowl.

Lightly steam broccoli florets. Pour out any extra water.

In a pot (the same one that the quinoa cooked in) over high heat, add cashews, carrots and enough water to cover them. Bring to a boil; cook for 10 minutes, until cashews and carrots are tender. Drain.

In a blender or food processor, add cashews and carrots, non-dairy milk, nutritional yeast, miso, garlic, onion powder, turmeric, cayenne, salt and pepper.

In a casserole dish, add quinoa, steamed broccoli and chickpeas; stir to combine. Pour on the cheese sauce; stir to thoroughly mix into ingredients. Top with bread crumbs or crushed crackers.

Bake for 40-45 minutes. Let cool for 10 minutes before serving.
Notes
This casserole is freezer-friendly! I recommend cutting individual slices and then freezing. Then you can defrost however many slices you need at a time.