Current life motto: there is no such thing as too many pancakes. You all have good food taste, so I'm sure you agree with me. Let's get into this fat stack of blueberry vegan protein pancakes because I know you're drooling. 🍴
What's your favorite time of the day? Is it when you take your lunchtime walk, or when you grab a 3 p.m. coffee and savor every drop, or when you finally crawl into bed at 10 p.m.? (or midnight like me😅)
I have to say that my favorite time of day lately is 6:30-7:30 a.m. I know it sounds crazy, but hear me out. When I don't have to rush to get homework done before class, this is my time to just relax. My mind is clear, the light is hazily shining through the windows, my slippers are on, and everything is peaceful. I can put on my essential oil diffuser and read my favorite blogs with my warm matcha latte in hand.
It's the calm before the storm that is my life lately. So, I savor every second of that hour.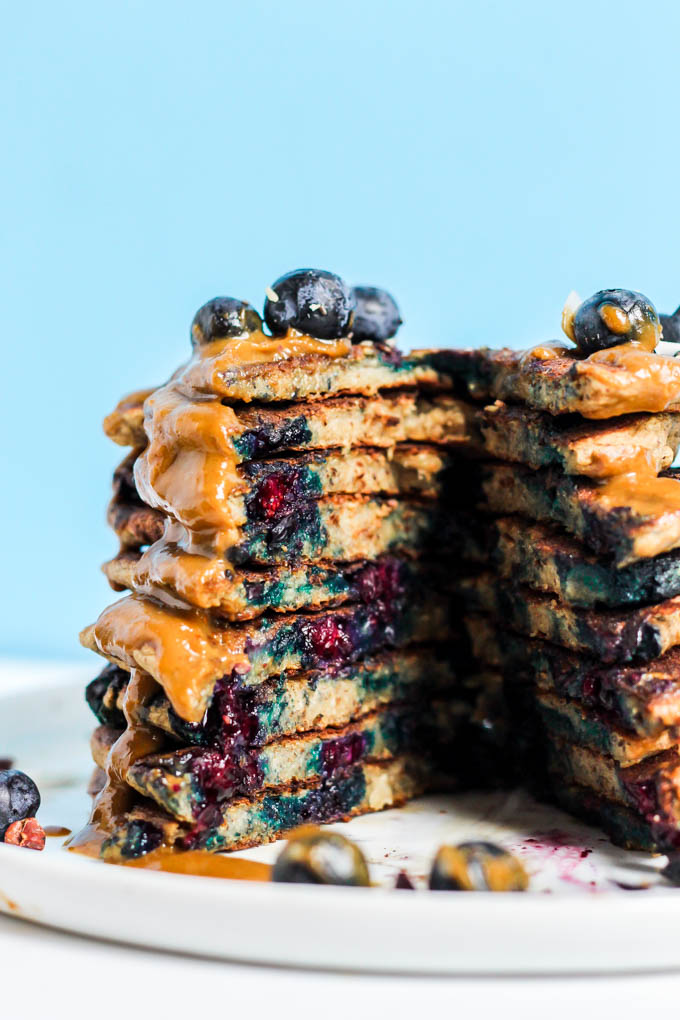 I would like to have a peaceful morning routine that I'm committed to every day, but I just can't seem to make it stick. Sometimes I need to finish up some homework or do a little blog work, or I just accidentally wake up 30 minutes late. This is #reallife, and I just don't have time for a perfect 1-hour self-care routine complete with face masks and elixirs and meditation.
And that's okay. Maybe one day I'll be able to get something to stick, but that day is not today.
But one part of my morning routine that has to happen is BREAKFAST. The ultimate form of self-care for me is feeding my self nourishing foods and savoring every bite, so I never leave the house without a satisfying breakfast. I ain't a granola-bar-and-go girl.
Enter: blueberry vegan protein pancakes. Pancakes 4 prez. 🇺🇸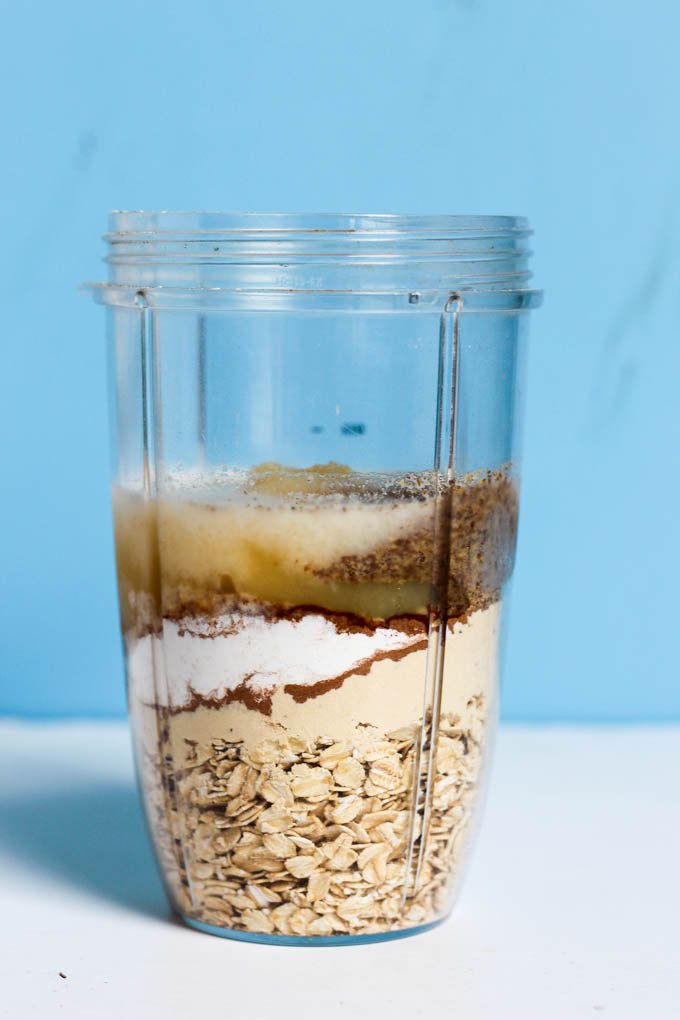 I'm always dreaming up new pancake flavor combos to share with you because, if you're anything like me, you could eat pancakes for every meal and never get tired of them. It's basically like having cake for breakfast – I think we're all cool with that, right?
All of the crazy combos I have running through my head are great and all, but I say classic blueberry pancakes are some of the best. Especially right now when bloobs are big, sweet & juicy!
You all LOVE these Chocolate Banana Oatmeal Pancakes, so I made this blueberry version almost exactly the same – made completely in the blender! Less dishes, less clean-up, less time from pan –> fork –> mouth.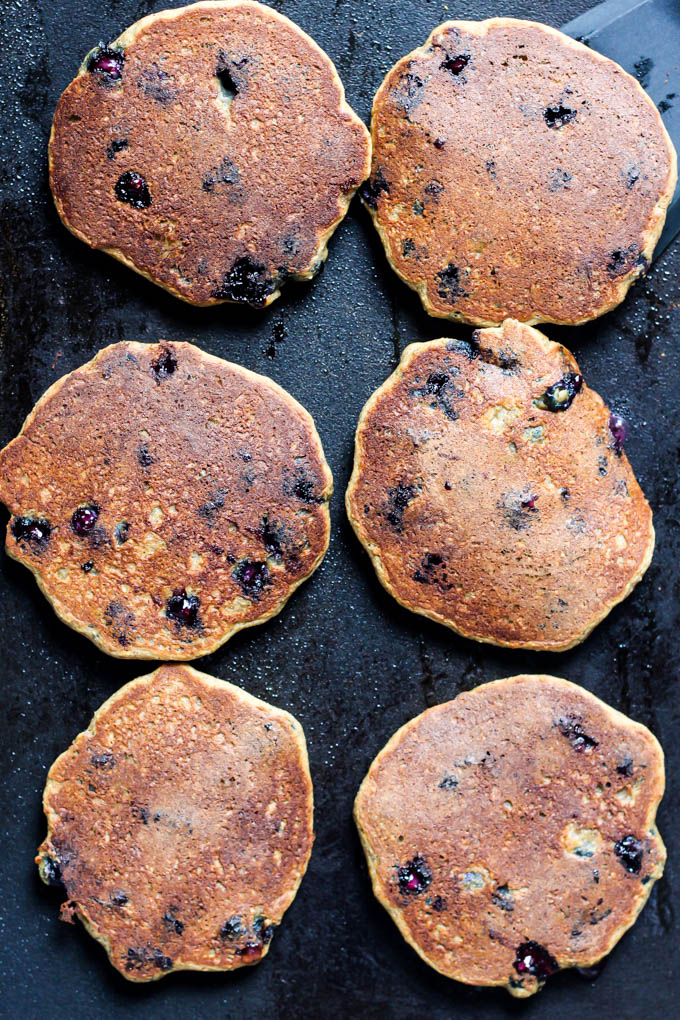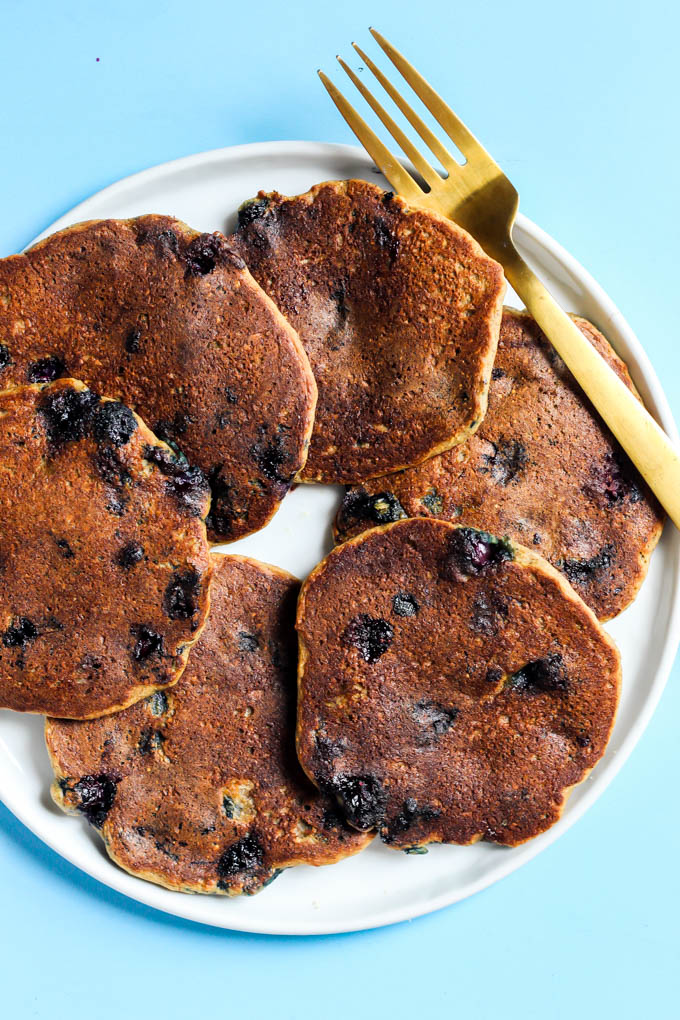 I added a little protein punch to these classic blueberry pancakes using Bob's Red Mill Vanilla Protein Nutritional Booster! This is HANDS DOWN some of the best plant-based protein I've ever tried. It seriously tastes like cake batter! It adds a hint of sweetness from monk fruit to these pancakes, so no added sugar is needed. It's an excellent source of protein, with 20 grams per scoop! Plus fiber, probiotics & prebiotic fiber.
I know some of you ask about plant-based protein powders and which ones to try/avoid, and Bob's Red Mill Nutritional Boosters are seriously also on the top of my list. They also make Chocolate and Chai flavors, so I'm excited to try those out in some recipes (chocolate protein pancakes?!).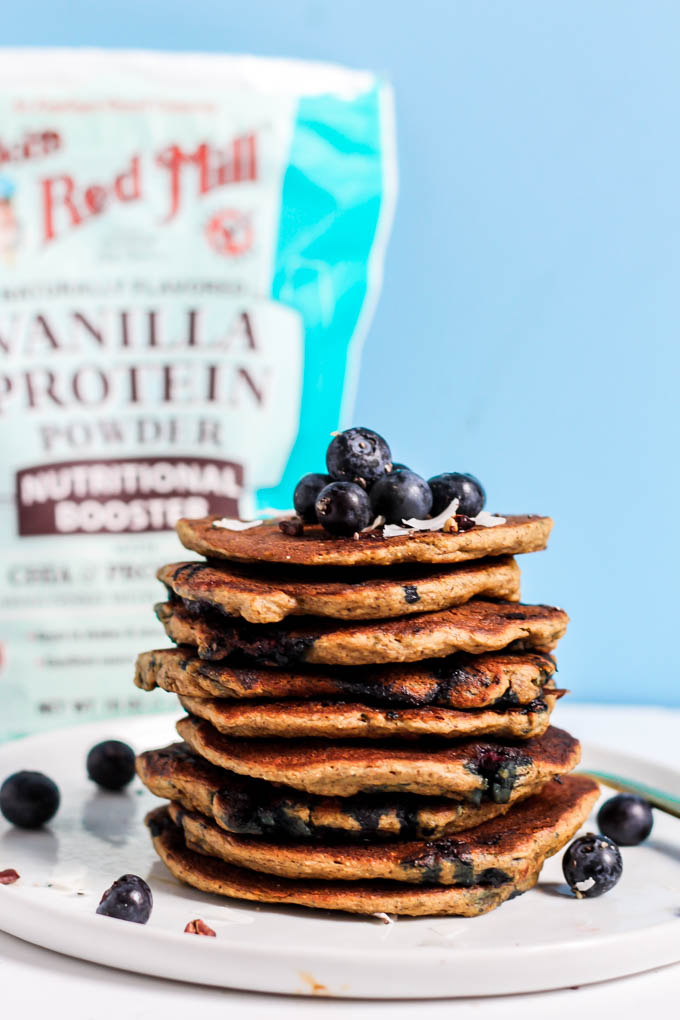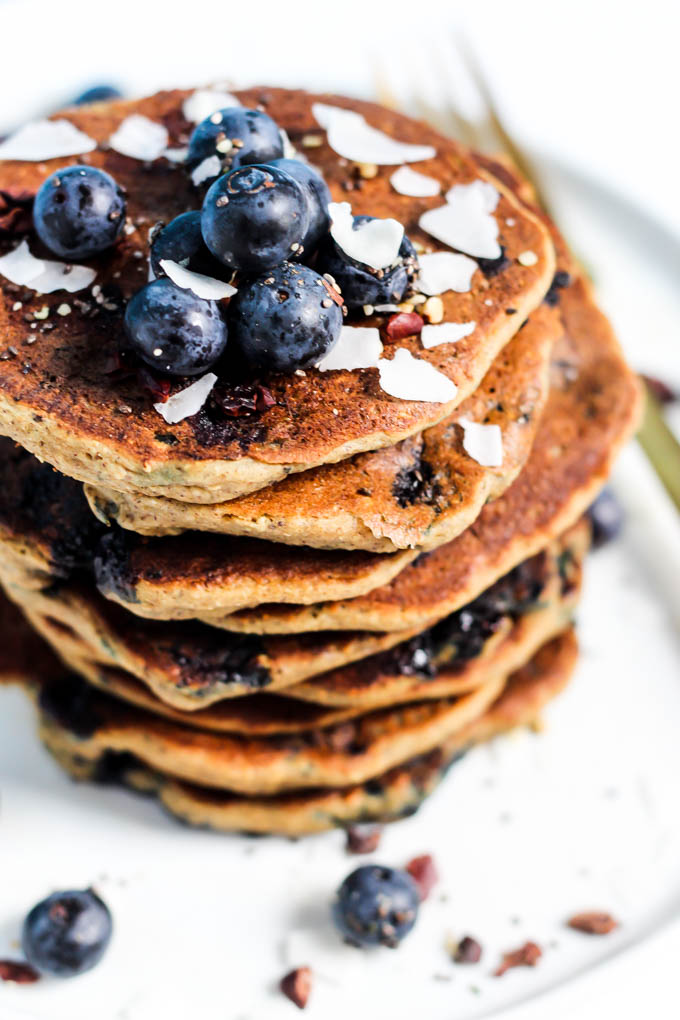 And there you go, folks! The most beautiful, perfect, fluffy stack of vegan protein pancakes bursting with juicy blueberries in every bite. The best form of morning self-care, in my opinion. 👌🏼
I topped mine with a peanut butter + maple syrup mixture (warning: it's addicting), but feel free to top with whatever your pancake-lovin' heart desires!
Be sure to click on this link to get a coupon for $3 off any Bob's Red Mill Nutritional Booster! (I also used their rolled oats and flax meal in this recipe – can't you tell I love Bob?!)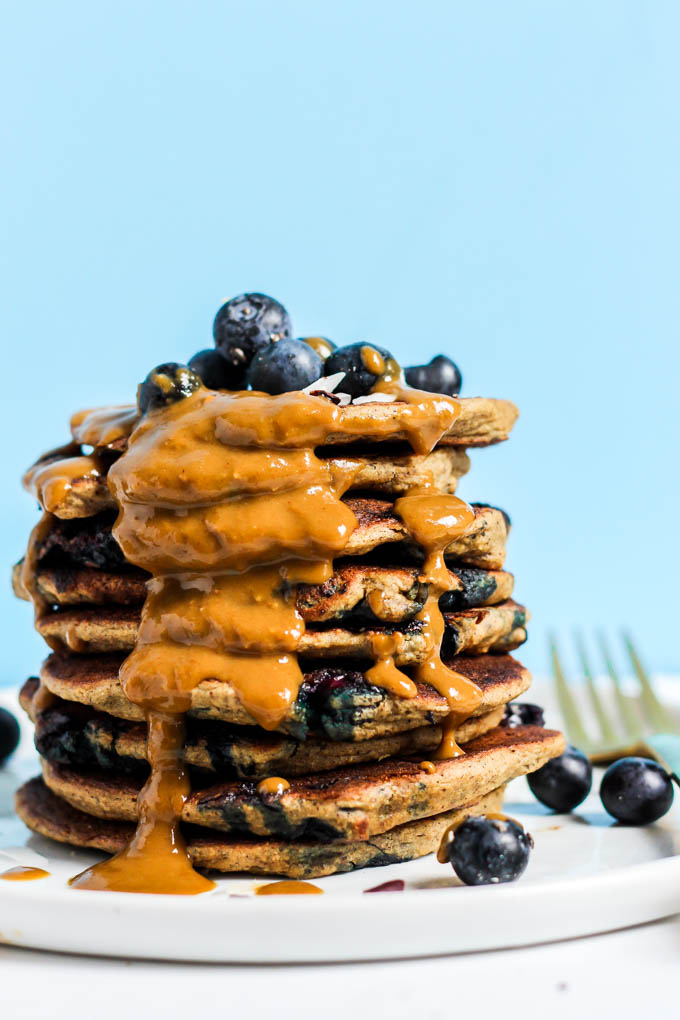 Print
How to make:
Blueberry Vegan Protein Pancakes
These Blueberry Vegan Protein Pancakes aren't just for the weekend! They're made in the blender, which means less time from start to breakfast. (gluten-free)
Ingredients
1 cup

rolled oats

1 cup

non-dairy milk or water, plus more if desired

1/2 cup

Bob's Red Mill Vanilla Protein Powder Nutritional Booster

1/2 cup

unsweetened applesauce (can sub mashed bananas or pumpkin puree)

1 tablespoon

flax meal

2 teaspoons

baking powder

1 teaspoon

vanilla extract

1/2 teaspoon

baking soda

1/2 teaspoon

almond extract (optional)

1/4 teaspoon

ground cinnamon

1/8 teaspoon

salt

1 cup

blueberries
Maple syrup or peanut butter, for topping
Instructions
Preheat a medium skillet or griddle over medium heat. Lightly grease with cooking spray.
In a blender or food processor, add all ingredients except the blueberries. Blend until completely smooth, adding more liquid if desired for thinner pancakes.
Let the batter sit for 5 minutes.
Add blueberries; stir to incorporate evenly.
Use about 2 tablespoons of batter to form each pancake. Cook on one side until bubbles begin to form, about 3-5 minutes. Flip and cook about 3-5 more minutes.
Serve with a drizzle of maple syrup and peanut butter, and top with extra blueberries!
I was selected for this opportunity as a member of CLEVER and the content and opinions expressed here are all my own.