These Chocolate Covered Chickpea Protein Balls taste just like cookie dough, but also pack a ton of protein! They're perfect for a sweet snack on-the-go.
Balls balls balls. Coming' right atcha on this lovely Tuesday. Have you ever made energy balls/no-bake bites/protein balls/whatever else Pinterest calls them? If not, you're in for a special treat, because these little babies will SRSLY rock your world.
This is actually my first batch of balls – ever. I know, it's a shame. After reading through oodles of Davida's ball recipes on The Healthy Maven and seeing them everywhere on the interwebs, I decided enough was enough. I was ready for the balls.
Okay, if you haven't gotten frustrated yet with my clever plays on the word "balls," thanks for sticking around, friend. I mean, c'mon, how can you blame me? It's funny.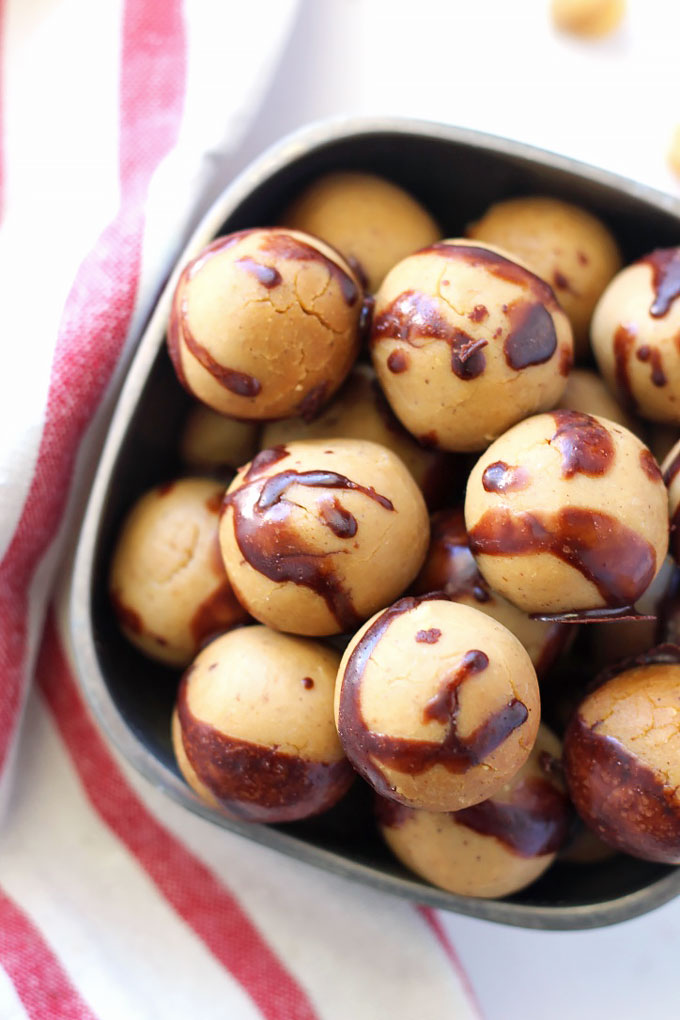 This recipe was made out of my want need for protein-packed snacks that 1. aren't chock-full of sugar, 2. will keep me satisfied for a little bit, and 3. don't taste like cardboard. I grabbed my handy dandy ingredients and started blending, and these little balls of joy were born with the perfect soft texture, the right amount of sweetness, and healthy ingredients that you can feel good about!
I bet some of you already have most of these ingredients in your house already. First, the base of these balls – CHICKPEAS! Probably the best food ever made in the history of ever. They're full of fiber and protein, and no one will know there's beans in their balls (hehe). Also on the ingredient list: almond/peanut butter, unsweetened applesauce, vanilla protein powder (I love this one!), some seasonings, and maple syrup or stevia. READ: Simple! Cheap! Delicious!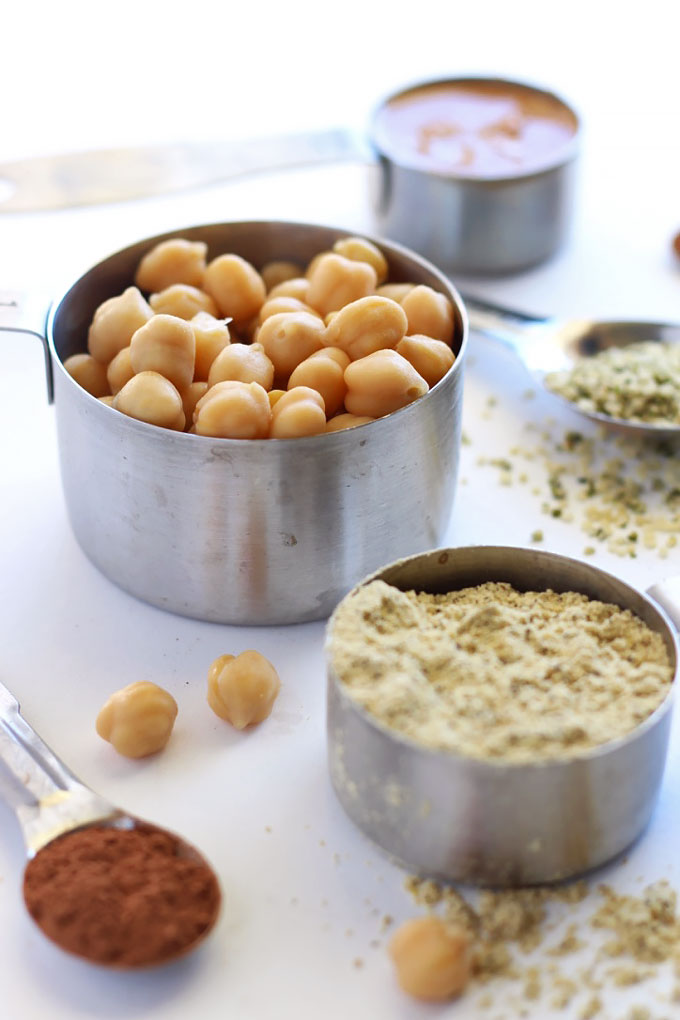 Of course, once you mix the ingredients in your food processor and roll them up, you can leave the balls as is and enjoy them plain in their vanilla-y goodness. I'm a vanilla girl at heart, so shout out to all you out there.
BUT, I know most of you basically live for chocolate, so of course we had to add a little something something. A drizzle of a simple homemade chocolate sauce does the trick!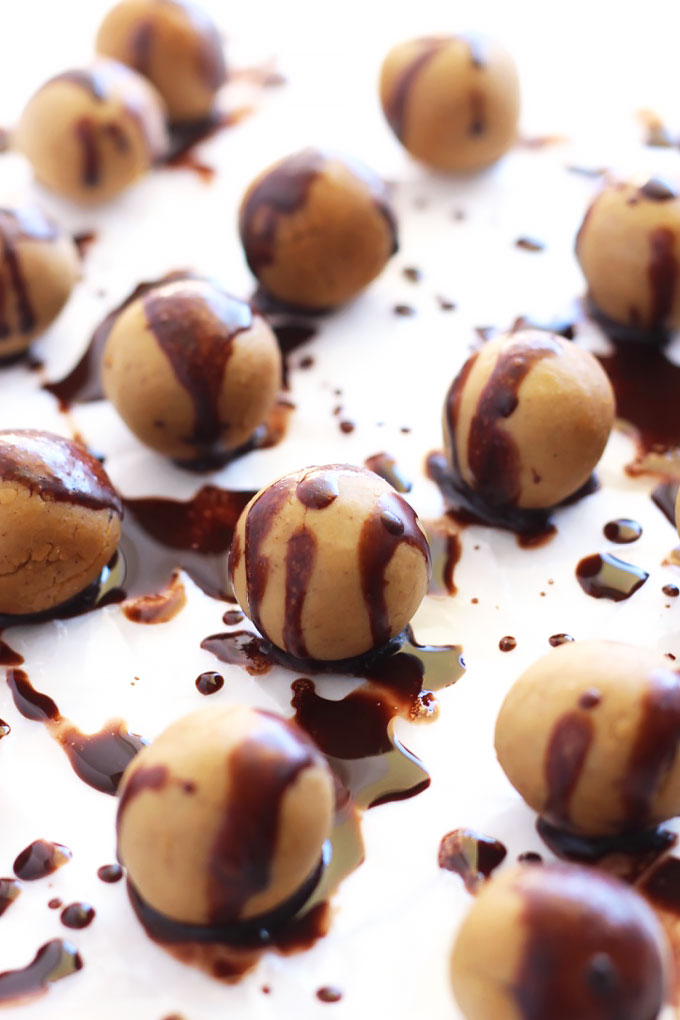 I thought I'd be able to horde these all for myself since my mom doesn't like protein powder, but one bite in, she already claimed her stakes to the batch. Wtf, Mom?! Jk, I guess I owe you for raising me. You can have the balls.
Depending on the protein powder and nut butter you use, the nutrition of these balls will change. From my fancy schmancy calculations, if you rolled up 15 balls, each would have 4 grams of protein for about 60 calories! Pop a couple as a snack and you'll be making those gains in no time.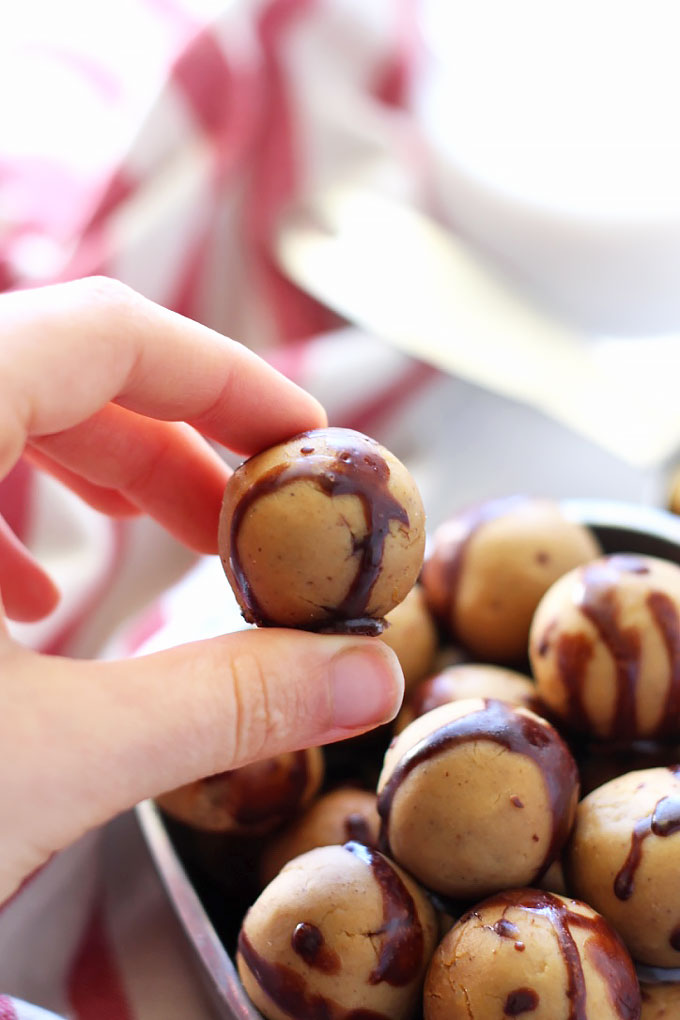 I really hope you guys love these Chickpea Protein Balls! I love making a batch at the beginning of the week and packing one with my lunch, or enjoying one as an afternoon snack to hold me over until dinner. They'd also be great post-workout!
If you make this or any of my recipes, snap a sweet pic, post it on Instagram, and tag me @emilieeats!
Eat all the balls, friends. Especially if they're drizzled with chocolate.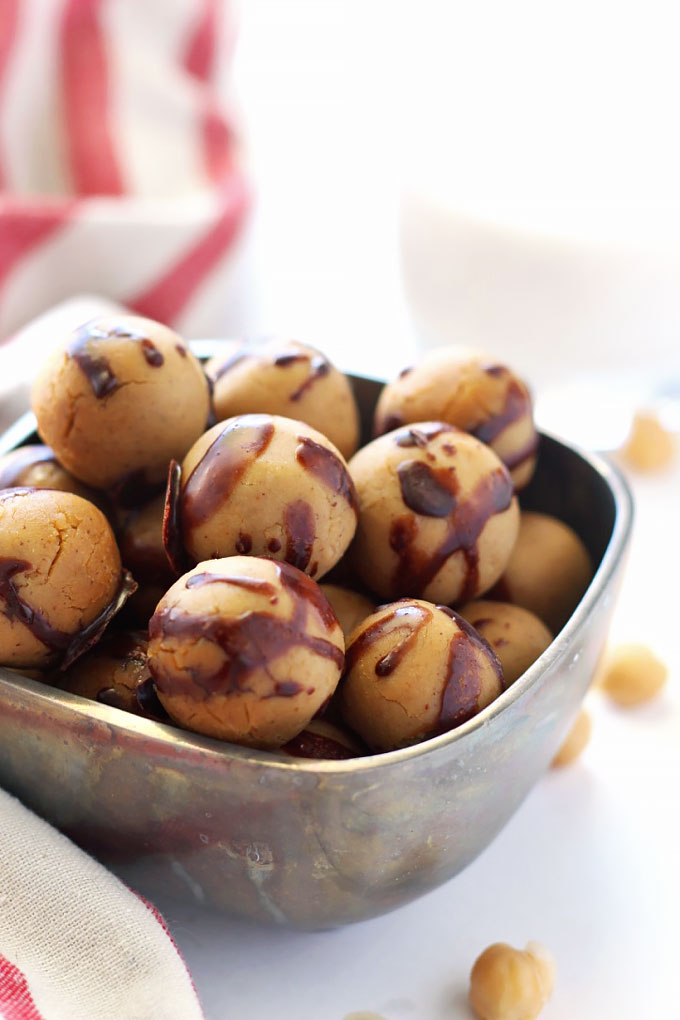 Print
How to make:
Chocolate Covered Chickpea Protein Balls
These Chocolate Covered Chickpea Protein Balls taste just like cookie dough, but also pack a ton of protein! They're perfect for a sweet snack on-the-go.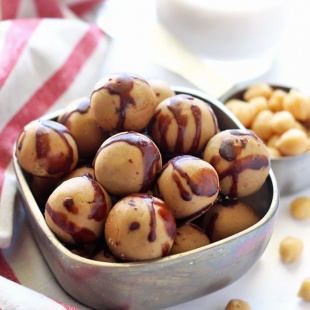 Ingredients
1

15-ounce can chickpeas, drained and rinsed

1/3 cup

vanilla protein powder

1/4 cup

almond or peanut butter

2 1/2 tablespoons

maple syrup, divided, or

10

drops stevia extract, divided

2 tablespoons

unsweetened applesauce

1/2 teaspoon

vanilla

1/4 teaspoon

salt

1/4 teaspoon

cinnamon

2 tablespoons

coconut oil, melted

1 1/2 tablespoons

cocoa powder
Instructions
Line a baking sheet with wax paper or foil.
In the bowl of a food processor, add chickpeas, protein powder, almond butter, 2 tablespoons maple syrup or 6-8 drops stevia, applesauce, vanilla, salt, and cinnamon. Pulse to combine until all ingredients are mixed together and smooth; stop to scrap the sides if needed. It should be like a soft dough texture.
Roll the dough into 15 balls. Place each ball onto the wax paper. Place the baking sheet in the fridge.
In a small bowl, add melted oil. Slowly stir in the cocoa powder until there are no lumps. Add 1/2 tablespoon maple syrup or 2-3 drops of stevia and a pinch of salt; stir to combine.
Drizzle the chocolate over the balls. Let them cool in the fridge, or enjoy as is.
Store these in an airtight container in the fridge or freezer.
This post contains affiliate links, which means that if you purchase a product through a link you clicked on here, I receive a portion of the sale. Thanks for supporting the blog I love oh-so-much!