Make yourself a loaf of crusty No Knead Oat Bread for soups or to eat with butter! It's made with whole grain oats and easy ingredients. In partnership with Quaker; all opinions are my own.
No Knead Oat Bread
If you had told me I could make this crusty homemade bread without kneading the dough at all, I definitely wouldn't have believed you. When you think about homemade bread, I bet you think about arm-pain-inducing kneading, fancy thermometers, and still ending up with a loaf nothing like you get at a bakery.
However, I'm here to tell you that you CAN make a fluffy, delicious loaf of oat bread at home. Plus, no kneading is required! This no knead oat bread require only five ingredients, including Quaker Old Fashioned Oats to add whole grains and a bit of chewiness.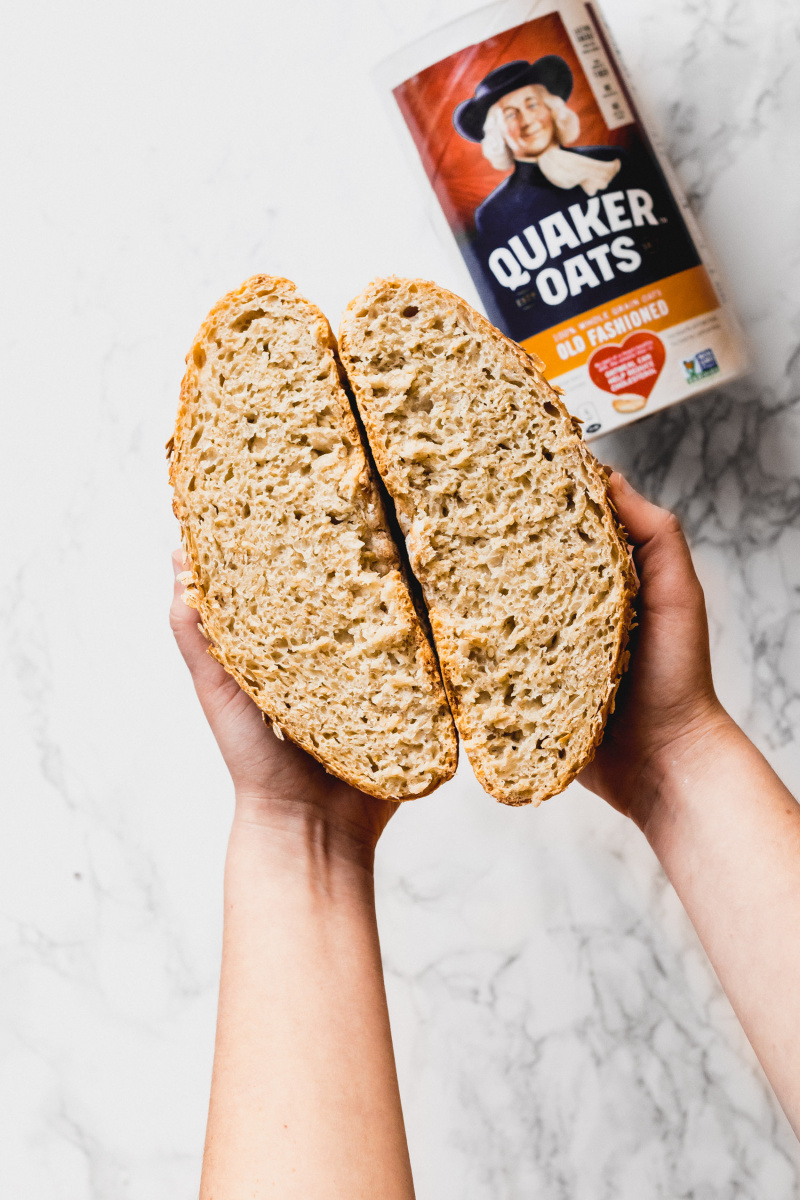 Ingredients for No Knead Bread
The ingredients for this oat bread truly could not be simpler. I bet you have all five in your kitchen already!
All-purpose flour.
Quaker Old Fashioned Oats. A pantry staple! The oats add chewiness that this crusty bread really needs. Also, Quaker Oats add 100% whole grains to the loaf.
Salt.
Instant yeast. This yeast can get mixed directly with everything else, whereas active dry yeast would need to activate in water first. Fast-acting or quick-rise are other names for instant yeast.
Water. We're using *slightly* warm water.
Especially in these colder months, I love having Quaker Old Fashioned Oats in my pantry for cozy bowls of oatmeal, hearty breakfasts (like these savory crepes), and this easy homemade oat bread.
Additionally, a 1/2-cup serving of Quaker oats is a good source of fiber, including 2 grams of soluble fiber. Making sure you include enough fiber in your diet may help support a healthy digestive system. Also, soluble fiber in oatmeal may help slow digestion, and the release of glucose in to the blood stream, providing a slower supply of energy.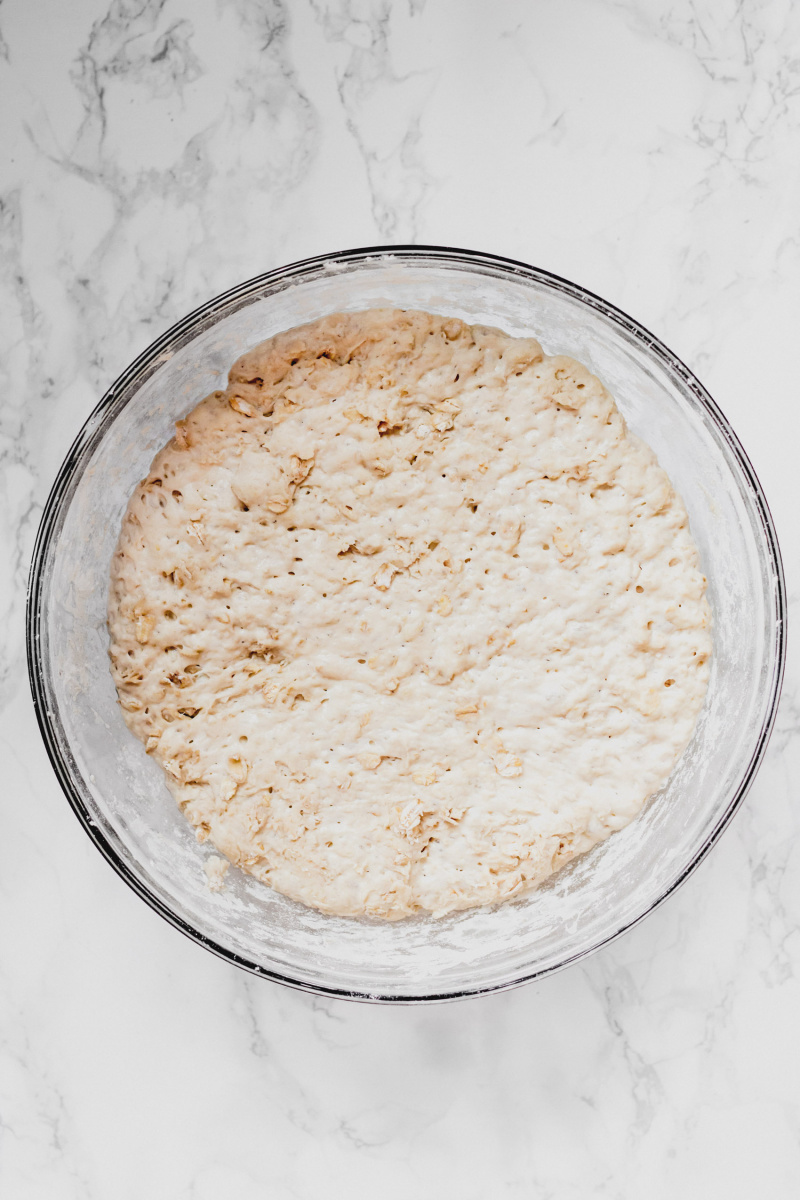 How to Make No Knead Oat Bread
Most of the time for this oat bread is spent waiting for the dough to rise. The actual hands-on work is very limited. Let's go through the major steps for this no knead bread:
Mix all dry ingredients together.
Slowly add water while stirring. Dough will be slightly wet.
Cover and let rise for 12-16 hours. Overnight is ideal!
*Gently* form a ball from your now-puffy dough.
Cover and let rise for 2 hours.
Next, preheat a Dutch oven or loaf pan in the oven.
Add dough ball to the pan.
Cook covered first. Then, remove the lid and cook until golden-brown.
Slice and enjoy a warm piece of bread with non-dairy butter!
See? It's not THAT intimidating! I promise that if I, professed non-baker, can make homemade oat bread, you can too.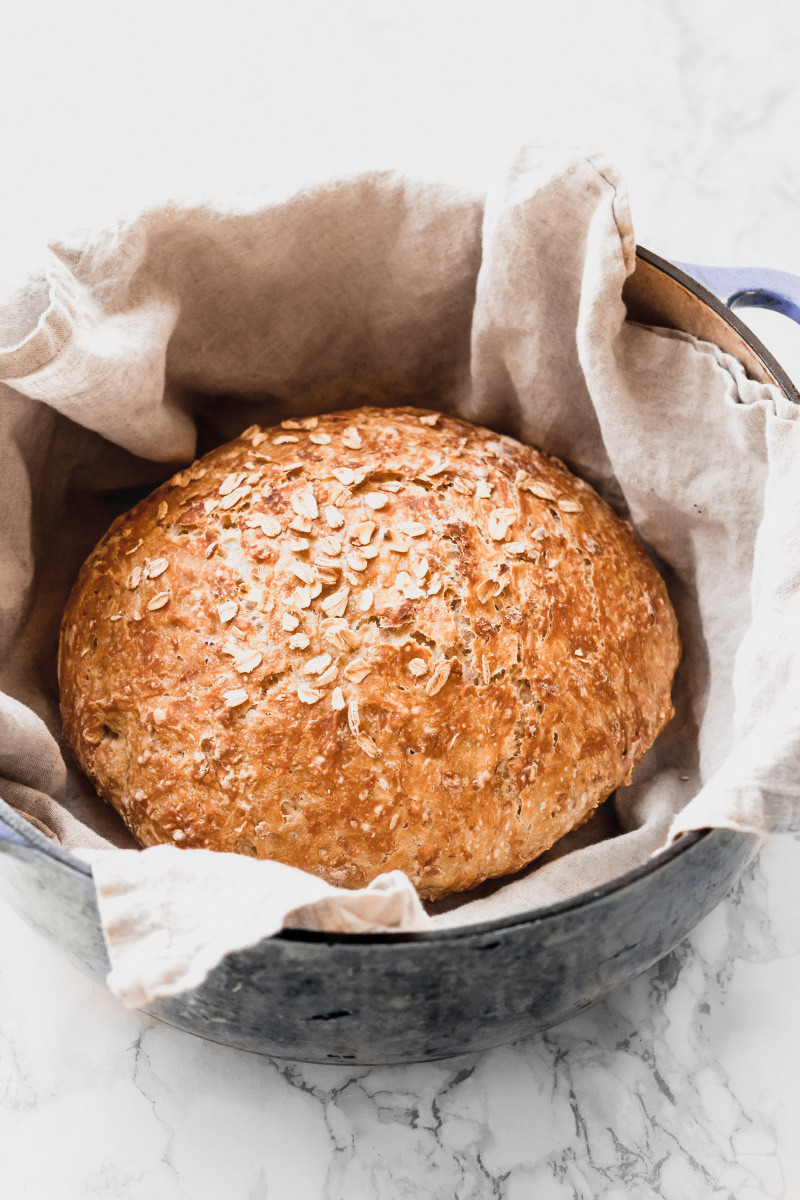 Tips for Making No Knead Bread
As with all bread recipes, there are a few things to keep in mind as you're mixing and shaping your delicate dough.
First, remember that this is a NO KNEAD bread. When you're stirring the water into the dough, stop stirring as soon as everything is combined. Resist the urge to over-stir!
Second, if you are baking this loaf of oat bread in a Dutch oven, you have to place it in the oven before setting your oven to preheat. This gradual heating-up of the Dutch oven prevents cracking during baking. Additionally, you can use a loaf pan instead.
Next, I have not tried this bread with whole wheat flour. However, I assume that you could get great results if you replaced half the all-purpose flour with white whole wheat flour for even more whole grains.
Finally, the longer you can let the dough rise overnight, the better.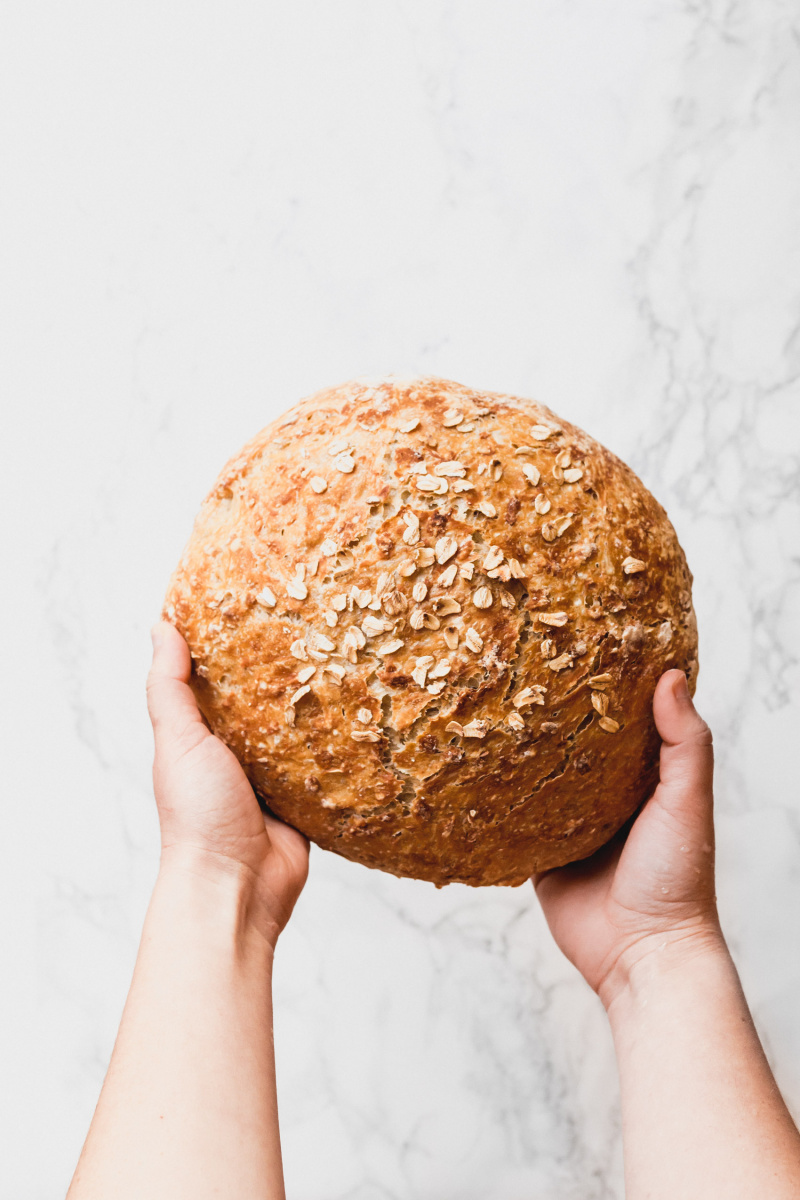 Print
How to make:
No Knead Oat Bread
Make yourself a loaf of crusty No Knead Oat Bread for soups or to eat with butter! It's made with whole grain oats and simple ingredients.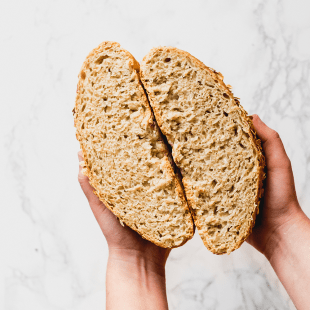 Ingredients
3 cups

all-purpose flour

1 cup

Quaker Old Fashioned Oats, plus more for topping loaf

1 1/2 teaspoons

salt

1/2 teaspoon

instant yeast

1 1/2 cups

+ 3 tablespoons water (slightly warm)
Instructions
In a large bowl, add flour, Quaker Oats, salt, and yeast. Stir to combine.
Slowly pour in water as you're stirring. A slightly-wet dough will form. Once all ingredients are combined, cover bowl with foil, a damp cotton towel, or plastic wrap.
Place bowl in a warm area (like the oven with the heat off) for 12-16 hours to let dough rise.
When the dough is done rising, sprinkle some flour on top. With floured hands, very gently pull the dough off of the sides of the bowl towards the middle to form a dough ball. The seam should be facing up. Flip the dough ball in the bowl so that the seam is now on the bottom. Sprinkle the top with flour.
Cover bowl with foil, a damp cotton towel, or plastic wrap. Place in a warm area for 2 hours for an additional rise.
1.5 hours into the second rise, lightly grease a Dutch oven or loaf pan. Place in the oven.* Preheat to 450ºF. Leave the pan in the oven for 30 minutes to preheat.
Gently place the dough ball in the Dutch oven or pan. Cover with a lid or foil.
Bake for 25 minutes. Remove lid or foil, then bake for 15 minutes, until loaf is golden brown.
Notes
*A Dutch oven must preheat with the oven to prevent cracking during cooking.
Thanks to Quaker for sponsoring this post! I love working with brands whose products I really love and would honestly recommend. Thank you for your support!