This post was sponsored by BetterOats. I only work with brands whose products and missions I truly believe in. Thanks for supporting my blog!
Considering my intense love for pancakes, I really don't have that many pancake recipes on my blog. I have my favorite savory chickpea pancakes, PB&J pancakes and pretty beet pancakes, but I don't think that's enough. You can never have too many pancake recipes!
What better way to celebrate National Pancake Day than with a tall stack of chocolate banana oatmeal pancakes? New favorite holiday. 🙌🏼
Pancakes are definitely my favorite breakfast. Sure, I love my hearty bowl of oats, avocado toast or even a sweet homemade cinnamon roll from time to time. But to me, nothing beats flipping pancakes, stacking them tall, and topping them with fresh fruit & a drizzle of maple syrup. And, of course, licking the bowl of pancake batter (anyone else???).
We ate pretty healthy most of the time when I was growing up, so when my mom made us Bisquick pancakes, it was such a special treat. Boy, did I look forward to drowning those fluffy pancakes in good ole' Aunt Jemima.
Luckily for us, we can still enjoy fluffy AF pancakes that taste amazing and won't make us want to take a 4-hour nap after eating them. It's a win win.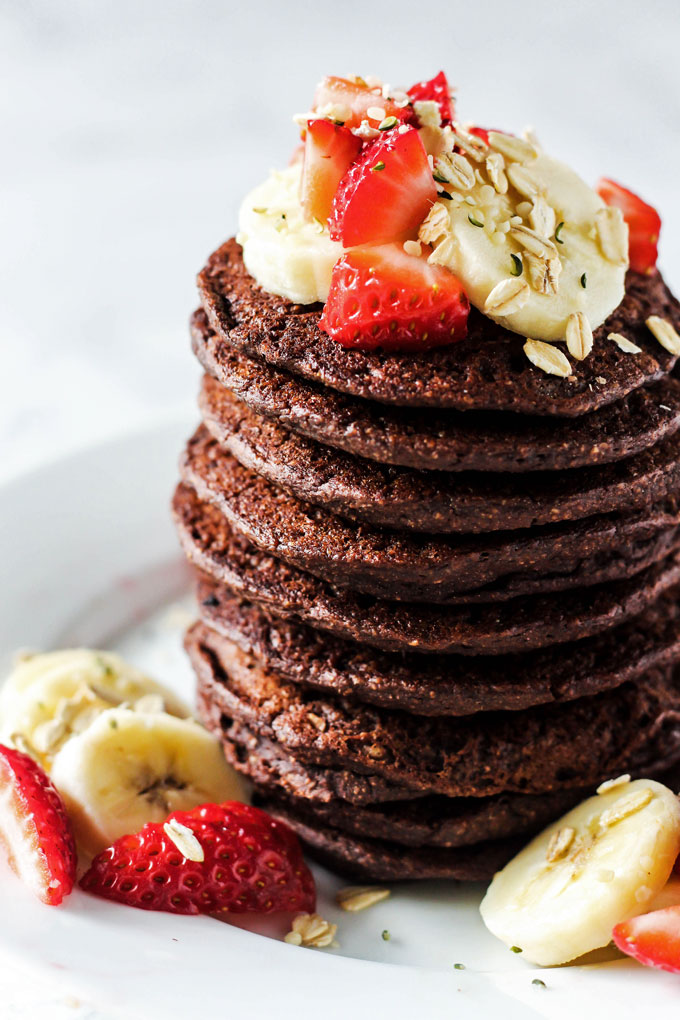 Usually people enjoy pancakes on the weekends because they're not the fastest breakfast to make – which isn't great when you have to get to your 9:30 a.m. class but still want to sleep in. Well, I have good news for you! These pancakes are made completely in the blender. Just throw in all the ingredients, blend, and pour into the pan. It doesn't get easier!
The healthy, naturally sweet combo of banana and chocolate (combined with the fiber in oatmeal!) will keep you satisfied and feeling' good all morning. Who wouldn't have a good day if they started it with chocolate?
Stacks on stacks on stacks…of PANCAKES.
[Tweet "Stacks on stacks on stacks…of chocolate banana oatmeal pancakes!"]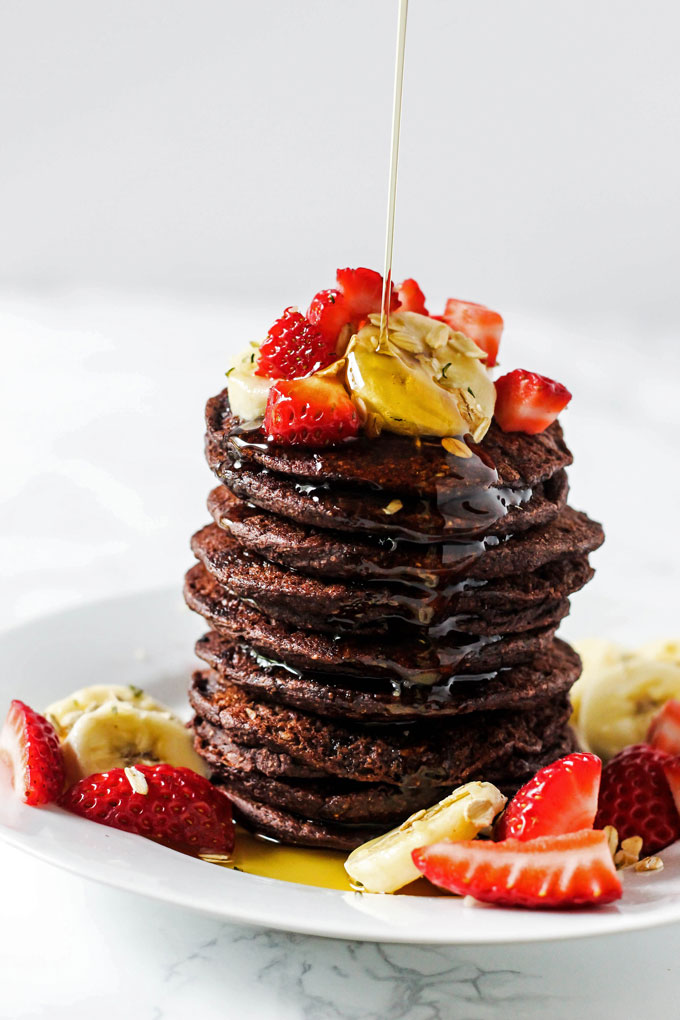 For the oats in these pancakes, I used a couple packets of BetterOats Raw Pure & Simple Organic Bare since they're already pre-measured for you – just pour in the blender with the other ingredients and you're good to go! I love that this blend contains no added sugar, is organic, and includes other healthy whole grains like barley, wheat, quinoa, and rye, as well as superstar flax! If you're completely gluten-free, grab some BetterOats old fashioned oats to avoid the added wheat.
I'm really excited to be teaming up with BetterOats to create recipes to show you how versatile oats are! You can make anything from pancakes to smoothies to desserts to cookies with the humble oat. Be on the lookout for some more awesome recipes with BetterOats! Of course, I also love to enjoy their products as-is in a bowl of instant oatmeal when I'm traveling or in a rush (aka always).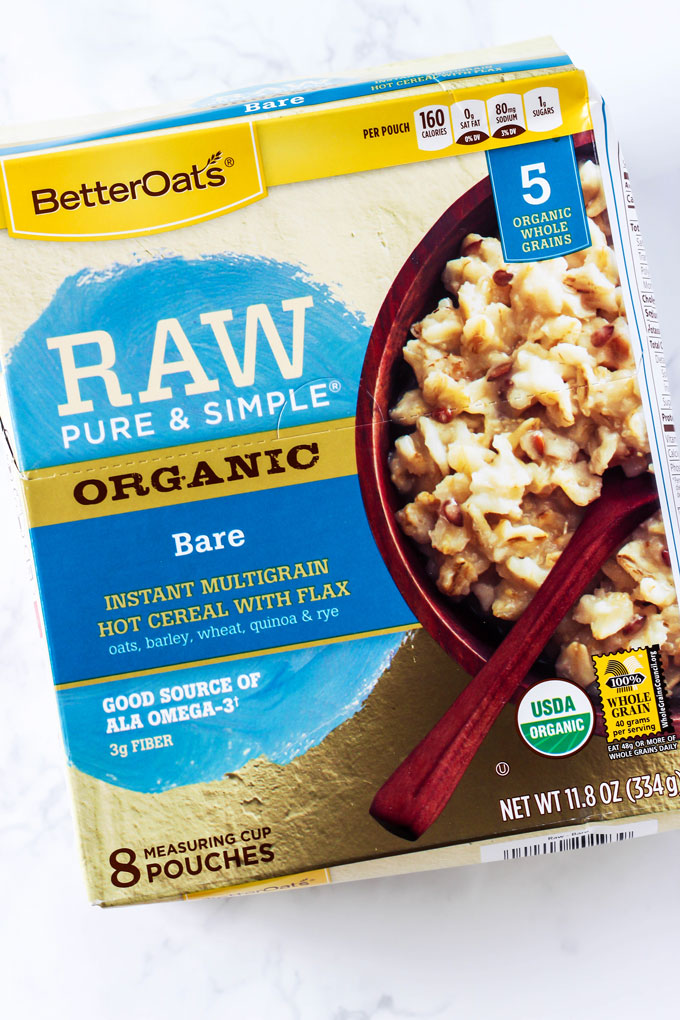 You guys are going to LOVE these chocolate banana oatmeal pancakes! They're not only absolutely delicious to devour, but they're also super easy to make and full of wholesome, heart-healthy ingredients like oats and flax. You can have your chocolate pancakes and eat them, too!
If you make these healthy pancakes or any of my recipes, snap a pic, post it on Instagram, and tag me @emilieeats! I'd love to see all of your beautiful stacks of pancakes (and drool over them).
Print
How to make:
Chocolate Banana Oatmeal Pancakes (vegan & gluten-free)
These easy Chocolate Banana Oatmeal Pancakes are made in the blender from wholesome ingredients! A healthy way to curb your morning sweet tooth. Vegan & gluten-free!
Ingredients
2

packets BetterOats Raw Pure & Simple (about

3/4 cup

)

1

medium ripe banana, plus more for topping

1/2 cup

non-dairy milk

2 tablespoons

cocoa powder

1 1/2 teaspoons

baking powder

1 teaspoon

vanilla extract

1/2 teaspoon

ground cinnamon

1/8 teaspoon

salt
Optional toppings: Maple syrup, peanut butter, strawberries, etc.
Instructions
Preheat a nonstick skillet or pancake griddle over medium heat.
In a blender or food processor, add oats, banana, milk, cocoa powder, baking powder, vanilla, cinnamon, and salt. Blend until smooth. Let the batter sit for 5 minutes to thicken.
Scoop the batter onto the skillet to form 3-inch-wide pancakes. Flip when bubbles start to form on the top of the pancakes, about 2-3 minutes. Cook on the other side until its nicely browned.
Serve warm with a drizzle of maple syrup, peanut butter, and fresh fruit.
Thanks to BetterOats for sponsoring this post! I love working with brands whose products I really love and would honestly recommend. Thank you for supporting this blog that I love oh-so-much so I can bring you delicious recipes!