I don't even know where to begin with my recent trip to Chicago. In a few words, it was amazing, adventurous, refreshing, delicious, reflective, and much-needed. I hope I get to add more posts to this "Emilie Travels" series, because now I have the travel bug!
A couple weeks ago I flew to Chicago (my favorite city) to stay with my blogging BFF Addie from Chickpea in the City for a week. Addie and I connected over Instagram a few months ago; I had followed her, and then my boyfriend said, "hey, I found this girl on my Discover page and she lives in Chicago and likes chickpeas. Y'all are twins." I reached out to her to say hi, and I guess I wasn't super creepy because we became friends instantly! We're texting all the time and Skyping sometimes, so in March I booked my flight to the Windy City. Spontaneity is fun; I should do it more often?
If you're a blogger with lots of online friends in the community, or if you just know someone online, I highly recommend meeting your friend in person. It was seriously one of the most fun trips I've ever taken! We always joke that blogging is like online dating for friends, and it's really true – Addie and I got along so well because we're interested in the same things, work in the same space, and basically are long-lost twins. Who ever would have thought Instagram would create such meaningful friendships?
I stayed for a week in Addie's apartment (thanks for hosting me!) and got to explore the most vibrant parts of the city! Last year my family travelled to Chicago and I instantly fell in love with the culture, the food, the outdoors, and the hustle & bustle. Ever since then, I've had my heart set on Chicago as a future home, so it was fun to spend time in a place that really sets me on fire.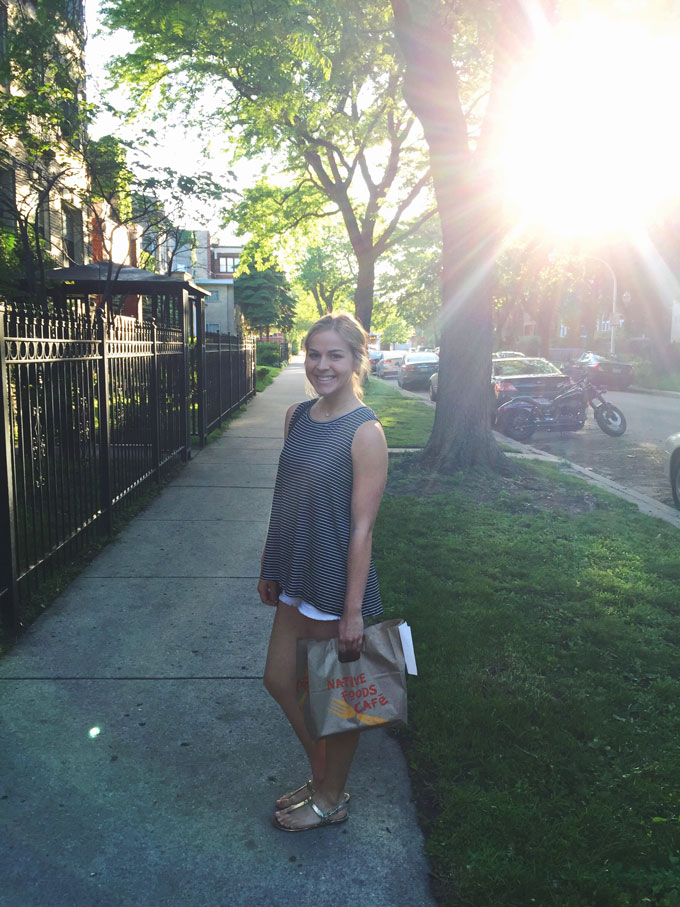 This trip honestly came at the perfect time. I've talked about my struggles in finding balance, with work, life, and especially food. I was hitting a place of really disordered body image and an unhealthy relationship with food that was taking away time from all of the fun stuff in life. Being in a new place and talking with Addie about her past eating disorder was a breath of fresh air that I definitely needed to start to heal this part of my life. Hours on the train listening to body-positive podcasts and simply enjoying the foods I wanted really helped me shift my mindset and make a conscious effort to stop obsessing so much about food and my weight. Sometimes it takes a little getaway from reality to help you snap out of negative habits.
I'm definitely in a much more positive, balanced, happy place than I was before the trip. It's a process every day to not freak out over my food choices or if I miss a workout, but I'm learning to be compassionate with myself. I think we could all be better at that.
Now onto the fun stuff!
One of the things I was most looking forward to was hitting up all the delicious restaurants that I see Addie visiting all the time. Here in Baton Rouge, the pickings are slim for plant-based (or even healthy) eating, so it was awesome to have options when going out to eat.
Let's dig in to all the eeeeeeats and fun things in the Windy City?! (warning: picture overload)
My first day there, we HAD to go to the Whole Foods that Addie works at because WF is bae and this one is huuuuge – seriously, there's two stories and a million hot bars. We got matcha lattes, then we headed to Yoga Six for a nice yoga sesh. And if we couldn't be any more #basic, we made Buddha bowls for dinner that night featuring the kale salad that inspired this green creation. Turns out I'm obsessed with sauerkraut!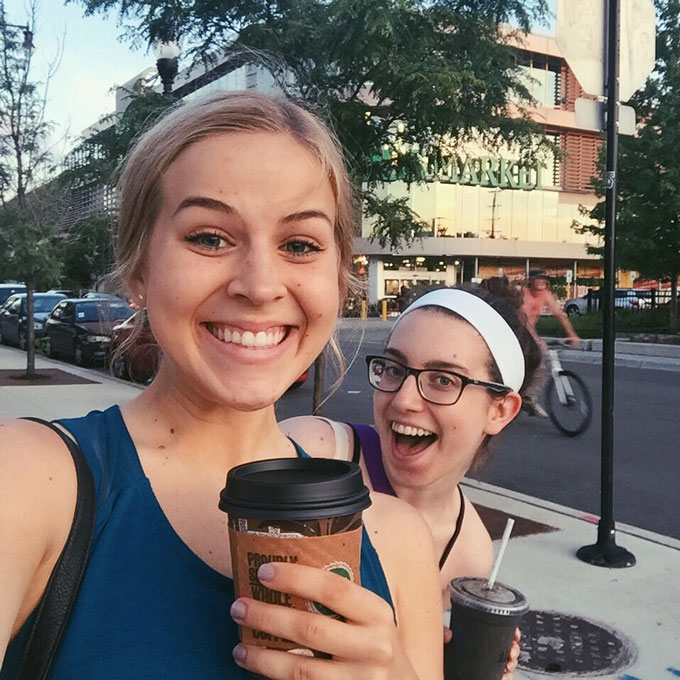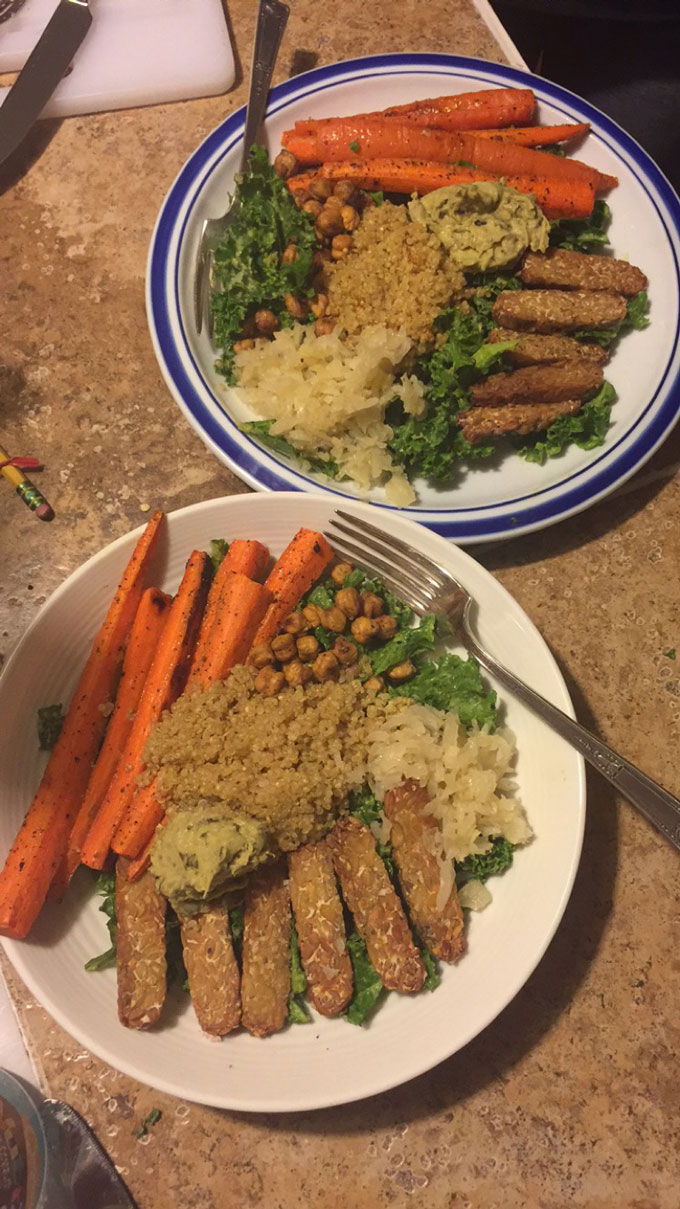 The next day we just spent exploring the city since Addie didn't have to work. I enjoyed a delicious bowl of Love Grown Foods cereal (made out of beans!) with berries for breakfast before we stopped at Pilates ProWorks for an intense reformer pilates class. I had never done reformer pilates but always thought the machines looked like death traps – that is somewhat true. Hard core indeed.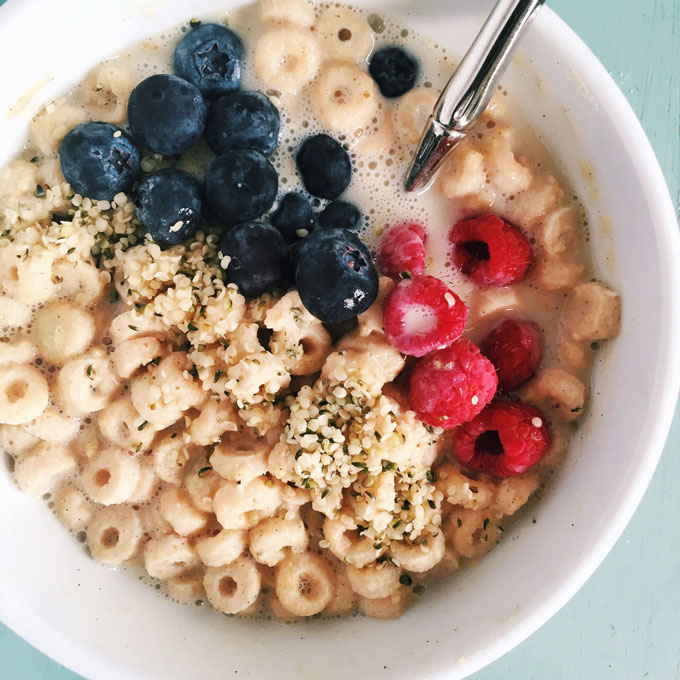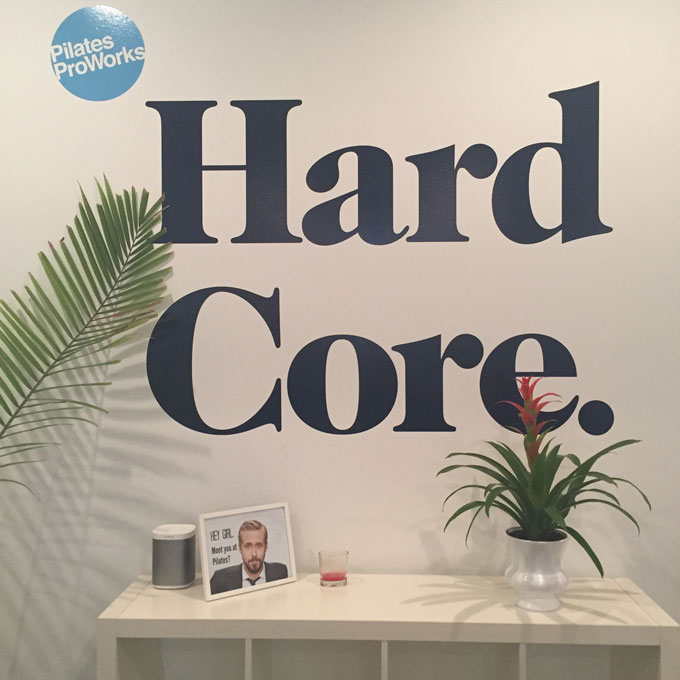 Addie is always snapping pics at Real Good Juice Co., so that was definitely on my list of must-visit places. The aesthetic is amazing – all white everything & so clean. I got the Fly Girl green smoothie & Addie had the best matcha latte I've ever tasted. Then I stopped for a kombucha because there is literally nothing on this earth better than a bottle of Trilogy.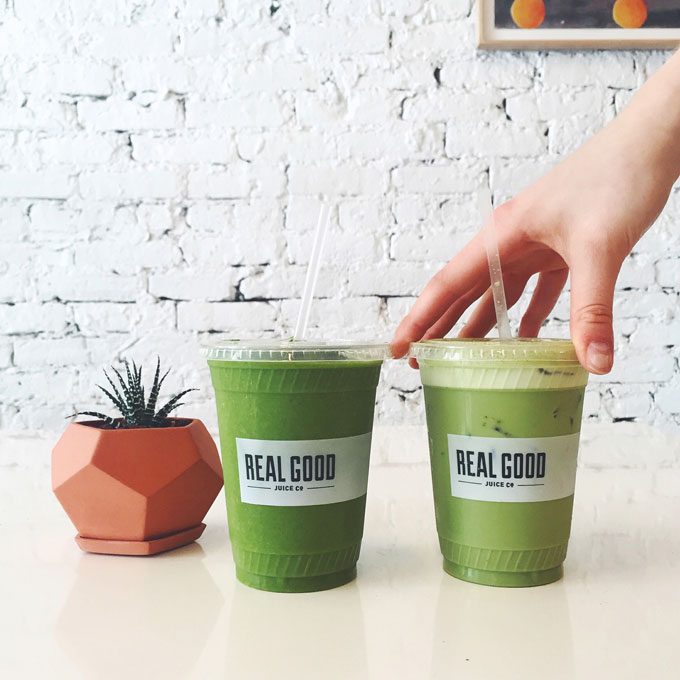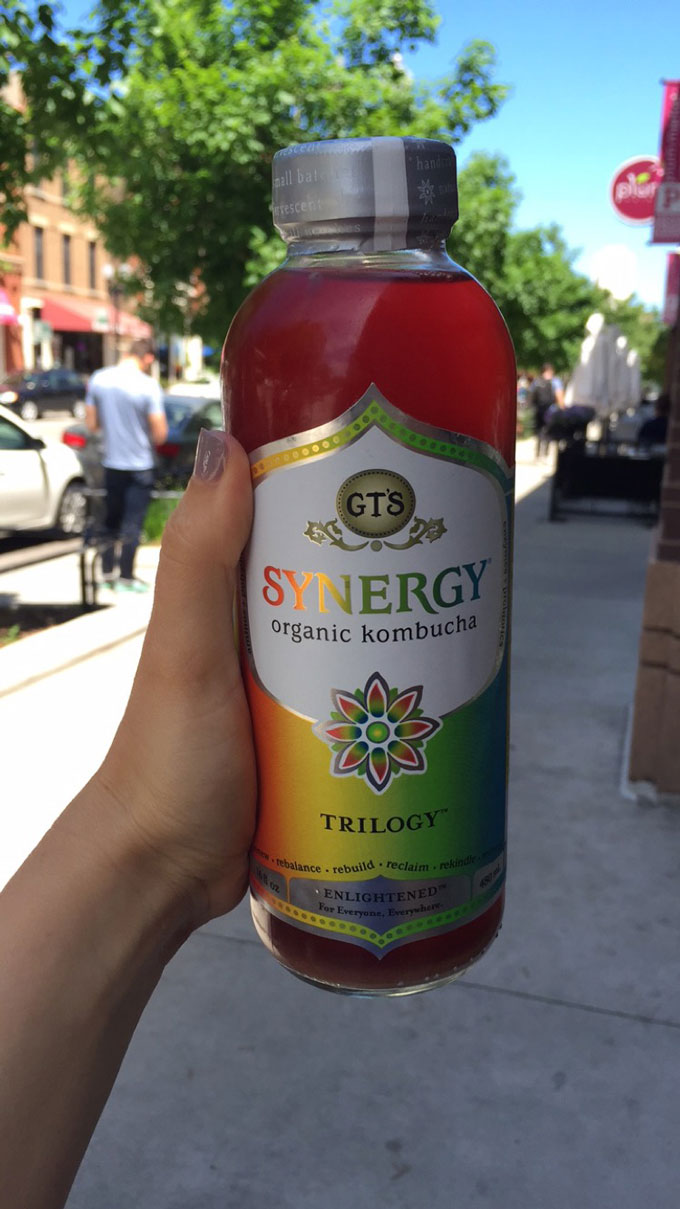 For lunch we went to a new place, Left Coast Food + Juice. I got the Jimmy Ching salad with napa cabbage, romaine hearts, snow peas, crunchy quinoa, cashews, green onion, mint, toasted sesame seeds, and flax vinaigrette.
Since last summer's trip to Chicago, I've been dreaming of coming back to Native Foods Cafe, a 100% vegan chain restaurant with hearty comfort food. I already knew I was ordering the Baja Tacos with blackened Native Tempeh, creamy chipotle sauce, salsa fresca and shredded cabbage (added avocado at home), and Addie got the Taco Salad. We <3 tacos.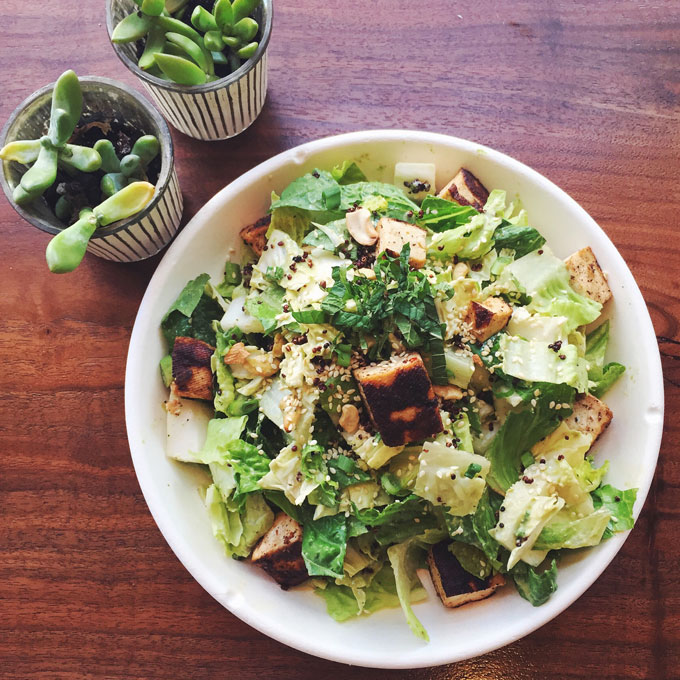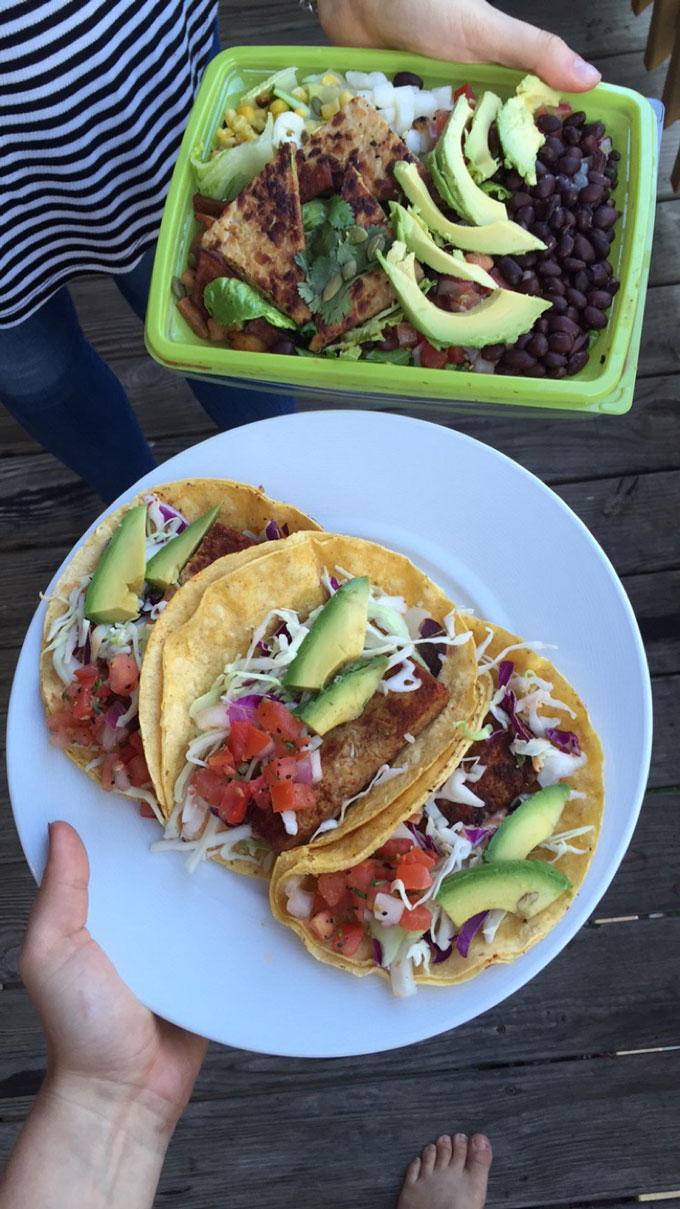 The next morning we made pitaya bowls in Addie's Vitamix, which was life-changing. Seriously, can someone please buy me one of these?! (Mom???) These were so creamy.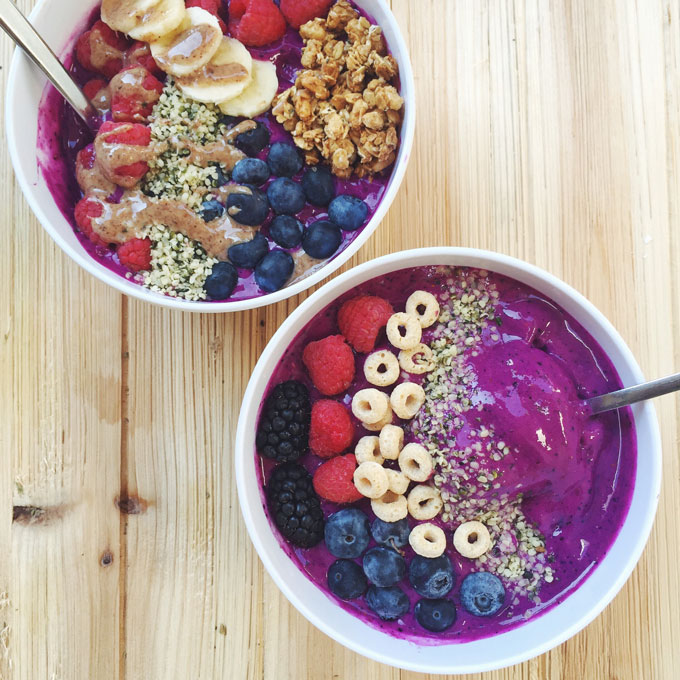 Since Addie had work that day, I toured Northwestern University in Evanston where I'm considering going to grad school. The campus is absolutely gorgeous  on the lake, plus they have a Whole Foods on campus so that basically sells it for me.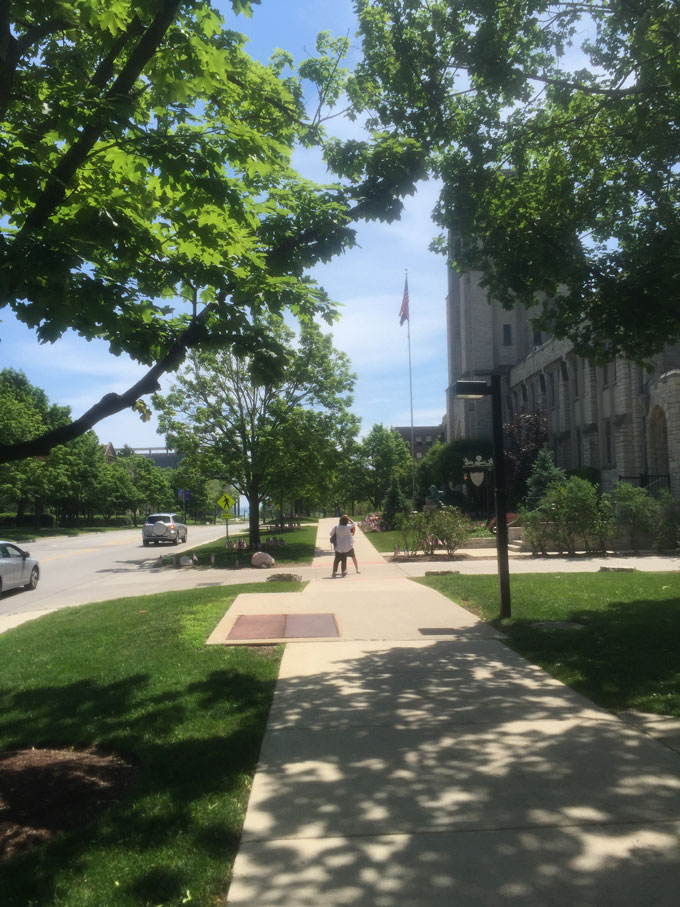 I stopped at Chicago Raw for lunch where Addie used to work; they make delicious meals out of 100% raw fruits, vegetables, nuts, and seeds. I got the sampler platter because I just couldn't choose, and it was probably one of the best meals I've ever had. I got to try all of their top-rated entrees – zucchini spaghetti with meatball, turnip ravioli with cashew cheese, and a garden burger, plus their dessert special which was a BOMB lemon bar.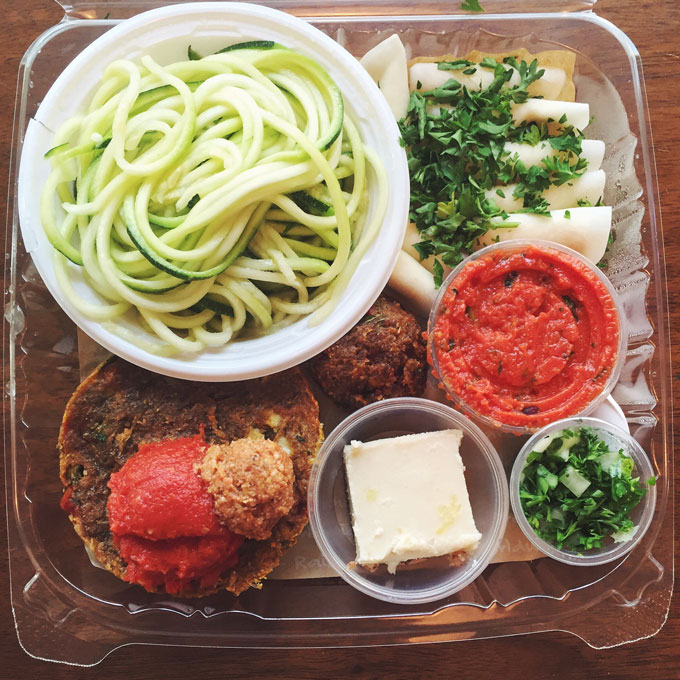 For lunch the next day we went to the hipster Handlebar Cafe, which serves all vegan/vegetarian food. I got the pepita scramble with tofu, sweet potatoes, red peppers, kale, poblanos, pumpkin seed pesto, and crispy onions. I didn't take a picture of it because the lighting was bad #bloggerproblems.
We got our sweat on at Studio Lagree during another reformer pilates class, which was probably more intense than the first one. Now I'm just patiently waiting for my J. Lo booty to arrive.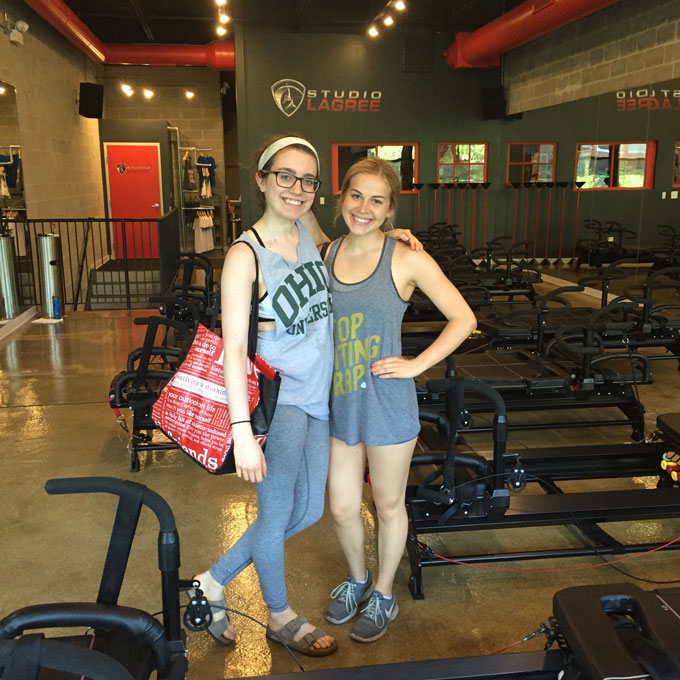 We decided to give our wallets a break for dinner and make some more bowls at home; we watched the old Disney movie The Thirteenth Year – does anyone remember that movie??? Disney Channels originals are my shhh.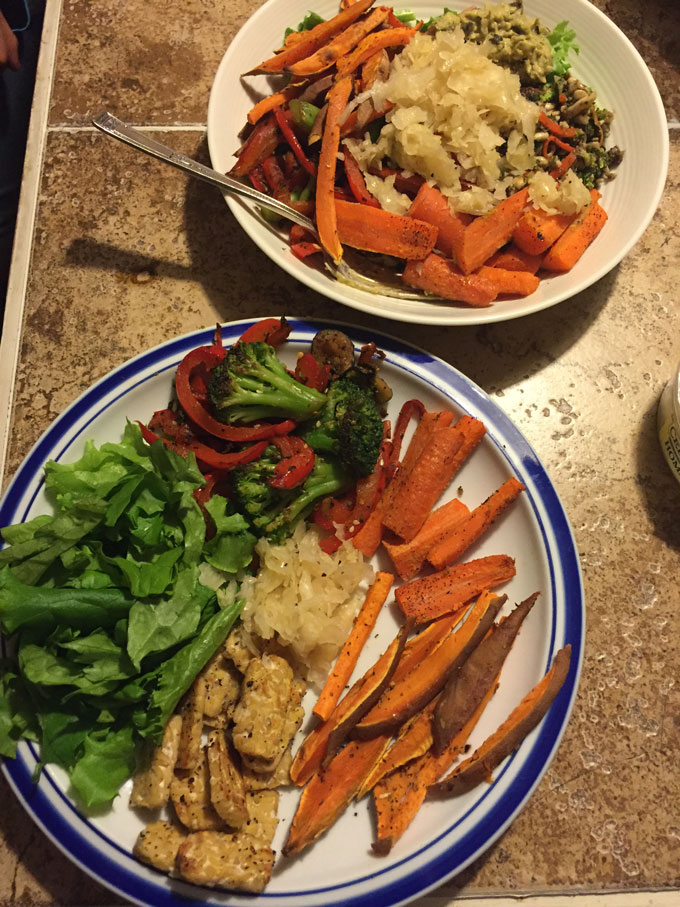 The next day I explored the city some more while Addie was at work and went to a free pilates class in Millennium Park – how cool is that?! I love that the city has so many cool public events in the parks, especially when they're geared toward health & wellness. I walked around the lakefront trail after class and got a beautiful view of the city; it takes my breath away every time.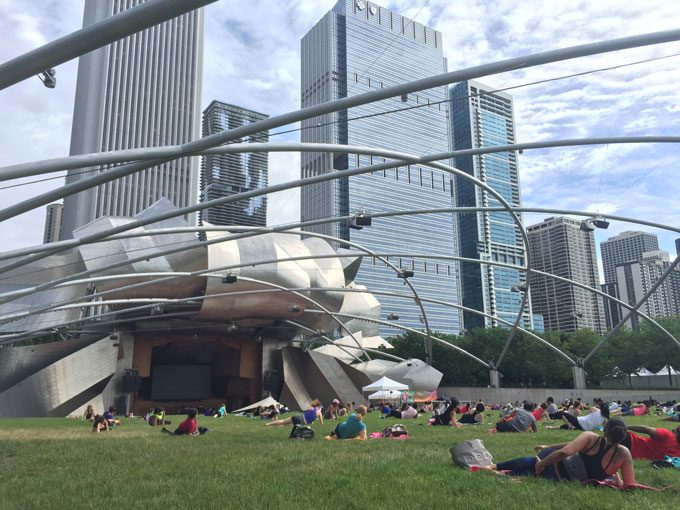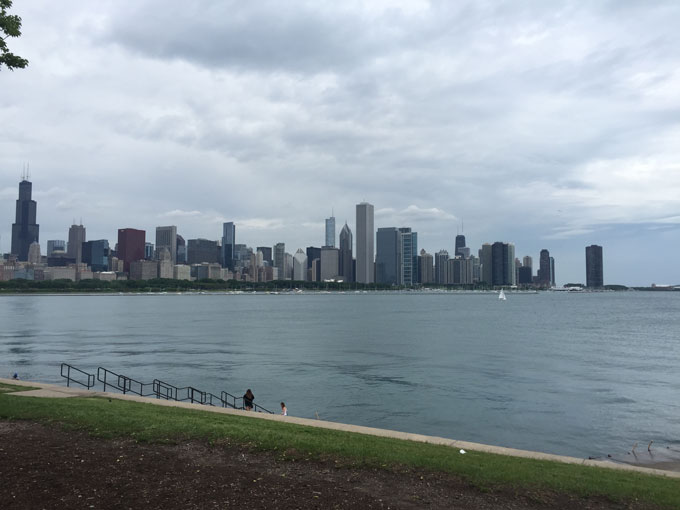 Surprise! I went to Whole Foods for lunch. Fun fact: I visited 4 Whole Foods during my trip?. I got a burrito bowl and gingerberry kombucha.
That night we went out for tacos at Big Star, and like the annoying vegan I am, pretty much just customized my own salad from elements of each salad on the menu, with pickled veggies on the side.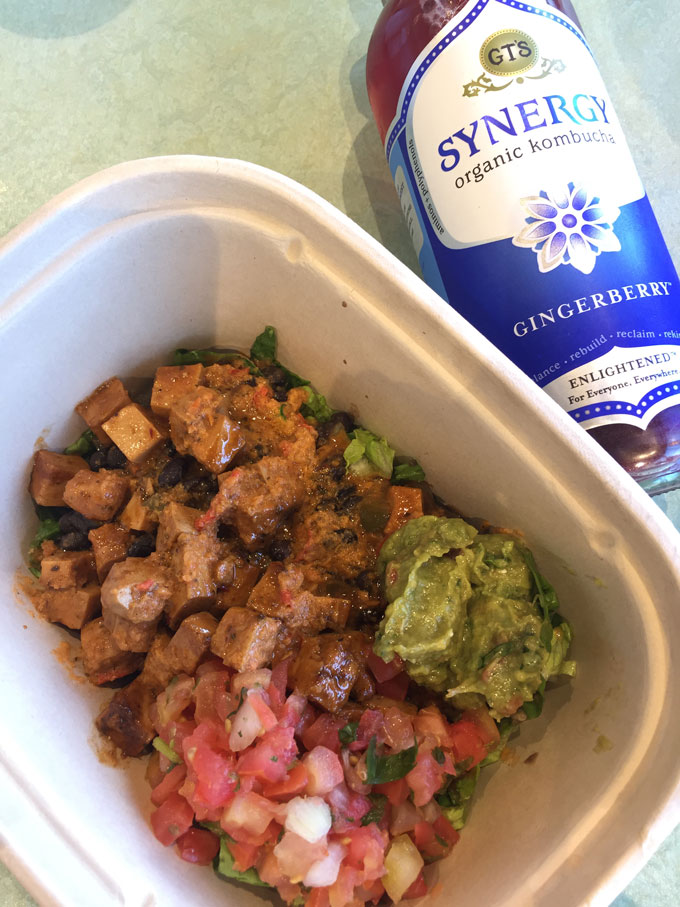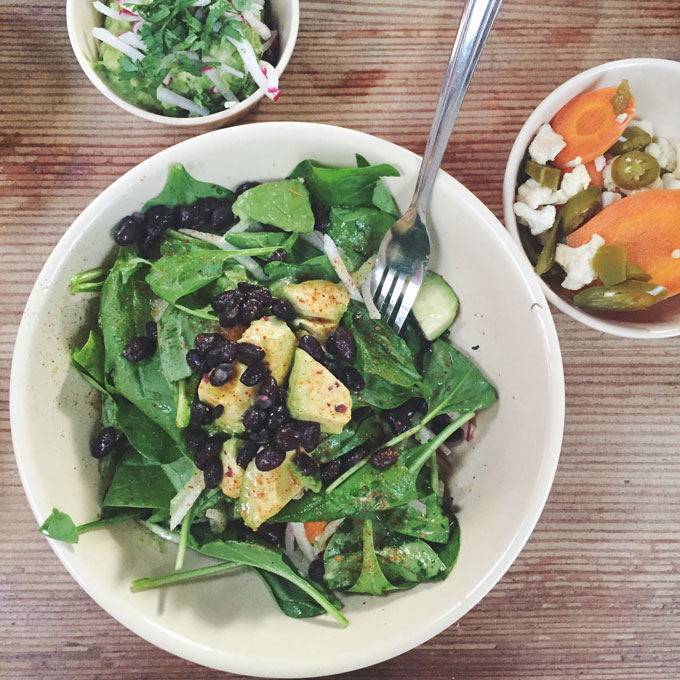 For my last day in the city, we had brunch at Le Pain Quotidien, and I'm pretty sure this was my one of my favorite meals I've ever had. The bakery/cafe was the absolute cutest – think rustic wood and fresh baked bread – and our meals were incredible. I had the Baker's Lunch, which was avocado on their organic/GF super seed bread (SO GOOD need to recreate), carrot soup, and a spicy chickpea arugula salad. Addie had the salmon tartine; we were both in heaven.
Then we stopped for iced lattes made with homemade almond milk. We are so hashtag basic.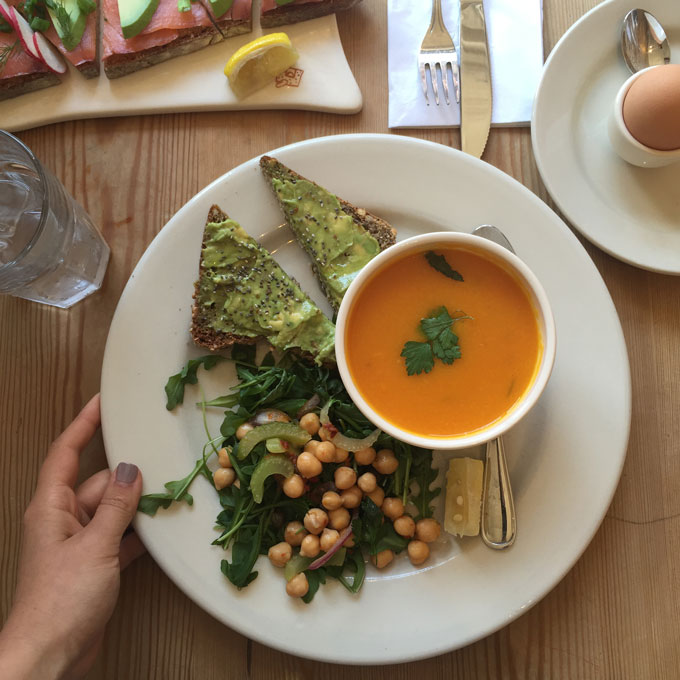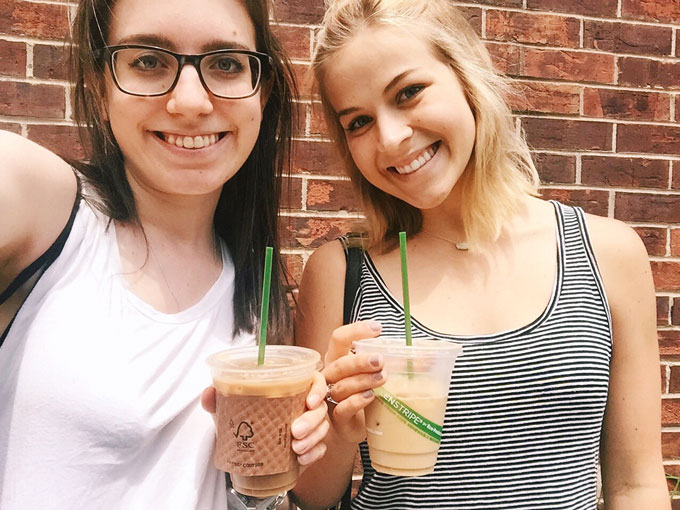 We spent this day walking (6 miles!) around some really cool parks and neighborhoods that really made me fall in love with Chicago even more, if that was even possible. Can we talk about how much walking you can do in the city?? I LOVED it. I'm so over driving; I loved being more active!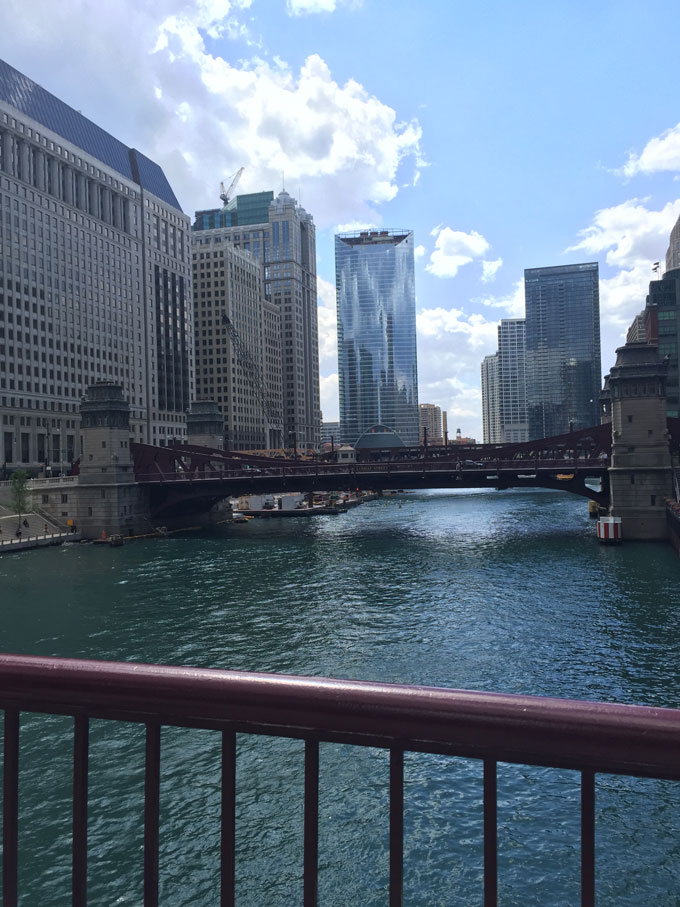 We stopped for super duper creamy acai bowls at Hi Vibes; they don't have any seating which was disappointing, but the thickness of the bowls made up for it. The thicker the smoothie bowl, the happier the bloggers.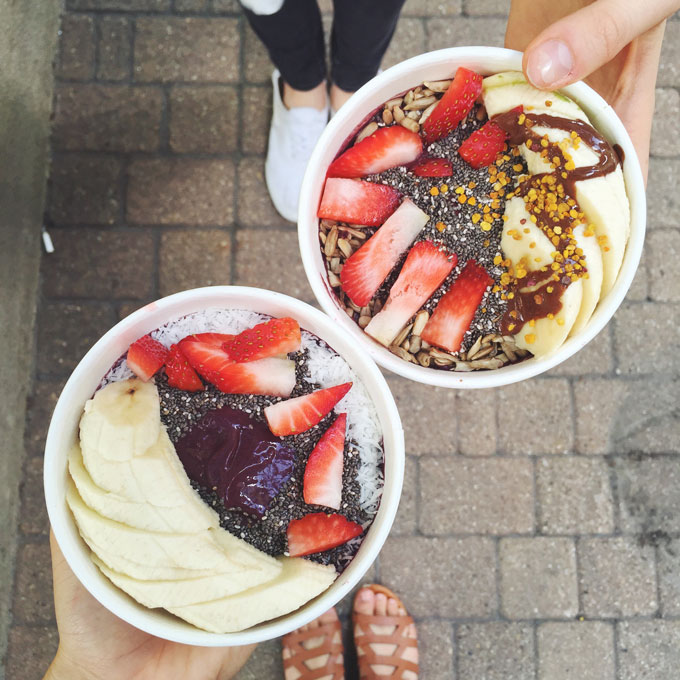 We ended off my time at Chicago with some cauliflower rice bowls at home because you can never have too many Buddha bowls. <3 <3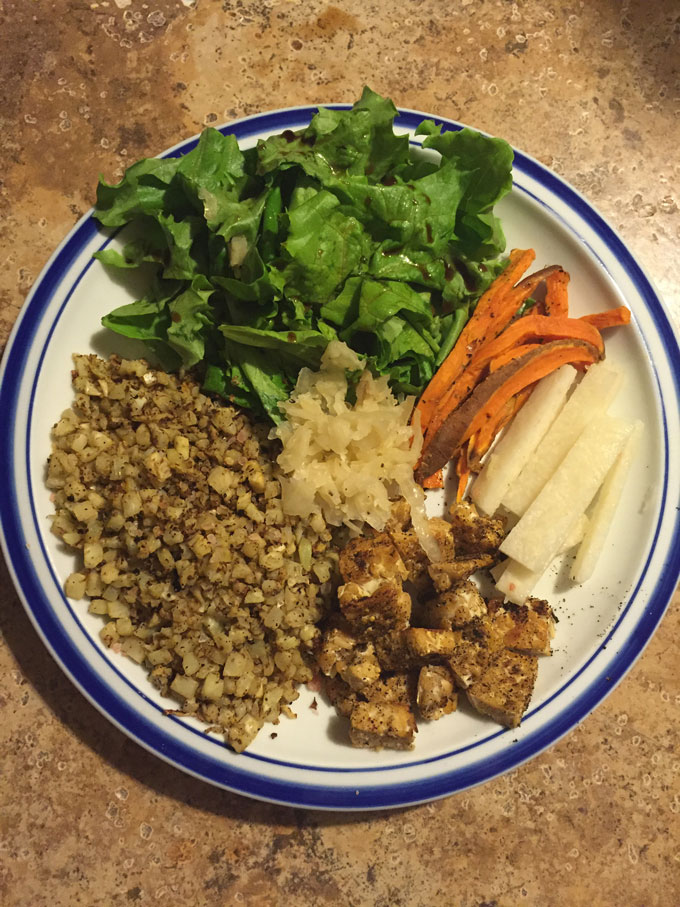 This was technically after my trip, but it was just too delicious not to mention! Cayden (my boyfriend) picked me up from the airport and treated me to lunch at Seed, an all-vegan restaurant in New Orleans. He got the chili cheese fries as an appetizer, then for entrees I got the raw Pad Thai and he had the BBQ seating burger. He was very impressed!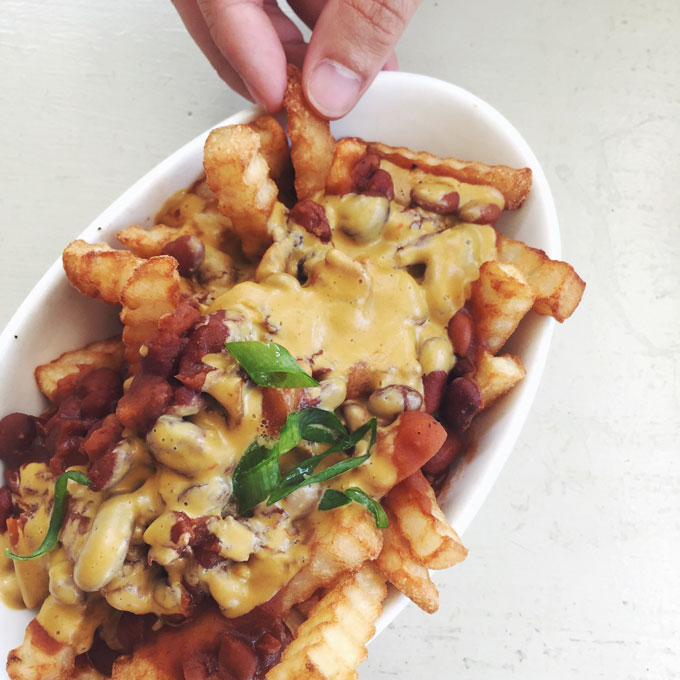 I cannot thank Addie enough for hosting me in Chicago, and I'm already looking forward to our next trip together (California????). It felt like I had known her forever since we got along so well. It was so nice to have someone I can actually talk to about blogging and a partner in crime to climb on tables with at restaurants to get the perfect overhead shot. We have no shame, people.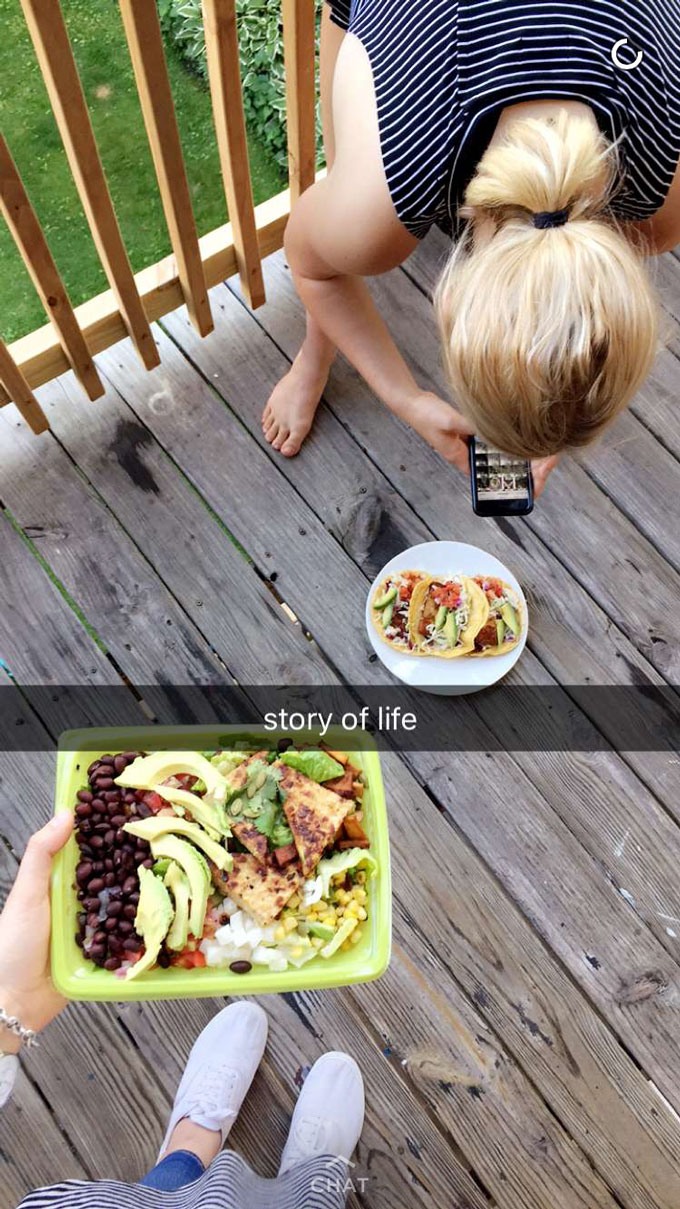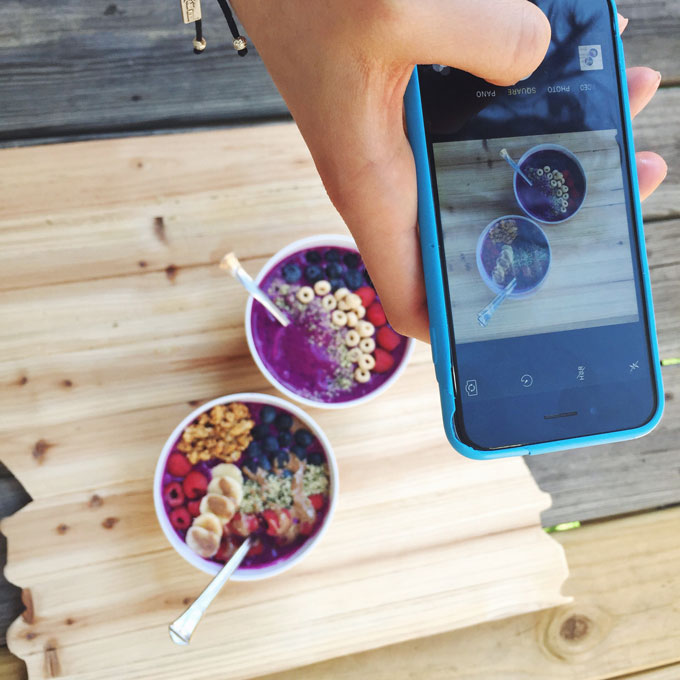 I hope that I can take trips like this more often to refresh my mind and reinvigorate my soul. On the plane ride home, I was furiously jotting notes in my notebook about all the plans I had for my blog, for work, and for life – I found a new excitement. It is incredible.
While I was in Chicago, I decided that I wasn't going to continue tracking macros when I got home. If you're not familiar with tracking macros, it's tracking the number of grams of carbs, fats, and proteins, which requires lots of measuring and weighing. I realized it was doing more harm than good to my mental health to be so controlling and to view food as numbers rather than nourishment. Letting go of that control for a week was the best thing I could've done, and I already feel like so much weight and stress has been lifted off my shoulders just by eliminating hours of worrying about food every day.
If you made it to the end of this post, congrats! I hope you enjoyed this look into my trip to Chicago. I already can't wait for my next trip and to hopefully live there one day?
Where was your favorite vacation destination? Do you feel more excited about life in general after a fun trip?