I guess I could've just called this "Avocado Kale Salad," but don't we all want to feel like green goddesses? I think so.
I got back from Chicago on Tuesday, and I'm still dreaming of the city. Addie and I had such an amazing time walking, talking, and, of course, eating at all of Chicago's foodie spots. We got along like we had known each other for years; it's amazing the wonderful friends you meet through blogging! There will be a full post on my trip, so stay tuned for that. (Including lots of food pictures – you've been warned!)
There was a simple salad that we prepared the night I arrived as the base of our Buddha bowls. Because we wouldn't be true healthy food bloggers if we didn't make Buddha bowls, right? The salad was simply avocado and lemon massaged into fresh kale until it softened. We topped it with all the goods – tempeh, roasted vegetables, sauerkraut – but oddly enough, I was most excited about the salad beneath it all.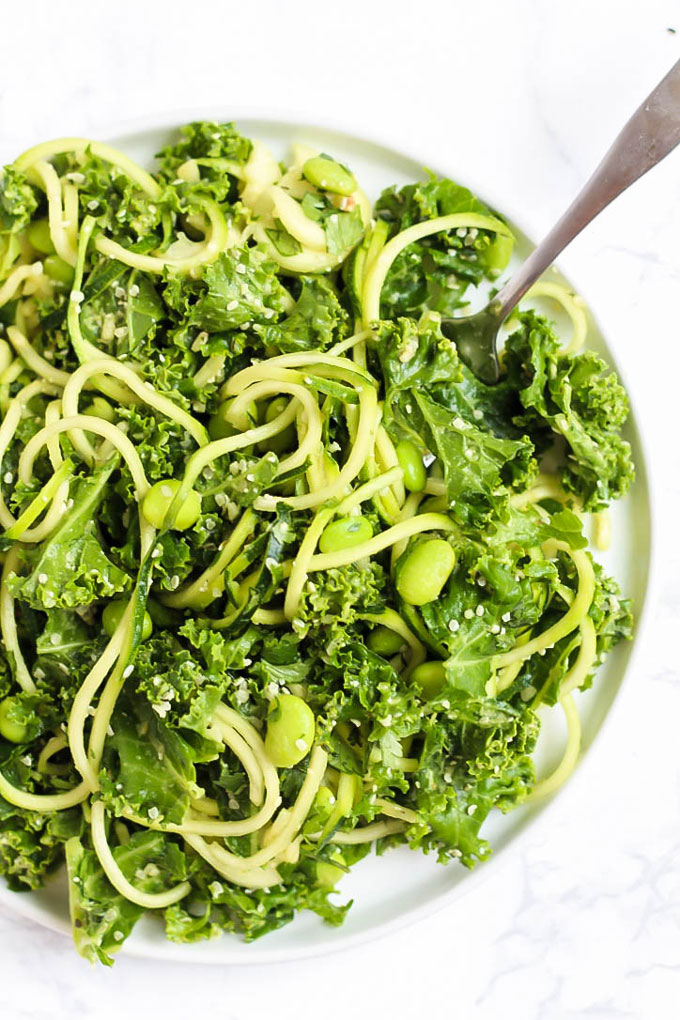 I had the salad again at the Whole Foods hot bar a couple days later because I just couldn't get enough of the stuff. So crisp, so green, it made me feel like the ultimate master of health. I knew I had to recreate it at home soon!
And by soon I mean the day after I got back because I'm just impatient and wanted some damn salad, okay?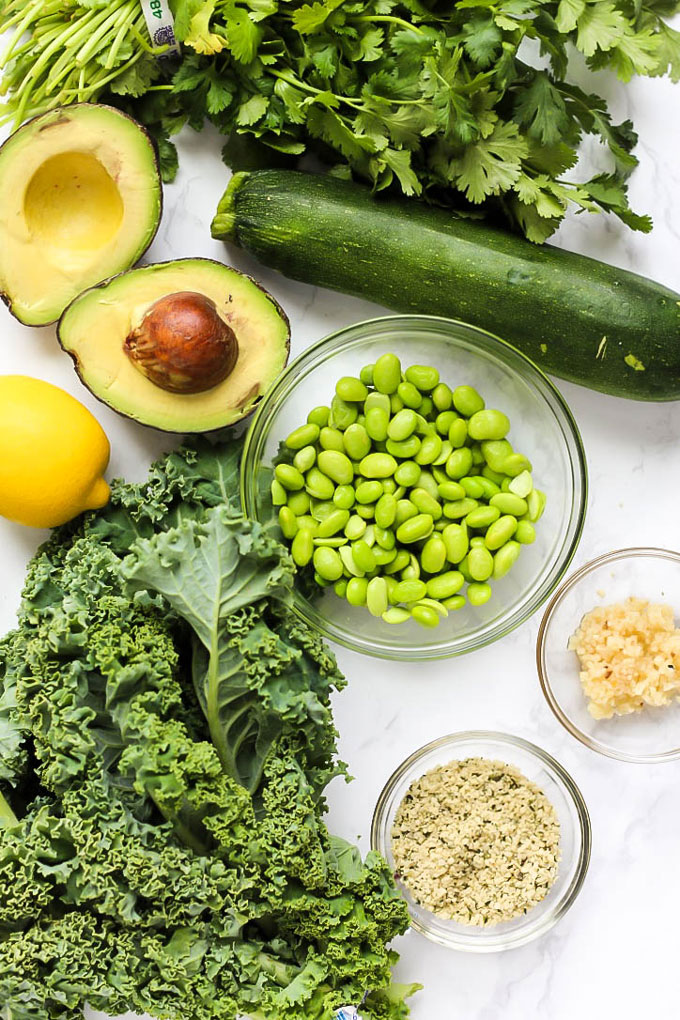 It all starts with a big bunch of fresh kale, which I love buying at my local farmers' market (shop local, peeps). Then we add in half of a super ripe avocado, AKA the avocado that's been sitting in your fridge for a week while you were in Chicago. Just sayin'. Squeeze in some lemon juice and get to massaging that kale! This actually helps to break down the kale, making it easier to eat and digest. #funfactfriday
Don't be afraid to get your hands dirty, kids. Get allllllll up in that kale – don't be shy.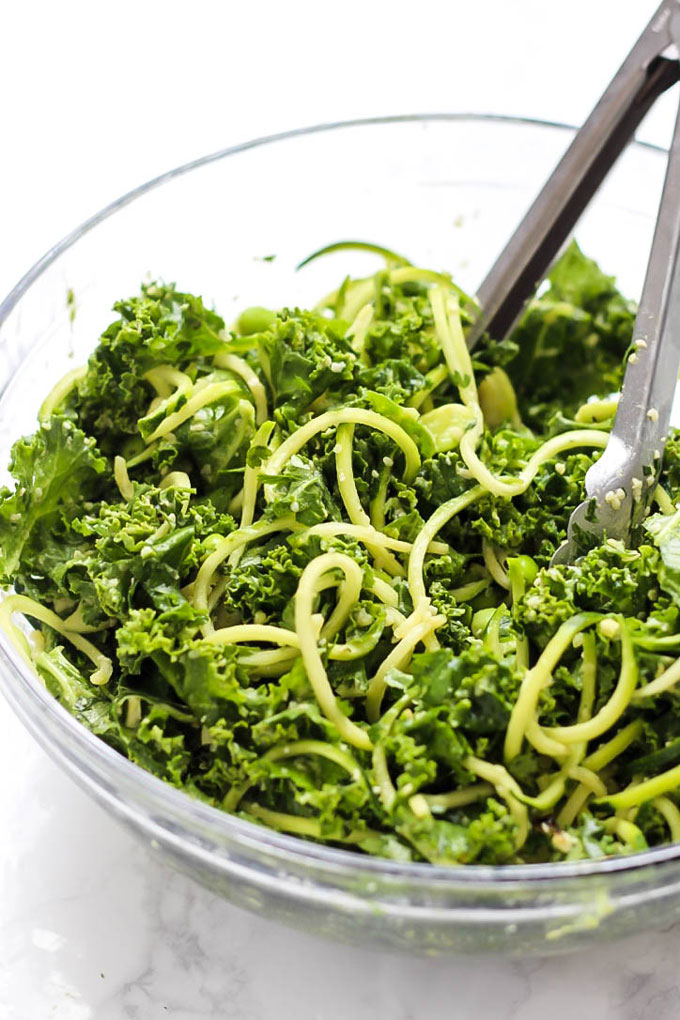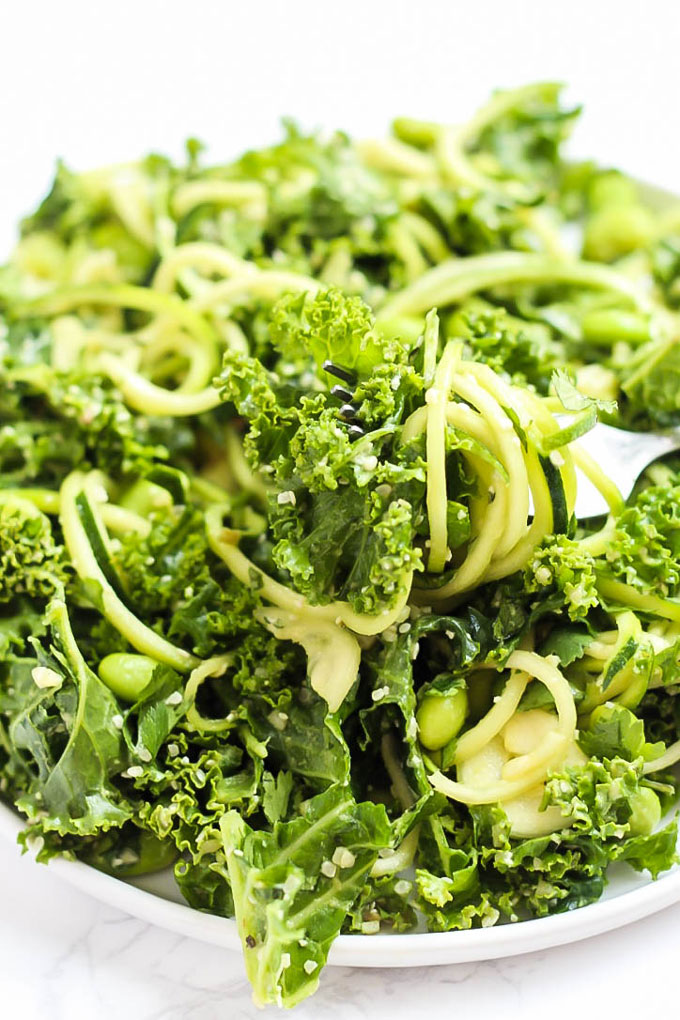 I can't get enough of fresh summer zucchini right now, so of course I had to throw in it here. All the green power!! I spiralized my zucchini with my handy dandy Inspiralizer, but you can also chop, julienne, or thinly slice it. For a punch of protein, we're adding some shelled edamame and a sprinkle of hemp seeds. A little bit of cilantro and garlic, and now you're ready to eeeeeat!
Hey, look! I made a helpful little video showing you exactly how to make this super healthy salad! I'd love for you to watch it and subscribe for more videos – I've got some awesome ones headed your way. If there's anything you'd like to see on my YouTube channel (recipes, what I eat in a day, Q&A, or anything else!) let me know and I'll make it happen. ✊?
Release the *inner goddess* that I know is within ALL of you by enjoying a huge bowl of this avocado kale salad! It's full of nutrition, vegan, gluten-free, oil-free, and most importantly, 
so delicious.
You'll love the fresh flavors in every bite!
Make this to pack as a light lunch throughout the week or as a side dish for dinner. Either way, you'll be feeling like a true CHAMP gettin' in all your greens. Look at you, go. ?
If you get to try this salad, let me know how you like it! Leave a comment or tag me in a picture on Instagram with #emilieeats. It's always a blast looking through your yummy creations.
Tell me, friends: what's your favorite way to eat your greens?
Print
How to make:
Green Goddess Avocado Kale Salad
Feed your body all the healthy green things with this vegan Green Goddess Avocado Kale Salad with edamame & zucchini! You'll be glowing from the inside out.
Ingredients
1

bunch kale, chopped

1/2

ripe avocado

2

lemons, juiced

1

zucchini, spiralized or chopped

1 cup

shelled edamame

1/2 cup

cilantro, finely chopped

3 tablespoons

hemp seeds

1

–

2

teaspoons garlic, minced
Salt and pepper, to taste
Instructions
To a large bowl, add kale, avocado, and lemon juice. Massage with your hands for 3-5 minutes, until ingredients are combined and kale has softened.
Add zucchini, edamame, cilantro, hemp seeds, and garlic to the bowl. Toss until fully mixed.
Season with salt and pepper to taste. Serve & enjoy!