Ah, Doritos. If you don't have childhood memories of licking that disgusting-yet-somehow-tasty fluorescent orange goop off your fingers after digging into a mostly-air bag of nacho cheese Doritos, then what were you doing?!
Thankfully I came to my senses a long time ago and cut out that fake stuff. But today is a good day, because now we have HEALTHY & VEGAN Doritos you can make at home that are just as cheesy and delicious and crunchy and yes you can lick your fingers after. 🙌🏼
I was a foodie from the beginning, though I definitely wouldn't say I was a healthy foodie. Sure, my mom always made sure we had home-cooked meals, whole-wheat bread, and lots of fruits & veggies. But I sure did love my junk food, especially at my grandparent's house. Donuts, chips, fried foods…you name it.
Doritos were always my absolute favorite chip – there's actually a picture of me about 5 years old digging into a family-size bag of nacho cheese Doritos. I probably finished it off by myself, too.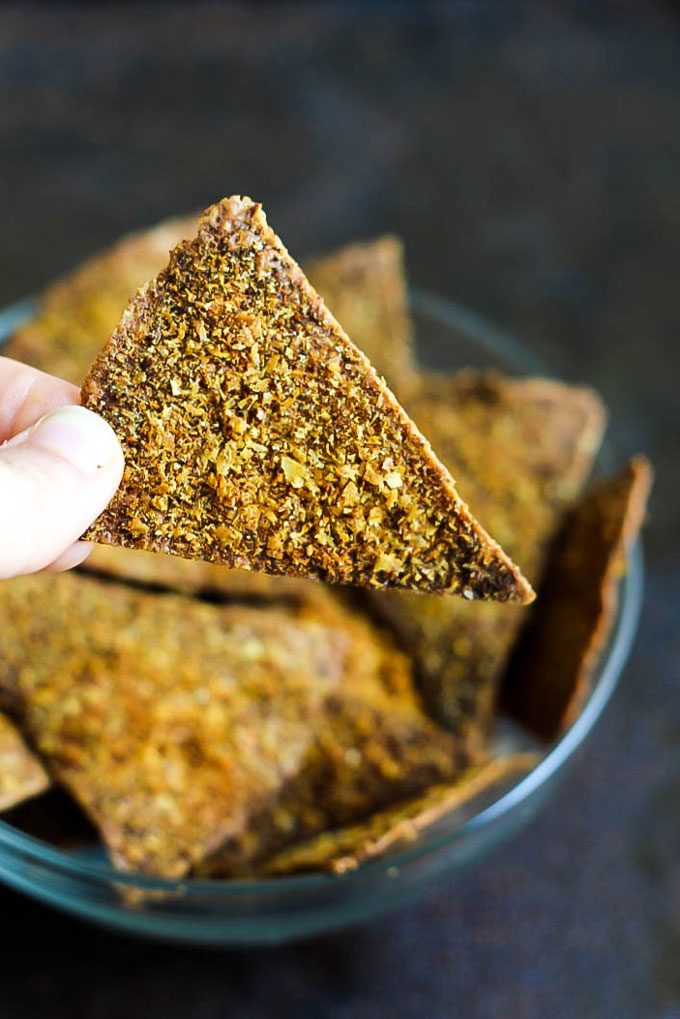 I don't really get junk food cravings anymore – I much prefer whole foods like fruits, vegetables, whole grains, and nut & seeds. *don't roll your eyes at me plz* But sometimes I do want to enjoy the comfort foods I used to love but in a much healthier way. Thankfully there's lots of vegan & somewhat-healthy products out there (THANK YOU So Delicious Cashew Milk Snickerdoodle Ice Cream💘) that are just as good, if not better, than the originals.
When I can, though, I make them at home! Because 1. cheap, 2. I know what's going in it, and 3. less time for grocery shopping, more time for vegan Doritos eating.
[Tweet "BAKED Vegan Doritos that are just as cheesy & addictive as the ones you remember!"]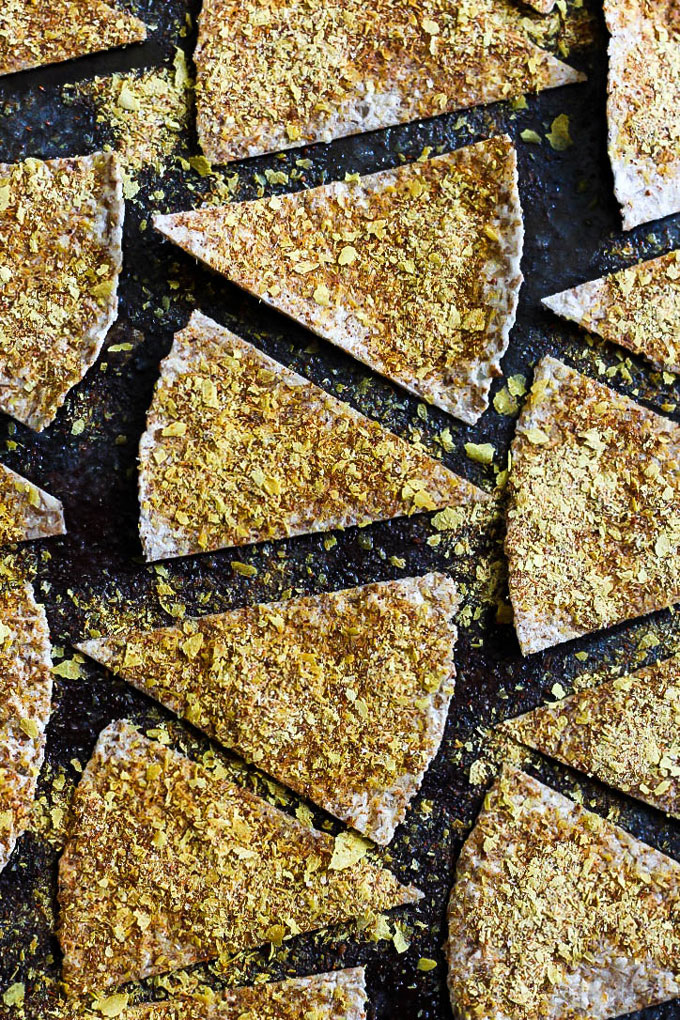 These come together in just about 15 minutes and use simple ingredients that I always have on hand. I used some leftover sprouted grain tortillas, but you can use corn tortillas or another gluten-free variety, if needed. I love brown rice tortillas!
If you don't know what nutritional yeast is, no fear – it's a deactivated yeast with lots of B-complex vitamins and some protein, with a nutty, cheesy flavor. You'll definitely want to keep some in your pantry for vegan cheese sauces, these vegan Doritos, sprinkling on popcorn, or really topping anything.
All there is to these chips is cut, oil (or spray), sprinkle, bake, EAT. You'll want to keep an eye on the chips to make sure they don't burn – no one wants burnt chips. Then you're on your way to enjoying the cheesy, crispy chips you loved as a kid, but you can pat yourself on the back for making them yourself and making them vegan & healthy. You're a champ. 🏆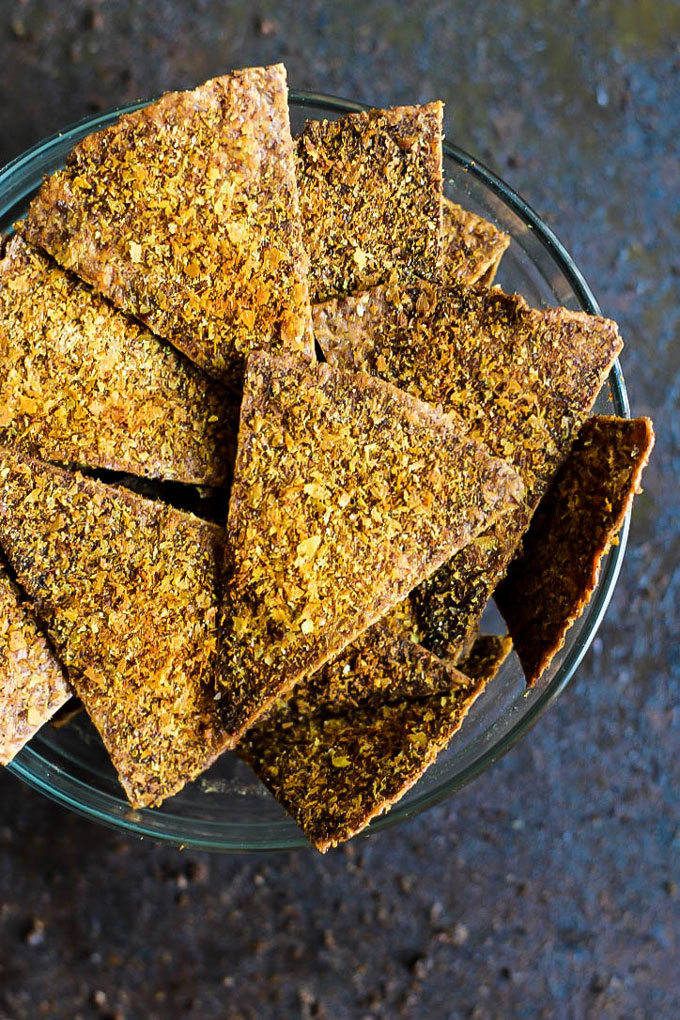 I think a batch of these would be great for keeping around the house when you're feeling snack-y but want to keep it healthier. These would also be a great finger food for a party! If I went to a party and there were vegan Doritos, that'd be BOMB.
If you get to try these, let me know how they turn out for you! I'd love to see a pic of your chips on Instagram – be sure to tag #emilieeats. Let's have a great week, friends!
Tell me: What was your favorite childhood junk food? Is there a healthier version you enjoy now?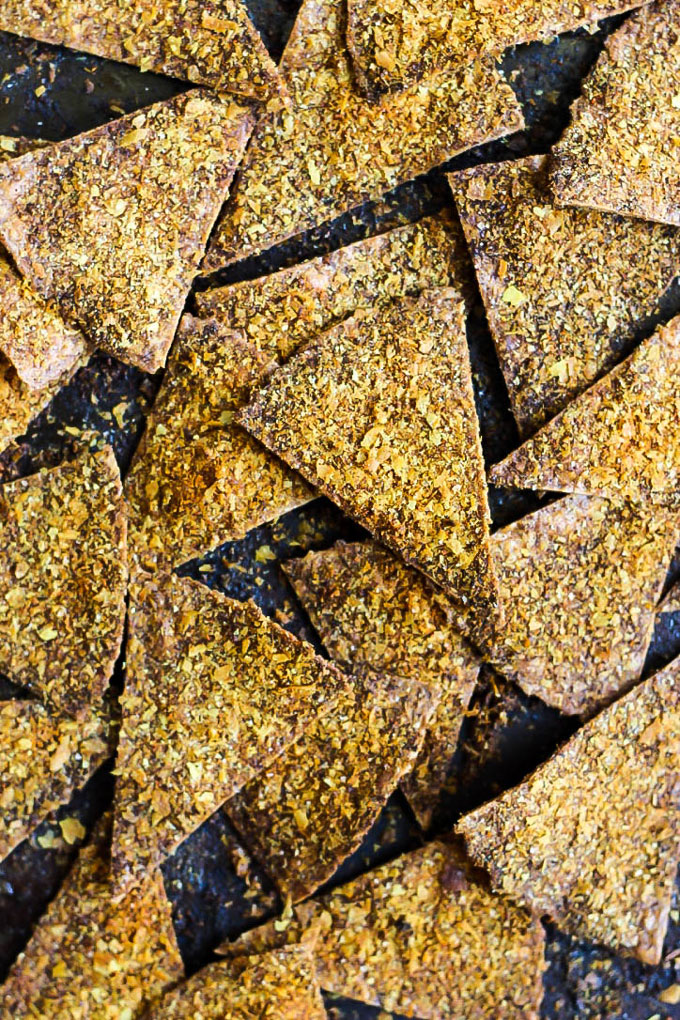 Print
How to make:
Easy Baked Vegan Doritos
Enjoy the cheesy, crispy snack you love in a healthier way by making these Easy Baked Vegan Doritos! They're a great flavorful snack or party finger food.

Ingredients
6

tortillas*

1 tablespoon

grapeseed or coconut oil, melted**

1/4 cup

nutritional yeast

2 teaspoons

paprika

1 1/2 teaspoons

chili powder

1 teaspoon

onion powder

1 teaspoon

salt

1/2 teaspoon

coconut sugar

1/4 teaspoon

garlic powder
Instructions
Preheat oven to 375°F. Lightly grease a baking sheet with oil or cooking spray.
Place the tortillas in one even stack. Slice them in half, then in half again, then cut the pieces in half, creating 8 chips from each tortillas.
Place the chips in a single layer on the baking sheet. Lightly brush with the oil on both sides.
In a small bowl, add nutritional yeast, paprika, chili powder, onion powder, salt, coconut sugar, and garlic powder. Stir to combine.
Sprinkle the mixture onto the tortillas, flipping to coat the other side.
Bake for 8-10 minutes, until lightly browned and crispy. Remove from the oven, let them sit for about 5 minutes, then enjoy!
Notes
*I used sprouted grain tortillas, but you can also use corn tortillas or another gluten-free option, like brown rice tortillas.
**If you don't want to use oil, you can simply spray the tortillas with cooking spray. I use 100% coconut oil spray.
If you love these baked vegan Doritos, you'll definitely love these salt and vinegar roasted edamame!