Start your morning with sweet potato waffles! These blender waffles are done in minutes and are amazing topped with homemade blueberry sauce.
Blender Sweet Potato Waffles with Blueberry Sauce
There are millions of reasons why most people look forward to the weekends. Most obviously, it's the end of the work week, which also means you get to spend more time with the people you love, get out and have fun doing the things you enjoy, and have some time to slow down a bit.
But you know what else I love about weekends? You can actually spend some time in the morning making yourself a delicious breakfast.
Whether you had a rough week, a great week, or a week that was somewhere in between, I firmly believe that kicking off the weekend with a delicious vegan breakfast is the best thing you can do on a Saturday morning. There's nothing in the world better than a fat stack of vegan pancakes or a plate of hash browns, am I right?
I always neglected waffles because *lazy girl status* I didn't feel like going through the hassle of the waffle iron and all that jazz. But, sweet potato waffles were calling my name, and I had to respond. What happened next was a glorious stack of cozy, fall inspired sweet potato waffles that I had to share with you.
Oh, and this is a blender waffle recipe, meaning the batter for these sweet potato waffles comes together entirely in a blender or a food processor. That means you can spend less time doing dishes, and more time eating vegan waffles!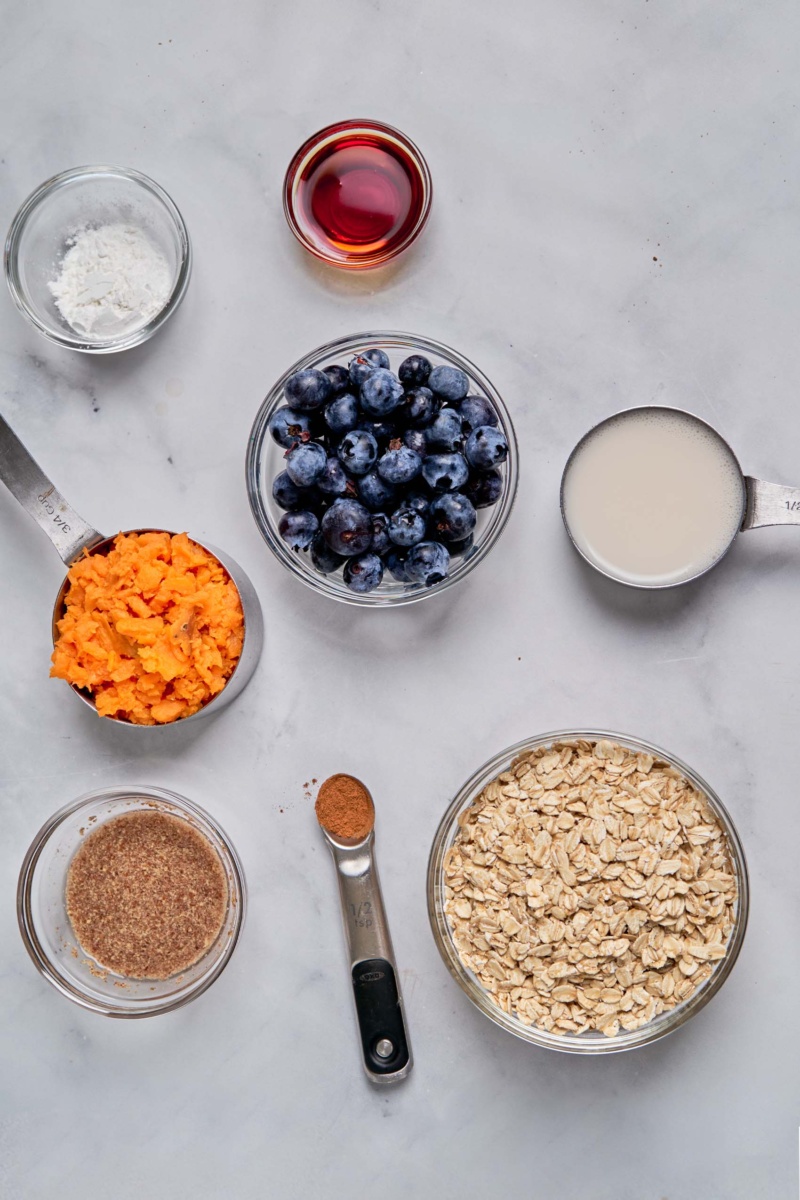 Ingredients for Sweet Potato Waffles and Blueberry Sauce
Waffles, y'all. Crispy on the outside, fluffy on the inside, and designed to catch all the vegan butter and toppings you decide to smother them with. Plus these sweet potato waffles are vegan, gluten-free, and are made in the blender for the world's easiest cleanup.
Sweet potatoes are definitely on my top 5 favorite foods list, and it's fall so I've been craving more of them in my life lately. They're full of beta-carotene, vitamin C and fiber, and we're combining them with oats in this recipe to make these sweet potato waffles super nutritious and satisfying.
Flax meal. When combined with water, flax meal makes a great vegan egg substitute!
Oats. You'll want old fashioned oats for this recipe. Steel cut oats will not work.
Sweet potato. This sweet potato waffle recipe uses about 3/4 cup of cooked, mashed sweet potatoes, which is about 1 medium sweet potato.
Plant-based milk. You can use any kind you'd like!
Tapioca starch. Corn starch would also work fine.
Maple syrup. You could also use agave nectar or plain old sugar! I love the flavor that maple syrup adds to these sweet potato waffles. It really makes these vegan waffles taste like fall big time.
Baking powder. We want a super fluffy interior for our sweet potato waffles, and baking powder will get the job done.
Vanilla extract. We're adding plenty of vanilla to this sweet potato waffle recipe.
Cinnamon. Feel free to get creative! Other spices that could be delicious are cardamom, nutmeg, or ginger.
Salt. We always want to add a pinch of salt to sweet recipes to help balance out the flavor.
Blueberries. We're making a homemade blueberry sauce to top off these sweet potato waffles! Gotta fill all those crevices with something, right?!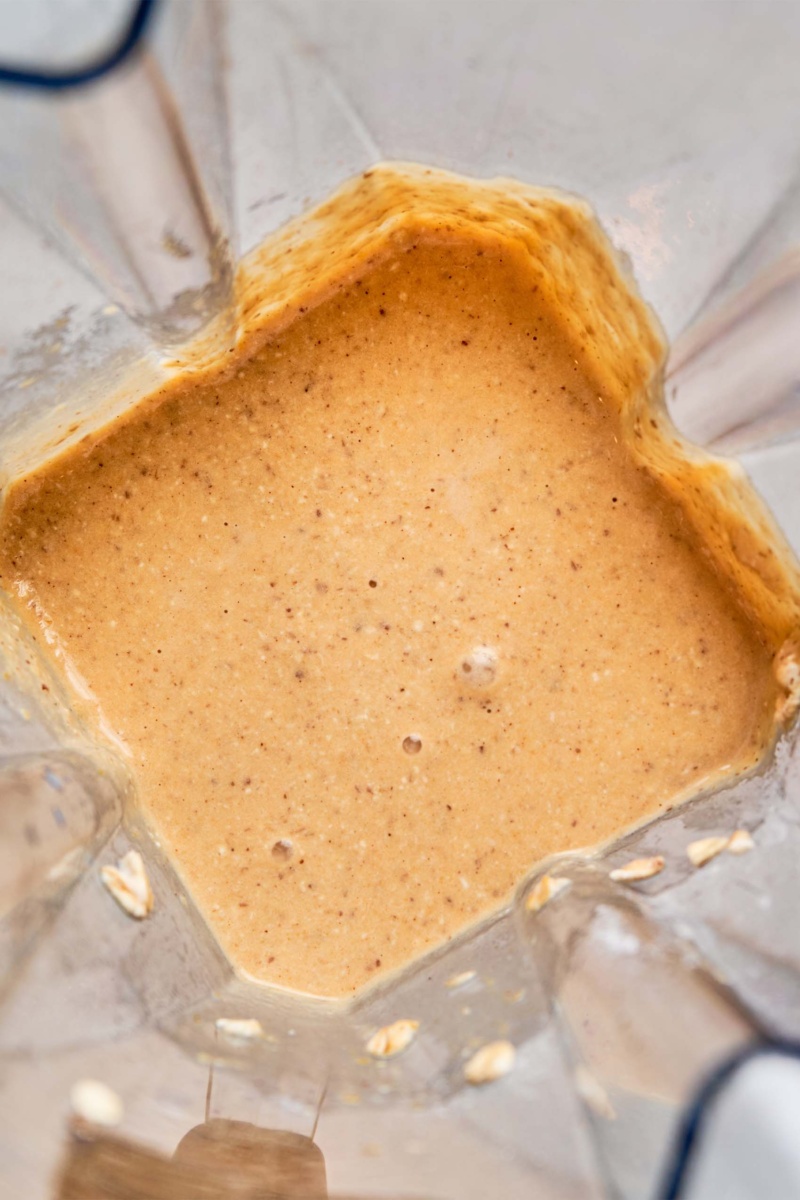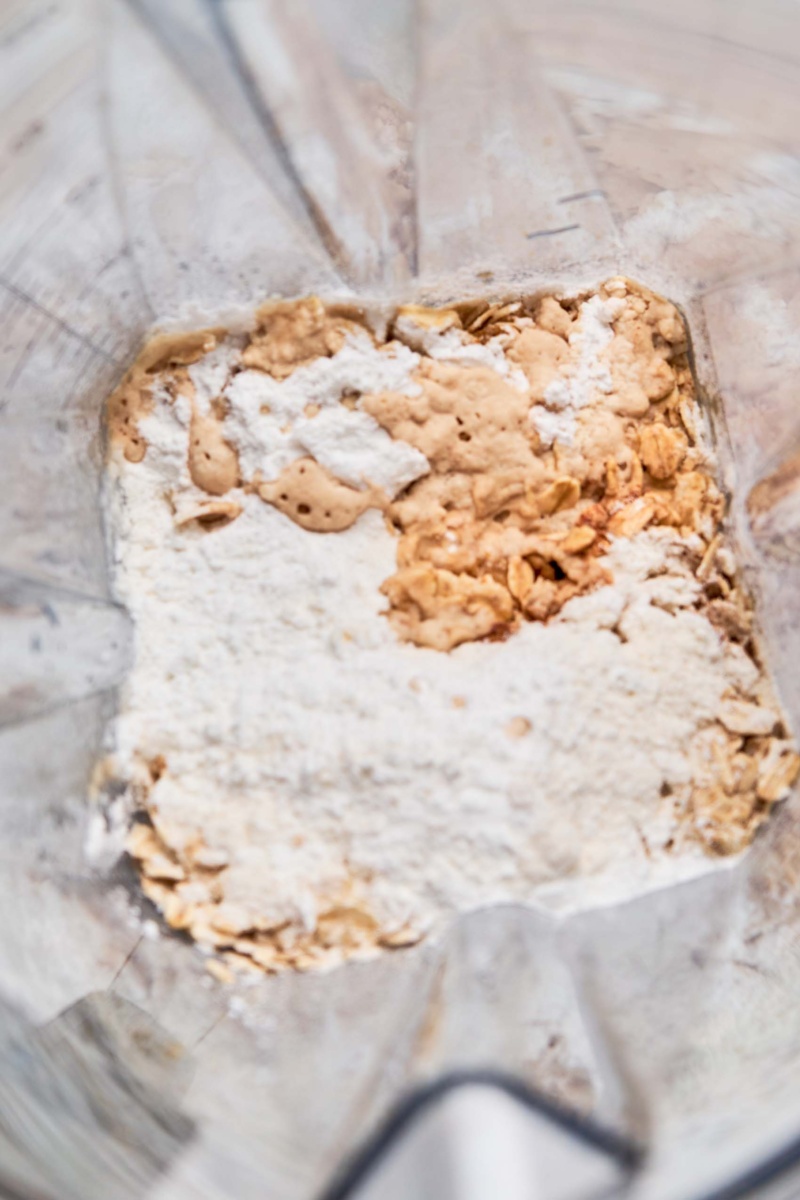 How to Make Sweet Potato Waffles
These blender waffles come together so easily. No hand-mixing required. All you're gonna need is a handful of ingredients, a blender, a waffle iron and a craving for a big stack of sweet potato waffles!
You'll need to start by cooking your sweet potatoes. I like to bake them the night before at 425° for 45 minutes so that they're ready to go in the morning. You could even plan for your dinner the night before to include sweet potatos, and then you can just pop in an extra one so it's ready to go for these vegan waffles in the morning! You can also cook sweet pototoes in the slow cooker or in the microwave.
Once you have the potatoes ready, all you have to do is add all of the ingredients to a blender, blend up the batter, and pour it into your heated waffle iron. Seriously, that's it.
If you do not have a high-speed blender, I highly recommend using a food processor to blend the batter vs. continuing to add liquid to the batter to get it to blend. Alternatively, you could also grind your oats into a flour in your blender on their own and then mix the batter by hand.
You can always add more or less almond milk to thicken or thin out the batter as desired. It should be pourable and smooth, but not as runny as pancake batter.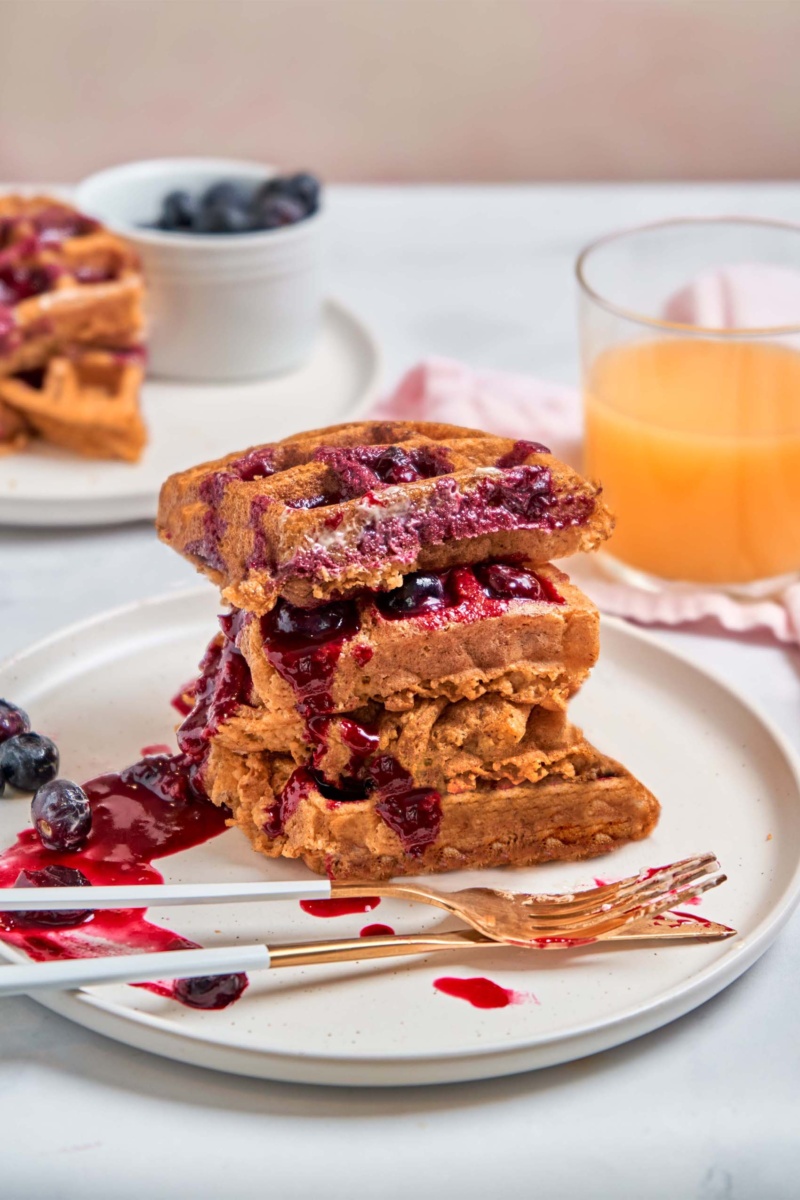 How to Make Homemade Blueberry Sauce
Waffles are basically made for toppings. All those built-in crevices are begging to be filled with vegan butter, syrup, chocolate chips, and more! If you want to go the extra mile, I highly suggest this homemade blueberry sauce for the perfect fruity compliment to the deep, warming flavor of the sweet potato waffles. Those waffles holes are just BEGGING for blueberries to sit in them, if you ask me.
You can use either fresh or frozen berries, so use whatever you have on hand. To make the blueberry sauce, simply add your blueberries, tapioca starch, vanilla and water to a pot and bring everything to a boil. Once it's boiling, lower the heat to a simmer, break up some of the blueberries and let it simmer, stirring occasionally, for about 5 minutes, or until the sauce has thickened.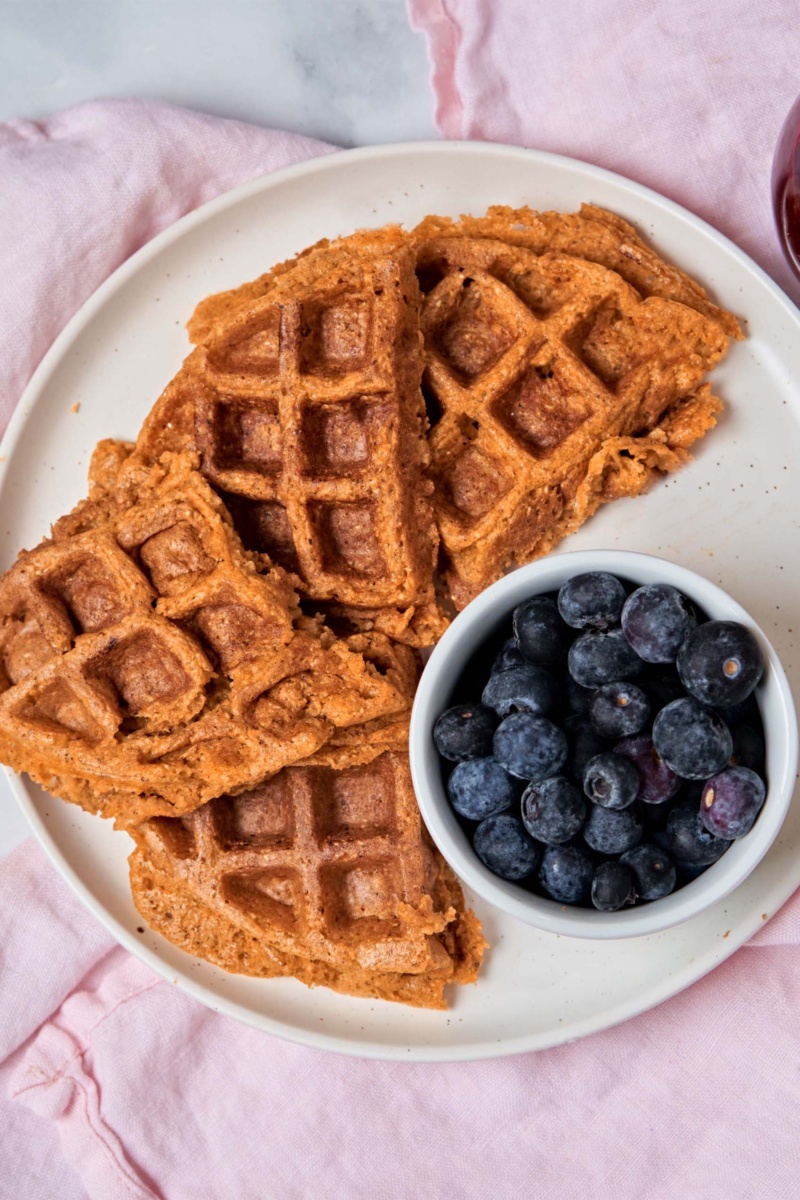 More Vegan Sweet Potato Recipes
I hope you get to make some waffles on a relaxing weekend morning with someone you love. Or, enjoy yourself a fabulous Waffle Wednesday because you're a star and don't need weekends to enjoy waffles. If you try these sweet potato waffles, let me know how they turn out for you!
If you're still craving more sweet potato goodness and delicious vegan fall meals, I've got you covered with plenty of vegan sweet potato recipes!
Print
How to make:
Blender Sweet Potato Waffles with Blueberry Sauce
Start your morning with sweet potato waffles! These blender waffles are done in minutes and are amazing topped with homemade blueberry sauce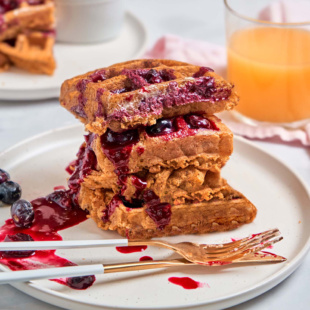 Ingredients
1 tablespoon

flax meal +

2.5 tablespoons

water

1 1/2 cups

old-fashioned oats

3/4 cup

sweet potato, mashed (about

1

medium potato)

1/2 cup

almond milk

2 tablespoons

+

1 teaspoon

tapioca starch/flour, divided

2 tablespoons

agave nectar or maple syrup, or a few drops of stevia extract

1 tablespoon

baking powder

3 teaspoons

vanilla extract, divided

1/2 teaspoon

cinnamon

1/2 teaspoon

salt

1 cup

blueberries, fresh or frozen
Instructions
In a small bowl, add flax meal and water. Set aside for 10-15 minutes.
Preheat waffle iron; lightly grease or spray with non-stick spray.
In a blender or food processor, add flax mixture, oats, sweet potato, almond milk, 2 tablespoons tapioca starch, agave, baking powder, 2 teaspoons vanilla, cinnamon, and salt. Blend until smooth.
Pour batter into the waffle iron. Cook each waffle for 8-10 minutes, until it is your desired crispiness. Repeat 1-2 more times, depending on the size of your waffles.
While the waffles are cooking, add blueberries, 1 teaspoon tapioca starch, 1 teaspoon vanilla, and 1/3 cup water to a small saucepan. Bring to a boil; reduce heat to low and simmer for 5-7 minutes, stirring constantly, until a thick sauce forms. Lightly mash the blueberries to incorporate them into the sauce; add more water if necessary.
Serve waffles warm with blueberry sauce and additional toppings!
Notes
Store waffles in the fridge for 2-3 days, or freeze separately for easy breakfasts.