"There has never been a sadness that can't be cured by breakfast food." – the Great Ron Swanson.
Friends, whether you're feeling sad, happy, nervous, pumped, or all of the above, I firmly believe that breakfast food makes your day 1000x better. There's nothing in the world better than a fat stack of pancakes or a creamy smoothie bowl. Agreed?
I always neglected waffles because *lazy girl status* I didn't feel like going through the hassle of the waffle iron and all that jazz. But, sweet potato waffles were calling my name, and I had to respond. What happened next was a glorious stack of breakfast happiness that I had to share with you.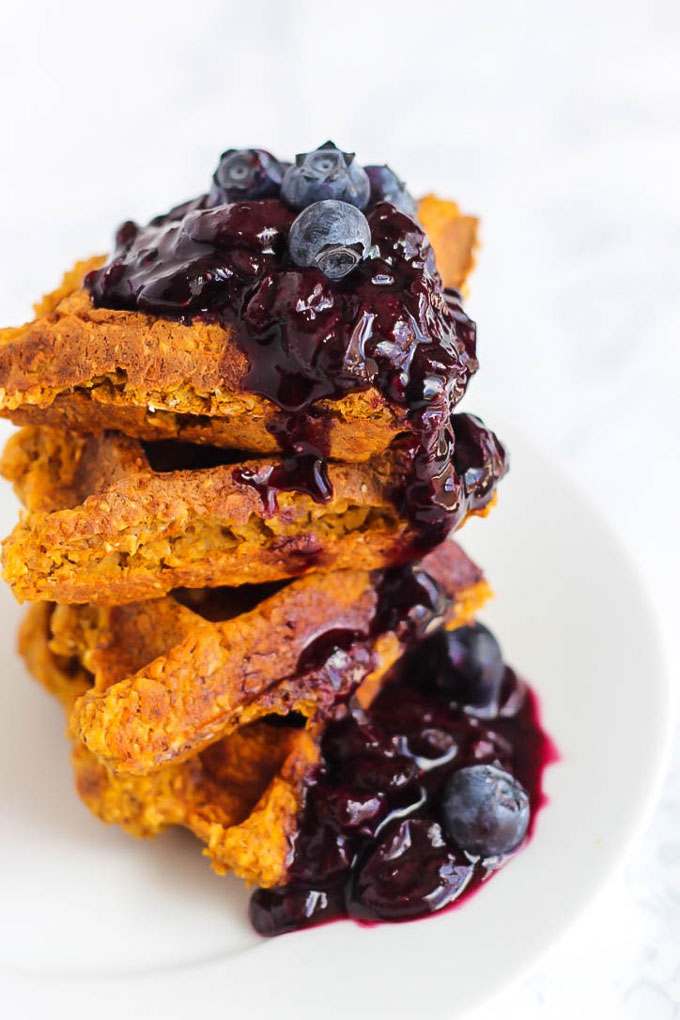 What's up with you? I feel like I haven't really talked to you guys in awhile – and I miss you! Honestly, since finals ended a couple weeks ago, I have been running around like a chicken chickpea with its head cut off. Who the heck gets busier when school ends?! This crazy chick.
I've got a lot happening, and while it's overwhelming sometimes, I'm super thankful for all of it. I don't think I've mentioned it on the blog yet, but I'm interning for the Insta queen Rachel over at rachLmansfield.com this summer, on top of my social media managing job with MOMables. And a small remote internship with a PR firm. Oh, and running/growing my own blog. Whew.
I'm a chronic over-acheiver and perfectionist, which can be my biggest strength but also my most difficult challenge. I love to work and be productive, but I know that I should be setting aside more time for myself and my own passions. It's a work in progress, people.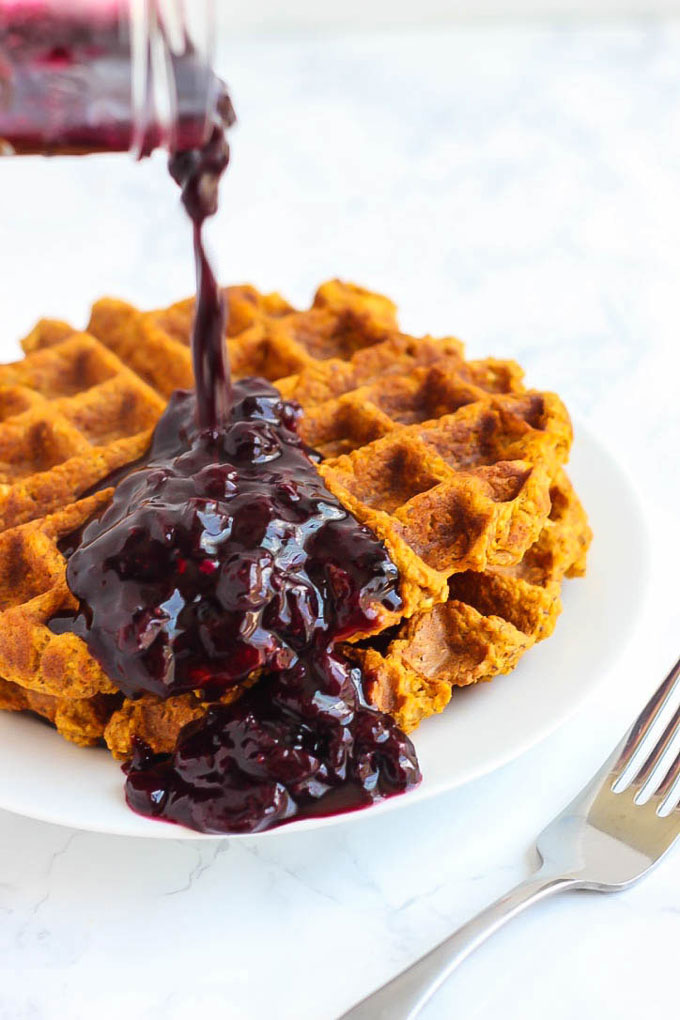 Something else really exciting? I'm visiting my online soul sister Addie from Chickpea in the City in my favorite city, Chicago. TOMORROW. And I haven't started packing yet. SOS.
Addie and I have talked almost every day for the last few months, and I'm really, really excited to finally meet her in person and talk face-to-face about all things blogging and confidence and balance. I think the trip will really recharge my batteries and give me some new experiences to inspire me.
I can't forget to mention all the kombucha, acai bowls, Whole Foods trips, and home cooked noms we'll be enjoying together. HOLLA. Good food + good friends is always a combo for happiness.
Also a source of happiness? Waffles, y'all. Crispy on the outside, fluffy on the inside, holes-ready-for-toppings waffles that take mornings from 0 –> ? real quick. Plus these are vegan, gluten-free, and have some sneaky vegetables to make you feel like the ultimate breakfast champ.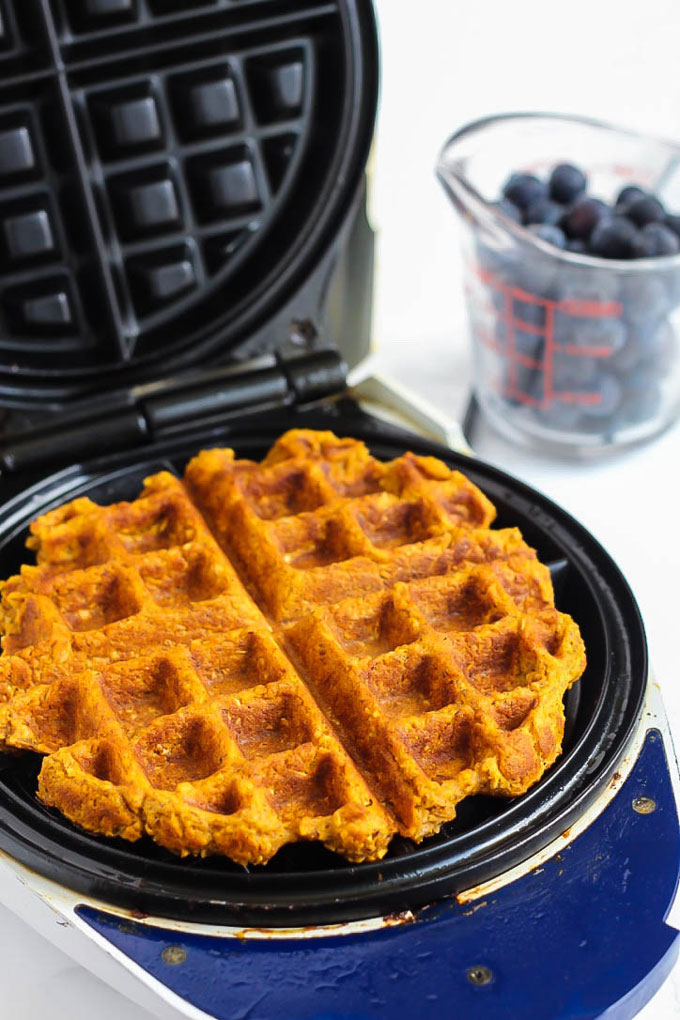 Sweet potatoes are definitely on my top 5 favorite foods list; they're full of beta-carotene for glowing skin, vitamin C, fiber, and so much other good stuff. Did I mention how tasty they are in any form?? Combine all that with the health of oats in these waffles, and you're up for one nutritious breakfast.
The first thing you need are some cooked sweet potatoes. I like to bake them the night before at 425° for 45 minutes; you can also cook them in the slow cooker or in the microwave, if you're in true waffle desperation. Once you have the potatoes ready, all you have to do is add the ingredients to a blender, blend, and pour into your heated waffle iron.
One bowl = easy clean-up = more time to enjoy waffles.
If you want to go the extra mile, I highly suggest this blueberry sauce for the perfect fruity compliment to the deep, hearty flavor of the sweet potato waffles. You just need three ingredients for the sauce (plus water), and you can use fresh or frozen berries. Those waffles holes are just BEGGING for blueberries to sit in them, if you ask me.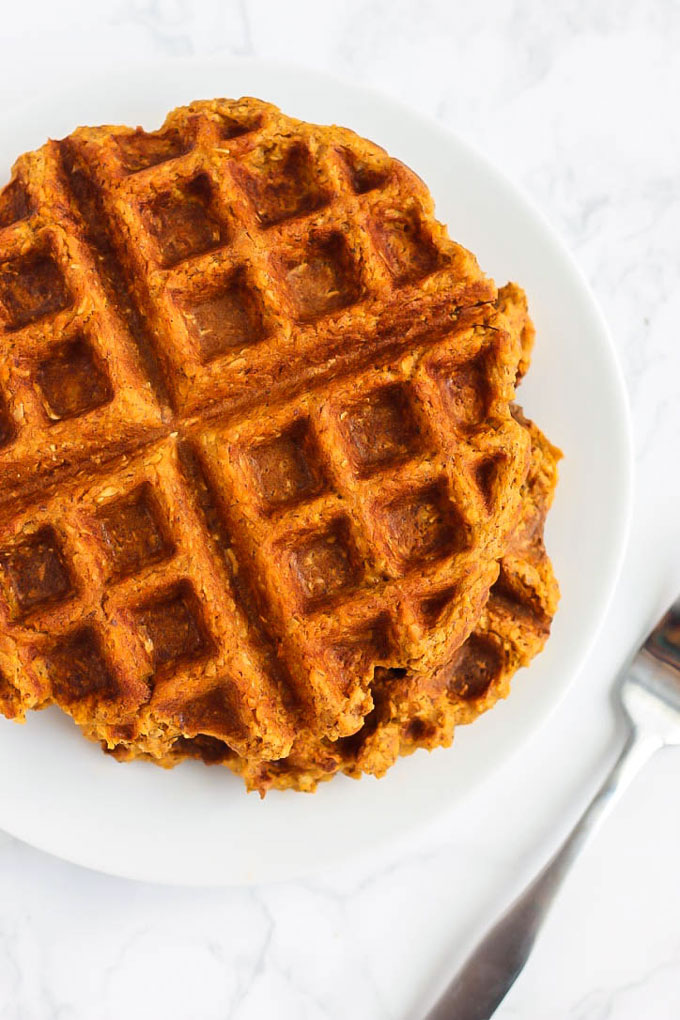 I hope you get to make some waffles on a relaxing weekend morning with someone you love. Or, enjoy yourself a fabulous Waffle Wednesday because you're a queen and don't need weekends to enjoy waffles.
These won't make you feel weighed down or heavy after you eat them; they'll give you the nutrition you need to stay energized and take on the day. Plus, they're amazingly delicious…so there's that, too.
If you try these sweet potato waffles, let me know how they turn out for you!
I loved really talking to you guys today. Talk back! Tell me: What are some exciting things you have coming up? How are you finding balance in your life? Do you watch Parks & Rec (and can we be BFFs)?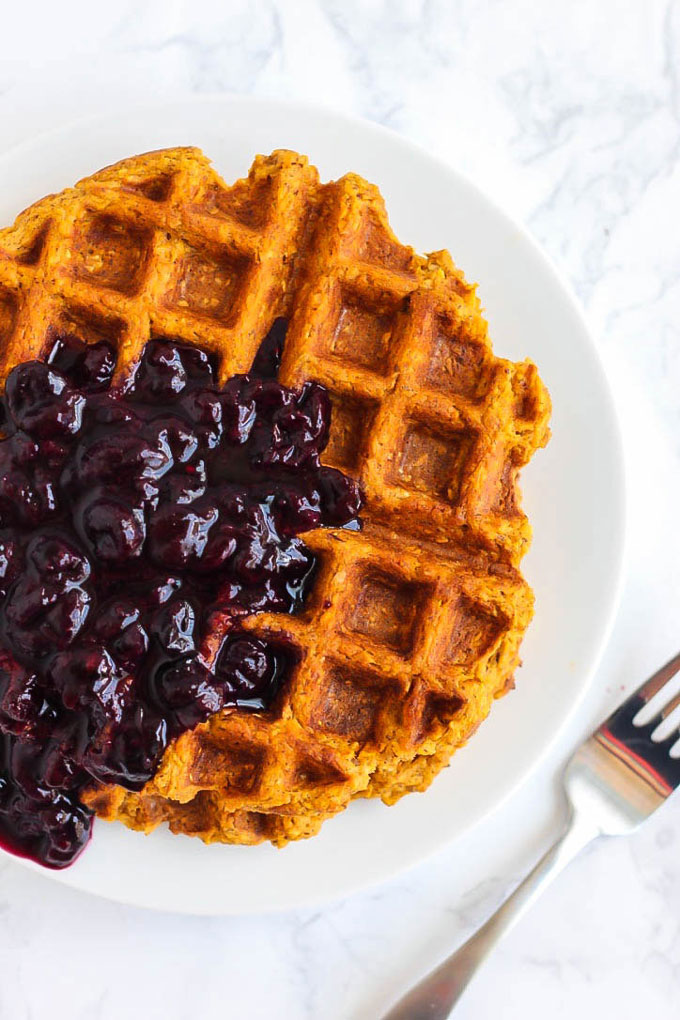 Print
How to make:
Blender Sweet Potato Waffles with Blueberry Sauce (vegan + gluten-free)
Add some vegetables to your breakfast routine with these decadent Sweet Potato Waffles with Blueberry Sauce! Vegan, gluten-free, and made in the blender.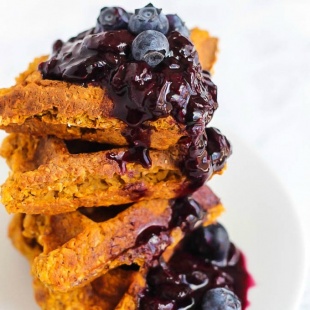 Ingredients
1 tablespoon

flax meal +

2.5 tablespoons

water

1 1/2 cups

old-fashioned oats

3/4 cup

sweet potato, mashed (about

1

medium potato)

1/2 cup

almond milk

2 tablespoons

+

1 teaspoon

tapioca starch/flour, divided

2 tablespoons

agave nectar or maple syrup, or a few drops of stevia extract

1 tablespoon

baking powder

3 teaspoons

vanilla extract, divided

1/2 teaspoon

cinnamon

1/2 teaspoon

salt

1 cup

blueberries, fresh or frozen
Instructions
In a small bowl, add flax meal and water. Set aside for 10-15 minutes.
Preheat waffle iron; lightly grease or spray with non-stick spray.
In a blender or food processor, add flax mixture, oats, sweet potato, almond milk, 2 tablespoons tapioca starch, agave, baking powder, 2 teaspoons vanilla, cinnamon, and salt. Blend until smooth.
Pour batter into the waffle iron. Cook each waffle for 8-10 minutes, until it is your desired crispiness. Repeat 1-2 more times, depending on the size of your waffles.
While the waffles are cooking, add blueberries, 1 teaspoon tapioca starch, 1 teaspoon vanilla, and 1/3 cup water to a small saucepan. Bring to a boil; reduce heat to low and simmer for 5-7 minutes, stirring constantly, until a thick sauce forms. Lightly mash the blueberries to incorporate them into the sauce; add more water if necessary.
Serve waffles warm with blueberry sauce and additional toppings!
Notes
Store waffles in the fridge for 2-3 days, or freeze separately for easy breakfasts.