Please don't be scared!! Stay! I promise they're good!!
I know some most of you might be a tad afraid of the mean green color of these muffins. I'm here to tell you there's nothing to be afraid of – these spinach muffins are tender, sweet, and delicious, just the way muffins should be.
Do you have any St. Patrick's Day plans? I honestly cannot tell you anything special I've done for St. Patty's Day in my life. It's just not one of those holidays we celebrate much, I guess. There's a little parade around town, but since I'm actually a 75-year-old woman, I'd rather stay in and watch Hulu.
What I do get excited about is that the holiday gives me an excuse to eat even more green things than normal. I <3 greens. You should <3 greens too.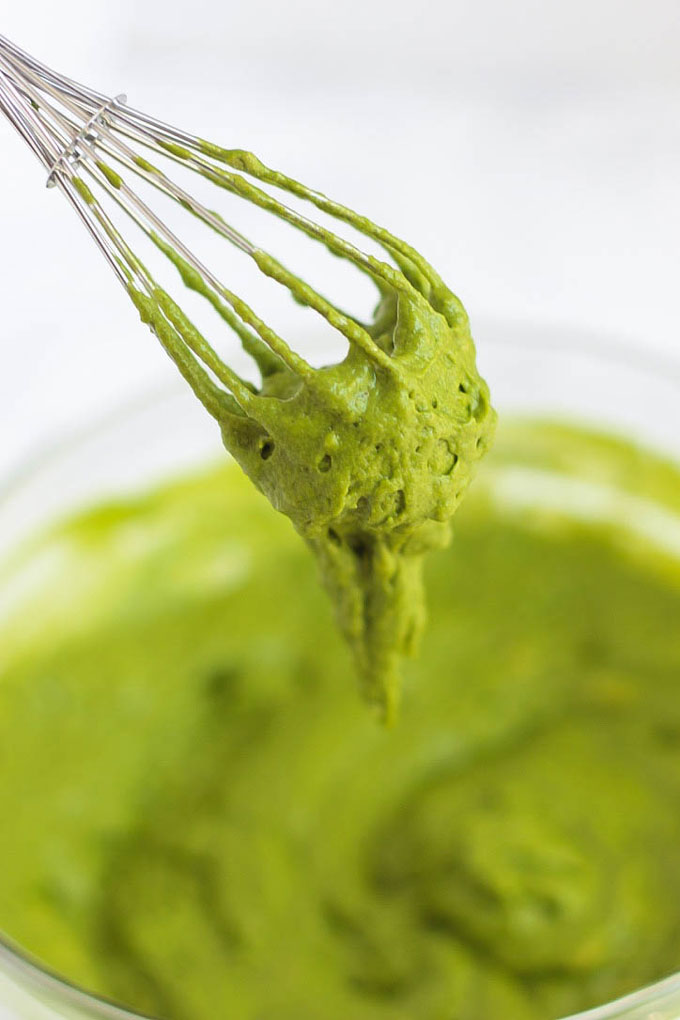 Let me just put it out there that I am NOT an expert gluten-free baker – this was my third test of these darn muffins! I don't eat strictly gluten-free, but I do understand that many people enjoy these recipes because of allergies, so I wanted to make a muffin everyone could enjoy. So, these are gluten-free and (of course) vegan! Everyone wins.
Another side note: all gluten-free flour blends are different. I used the Bob's Red Mill Gluten Free 1-to-1 Baking Flour (affiliate link!) and had great results with it, so I can't guarantee the success of these with other blends. If you try these with a certain brand, let us know in the comments!
These spinach muffins are actually surprisingly easy to whip up, perfect for morning prep for your St. Patty's Day parties or your weekly meal prep. All you need is a bowl, a blender, and some simple ingredients I bet you already have. AKA go make these now.
After resisting the urge to eat all the green batter (or giving in and having a few spoonfuls), all that's left to do is pour it in your muffin pan and let those babes bake.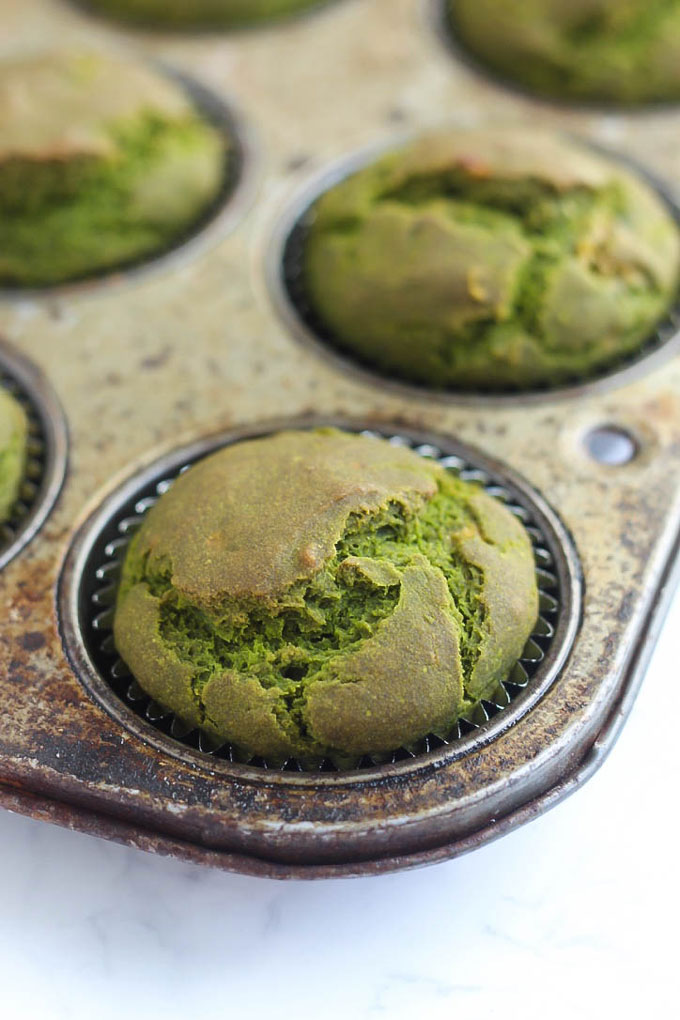 You might be a little confused by the baking instructions, so here's a quick breakdown: you want to bake them at 425°F for 5 minutes first. I know this seems high, but it allows the muffins to rise and get super jumbo and pretty. Then you'll bump down the heat to 350°F and let them do their thang.
Then you'll have giant gorgeous fluffy green muffins that are the answer to the age-old question "where am I going to get my vegetables?" MUFFINS.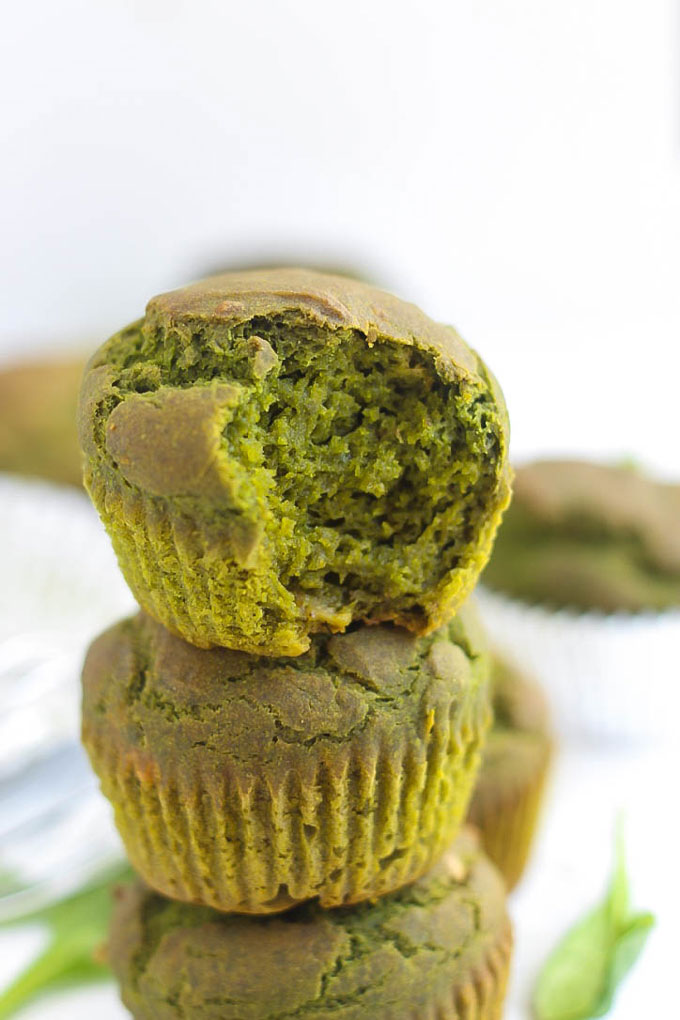 Point is, my friends, do not be afraid of the very healthy-looking color of these spinach muffins – they do not taste like dirt or vegetables! It's just a simple, perfectly sweet muffin. Ahhh.
These would of course be perfect for St. Patrick's Day, but they're really awesome for meal prepping too. Grab a couple for breakfast, or smear one with some nut butter as a snack. They also freeze really well, so you can make a whole bunch!
Lettuce all eat more greens in our muffins.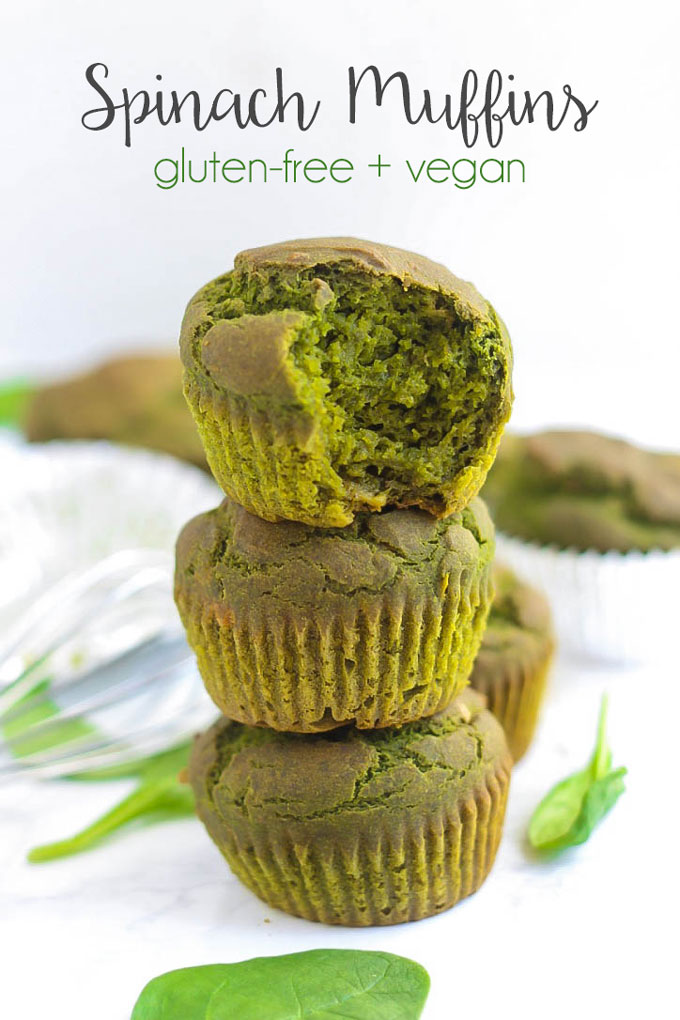 Print
How to make:
Gluten-Free Spinach Muffins
If you struggle to get your greens in, how about making some muffins? These vegan & gluten-free Spinach Muffins are packed with nutritious spinach you can't even taste.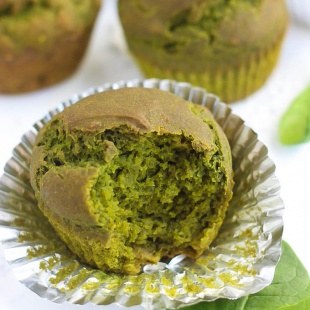 Ingredients
Non-stick spray or muffin liners

2 1/4 cups

all purpose gluten-free flour*

1 tablespoon

baking powder

1/2 teaspoon

baking soda

1/2 teaspoon

cinnamon

1/4 teaspoon

salt

4 cups

spinach, tightly packed

2/3 cup

coconut sugar

1/2 cup

unsweetened almond milk

1/4 cup

coconut oil, melted

1/4 cup

applesauce

2 teaspoons

vanilla extract

1 teaspoon

apple cider vinegar

1

medium banana, mashed
Instructions
Preheat oven to 425°F. Line a 12-cup muffin pan with muffins liners or spray with non-stick spray.
In a large bowl, add flour, baking powder, baking soda, cinnamon and salt. Whisk to combine.
In a blender, add spinach, sugar, milk, oil, applesauce, vanilla and vinegar. Blend until completely smooth and there are no spinach chunks.
Add spinach mixture and mashed banana to the flour mixture. Whisk until all ingredients are combined. Pour batter evenly into each muffin cup, about 3/4 full.
Bake for 5 minutes, then reduce heat to 350°F. Bake for an additional 25-27 minutes, until a toothpick inserted in a muffin comes out clean. Remove the muffins and let them cool in the pan for 10 minutes.
Notes
*All gluten-free flour blends are made differently. I've only tested this recipe with Bob's Red Mill Gluten Free 1-to-1 Flour, so I can't say how other blends will work.