The first time I made this chickpea salad (AKA threw a bunch of ingredients into a bowl), my mom declared this "the best thing you've ever made." What can I say, momma knows best.
I can't stop, won't stop with all the Mediterranean things (see here and here) so don't hate me. The flavors and ingredients are just so fresh, the meals are filling but don't weigh me down, and do I even need to mention hummus? That's a given.
This chickpea salad is full of fresh veggies like cucumbers, tomatoes, onion, and artichoke, protein from chickpeas, and healthy fats from avocado, olives, and the almond feta. So basically everything you ever needed in your life in one meal.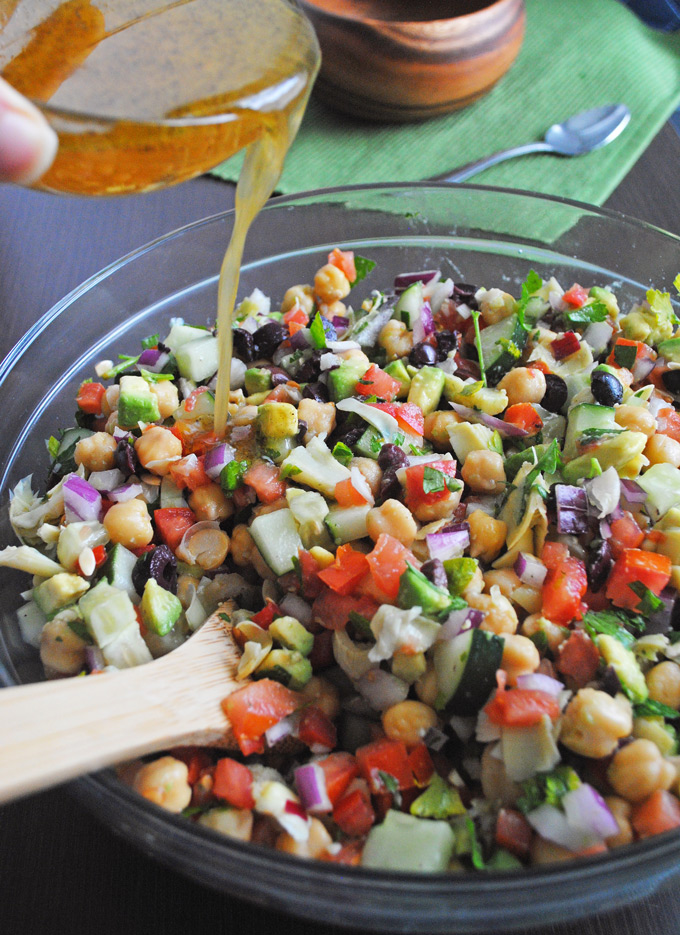 The almond feta takes a little planning beforehand, so I totally understand if you don't want to make it. BUT I think it really adds that delicious tanginess of regular feta cheese. Feta was always my favorite, so saying adios when I went vegan was tough at first. When I saw the idea of almond cheese from Lands & Flavors, I knew it was going to be a winner. This almond feta cheese really hits the spot! I'd make a double batch to keep in your fridge so you don't have to go through the whole process when you want more (and you will).
I love to use my NutriBullet for the feta; it's powerful and makes the mixture super creamy. The most important thing about making the feta is patience, which can be impossible to have when all you want to do is eat scoops of the cheeze mixture 'cause it's just that good. Let it sit for as long as possible to let the liquid drain out. Then you bake it until firm, and all the waiting will be worth it.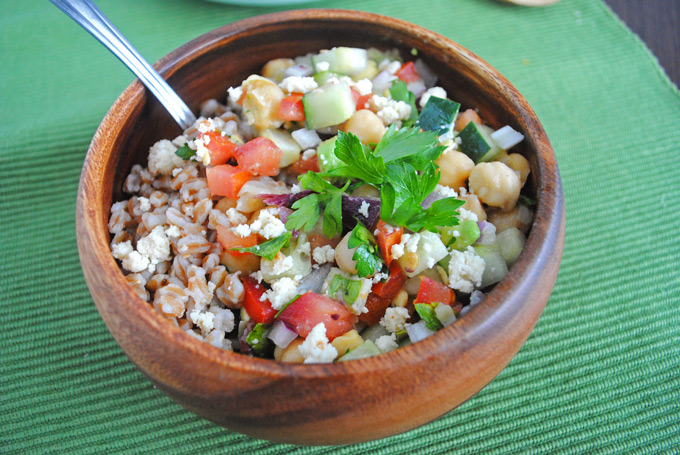 The recipe makes a huge batch, about 6 servings worth…or 4 if you eat like me. I love this salad for a light lunch or dinner that fills me up but doesn't stuff me like a pillow, but serving it with grains makes it even more satisfying. I really enjoy using farro with this salad—Trader Joe's has a quick-cooking farro that's ready in 10 minutes!
With busy college days and super late nights, I love meals where I can throw a bunch of stuff in a bowl and have leftovers for days. This, my friends, is one of those glorious recipes. And it happens to be OMG delicious. In fact, this chickpea salad is perfect for leftovers to take to work or school because there's no reheating required! Just throw some in a container, and you're out-the-door with a fantastic lunch.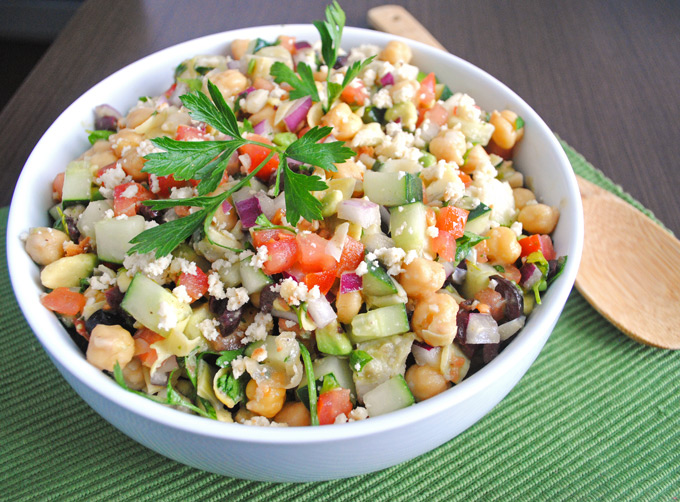 If the food in Greece is as good as this salad, TAKE ME THERE NOW.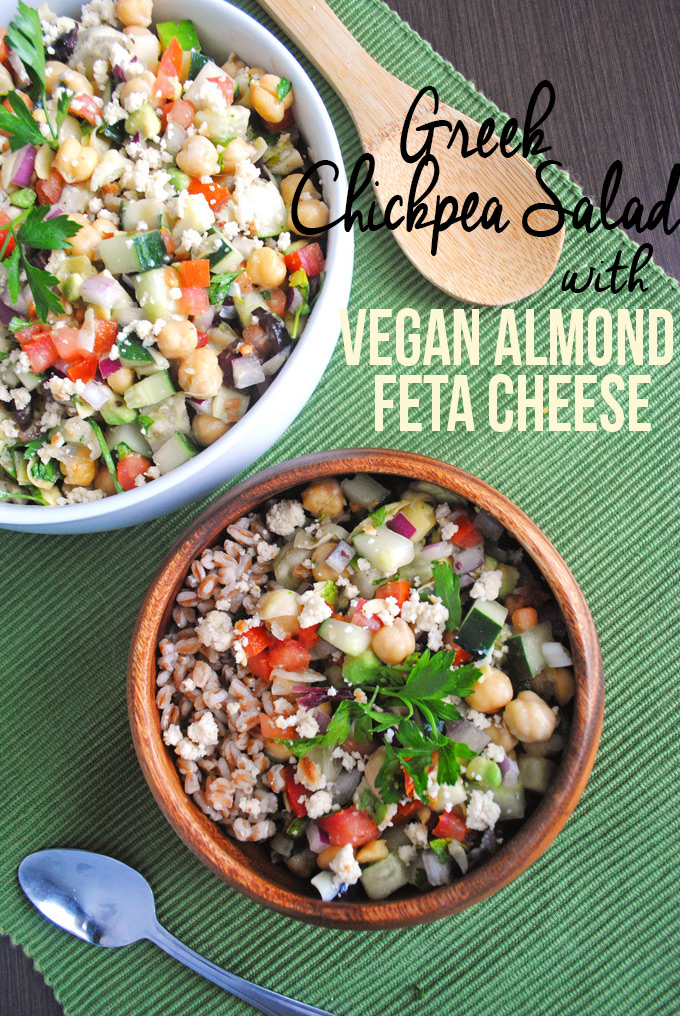 Print
How to make:
Greek Chickpea Salad with Vegan Almond Feta Cheese
Packed with veggies and fresh Greek flavors, this chickpea salad with tangy vegan almond feta makes a quick, nutritious dinner perfect for lunch leftovers!
Ingredients
For the almond feta (optional):

1 cup

blanched almonds

3 tablespoons

fresh lemon juice

2 tablespoons

olive oil

1 tablespoon

nutritional yeast (optional)

1

clove garlic, minced (about

1/2 teaspoon

)

1 teaspoon

salt

1/2 cup

unsweetened almond milk, or other unsweetened non-dairy milk
For the salad:

3 cups

chickpeas, or

2

15-ounce can chickpeas, drained and rinsed

2 cups

Roma tomatoes, chopped

2 cups

cucumbers, chopped

1

can artichoke hearts, chopped

1 cup

Kalamata olives, chopped

1 cup

red onion, finely chopped

1 cup

parsley, finely minced

1

avocado, chopped

1/4 cup

fresh lemon juice

2 tablespoons

white wine vinegar

2 tablespoons

olive oil

2

cloves garlic, minced (about

1 teaspoon

)

1/2 teaspoon

salt

1/4 teaspoon

pepper
Instructions
For the almond feta: Soak the almonds in water for 4-6 hours, or overnight.
Place almonds, lemon juice, oil, nutritional yeast, garlic, salt, and milk in a blender. Blend until smooth.
Line a fine mesh strainer with cheesecloth; place the strainer over a bowl. Pour the cheese mixture into the strainer; refrigerate overnight.
Preheat the oven to 350F; lightly grease a small baking sheet. Flip the cheese onto the baking sheet.
Bake for about 35 minutes, until the cheese is set.
Once the cheese is cooled, transfer to a small bowl and gently crumble with a fork. Store in an airtight container in the fridge.
For the salad: In a large bowl, combine chickpeas, tomatoes, cucumbers, artichoke hearts, olives, onion, and parsley. Stir until combined.
Add avocado and gently stir to mix.
In a small bowl, mix lemon juice, vinegar, oil, garlic, salt, and pepper. Pour over the salad and mix until well combined.
Top with almond feta and additional parsley.
Notes
Storage:
Store in an airtight container in the fridge for up to 5 days.
*Almond feta cheese adapted from Lands & Flavors