Stop eating sad salads! This chopped salad is packed with fresh veggies, crispy roasted chickpeas and tons of flavor thanks to the best nut-free vegan ranch dressing.
Roasted Chickpea Salad with Vegan Ranch Dressing
I've got another salad for you today! I hope you are slowly crawling (or, preferably, sprinting) to the Team Salad side, because fresh veggies are where it's at. Seriously, I'm just over here having a rave with all these vegetables. Jk. Sorta?
Now I get why not everyone is on Team Salad with me, because we're used to the saddest iceberg lettuce side salads with like two slices of cucumber and a single cherry tomato. But I'm here to tell you that salads can be so much more than that. If these healthy salads didn't quite get you on Team Salad, then allow me to make another attempt with this Roasted Chickpea Salad. With homemade VEGAN RANCH DRESSING. Yes, that is correct. Vegan ranch.
The base of this roasted chickpea salad is actually a pretty simple and classic chopped salad, using normal ole' veggies we know and love. Seriously though, have you ever had a salad without carrots, cucumbers and tomatoes? I always toss those little guys in there – wait, that's actually a lie. I hate tomatoes, I just put them in this salad for you guys. If you don't like them either, then by all means leave them out 🙂
We're also adding some corn for a little sweetness and ripe avocado for those magical healthy fats to balance out our roasted chickpea salad. I don't know about you, but if I don't have a little fat in my meal, I get hungry again really fast. But just a little avo goes a long way in keeping you satisfied and compliments the crispy roasted chickpeas so well.
Then we're spicing it up (literally) with crunchiest spicy roasted chickpeas and the aforementioned vegan ranch dressing. Team Salad, let's gooooo!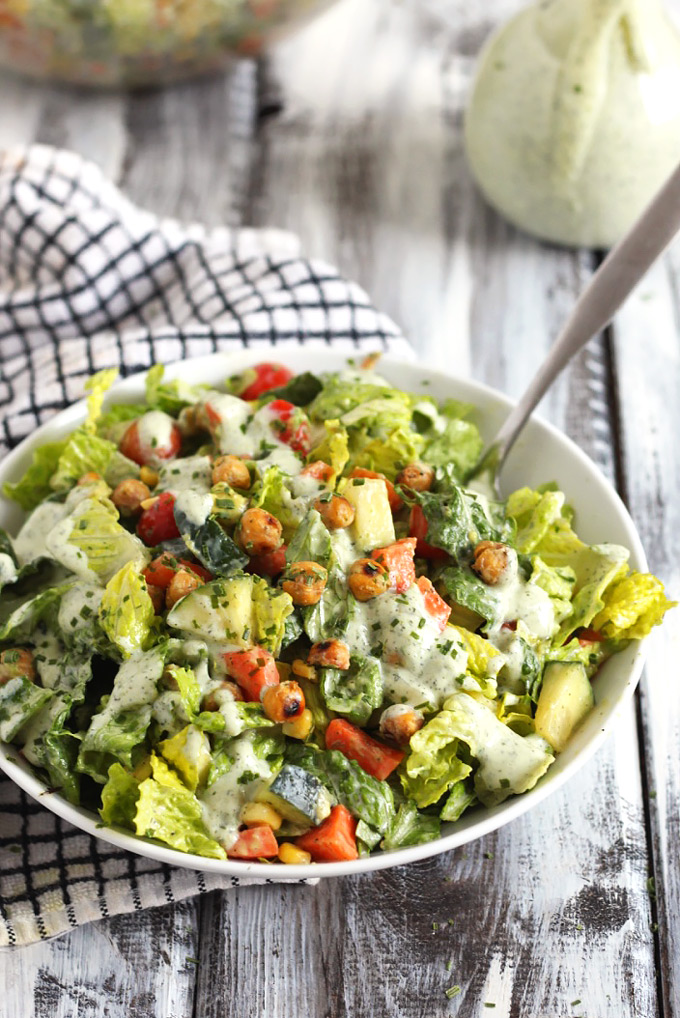 How to Make Crispy Roasted Chickpeas
Okay I seriously hope you guys are already roasting your chickpeas, but if not what are you doing?! As if I didn't love chickpeas enough before, they're about 83948 times better roasted. I had to practice serious self-control to not eat the whole batch of roasted chickpeas before I took pictures. Obviously we're using them as a salad topper here, but they also make a delicious snack! I dare you to make a tray of these for your roasted chickpea salad and not eat a single chickpea off the tray! It's impossible.
Have you ever wondered why your roasted chickpeas never come out of the oven as crispy as they look in recipe pictures? I've got the answer for you! The key to getting a super crispy roasted chickpea is drying them first. And I don't just mean shaking off the excess water after rinsing them. I mean getting out a clean dish towel, dumping the rinsed chickpeas on it and patting them dry. I know it's annoying to go through an extra step, but roasted chickpeas will never crisp up in the oven if they go in covered in water – they'll steam instead. Gotta get those babies dry!
I wanted to add a bit of spice to this roasted chickpea salad, so we're adding onion powder, garlic powder, salt and pepper and a bit of cayenne to the chickpeas before they go in the oven. Then, the second key to getting a super crispy roasted chickpea is making sure your oven is HOT. These go in at 425 – don't cheat and put them in before your oven is fully pre-heated. I promise your patience is worth it.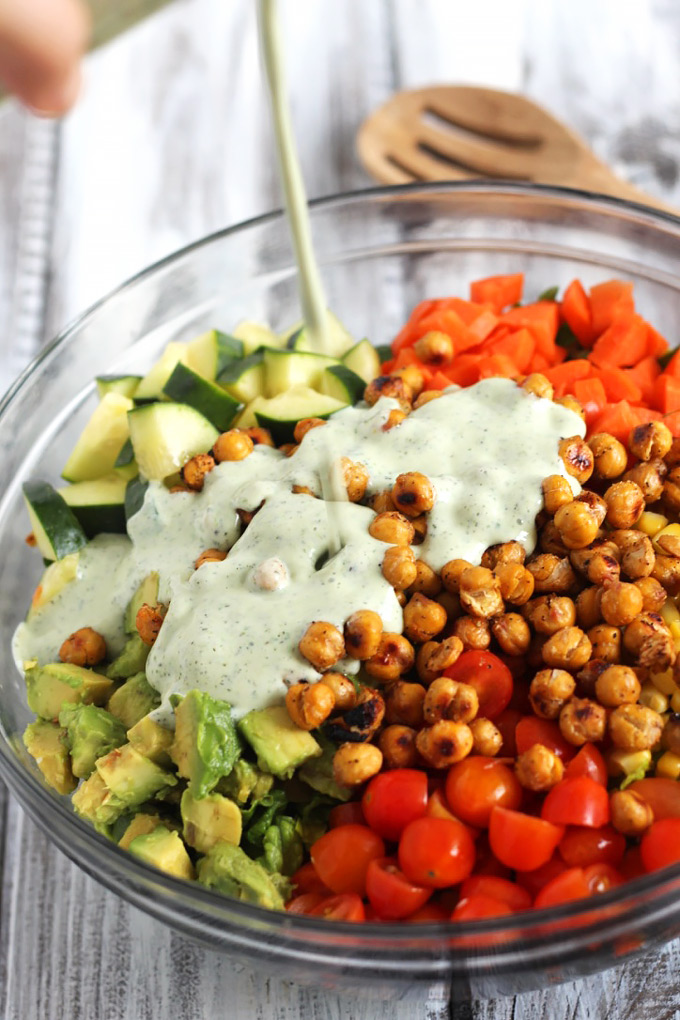 How to Make Vegan Ranch Dressing
Finally, the moment you've all been waiting for: vegan ranch dressing. I actually never liked ranch, or really any salad dressing for that matter. It was all too heavy and oily and just nasty to me. But I know there are tons of people out there that put ranch on EVERYTHING so I knew I had to give it another shot.
Despite my rocky past with ranch dressing, I decided to give it a vegan twist to see if my ways could be changed. All the seasonings sounded delicious – dill, parsley, chives, lemon juice – so I didn't see why I wouldn't like it. I've seen lots of vegan ranch dressings that are cashew-based, but I had 4 problems with that:
Raw cashews basically cost the same as a kidney.
While it contains healthy monounsaturated fats, I didn't want a heavy calorie-bomb dressing.
I'm too impatient to wait for them to soak.
What about my friends with nut allergies? They have to miss out on all the vegan ranch drenched fun?
So, I went for…silken tofu! It's neutral in taste and pretty inexpensive. Make sure you get the silken tofu on the shelves (I use this one) and not refrigerated block tofu! I promise you that there's no weird tofu flavor in this vegan ranch dressing. Just herby, lemony, garlicy goodness.
The tofu makes this dairy free ranch sooooooooo creamy and also packs in a source of complete protein, which makes our roasted chickpea salad more satiating. I used my handy dandy NutriBullet to make it extra smooth! Simply add all the dressing ingredients to your blender and blend it up!
I love using this dairy-free ranch dressing on this roasted chickpea salad, but I also love it as a vegetable dip for snacking.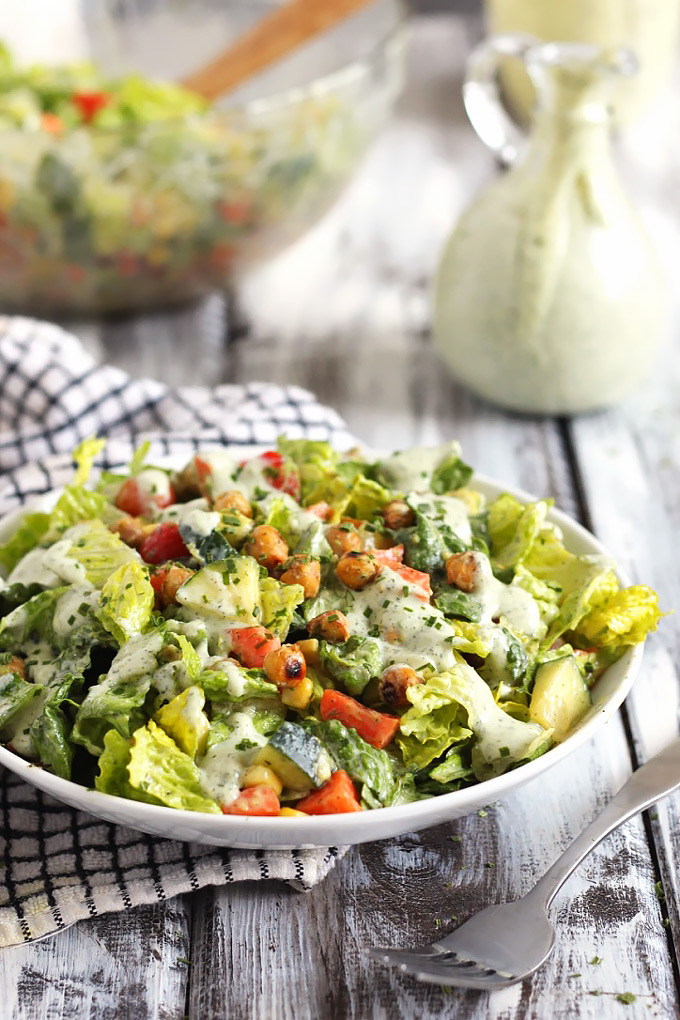 More Filling Salad Recipes
If you try this salad, then please let me know! I really think you'll love it. It's full of good-for-you veggies and the ranch dressing gives it so much flavor. It really is the perfect healthy salad, and because of all the protein and healthy fats, it's also a super filling salad recipe! If you're looking for more healthy salad recipes that will keep you feeling full and satisfied, then check out these ones!
Print
How to make:
Roasted Chickpea Salad with Vegan Ranch Dressing
This chopped salad is packed with fresh veggies, crispy roasted chickpeas and tons of flavor thanks to the best nut-free vegan ranch dressing.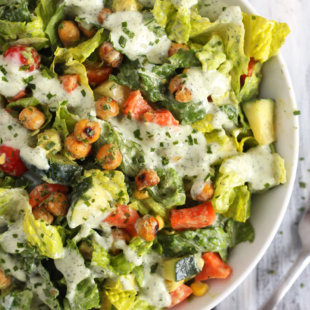 Ingredients
1

15-ounce can chickpeas

2 1/2 teaspoons

salt, divided

2 teaspoons

olive oil

1 1/2 teaspoon

onion powder, divided

3/4 teaspoon

black pepper, divided

1/2 teaspoon

garlic powder
Dash of cayenne pepper (optional)

5 cups

romaine lettuce, chopped

1 cup

cucumber, chopped

1 cup

carrots, chopped

1 cup

grape tomatoes, halved

1/2 cup

corn kernels

1/2

avocado, chopped
For the ranch dressing:

12 ounces

soft silken tofu

1/4 cup

unsweetened non-dairy milk

1/4 cup

fresh parsley, roughly chopped

2 tablespoons

lemon juice (about

1/2

lemon)

2 tablespoons

dried chives

1 tablespoon

dried dill

1 tablespoon

apple cider vinegar

2

garlic cloves, minced (about

1 teaspoon

)

1/2 teaspoon

agave nectar
Instructions
Preheat oven to 425°F. Lightly grease a baking sheet.
Drain and rinse the chickpeas. Place onto a kitchen towel; pat dry. In a medium bowl, add chickpeas, 1 teaspoon salt, olive oil, 1/2 teaspoon onion powder, 1/4 teaspoon black pepper, garlic powder, and cayenne pepper (if using); stir until chickpeas are evenly coated. Place on the baking sheet in an even layer; bake for 14-16 minutes, until crunchy.
In a large bowl, add lettuce, cucumber, carrots, tomatoes, corn, and avocado. When chickpeas are done, add to the bowl. Stir well; set aside.
In a blender or food processor, add tofu, milk, parsley, lemon juice, chives, dill, vinegar, 1 1/2 teaspoons salt, garlic, 1 teaspoon onion powder, 1/2 teaspoon black pepper, and agave. Blend until smooth.
You have two options: add the dressing to the bowl of salad and mix, or store the dressing in a container and add as you eat. The dressing recipe makes 2 cups, so you will probably have some left over.
Notes
To make oil-free, simply omit the olive oil when roasting chickpeas. They should still crisp up.
What's your go-to salad dressing? Do you have any particular health goals right now?