Ready in under 10 minutes, this Microwave Buckwheat Breakfast Cake is a healthy, filling breakfast to make in a hurry. It's vegan, gluten-free, and packed with whole grains!
Cake for breakfast?! Hell yeah!
Most of the recipes on my blog are born out of pure necessity. Do I have too many boxes of pasta in my pantry? Make a creamy pasta skillet. WaYyYyYy too many vegetables on my hands because I went a little crazy at the farmers' market? Roast 'em all and throw 'em in lasagna. Do you see where I'm going with this?
I think that's actually a great way to come up with recipes to share with you all because you're probably going through the same thing too. I bet you've stared at that bag of quinoa in your pantry for too long thinking, hmmmm, what should I make with this? Since I'm making recipes that fit my real, hectic, crazy life, I'm sure you need recipes that fit yours too!
And so the sorta-kinda-not-really Instagram famous Microwave Buckwheat Breakfast Cake was born.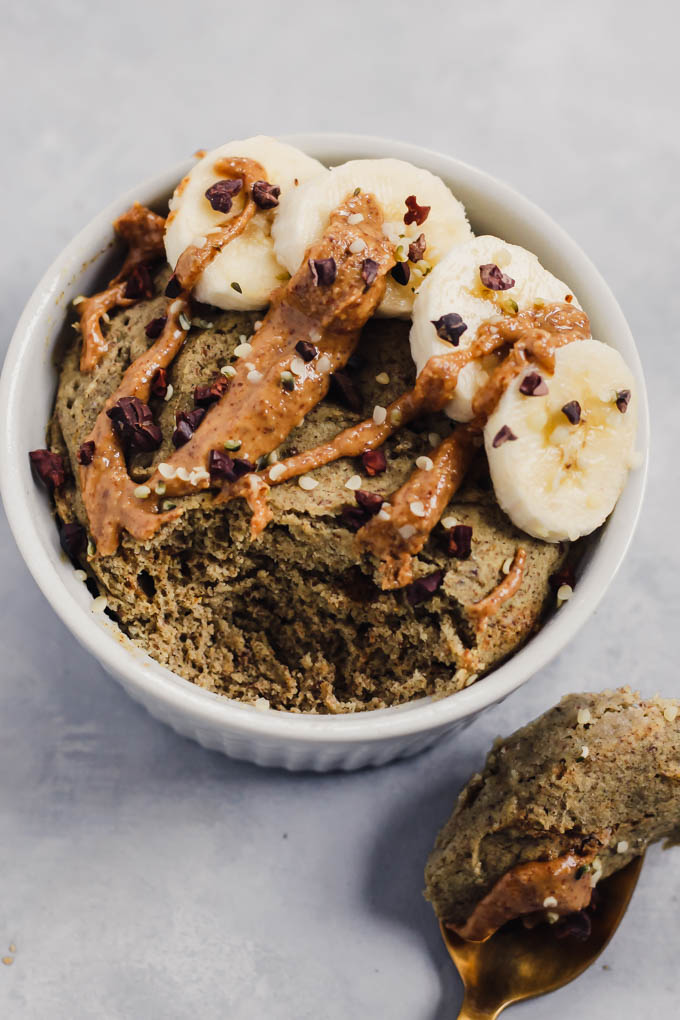 Okay, it didn't break the internet or anything. It's not really IG famous. There were just SO many of you who asked for the recipe for this breakfast cake once I started posting about it regularly on my Instagram stories. I posted about it regularly only because I ate it for breakfast for 2 weeks straight when I first moved to Colorado, lol.
Well, you asked for it, so here's the recipe! And the (short) story behind it…
I had a TON of buckwheat flour I needed to use, and I didn't really have the time or patience to bake a loaf of bread. I started experimenting with making these individual "cakes" made with buckwheat flour, flax meal, protein powder, and some other basic baking ingredients. I popped them in the microwave, and they fluffed up like crazy! It was a breakfast I could make in like, 3 seconds, which was perfect for the hectic time period of moving to a new state.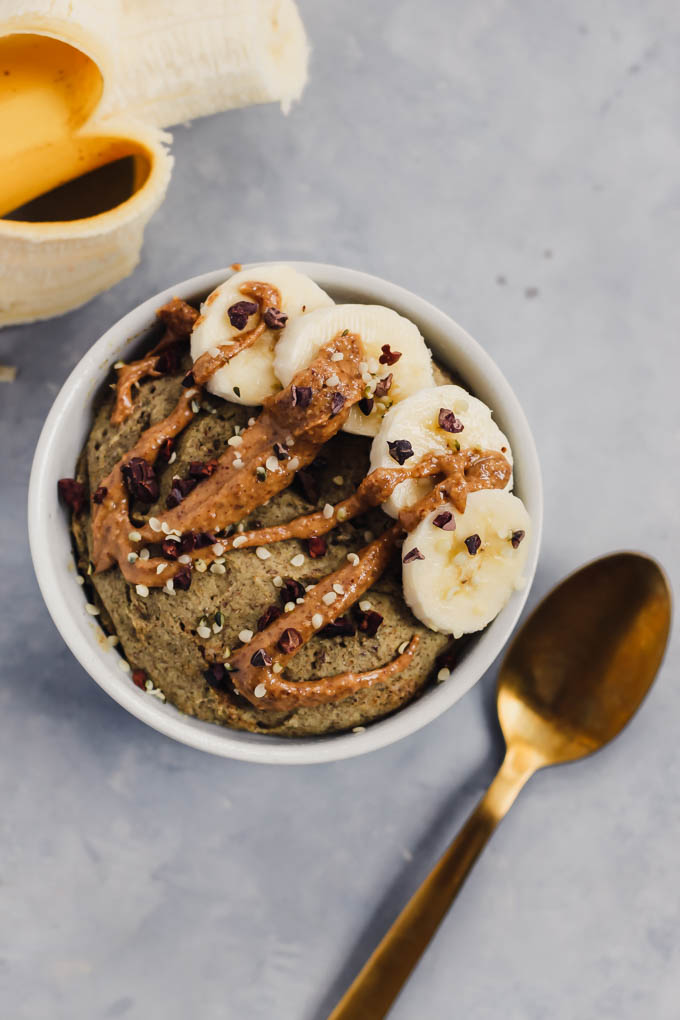 Now I have the recipe memorized and could literally make a buckwheat breakfast cake in my sleep… which I may do some mornings before my 8 AM class. I also want to note that I've swapped out buckwheat flour for: white whole wheat flour (great), oat flour (good, not as fluffy), all-purpose flour (yummy dessert), and almond flour (good, not as fluffy). I do NOT recommend coconut flour as that stuff acts really differently than other flours.
This recipe is perfect for all of my college students trying to fuel themselves before a long day of class! Or my readers out there with 9-5s… this one is for you. Or if you only have a microwave in your dorm, here you go! This recipe really is for everyone. 👏🏼👏🏿👏🏽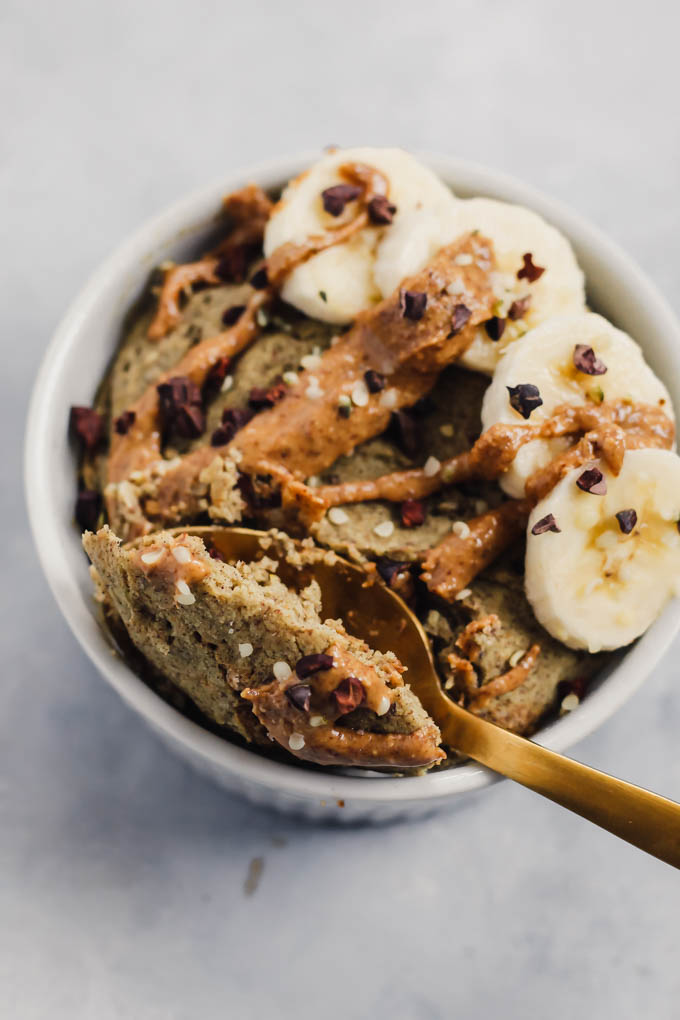 Print
How to make:
Microwave Buckwheat Breakfast Cake (vegan & gluten-free)
Ready in under 10 minutes, this Microwave Buckwheat Breakfast Cake is a healthy, filling breakfast to make in a hurry. It's vegan, gluten-free, and packed with whole grains!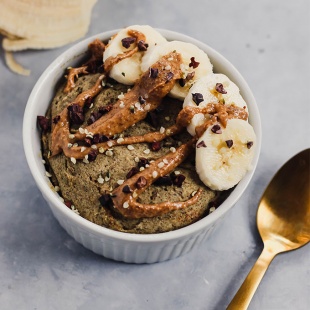 Ingredients
1/3 cup

buckwheat flour*

3 tablespoons

plant-based vanilla protein powder**

1 tablespoon

ground flax seed

1/2 teaspoon

baking powder

1/8 teaspoon

baking soda

1/8 teaspoon

salt

3 tablespoons

unsweetened applesauce

3 tablespoons

non-dairy milk or water

Toppings: sliced banana, berries, chocolate chips, nut butter, seeds
Instructions
In a small bowl, add buckwheat flour, protein powder, flax, baking powder, baking soda, and salt. Stir to combine. Add applesauce and water; stir to combine all ingredients evenly.

Lightly grease a small ramekin. Pour batter into the ramekin.

Microwave for 1.5—2 minutes, until cake is cooked through.

Top with desired toppings!
Notes
*I have also used oat flour and almond flour (both not as fluffy as buckwheat), and white whole wheat flour (just as fluffy). I do not recommend coconut flour. The amount of non-dairy milk or water you need will change based on what flour you use.
**You can sub in more flour for protein powder if not using.