Fresh, healthy, and on the table in 30 minutes, this quinoa tabbouleh with chickpeas is bursting with classic Mediterranean flavors and plant-based protein!
It was only supposed to be 10 days.
10 days of real, whole, non-processed foods on the Real Food Pledge from 100 Days of Real Food. I had always been eating and living healthfully, thanks to my mom. I ate lots of fruits and vegetables and chose home-cooked meals over fast food most of the time. But when I started to read Lisa's blog (my first memory of the food blog world), I realized some of my "health foods," like the 100-calorie snack packs and flavored yogurt cups, weren't so good for me after all.
I didn't know what to expect during the 10 days. I didn't know how to really read labels. I didn't know what I was going to do after the pledge. All I knew was that I had my real-food meals, right down to the snacks, planned out perfectly for 10 days. And that I hated raw tomatoes.
I didn't know it would change my life.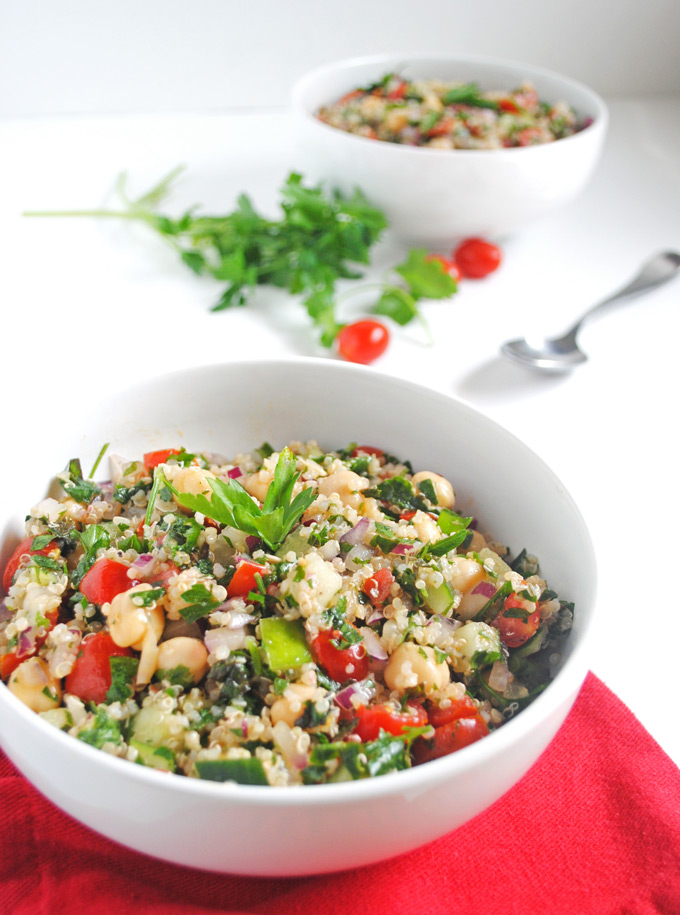 After those 10 days, I never looked back. I felt great. I found my love of cooking wholesome food and learned more about nutrition and health. I stumbled upon this crazy amazing community of food bloggers who inspire me daily. Now I eat foods I wouldn't have touched with a 10-foot pole — beets? Brussels sprouts? Kale?? Give me alllllll the veggies.
People around me obviously notice the way I eat. It's obvious. I don't try to hide it, but I don't push it in people's faces. I'm not all like, "Look at me and all the food I prepared and packed!!!!" But some people have questions. How do you eat so healthy in college? What are some recipe ideas? Do you eat dessert? (YES!) I love when my family and friends ask me questions about my food and I'm able to help them.
So here I am, over two years after my Real Food Pledge, starting the food blog I've dreamed about for months, to have a place for the answers to all those burning questions about what the heck I eat, how I do it, and why. I want this blog, my own little slice of the Internet pie, to help YOU make healthier choices, enjoy cooking, and feel AWESOME!!!!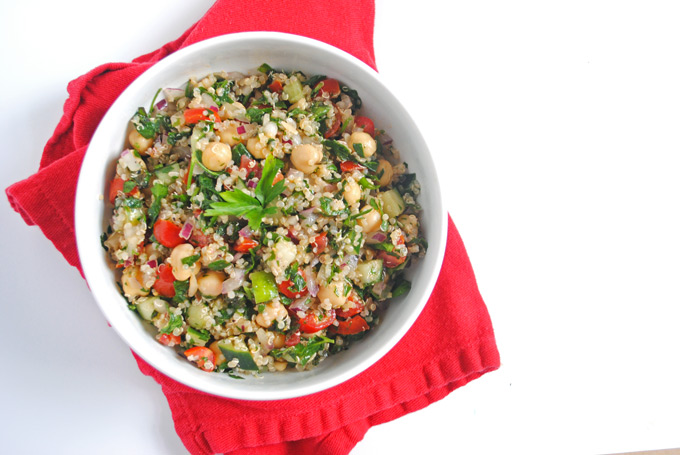 Am I an expert? Noooooo. Do I love eating healthy, plant-based food? YAS. I want you to feel that way, too. And I want to be here to help you! So I hope you'll stick around to see what Emilie (aka me) Eats. 'Cause we're going to whip up some seriously delicious noms.
Which brings me to the first recipe on my blawg (!!!). It's ironic that my first recipe is one based on a whole lot of raw tomatoes since that's the one food I'm still picky about. But now you really know this is worth making if I even love it.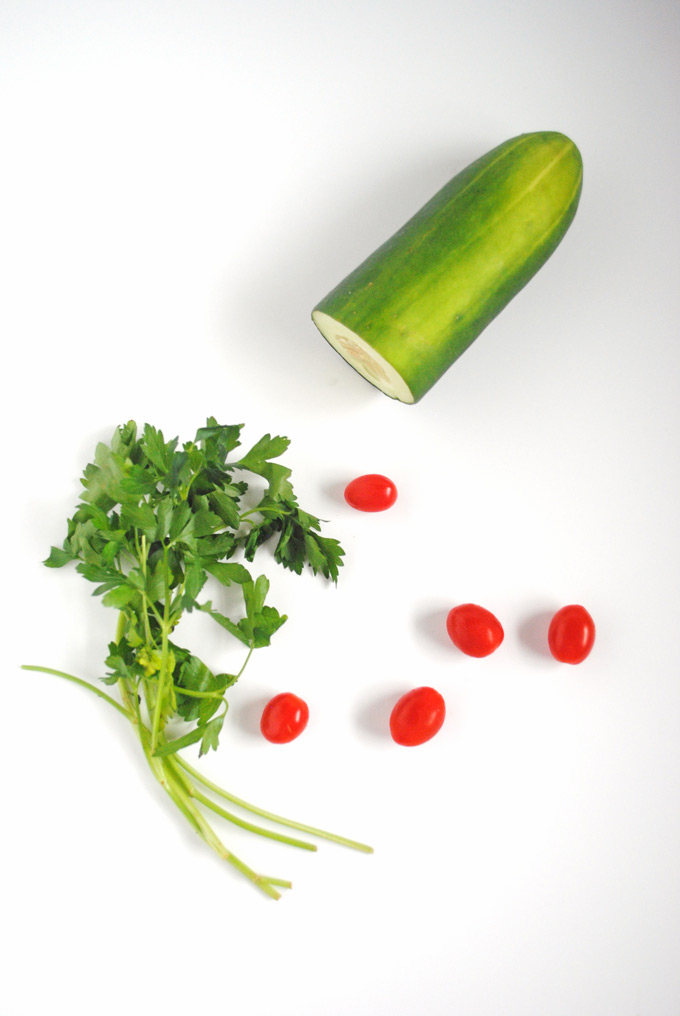 I wanted something filling but light, and, most importantly, easy. My favorite kind of meal is one that requires minimal steps. Enter this easy, gorgeous, and downright delicious quinoa tabbouleh with chickpeas. While the quinoa is cooking, chop the veggies. This is a great trick from The Kitchn on a easier way to chop herbs! Then just throw everything in a bowl and stir. Boom. Simplicity at it's finest — and most delicious.
The quinoa and chickpeas pack a serious plant-based protein punch (say that 10 times fast) and turn this usual side dish into a satisfying entree. Did you know 1 cup of quinoa provides 24 grams of protein? Quinoa FTW! I also threw in some spinach just to bulk it up more; you can never have too many greens, am I right???
I love Mediterranean food more than any other type of cuisine, so I could probably eat this every day, especially since it's full of some seriously good-for-you ingredients. Mmm, definitely.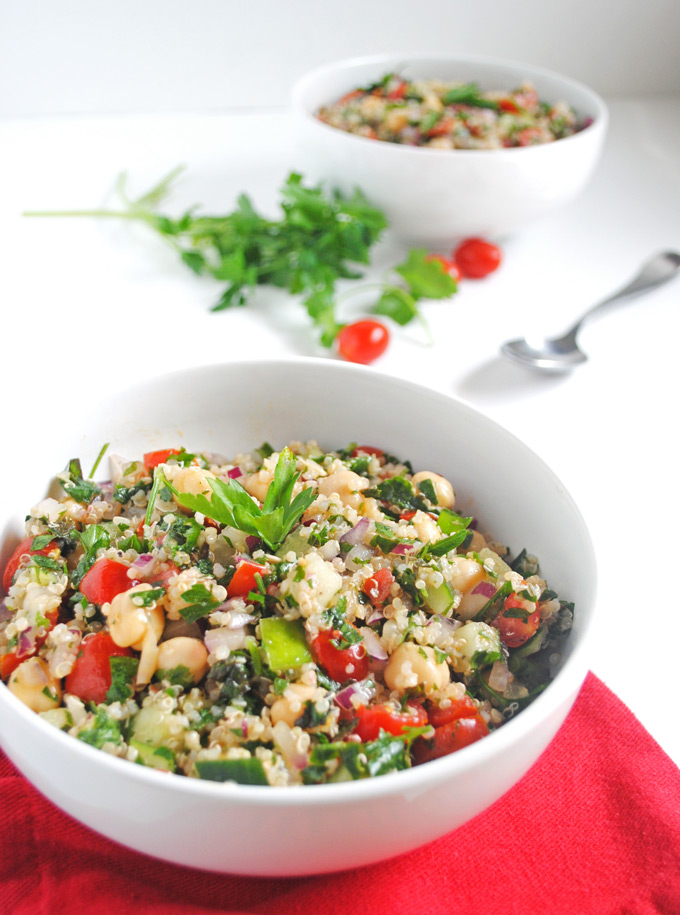 How to Make Chunky Chickpea Quinoa Tabbouleh
This recipe is very flexible to your preferences–add more chickpeas, use less parsley, or sprinkle in some more seasonings. Just mix everything together and enjoy! This tabbouleh also makes convenient leftovers that are perfect to pack up for school or work. Trust me, to this college student, leftovers are everything.
I promise to help make eating healthier simple and delicious. But I don't promise you won't eat the entire bowl of tabbouleh by yourself in 2 days. Not talking from personal experience or anything, though…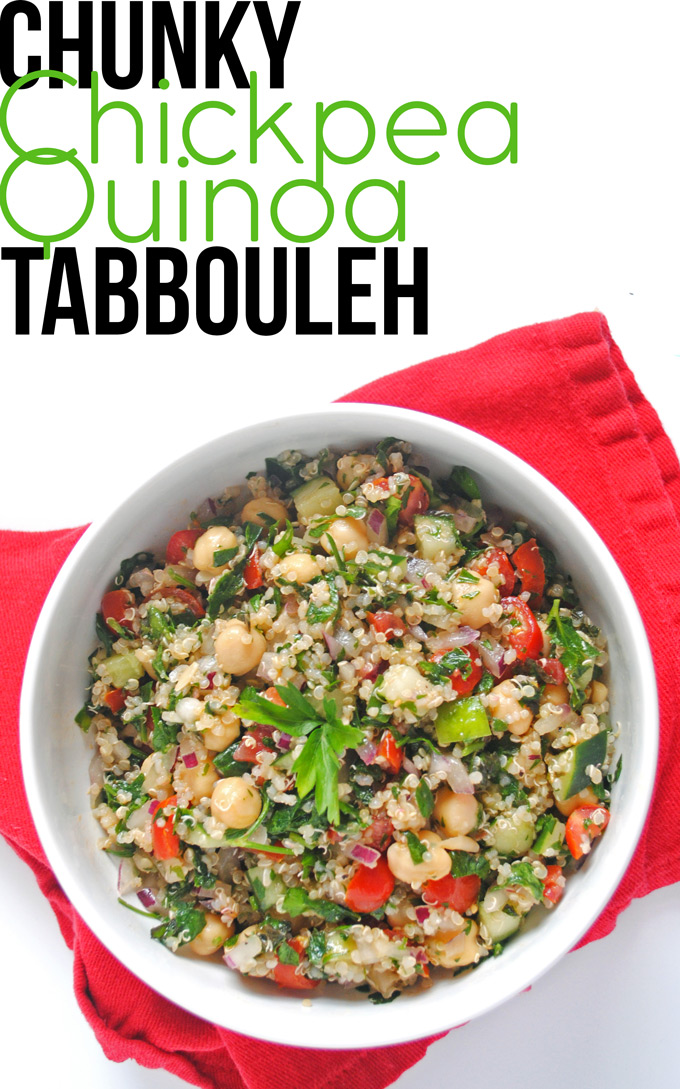 Print
How to make:
Chunky Chickpea Quinoa Tabbouleh
A fresh, delicious twist on traditional tabbouleh that uses quinoa and chickpea to make a hearty and filling entree.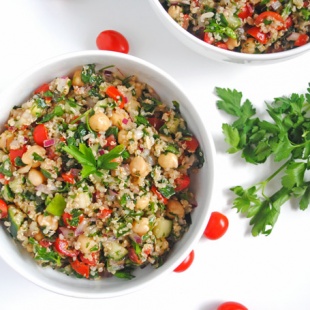 Ingredients
Oil for cooking

1/2 cup

uncooked quinoa

1 cup

water

1 pint

cherry tomatoes, about

2 cups

1 cup

fresh parsley, finely chopped

1/4 cup

fresh mint, finely chopped

1 cup

spinach, finely chopped

1/2

large red onion, chopped

1 1/2 cups

cucumber, chopped

1

15-ounce can chickpeas, drained and rinsed, or

1 1/2 cups

cooked chickpeas

2 tablespoons

olive oil

3

lemons, juiced

1/2 teaspoon

garlic, minced

1/2

–

1

teaspoon salt, to taste

1/4 teaspoon

pepper
Instructions
Heat about a teaspoon of oil in a small saucepan over medium heat. Rinse quinoa in a small mesh strainer. Once oil is hot, add quinoa to the saucepan and stir. Cook about 1 minute, until quinoa is lightly toasted. Add water; turn the heat to high. Once it's boiling, cover and cook for 13 to 15 minutes.
Meanwhile, slice the tomatoes in half, then in half again lengthwise, then in half again. Place in a large bowl.
Add parsley, mint, spinach, onion, cucumber, chickpeas, olive oil, lemon juice, garlic, salt, and pepper to the bowl; stir to combine.
Once the quinoa is cooked, transfer to the bowl. Stir everything together until fully combined.
Notes
Storage: This will keep in the fridge for about 5 days. It makes great leftovers for prepping the week's lunches!