You know those days that just make you feel all warm and fuzzy inside and give you all the feels? Yeah, that was Sunday.
I finally got to go home this weekend for the first time in two months. It feels like college football season is stealing all my free weekends. Don't get me wrong: I love being on my own here at college, but sometimes a girl just needs a break to relax at home, where Mom does all my laundry and washes the dishes I dirty (there's a LOT) 😉 Plus, I reeeeeally missed my dog. It was time to go home.
My boyfriend was able to come with me for the first time, and he got to hang out with my family and witness just how weird we all are, lolz. I feel like everyone thinks their own family is weird, right? I've grown to love mine deeply, all the quirks included, especially since being away at college.
In true South Louisiana style, my mom invited the whole family over for NFL Sunday, and my step-dad grilled lots of food (vegetables for me!). Everyone got to kick their shoes off, unwind, and forget about work or school. It was nice to see everyone and for my boyfriend to finally meet them. Later in the night, we cooked a loaf of chocolate banana bread together, and my best friend who goes to a different college drove down to visit me.
I truly couldn't have asked for a better weekend. So much love. So many feels.
If you don't care about my weekend, fear not! I brought you a smoothie recipe.
I'm on a real pumpkin kick this season, and I've been super into smoothies lately. So…pumpkin smoothie? Duh. I'm also obsessed with everything chai; it kind of warms my insides like this weekend did. It gives me all the happy feelings, too. Obviously, this pumpkin chai smoothie had to happen because I love pumpkin and chai. Also because I didn't feel like cooking when I got back to my apartment yesterday?
How cute are these mini pumpkins? They make super festive apartment decorations!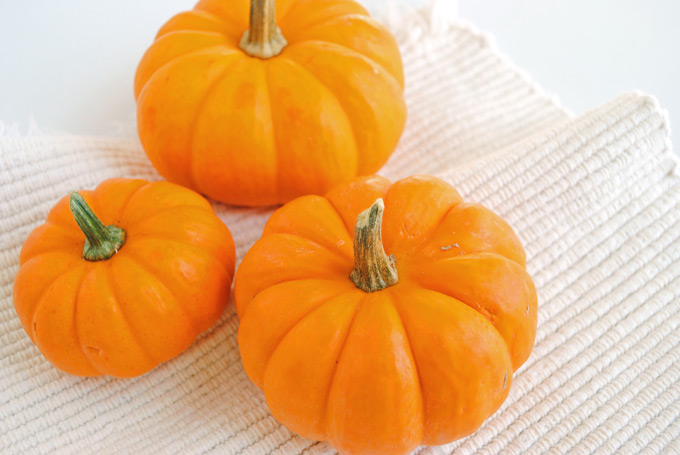 This pumpkin chai smoothie recipes make one big smoothie or two snack/dessert smoothies. If you're eating (drinking?) this for a meal, try throwing in a handful of spinach and/or a scoop of your favorite neutral protein powder. Vanilla or chai flavor would be good, too!
Let me know if you try this smoothie! It's filling, comforting, filled with warm spices, and packed with nutritious pumpkin! If you want more pumpkin goodness, check out this curry from last week.
I feel so thankful to have such amazing people in my life. What do you love about your family and friends?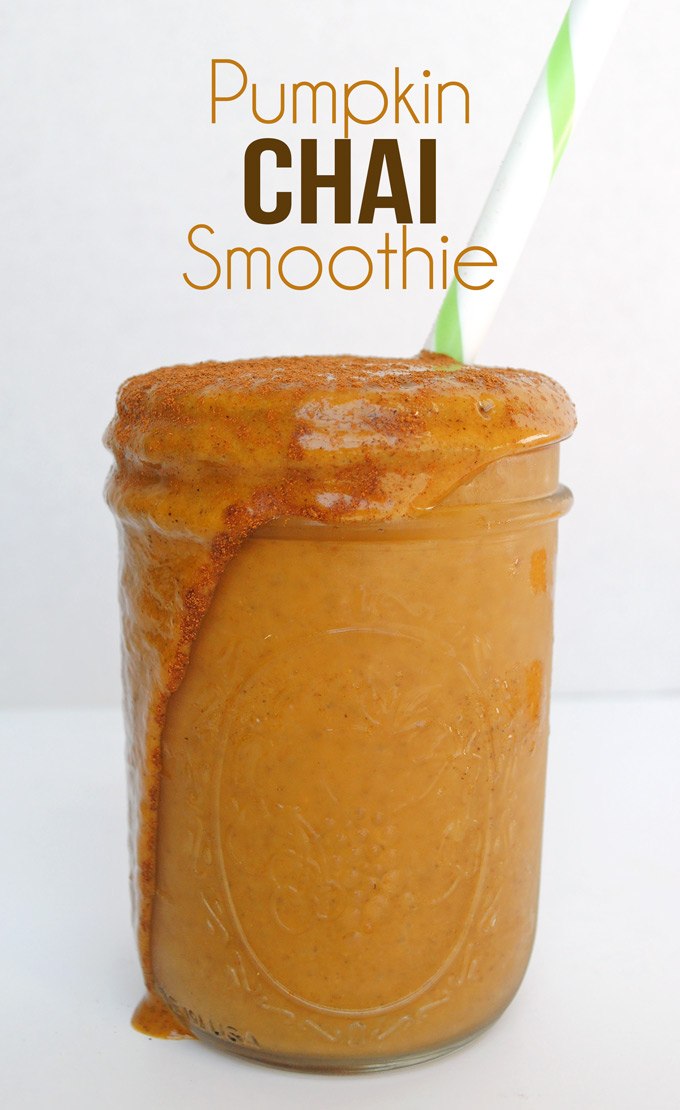 Print
How to make:
Pumpkin Chai Smoothie
This Pumpkin Chai Smoothie is sweet with a hint of chai spice and great for a snack or healthy dessert! It's filled with all the warm fall flavors.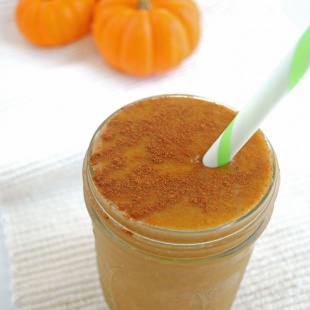 Yield:
1

large or

2

small smoothies

1

x
Ingredients
2

bananas, frozen

1 cup

unsweetened almond milk, or other non-dairy milk

3/4 cup

pumpkin puree (not pumpkin pie filling)

1 tablespoon

maple syrup

1 teaspoon

ground cinnamon

1/2 teaspoon

ground ginger

1/2 teaspoon

nutmeg

1/4 teaspoon

allspice

1/4 teaspoon

ground cloves
Instructions
In a blender, place all ingredients. Blend until smooth.
Adjust spices and sweetener as needed. I usually add a dash more of each spice.