This is a sponsored conversation written by me on behalf of Silk. The opinions and text are all mine.
Start your semester with clear goals and a plan to balance school, work & your social life! I'm giving you my top 8 tips after learning about (and sometimes failing at) this balancing act during 4+ years of college while working. Plus, a coupon for Silk Almondmilk Yogurt Alternative!
No matter how long you've been in college, you know that there are many responsibilities to juggle. Being a full-time student is a job in itself, but most students I know (including myself) also work on the side. You also have friends and a social life. Plus all the adulting stuff like doing laundry, cooking, getting an oil change… it's a lot to handle!
"How do you balance your blog with school?" is one of the top questions I get, and I never know what to say. Because honestly, after 3 years of juggling the two, I still don't have it perfectly figured out—and that's okay. It's hard. I'm excited to partner with Silk as part of their #ProgressIsPerfection campaign to share some helpful tips I've learned along the way. Your time management probably will never be perfect, but I hope you can implement these tips to get better at it over time!
---
School comes first.
My mom always reminds me that my first job is being a student. Sure, it's nice to have some extra cash from a side job, but the reason you're in college is to get a degree. I always look at the big picture of graduating and getting a job with a decent salary—that day will come, so don't stress out trying to work so much right now. Focus on studying and your homework first; work is extra. (Of course I have privilege in saying that because I didn't have many expenses in college. I empathize with those who are responsible for paying their whole way through college.)
Block out time for commitments in a weekly schedule.
Time-blocking has made a huge difference in my overall productivity and organization. I create this time-blocked schedule at the beginning of the semester based on my class times, study hours, and work hours. You may need to tweak it at the beginning of a certain week if your schedule is different, but this way of scheduling gives me a clear idea of when I will study and when I will work. Bonus if you have a scheduled location for certain scheduled times! (i.e. study hours at the library)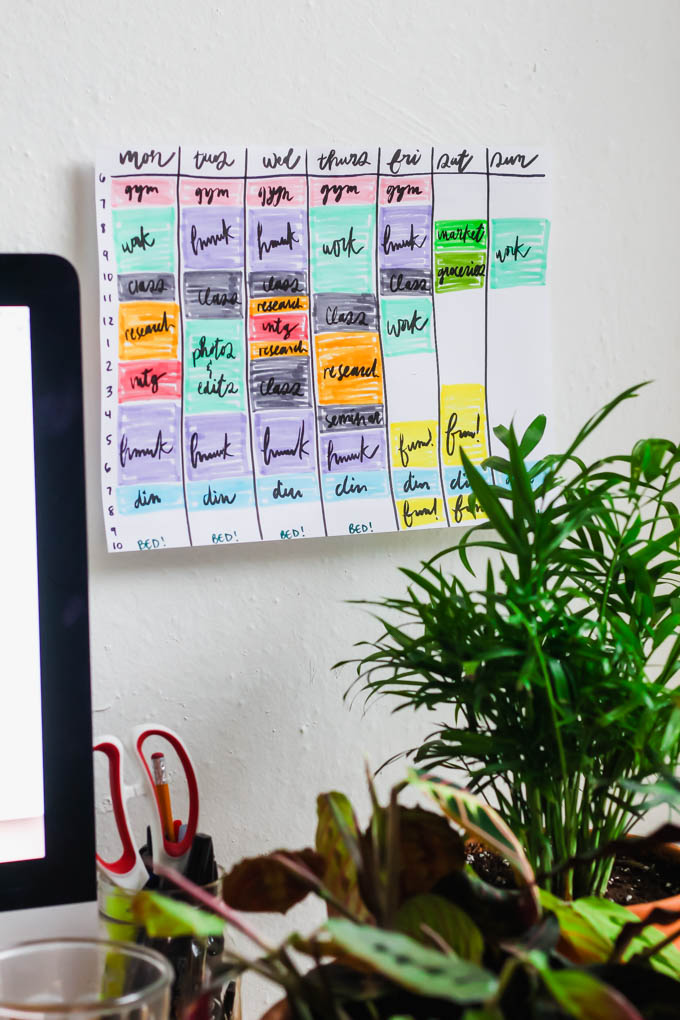 Fuel up with an afternoon snack.
Days filled with classes and work can be long and exhausting, so I always make sure I'm feeding myself well with balanced, nutritious meals and snacks. I like to take an afternoon snack break to relax my mind a bit and keep my body fueled. One of my favorite snacks is Silk Almondmilk Yogurt Alternative—Vanilla is a classic favorite of mine, but I'm also digging the Peach flavor now in the summer.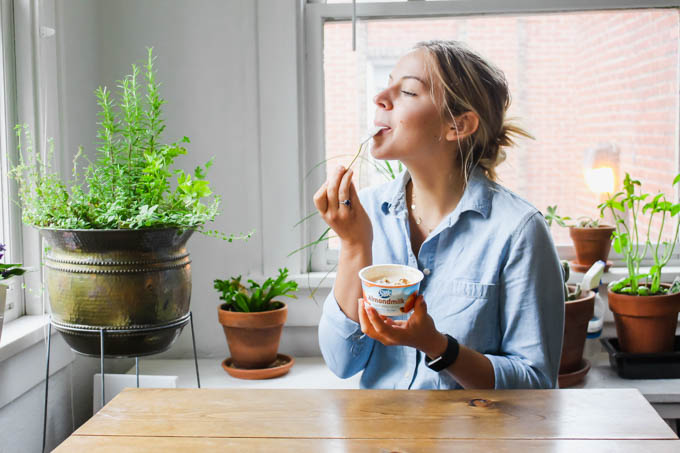 What I love about Silk Almondmilk Yogurt Alternative (you know, besides the ultra-creamy texture and delicious flavor) is that it's filled with live & active cultures. You know I love healthy bacteria—they keep my gut happy. 😊 One serving of the Silk Almondmilk Yogurt Alternative also has 5 grams of plant-powered protein; top it with some nuts, and you've got a balanced snack of carbs, fat & protein that will power you through the rest of the day!
Here's something exciting for you: click here to get a coupon so you can try Silk Almondmilk Yogurt Alternative for yourself!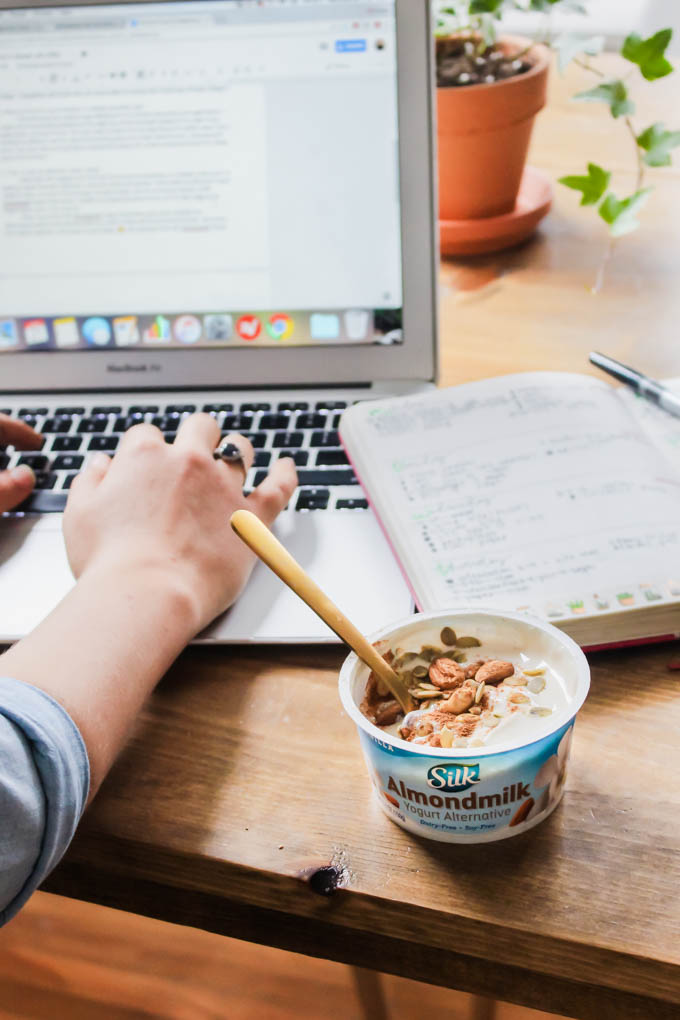 Literally schedule in time for relaxing and fun activities.
Focusing on school and working to pay your bills are important, but staying sane and having fun are just as important! Maybe that means keeping Saturday completely clear (if possible) to allow for spontaneous activities with friends, to relax or to just do whatever you want. I like to schedule an hour of free time at the end of each weekday to enjoy my dinner and catch up on TV. I usually keep Saturday afternoons/nights clear on my time-blocked schedule to allow for super fun friend time. 👯
Make a to-do list the night before (but don't go overboard).
I have used the bullet journal method since January—finally a planning/organizing method I've been able to stick with. You can find lots of resources for bullet journaling by searching on Google or Pinterest! Even if you're not bullet journaling, it would be helpful to sit down every night and make a realistic to-do list for the next day. You can also make a general to-do list for the week. Key word is realistic—don't overwhelm yourself!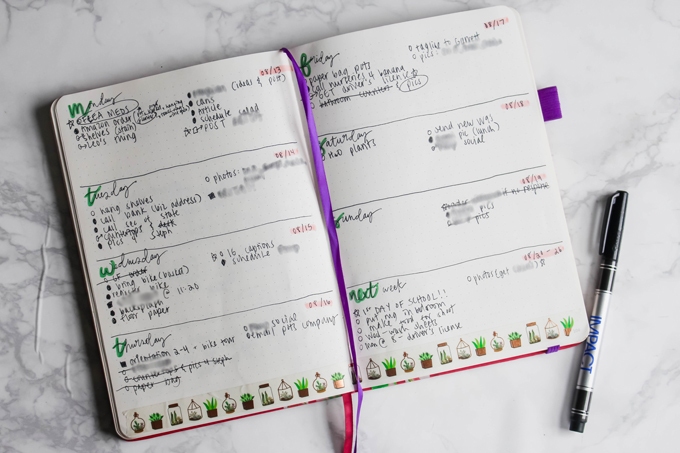 Do school assignments right after you go to that particular class.
If possible, time-block study hours right after your classes. That way you can absorb the information in class once, then study again a second time right after so it will really stick in your mind. I like to make a written study guide, but you can also make notecards, read the textbook, etc. If you take this time to make your study materials, you'll already have everything you need to study for the exam! Without procrastination, you'll have more time to work, hang out with friends and relax.
Say yes to spontaneous social activities (sometimes).
Back to staying sane. As important as I think it is to stick with your schedule most of the time and get your homework/work done in a timely manner, sometimes you just have to say yes to a weekday dinner with friends, a concert or a walk around the neighborhood. Your research paper or notecards will be there when you get back, I promise. Again, look at the bigger picture: you will graduate. Relax a little.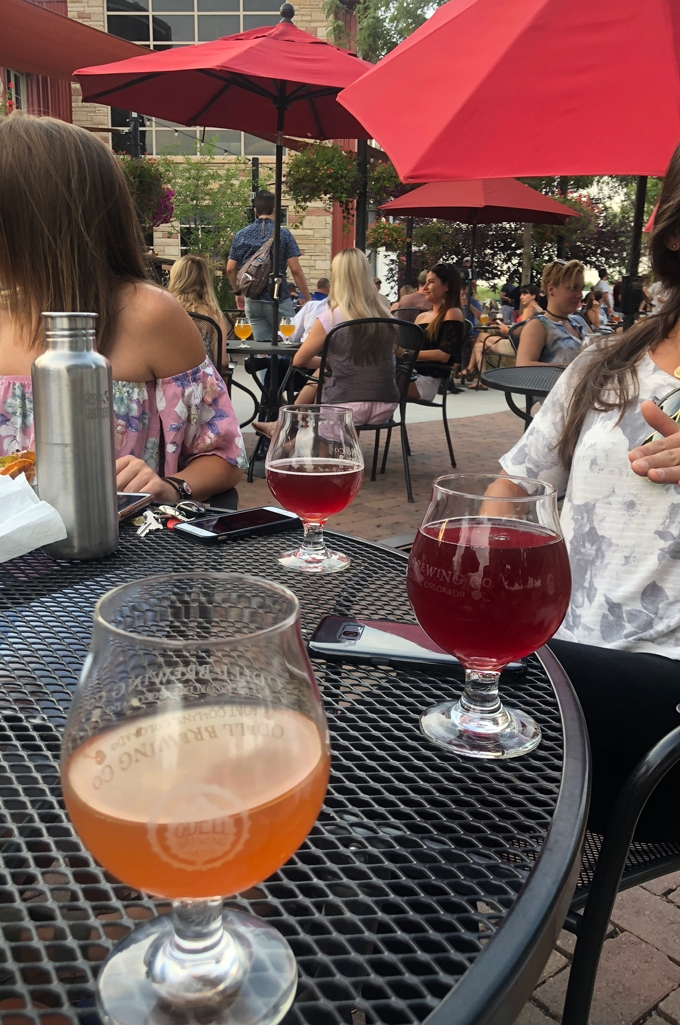 Ask for help.
It is so, so important to reach out if you feel like you're struggling. College can be really tough and stressful; there are so many resources to help you figure out how you can improve. Reach out to your TA or other study groups at your school if you're having trouble in class. Go to your professor's office hours (trust me, they want you to). Ask your boss for different or less hours if you're feeling overwhelmed. Visit your school's health center if you're feeling mentally unwell and want to see a therapist (I did that, and it was great). Call your mom if you just need an encouraging word of wisdom.
---
Thanks to Silk for sponsoring this post! I love working with brands whose products I really love and would honestly recommend. Thank you for supporting this blog that I love oh-so-much!
Comments submitted may be displayed on other websites owned by the sponsoring brand.