Thanks to Quaker for sponsoring this post!
If you read my blog often, you should know by now that I am a huge fan of whole grains! I enjoy them in anything and everything from Buddha bowls to oatmeal to brownies (yes, even dessert).
But if you're new to wholesome eating, you may be thinking:
"What is a whole grain?"
"Why should I include whole grains in my diet?"
"How do I make them taste good?"
Friends, no fear! I'm here today in partnership with Quaker to get real with you about whole grains, why they're so awesome, and how to start eating them ASAP.
Time to get nerdy!
A whole grain includes three parts: the bran, the germ, and the endosperm. Each part contains different nutrients and vitamins, including fiber, iron, phytochemicals, healthy fats, and protein.
BRAN. The outer layer has the fiber, B vitamins and more.
ENDOSPERM. The largest part of the grain which contains starchy carbohydrates and protein.
GERM. The core of the seed that contains fats and other vitamins & minerals.
The current Dietary Guidelines for Americans recommend that make at least half of our grain servings whole grains. For a 19-30 year old woman, that's 3 to 6 servings a day!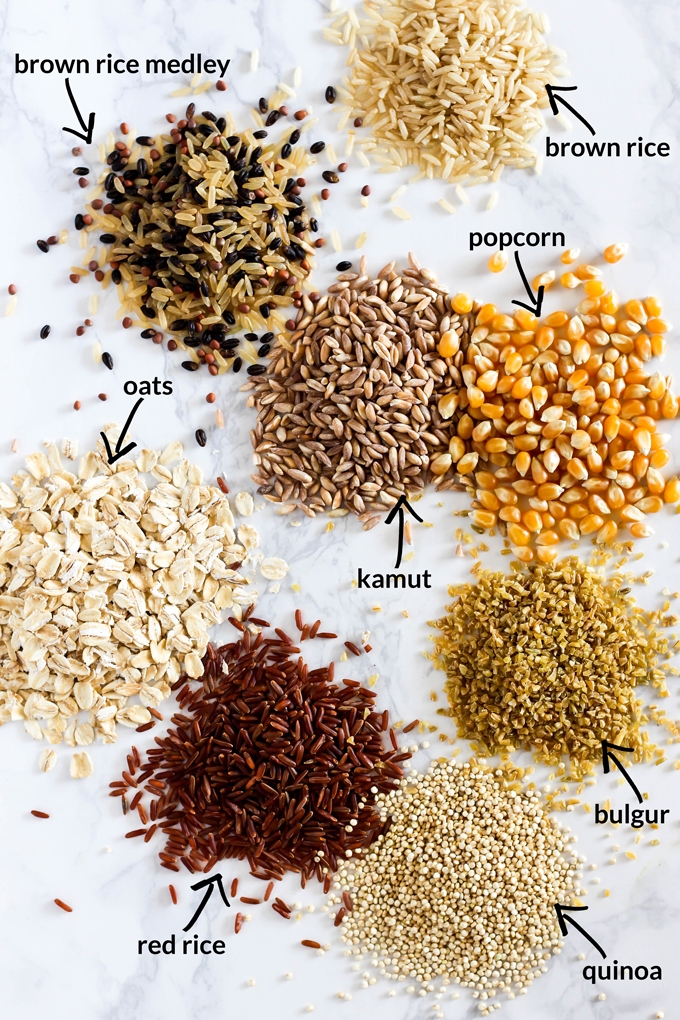 If half or more of our grains are supposed to be whole, what are the other grains? Un-whole? (Yep, I totally just made up that word.)
Actually, we usually call these refined grains. During refining, the bran (think: fiber) and the endosperm (think: protein) are removed, as well as over a dozen nutrients. Food manufacturers can also produce enriched grains, which means that vitamins and minerals are added back to the refined grains after processing.
Though these enriched grains can be a source of nutrients, according to the Whole Grain Council, research shows time and time again that whole grains, when part of a healthy diet, have the potential to reduce your risk of:
Type 2 diabetes
Heart disease
Stroke
Now that we're all whole grain experts🏆 and ready to incorporate more whole grains into our lives, let's talk about how to make them TASTY!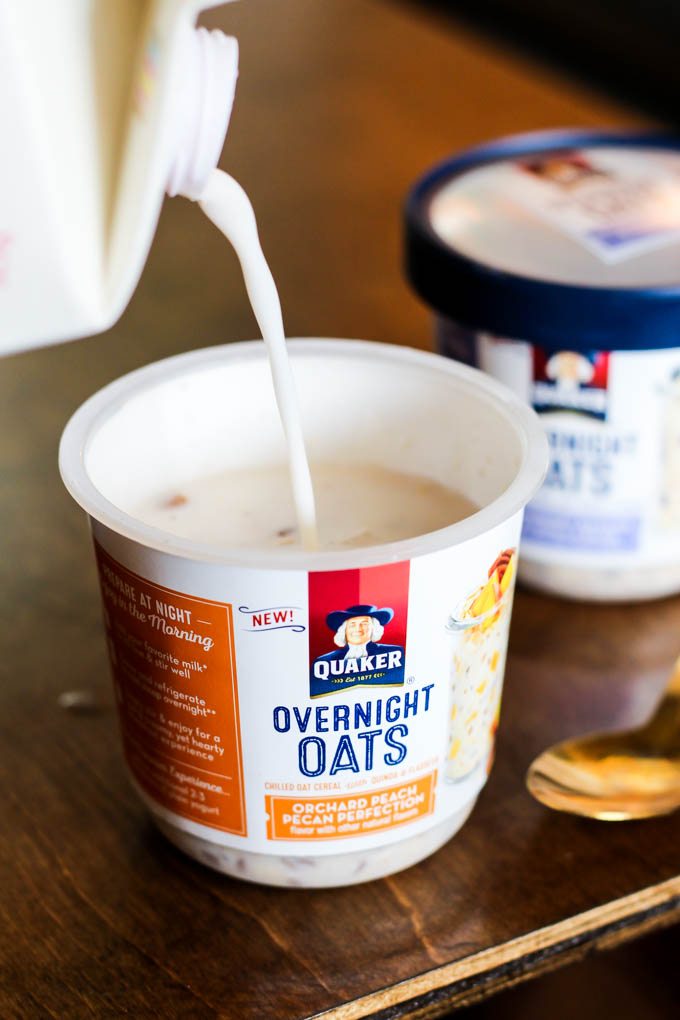 You have sooooo many options for whole grains, including but definitely not limited to: oats, rice, quinoa, buckwheat, farro, barley, wheat, and freekeh.
My personal favorites? Oats, quinoa, farro, and rice. You can incorporate them into pretty much every meal. Oatmeal! Bean and vegetable bowls! Veggie burgers!
One of the best ways, in my opinion, to start your day whole grain STRONG💪🏼 is with a bowl of oats! But I know that many of us are strapped for time in the morning and don't have time to wait for oatmeal to cook on the stove.
I love making Quaker's new Overnight Oats at night so I don't even have to think about making breakfast in the morning; just add your choice of milk to the single-serve container, let it cold-steep overnight in the fridge, and then wake up to a nutritious and hassle-free cup of Overnight Oats! My favorite flavor right now is the Orchard Peach Pecan Perfection. 🍑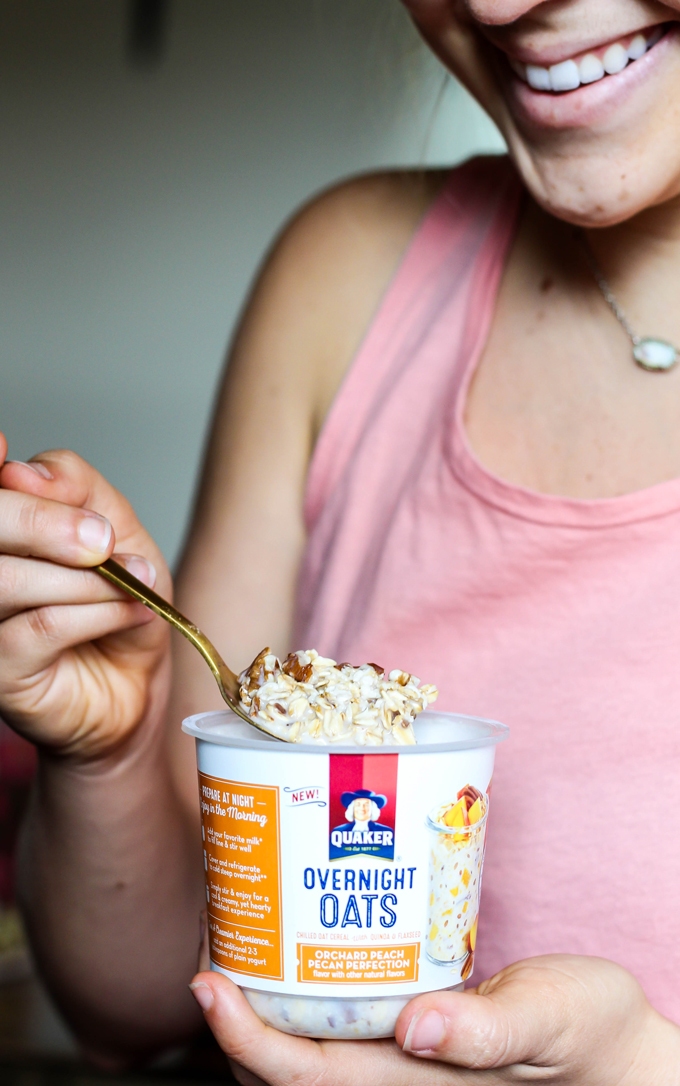 Quaker Overnight Oats contain 100% whole grain oats (& other grains), so you're getting a good dose of whole grains right when you wake up. They also contain a blend of oats, fruits, quinoa, flaxseed and nuts! I also love that they're a good source of dietary fiber (since that's a major benefit of whole grains) with 10 grams of fat per container. No artificial flavors or added colors, either!
I hope this post was helpful and taught you a thing or two about whole grains, why you should be including them in your diet, and how to make them delicious!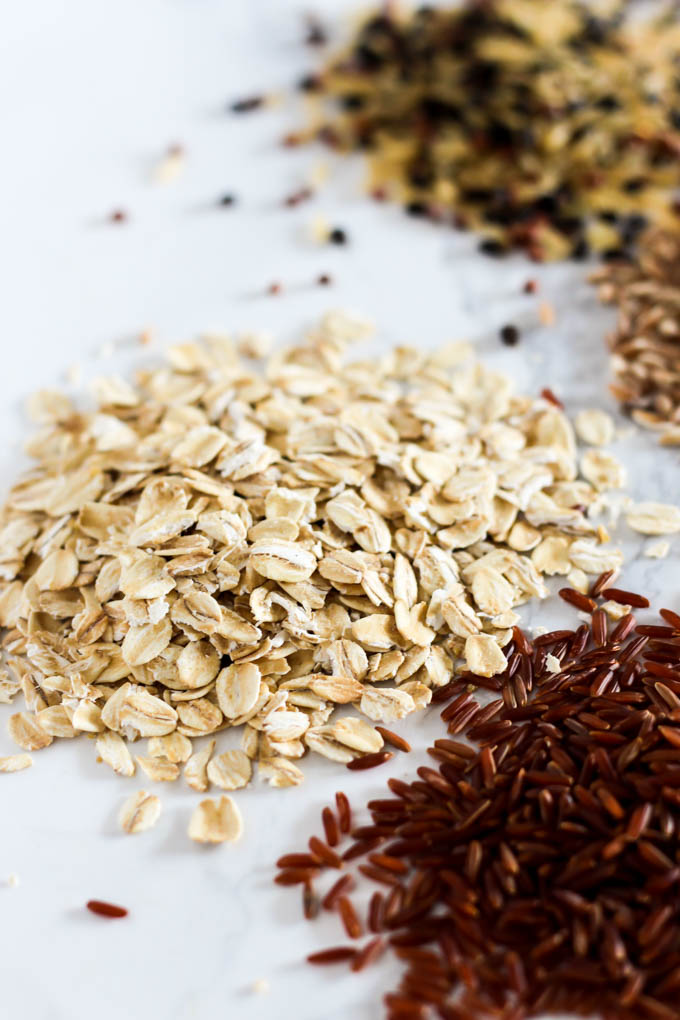 I love working with brands whose products I really love and would honestly recommend. Thank you for supporting this blog that I love oh-so-much!
---
References:
https://wholegrainscouncil.org/what-whole-grain
https://wholegrainscouncil.org/whole-grains-101/health-studies-health-benefits/what-are-health-benefits
https://wholegrainscouncil.org/whole-grains-101/how-much-enough/us-dietary-guidelines-and-wg