This Vegan Waffle Breakfast Sandwich is the ultimate brunch recipe to please everyone! It's loaded with hash browns, vegan bacon & dairy-free cheese. (gluten-free) Made in partnership with my friends at Dr. Praeger's! 💛
Feast your eyes, friends. This is the ULTIMATE vegan breakfast sandwich! 
You should know by now that I'm a savory > sweet girl. Yeah, yeah, I know what you're thinking… but banana bread! and cookies! and chocolate! and ice cream! I love all those things (especially you, banana bread), but most of the time I'm like, give me a good savory meal please!
Cayden (my boyfriend, for all you new readers!) eats oatmeal and a smoothie every single day for breakfast. The other day he asked me to make something new for breakfast because he was kind of getting sick of oatmeal… and he didn't want to get to that point, because we love oatmeal!
That request + my love for savory foods = this vegan waffle breakfast sandwich recipe was BORN.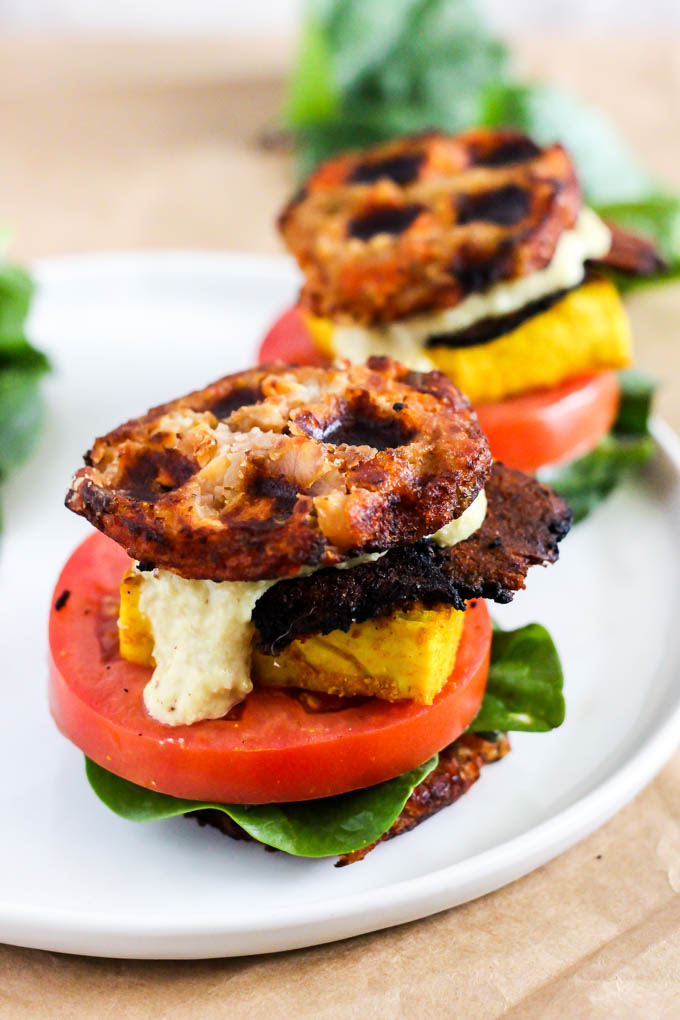 Needless to say, this was a hit with him. And anything that's a hit with Cayden is worthy of a spot on the blog! Thank goodness for a recipe tester I don't have to pay… he accepts free food as compensation, hehe.
Here's the deets on this fine stack of sandwich goodness: tofu "egg" patty, fresh veggies, vegan bacon and dairy-free cheese, all sandwiched between two crispy Dr. Praeger's Root Veggie Hash Browns! I mean, why not get in MORE vegetables?
I love these hash browns as an easy side for breakfast or dinner (and they're totally kid-friendly!), but I decided to step it up a notch and make them into mini hash brown waffles. Genius? Maybe.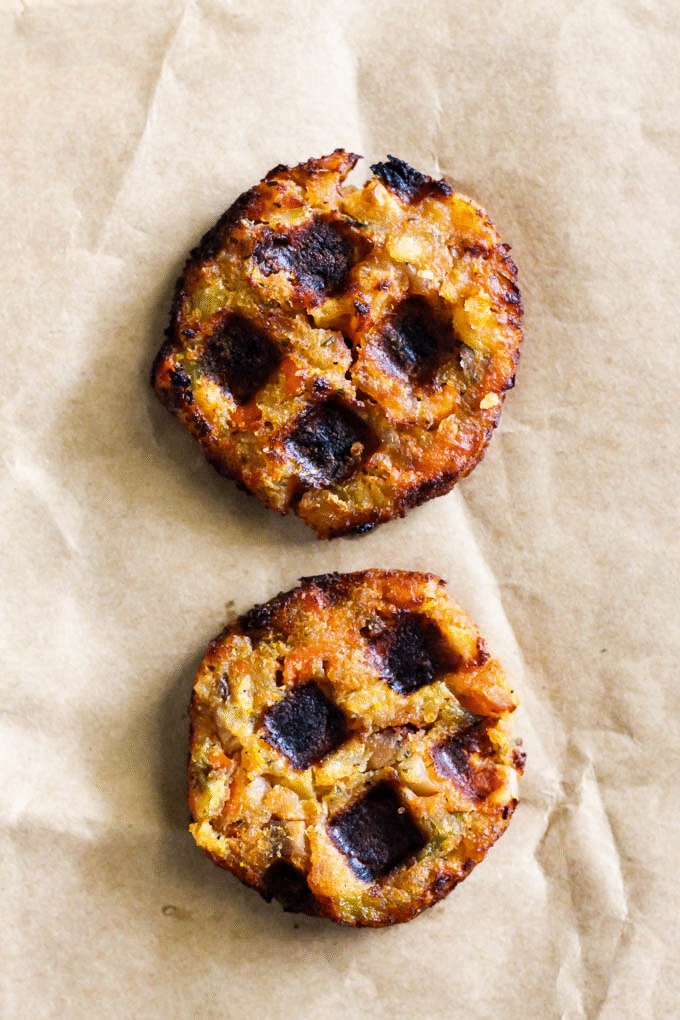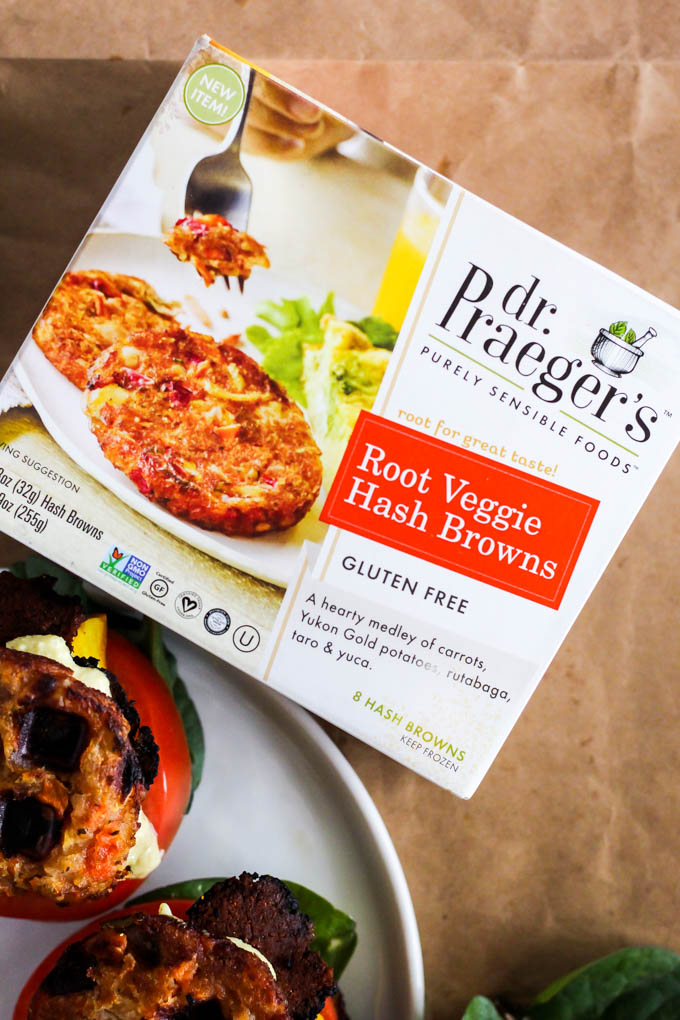 A couple notes about this recipe:
I found that broiling the hash browns after removing them from the waffle iron was essential to make sure they are sturdy for all the sandwich toppings.

You can buy vegan bacon at the store, but you can also make your own

tempeh bacon

or even

eggplant bacon

!
I used

cashew cheese

for this recipe, but you can also buy vegan sliced cheese at the store.
Would you serve this for brunch? I promise the whole family will LOVE it!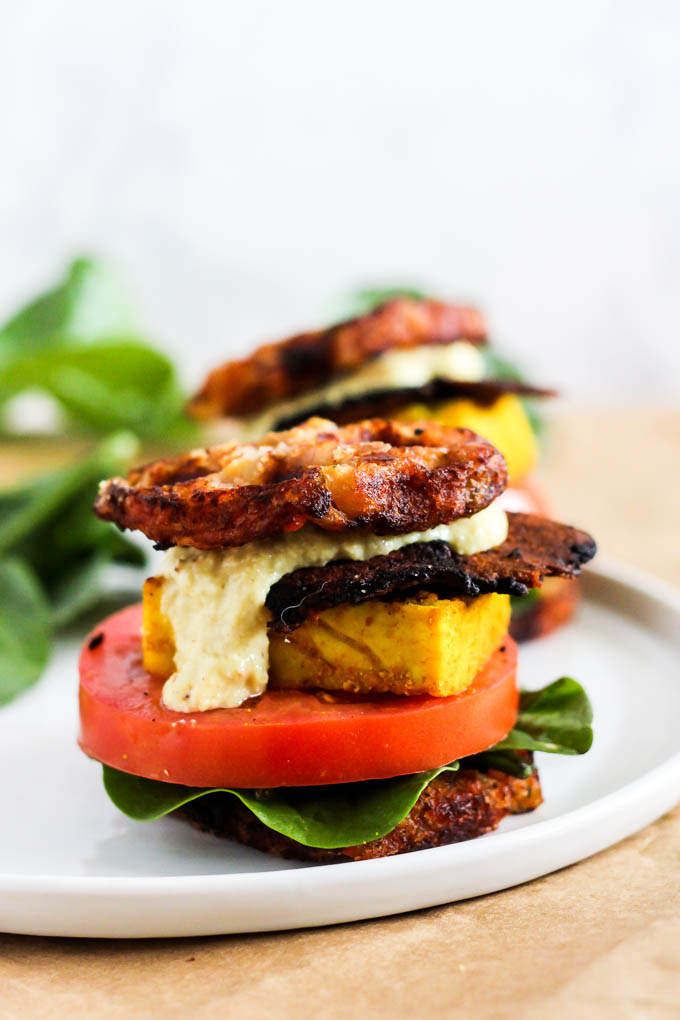 Print
How to make:
Vegan Waffle Breakfast Sandwich
This Vegan Waffle Breakfast Sandwich is the ultimate brunch recipe to please everyone! It's loaded with hash browns, vegan bacon & dairy-free cheese. (gluten-free)
Ingredients
1/2

14-ounce package extra-firm tofu

1 teaspoon

ground turmeric

1/2 teaspoon

garlic powder

1/2 teaspoon

onion powder

1/2 teaspoon

black salt or regular salt*

1/4 teaspoon

black pepper

8

Dr. Praeger's Root Veggie Hash Browns, thawed from frozen

4

slices vegan bacon**

1 cup

spinach

1

small tomato, sliced

1/4 cup

vegan cashew cheese, or

4

slices vegan cheese***
Instructions
Drain the tofu. Use a tofu press to let press out the water for 15-20 minutes. You can also wrap it in several paper towels and place in the sink; place a heavy object (such as a large pot with a heavy weight inside) on top of the tofu to press the water out.
Cut tofu into four even pieces. In a bowl, add 1/4 cup water, turmeric, garlic powder, onion powder, salt and pepper; stir to combine. Add tofu to bowl and coat with the mixture.
In a skillet over medium heat, grease with cooking spray. Add tofu; cook 5-7 minutes on each side, until crispy.
Lightly grease a waffle iron. Add as many hash browns to the iron as possible and carefully close the iron. Cook for 4-5 minutes, until crispy on the outside. Repeat until all hash browns are cooked.
Place hash browns on a baking sheet; place under the broiler on low for 5-7 minutes, until crispy and firm.
Cook vegan bacon according to package directions. Cut each piece in half.
To assemble each waffle sandwiches, place two hash browns on a plate. Add spinach, a tomato slice, a cube of tofu, two halves of vegan bacon, and a tablespoon (or a slice) of vegan cheese.
Notes
*Using black salt is optional but recommended if you can find it. The black salt gives the tofu an "eggy" flavor!
**There are many options for vegan bacon on the market, but you can also make it at home using tempeh or even eggplant.
***Again, there are many vegan cheeses on the market, but you can make your own cashew cheese at home; I have several recipes on this site!
Thanks to Dr. Praeger's for sponsoring this post! I love working with brands whose products I really love and would honestly recommend. Thank you for supporting this blog that I love oh-so-much!