Creamy, hearty, savory…this Cool Cucumber Avocado Sandwich with Tofu Cream Cheese has it all! It's an easy, tasty lunch to pack for kids or adults. Vegan! Made in partnership with Silver Hills Bakery, who makes the most delicious sprouted bread products! 
There have been a lot of sandwich action around here lately, and I'm totally not mad about it at all! It's just what I'm craving right now – two toasty slices of bread stuffed with whatever goodness I'm feeling that day. Here's a quick recap of some sandwiches that made their debut on Emilie Eats recently:
Vegan Buffalo Chickpea Salad Sandwich (a personal fave👏🏼)
Mini Mexican Vegan Sloppy Joes
Asian Veggie Burgers with Mango Cabbage Slaw
Round-up! 10 Vegan Sandwiches to Pack for Work or School
Are you getting sandwich fever too?? I don't see this obsession stopping any time soon.
One of the reasons I love sandwiches so much (besides being extra delicious and satisfying) is that they take approximately 48 seconds to whip up if you have all the ingredients on hand. Easy lunch packing –> saving time –> I get to hit snooze on my alarm just one more time. #adulting
As you saw above, I like to have options when it comes to sandwiches. Gotta keep it interesting and switch it up! What I fill my sandwiches with just depends on what I have/what I'm craving/what looks good for Instagram. 😉 Luckily, this Cucumber Avocado Sandwich hits all three points: I had all the ingredients, it sounded reeeeeally good, and everyone on IG loves avo. 🥑
It doesn't get easier – bread, tofu cream cheese, spinach, cucumber, avocado. DONE.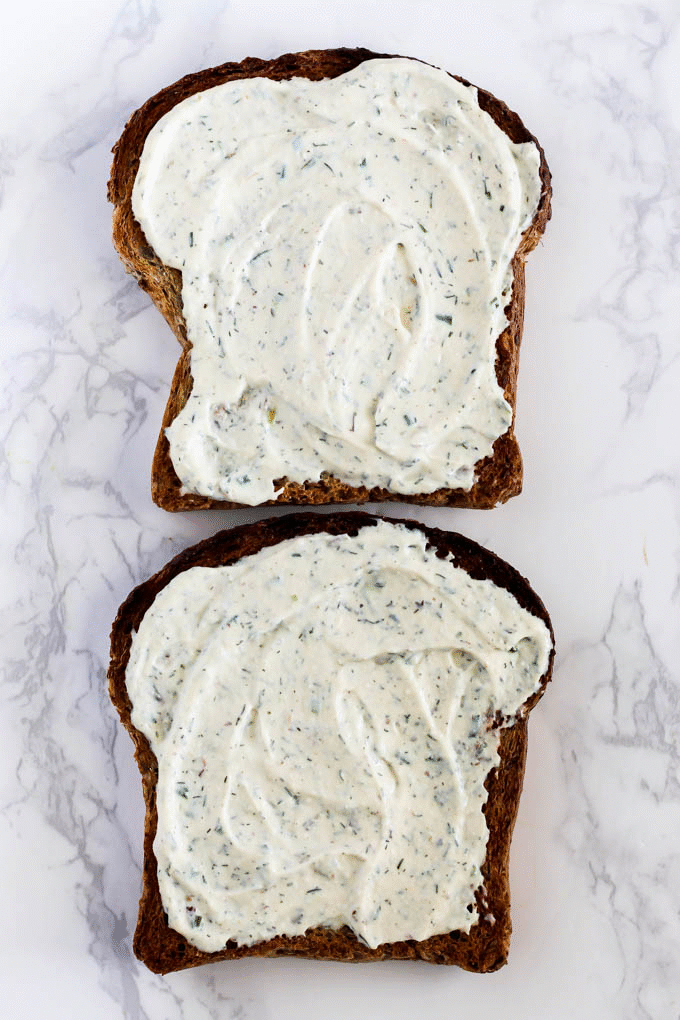 The tofu cream cheese is probably one of my favorite spreads I've ever made. I never liked cream cheese, but I could swim in this non-dairy version. The recipe is pretty straightforward, but it's important to 1. drain your tofu, and 2. soak your cashews! After that, easy peasy.
I can't wait to make more versions of this cream cheese, both savory and sweet. OMG non-dairy cream cheese French toast…I dream.
For this sandwich, I used bread from one of my favorite brands – Silver Hills Bakery! They make amazing sprouted whole grain bread products, from bread loafs to bagels to buns. Why sprouted, you may be asking? It makes it easier for our bodies to absorb all the awesome nutrients locked into the grains, while retaining all the fiber. You KNOW I'm all about that fiber. ✊🏼
Silver Hills has a wide variety of different whole grain breads, from rye to hemp to seed-packed, so I like to try a new loaf every time I visit the store. (I love the little bread match quiz on their website!) This time I picked up the Mack's Flax loaf, which is studded with whole and ground flax seeds for a boost of omega-3s!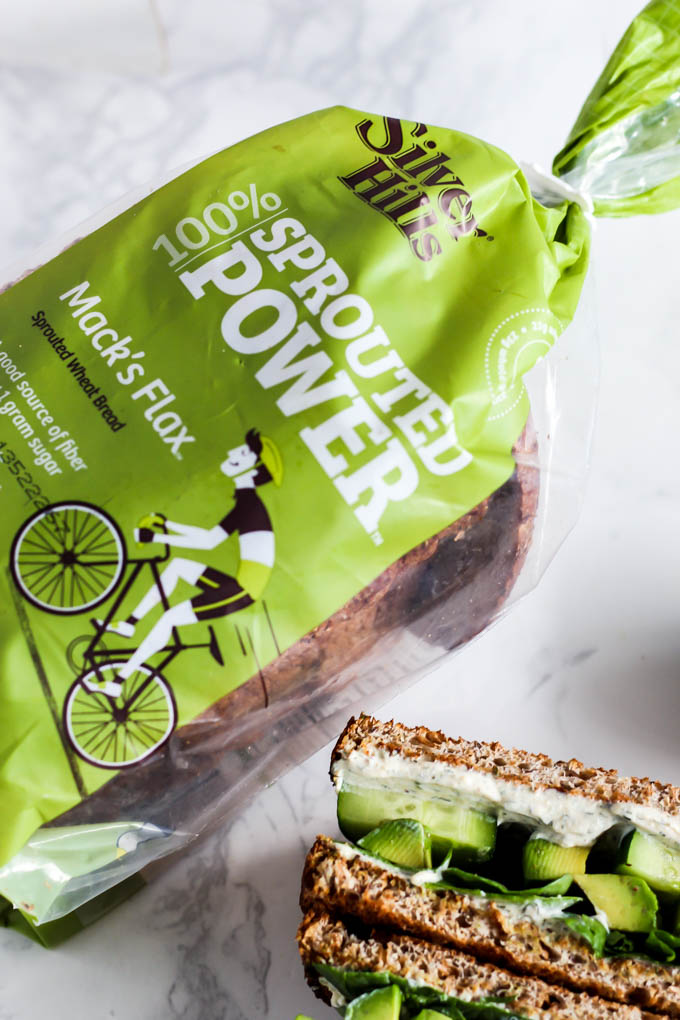 If this cuucmber, tofu cream cheese, and avocado combo sounds as good to you as it does to me, I hope you try it and LOVE it. Pack it for lunch to go to work or school, or be extra fancy and pack it for a picnic or outdoor adventure.
What's your favorite sandwich combination right now? I'm always looking for new ideas, so feel free to share in the comments!
Be sure to check out my friends from Silver Hills Bakery – their breads are seriously amazing! I know you'll love them!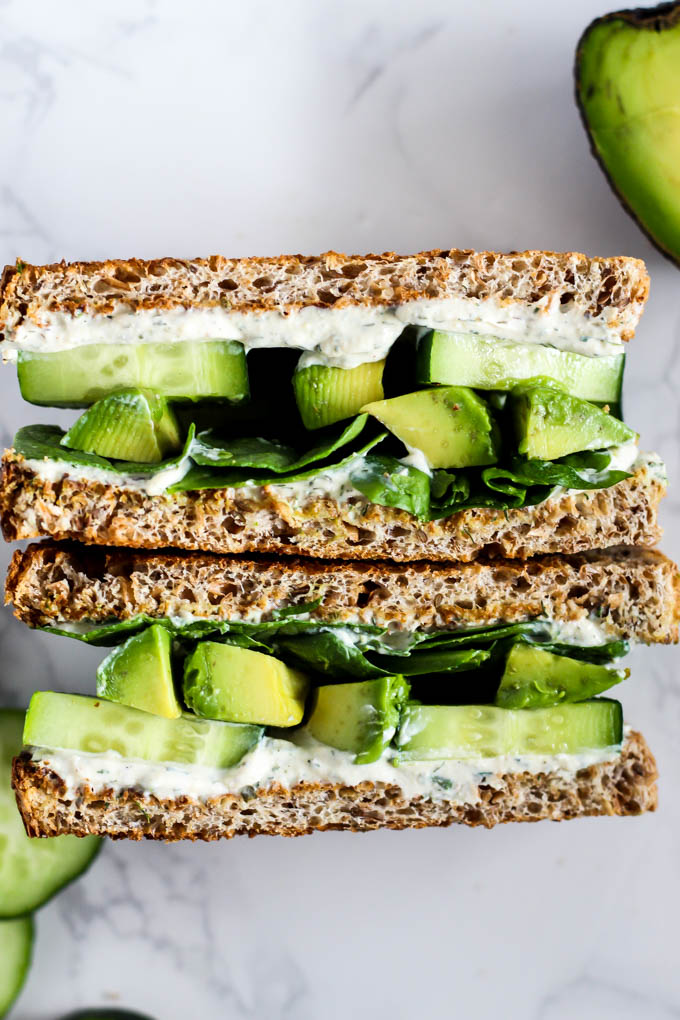 Print
How to make:
Cool Cucumber Avocado Sandwich with Tofu Cream Cheese
Creamy, hearty, savory…this Cool Cucumber Avocado Sandwich with Tofu Cream Cheese has it all! It's an easy, tasty lunch to pack for kids or adults. Vegan!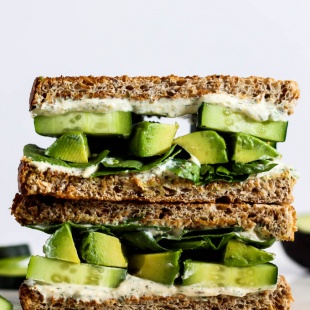 Ingredients
1

14-ounce block firm tofu, pressed for

15

minutes*

1/4 cup

cashews, soaked overnight**

5

–

6

tablespoons unsweetened non-dairy milk

1 tablespoon

lemon juice

1 teaspoon

apple cider vinegar

1 teaspoon

coconut sugar

1 teaspoon

nutritional yeast

1/2 teaspoon

salt

1

probiotic capsule, split to release powder

2 teaspoons

dried dill

1 teaspoon

dried chives

1 teaspoon

dried basil

4

slices Silver Hills Bakery Mack's Flax Bread

1 cup

baby spinach

1/2

large cucumber, or

1

small

1

medium avocado, sliced
Instructions
In a blender or food processor, add tofu, cashews, non-dairy milk, lemon juice, vinegar, sugar, nutritional yeast, salt, and probiotic powder. Blend until smooth, adding more non-dairy milk if needed for a thinner consistency.
Add dill, chives, and basil; stir to combine thoroughly.
Toast bread slices.
Top two pieces of toast with a generous amount of tofu cream cheese, then top one with half of the spinach and half of the cucumber slices; top the other one with half of the avocado slices. Form a sandwich. Repeat.
Notes
*You can use a tofu press if you have one. Or, wrap the tofu in paper towels, place in the sink, and carefully set a heavy object (like a pot) on top to press the moisture out.
**If you forget to soak the cashews overnight, boil them for 10 minutes to soften.
***You will have some tofu cream cheese left over. It lasts in the fridge for 1 to 1.5 weeks.
Thanks to Silver Hills Bakery for sponsoring this post! I love working with brands whose products I really love and would honestly recommend. Thank you for supporting this blog that I love oh-so-much!
SaveSave