Not only are these vegan Loaded Cauliflower Nachos great for a party, but they're simple enough for a weeknight meal! Don't forget the cheezy cashew queso made extra creamy with Silk Unsweetened Cashewmilk!
One of the absolute best parts about blogging is connecting with all of you from so many different places in the world. Nothing makes me happier than when a reader emails me about a recipe they made or when an Instagram follower responds to a story because they could relate to something that I said. I get to learn a little more about you (I'm nosy), and we get to have meaningful conversations that we would have otherwise never had without the Internet.
Life is all about human connection. I know that when I'm feeling sad or down, the first thing I need to do is get with people IRL.
It may seem as if all the tech we have these days separates us from that meaningful connection we need. Yes, it totally can—and in many ways it has. But I think it can also be an amazing way to connect with SO many types of people about things you have in common.
So, no, I'm not an Internet hater. (Obvs 💁🏼)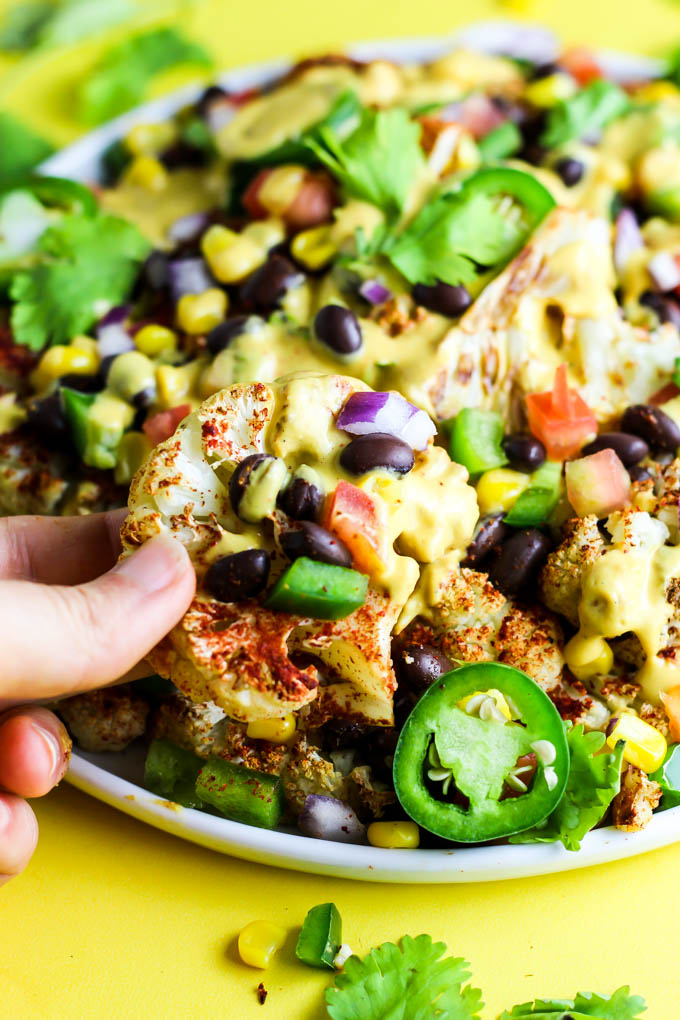 The other day I posted a rant on my Instagram stories (because Snapchat is dead, let's be honest) about people feeling like they need to "keep up" with popular bloggers and Instagrammers by spending $398,943 on every brand-name item they see in their feed. It really ticks me off.
I'm definitely going to write an in-depth post on this because it's huuuge issue—sorry I don't have $20 to spend on nut butter!—but bottom line, you don't need everything you see on Instagram to be healthy. Heck, you probably don't need most of it.
But that's not my point today. The point is that SO MANY OF YOU responded to my rant saying thank you for speaking out about it, that you were feeling the same way. It made my heart so happy.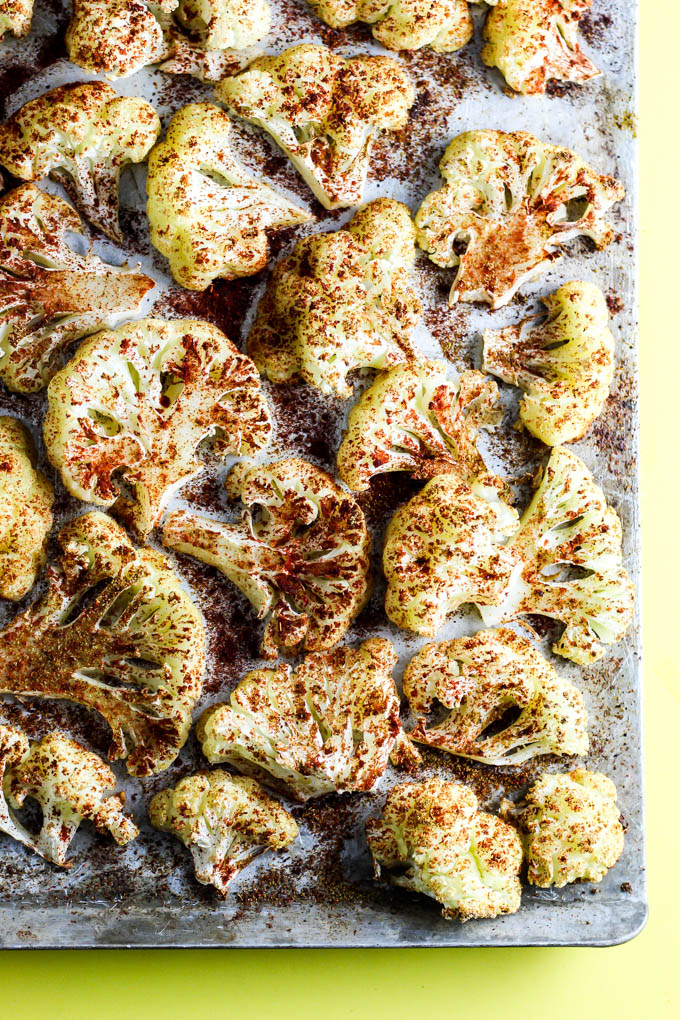 A few minutes after my rant I asked my Instagram followers (can I call them friends instead of followers?) what they would rather see on the blog this week—cauliflower nachos or some sort of breakfast recipe.
Boy, did you guys make yourselves loud and clear. I think judging by the title of this post and the pictures, you can guess which recipe won. 😉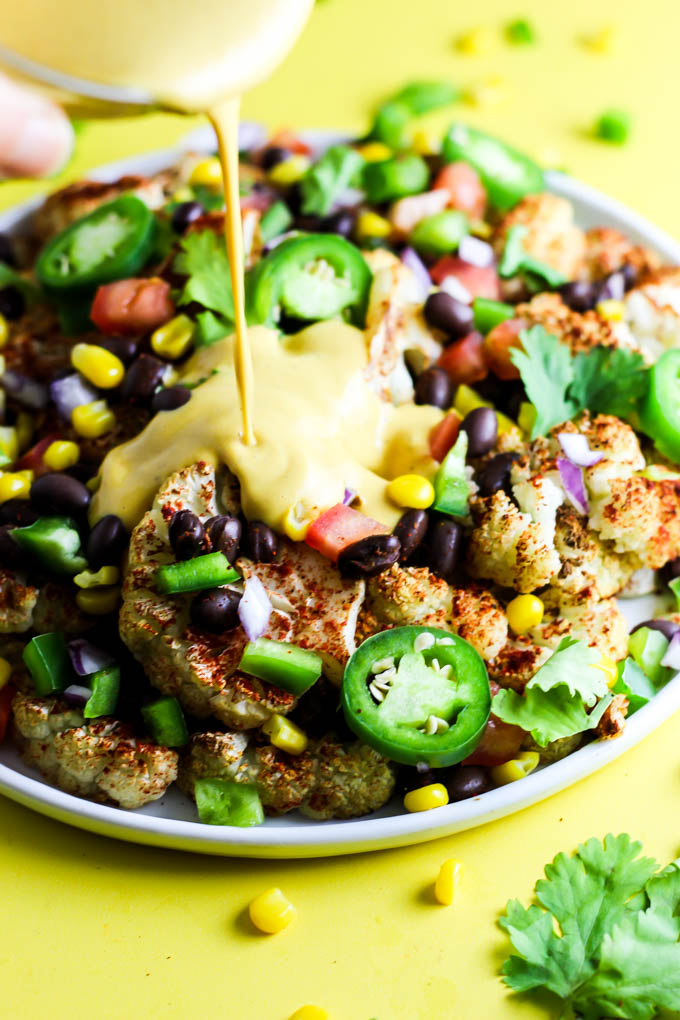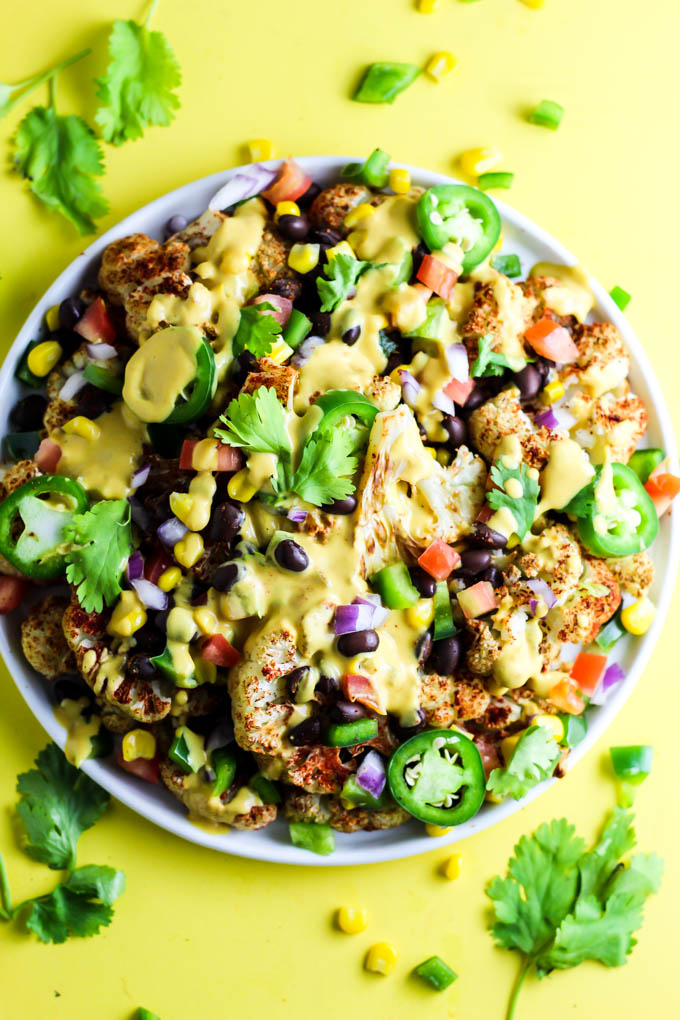 I'm so glad that so many of you responded to see these cauliflower nachos because really, this blog is for you. I have all of my recipes in my back pocket, but I share them to make your mealtime more delicious!
So here's yet another recipe that's:
quick to make under 1 hour,
satisfying,
full of vegetables,
super affordable,
bonus: *great for Cinco de Mayo*
perfect for sharing…ya know, if you're into that sort of thing.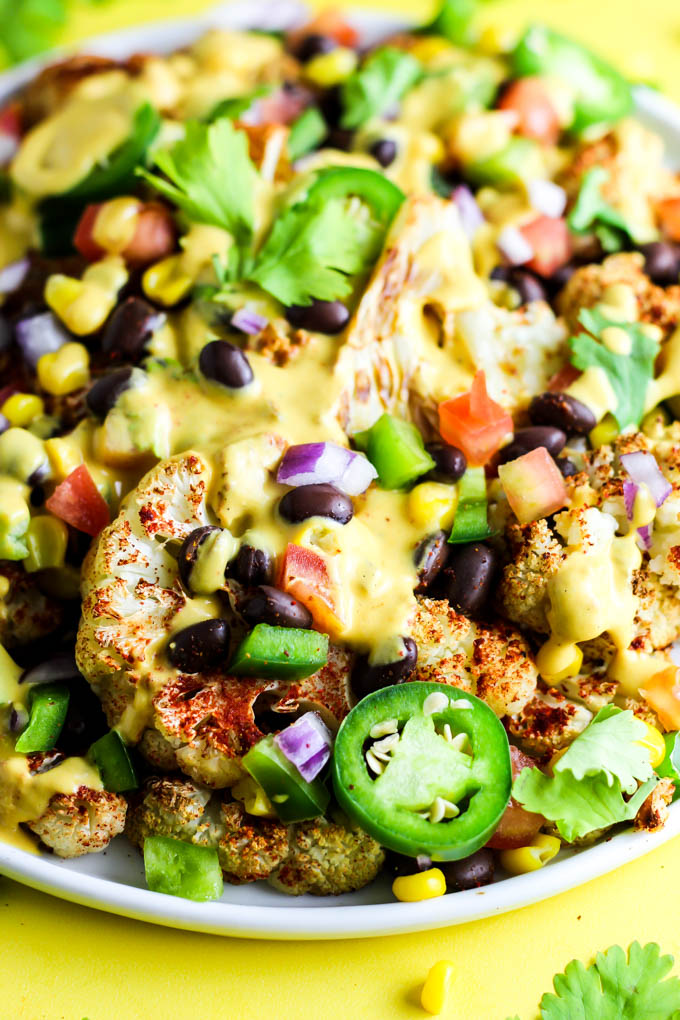 Basically roast your cauliflower, make that creamy dreamy cashew queso, and load up with all of your favorite toppings! Bada bing bada boom, forget about it. …Except don't forget about it. These cauliflower nachos are TOO good to forget to eat.
The cashew queso is probably my favorite element of this recipe—I could seriously drink it straight from the blender. Aghhhh so creamy & cheezy & queso-y?
I'm excited to partner with Silk for the next few months for their #TastesLikeBetter campaign to show you how versatile their products are! I've been buying Silk for years, and what I love about them is that their products are accessible at most grocery stores and they're affordable!
I used the Unsweetened Cashewmilk in here because it is definitely Silk's creamiest nut milk that is still neutral in flavor (unlike soymilk). I was able to snag a carton for just $3!
Plus, you can sign up for Silk's email list to get a special coupon and great content like recipes & info about new products!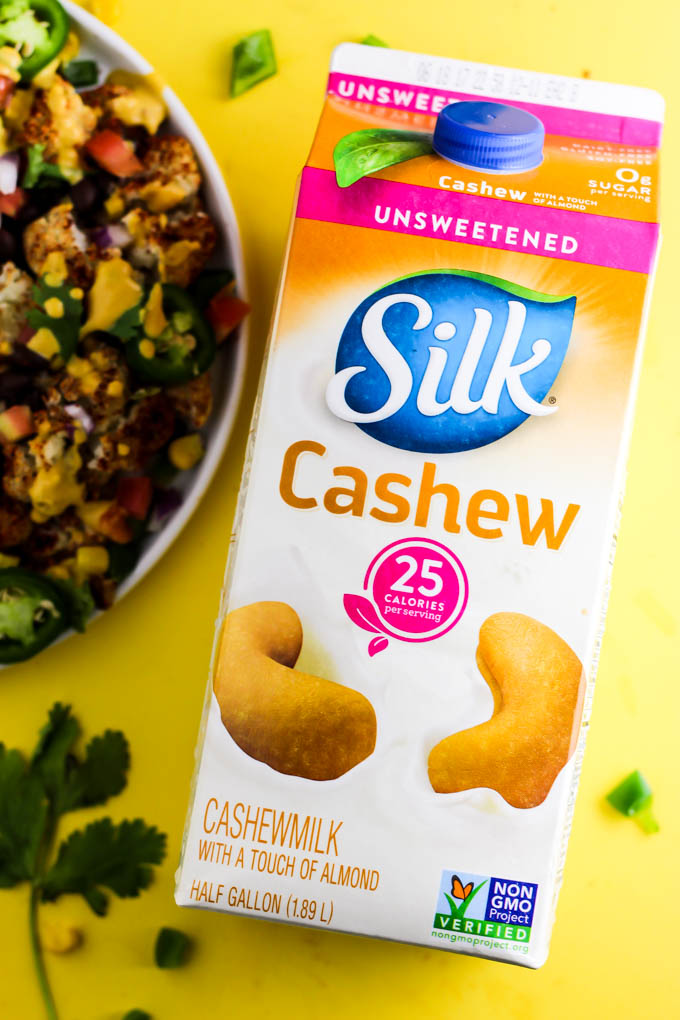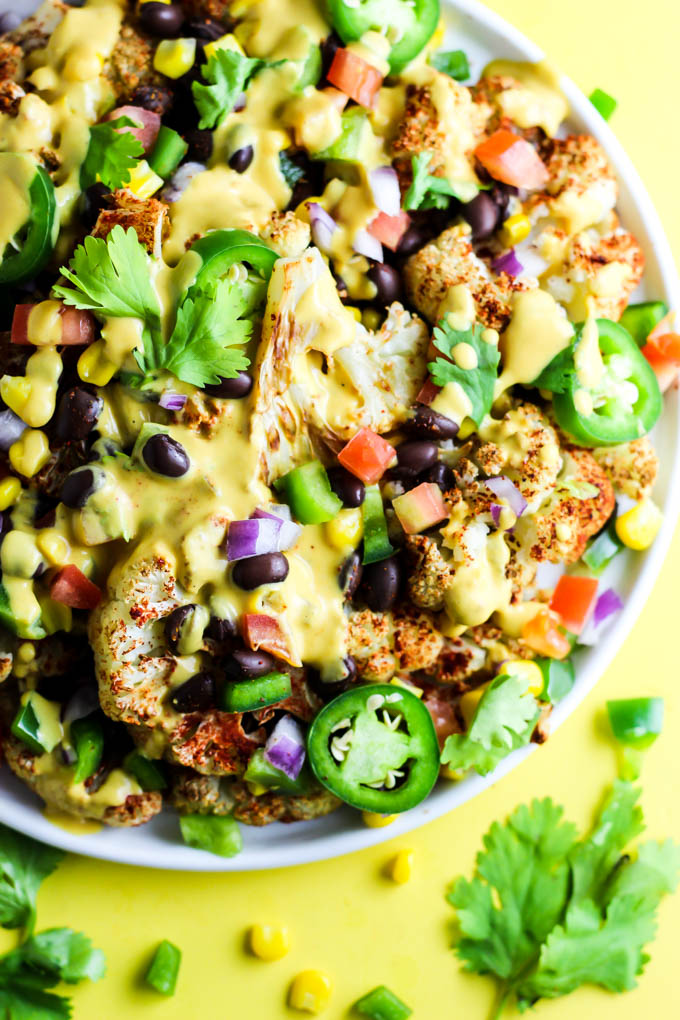 I hope you all are as excited about these cauliflower nachos now as you were on Instagram. I have a feeling you will be!
Let me know in the comments if you try these, or post a pic on Instagram & tag me. And don't forget to get your Silk coupon! Visit them on Facebook, Instagram, Pinterest, YouTube & Twitter for more plant-powered goodness. 🙂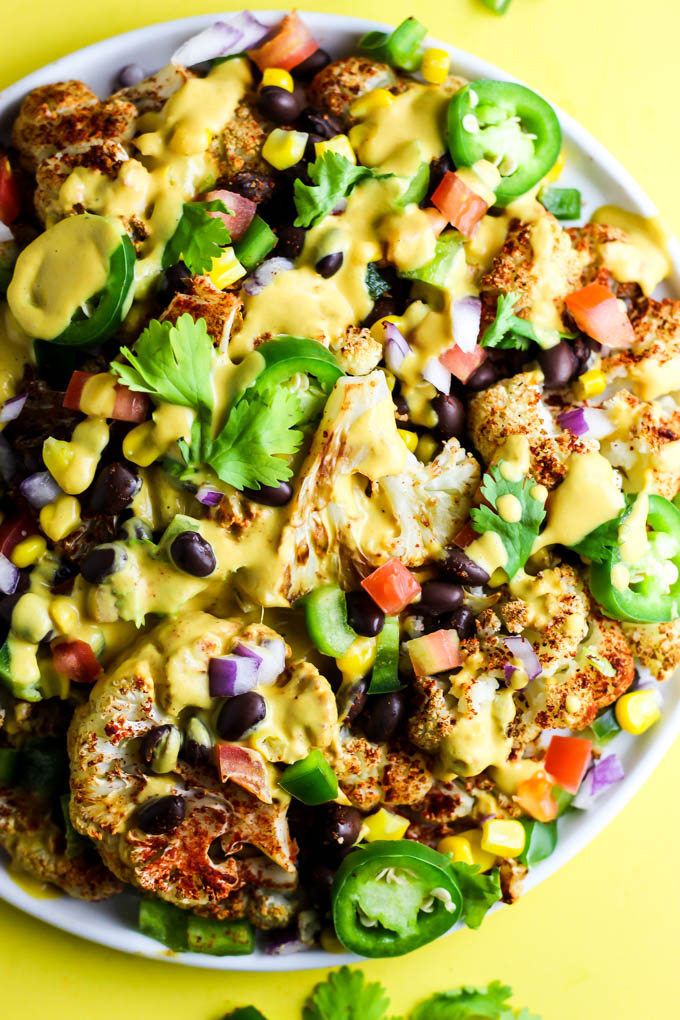 Print
How to make:
Loaded Cauliflower Nachos with Cashew Queso
Not only are these vegan Loaded Cauliflower Nachos great for a party, but they're simple enough for a weeknight meal! Don't forget the creamy cashew queso.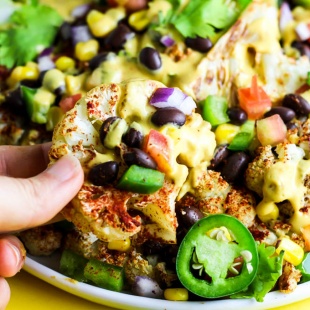 Ingredients
1

medium head cauliflower

1 teaspoon

ground cumin, divided

1/2 teaspoon

chili powder

1/2 cup

raw cashews

1/2 cup

carrots, chopped into

1/2

-inch chunks

3/4

–

1

cup Silk Unsweetened Cashewmilk

1/4 cup

nutritional yeast

2 tablespoons

salsa

1 teaspoon

miso paste (optional)

1

clove garlic

1/2 teaspoon

onion powder

1/4 teaspoon

ground turmeric

1/4 teaspoon

ground cayenne pepper
Salt & pepper, to taste

1 cup

black beans, drained and rinsed

1/4 cup

corn

1/2

bell pepper, diced

1

Roma tomato, diced

2 tablespoons

red onion, diced

1/2

jalapeño, sliced (optional)
Fresh cilantro
Instructions
Preheat oven to 400F.
Break cauliflower into florets, Slice into 1/4-inch slices. Place on a baking sheet; season with 1/2 teaspoon cumin and chili powder. Bake for 20-25 minutes.
In a small pot, add cashews and carrots; cover with water. Bring to a boil; boil for 15 minutes. Drain.
To a blender, add cashews, carrots, 3/4 cup Cashewmilk, nutritional yeast, salsa, miso (if using), garlic, onion powder, turmeric, cayenne pepper, and a touch of salt & pepper. Blend until smooth; add more Cashewmilk for a thinner sauce.
Arrange cauliflower on a plate or serving tray. Top with black beans, corn, bell pepper, tomato, red onion, and jalapeño. Drizzle with cashew queso sauce. Sprinkle with fresh cilantro.
Notes
If serving for a crowd, double or even triple the recipe.
This is a sponsored conversation written by me on behalf of Silk. The opinions and text are all mine.