This post was sponsored by Potatoes USA. Thanks for supporting my blog!
If you've been reading my blog for a while, or if you've taken a quick look at the recipes, you'll notice that I love carbs. Fruit, rice, potatoes, bread…I'm a carb girl for life and I have no shame.
So, why have we been told our whole lives that carbs are bad, when in fact some of the healthiest foods on the planet like fruit, beans, and grains are full of carbs?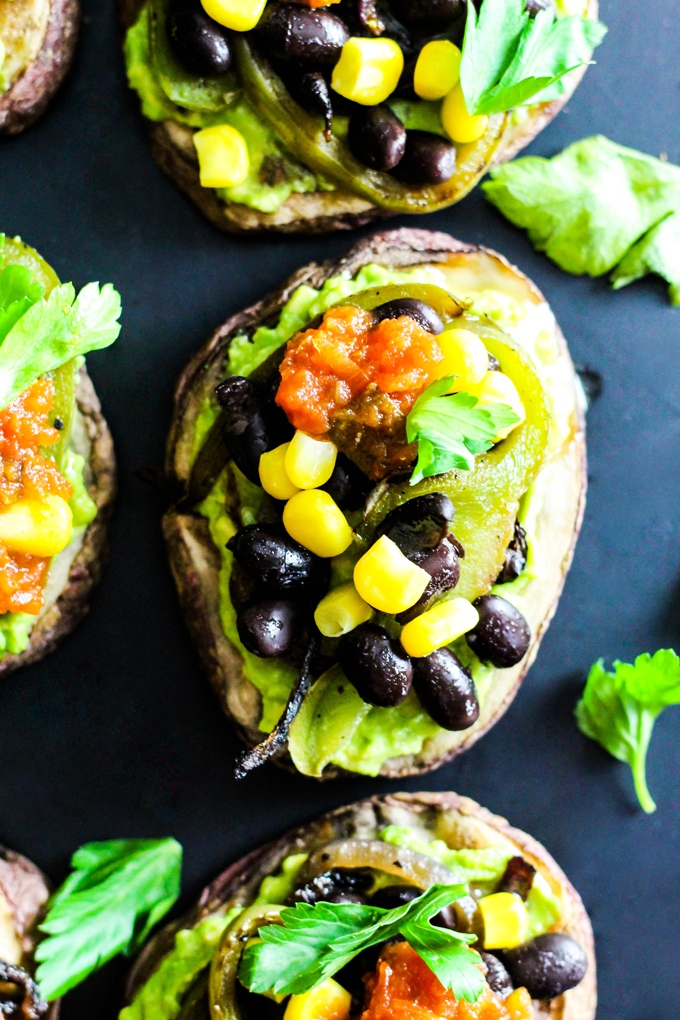 One of the worst messages that the current diet culture has told us (among many other terrible messages) is that carbs are bad. In high school, I was made to believe that carbs were basically the devil, and you should obsessively count how many you ate in a day.
Ugh.
That couldn't be further from reality. Don't get me wrong, fat and protein are extremely important macronutrients. But you also need carbs. It's the primary fuel for your brain, and your muscles love 'em!
We've been taught to eat zero carbs, but that only leaves us hungry, tired, unsatisfied, and deep into a binge of sugary foods because our bodies think we're in starvation mode.
Many people are scared of carbs when they start eating plant-based. If you stick with that, you'll pretty much be eating lettuce all day since most plant-based foods contain carbs. Natural, whole foods that grow straight from the Earth like apples, bananas, quinoa, chickpeas, and potatoes.
Carbs for the win!
So, now that we've established that you need fat, protein, AND carbs in your diet, let's talk about potatoes! Aka one of my favorite carbs in the entire world.
Did you know potatoes have more potassium than a banana? You learn something new every day! The 2015 Dietary Guidelines have listed potassium as an under-consumed nutrient of concern, so go eat alllllllll the potatoes.
As someone who likes to stay active and walk all around campus, I have to have my carbs to give me energy. No one wants to feel sluggish and tired during a workout, right? Me neither.
We can deplete the carbohydrate stores in our bodies, so it's important to FUEL UP with all the goods before and after. Potatoes = top-notch performance during the day. Enter: Mexican Potato Toast!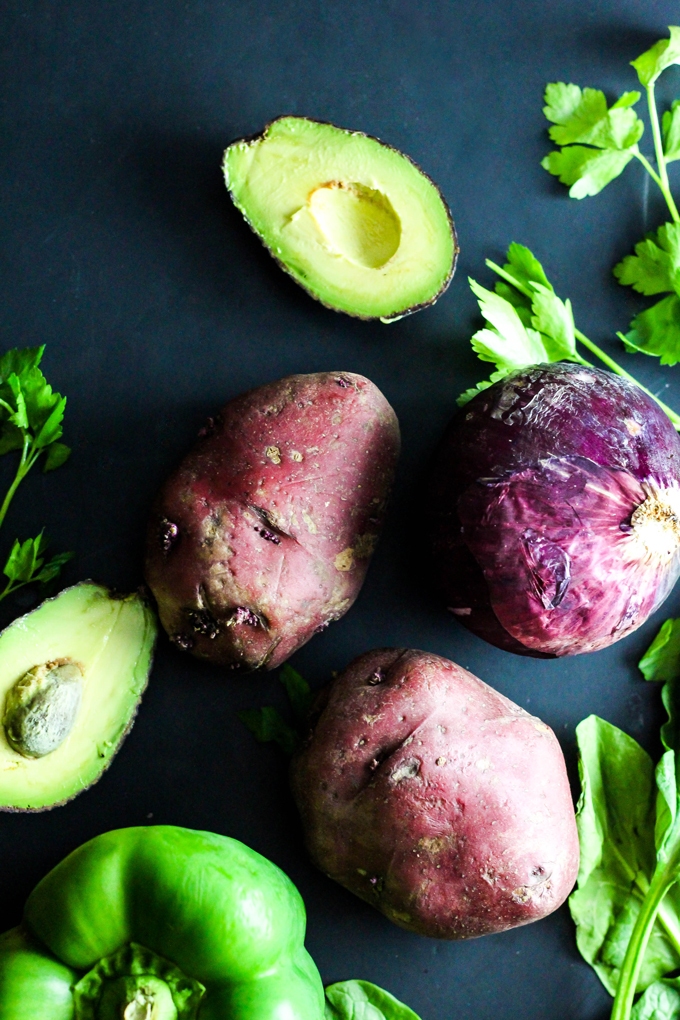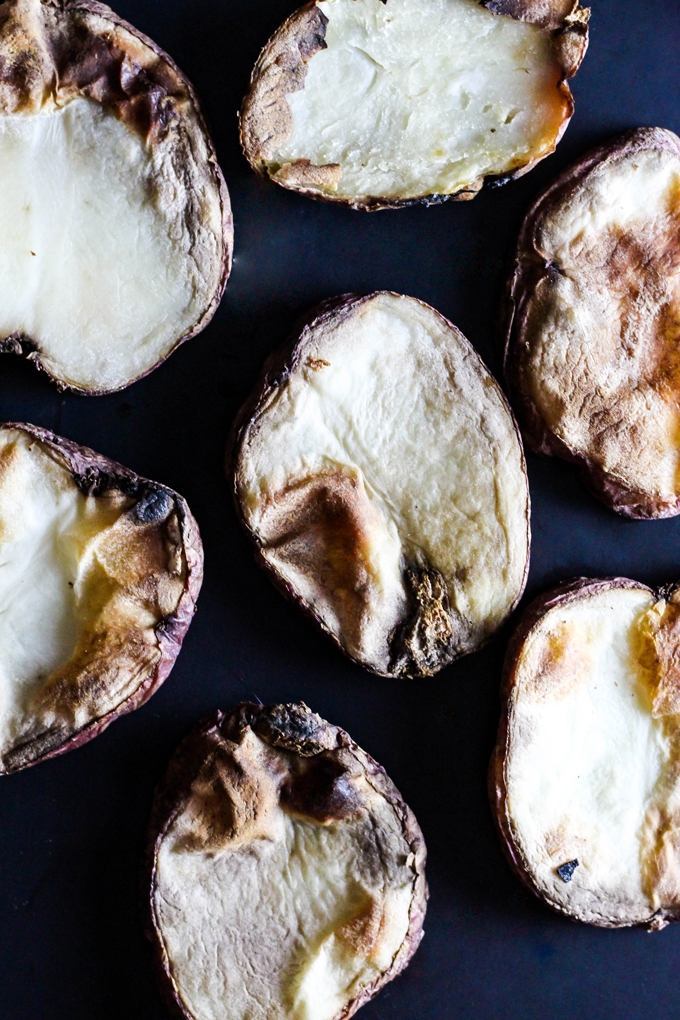 I teamed up with Potatoes USA to bring you this fun recipe that makes a perfect post-workout snack or fun Mexican night dinner.
All you have to do is toast slices of red (or russet/yellow/purple) potatoes in a toaster a few times until they're cooked. Then top with a big scoop of guac, beans, salsa, and EAT!
Anyone down for a Mexican potato toast bar? I'm 'bout it.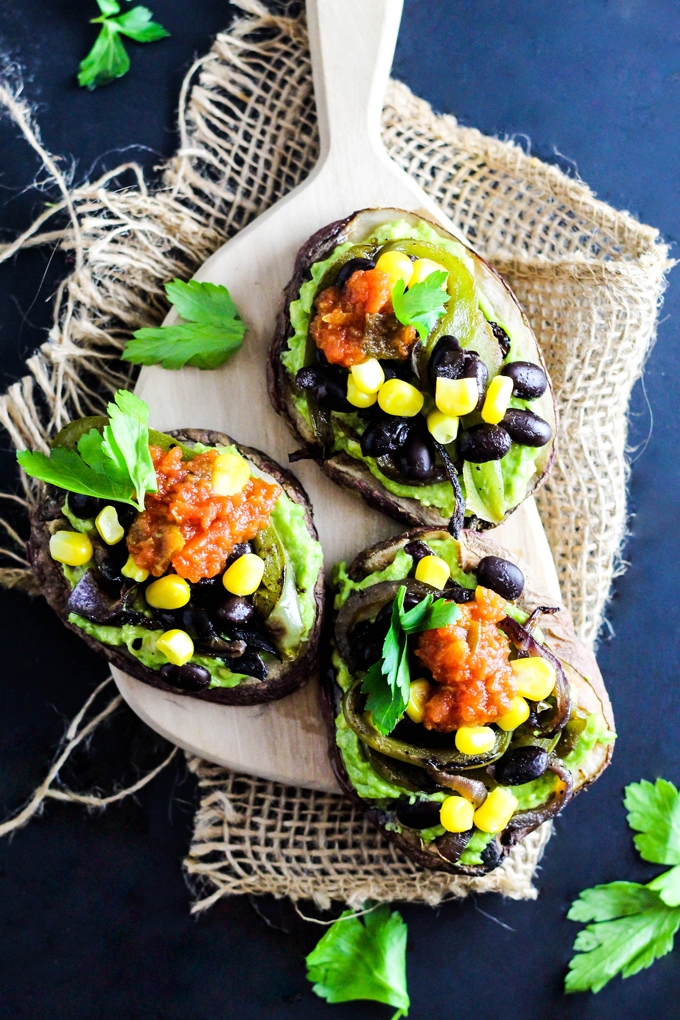 I hope I was able to dismiss some of your carb fears. Please, don't be afraid of the carbs. Especially potatoes, because…potatoes are LIFE. Life is too short to not eat potatoes.
If you get to try this recipe, let me know how you like it! Also, if you post a picture on Instagram, tag me @emilieeats and use #emilieeats so I can see your carbolicious creations.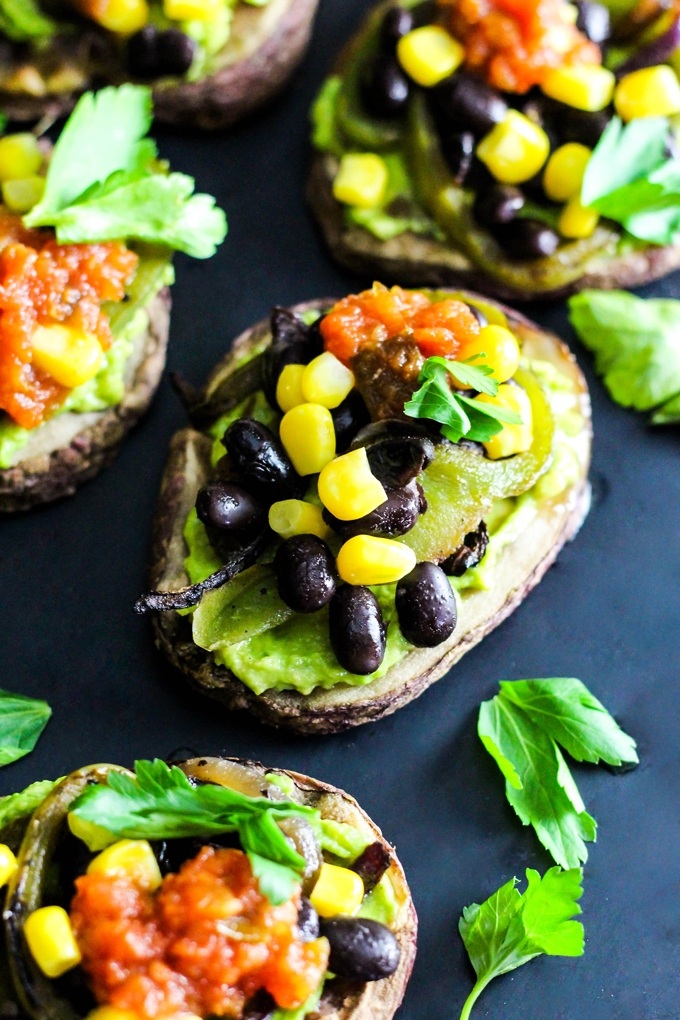 Print
How to make:
Mexican Potato Toast (vegan & gluten-free)
This Mexican Potato Toast is easy to make in just minutes and complete with your favorite toppings like avocado, black beans & salsa! Vegan & gluten-free.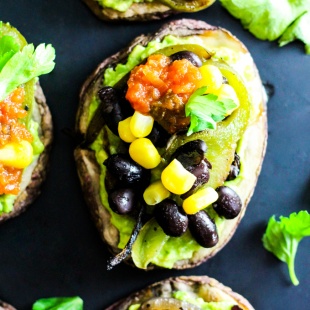 Ingredients
2

medium red potatoes, scrubbed

1/2

red onion, thinly sliced

1

green bell pepper, thinly sliced

1

medium avocado

1/4 teaspoon

salt

1/8 teaspoon

black pepper

1/8 teaspoon

onion powder

1/8 teaspoon

garlic powder

1 cup

black beans

1/2 teaspoon

chili powder

1/2 teaspoon

ground cumin

1/4 cup

corn, thawed if frozen

1/4 cup

salsa
Fresh cilantro, chopped
Instructions
Slice potatoes longways into 1/4-inch slices. Place 1-2 slices in each slot in your toaster; cook on high for 2-3 rounds until the potatoes are cooked through. Repeat with all potato slices.
In a medium skillet, add a little water or oil over medium heat. Add onion and bell pepper; cook for 5-7 minutes, until vegetables are tender.
In a small bowl, mash avocado with salt, pepper, onion powder, and garlic powder until ingredients are combined.
In a small bowl, add black beans, chili powder, and cumin. Stir to combine.
Place all the cooked potato slices flat. Spread avocado on each slice, then top each with equal amounts sautéed vegetables, black beans, corn, salsa, and cilantro.
Store potato toast in an airtight container in the fridge for up to 5 days.
Thanks to Potatoes USA for sponsoring this post! I love working with brands whose products I really love and would honestly recommend. Thank you for supporting this blog that I love oh-so-much!