There truly are just a handful of foods I love as much as I love sweet potatoes. They're up there with oats, green apples, chickpeas, and vanilla cake (don't you notice a carb trend?😂). But seriously, nothing beats a soft, baked-to-perfection sweet potato.
Actually, you know what beats that? Sweet potato fries. Like, SO much better than normal fries in my humble opinion. Especially when they're 1. baked, 2. crispy, 3. dipped into a magnificent sauce. I partnered with my friends at Pompeian to share this recipe for the crispiest (!!!) sweet potato fries in the land.
I always say how spoiled we are down in the South because the crops we grow are magnificent. I know Washington has its apples and California has its avocados, but look – Louisiana has its citrus and sweet potatoes in the winter, and its strawberries, zucchini, squash, tomatoes, watermelon, and basically everything else in the summer. When I end up moving away, I know one of the things I will miss most is the produce.
I'm not just trying to brag and make you want to book a flight ASAP to Louisiana, but we really do have the best sweet potatoes in the country. They're intensely orange, sweet as can be, and made by people who actually care about their crops.
That's the best kind of food, isn't it?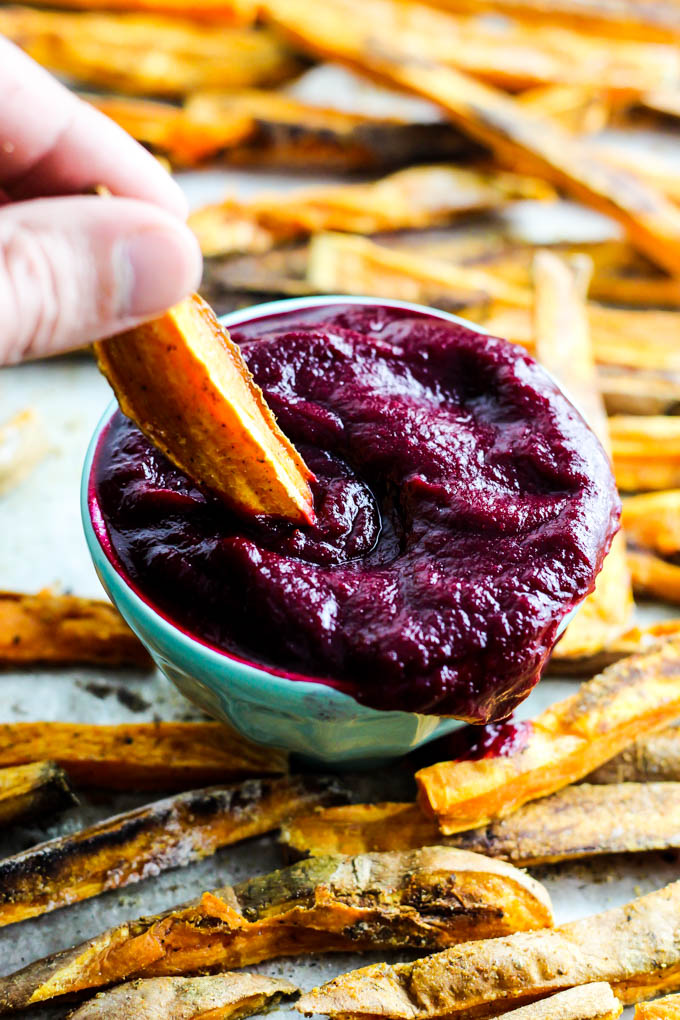 While I definitely don't discriminate against any way to cook a sweet potato, I'm pretty biased towards fries. Who doesn't love fries?! Especially with summer here (is it technically summer yet?), all I want is to get a grill and cook some veggie burgers with sweet potato fries. With a side of 34893 pounds of watermelon, please & thank you.
Sometimes I'm lazy and just chop the potatoes, throw them in the oven, and eat them no matter how not crispy they are. BUT BUT BUT I've got the secret to making them extra crispy if you want fries that are ready to impress. 🏆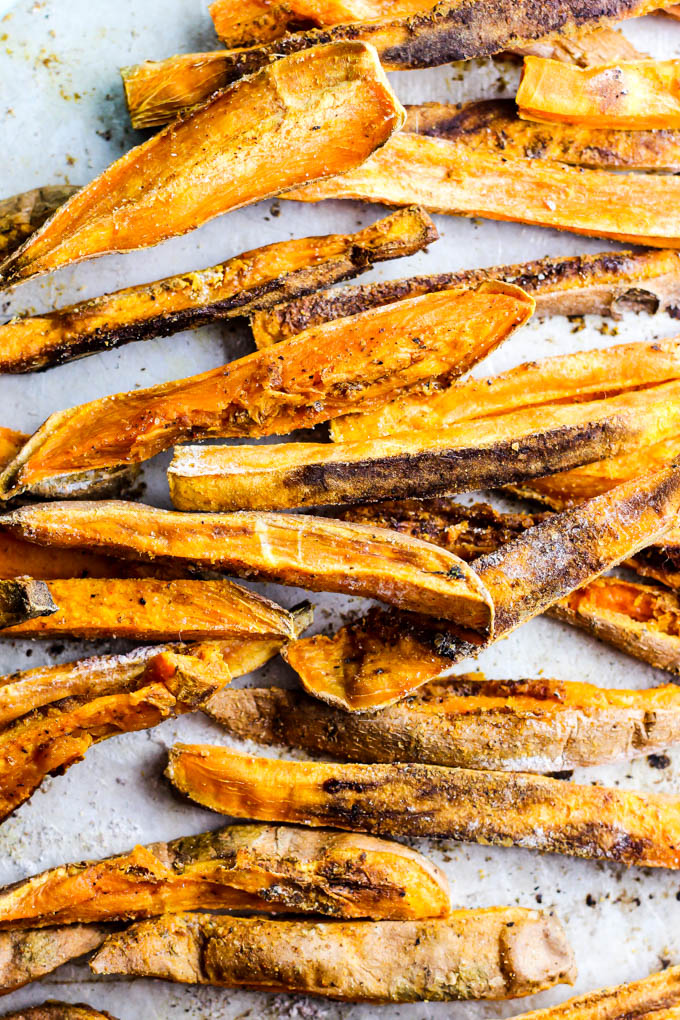 What's the secret, you ask? Well, it goes a little something like this:
Soak the potatoes in cold water.
Spray on a little Pompeian Organic Extra Virgin Olive Oil Spray.
Coat with some starch & seasonings.
Bake, flip, bake.
Then you happily dip your crispy as heck sweet potato fries in some magical ketchup with a color that reminds you of those weird colored Heinz ketchups back in the day. But ours is 1000x better, obviously.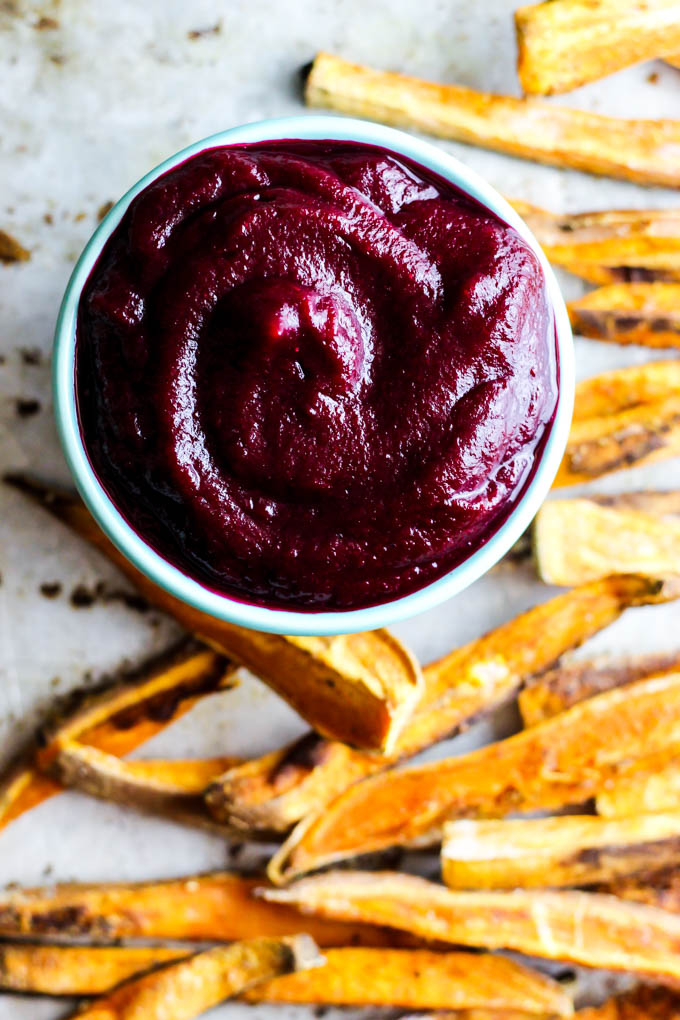 I don't know all the science behind it, but soaking the fries in water removes some of the starch in them, which makes them more crispy. I don't ask questions; I just do as they say.
I like to use Pompeian Organic Extra Virgin Olive Oil Spray here because if you use too much oil, your fries won't get crispy. The spray allows you to get just the right amount of oil on the fries. Plus, there's no propellant ingredients in the spray!
We're also using Pompeian's Organic Apple Cider Vinegar to make the beet ketchup! I know it sounds weird, but ever since I had the sweet potato fries + beet ketchup at by CHLOE in Los Angeles, I've been dreaming about recreating the combo. This is a perfect recipe for Pompeian's #TrendingintheKitchen campaign since it's a healthier take on a classic comfort food!
I hope you guys make these sweet potato fries allllll summer long to go with all of your grilling goodies! What are you looking forward to grilling this year? For me, it's veggie burgers, tofu, pineapple, and maybe even avocado!
Here's to never-ending plates of crispy sweet potato fries. 💯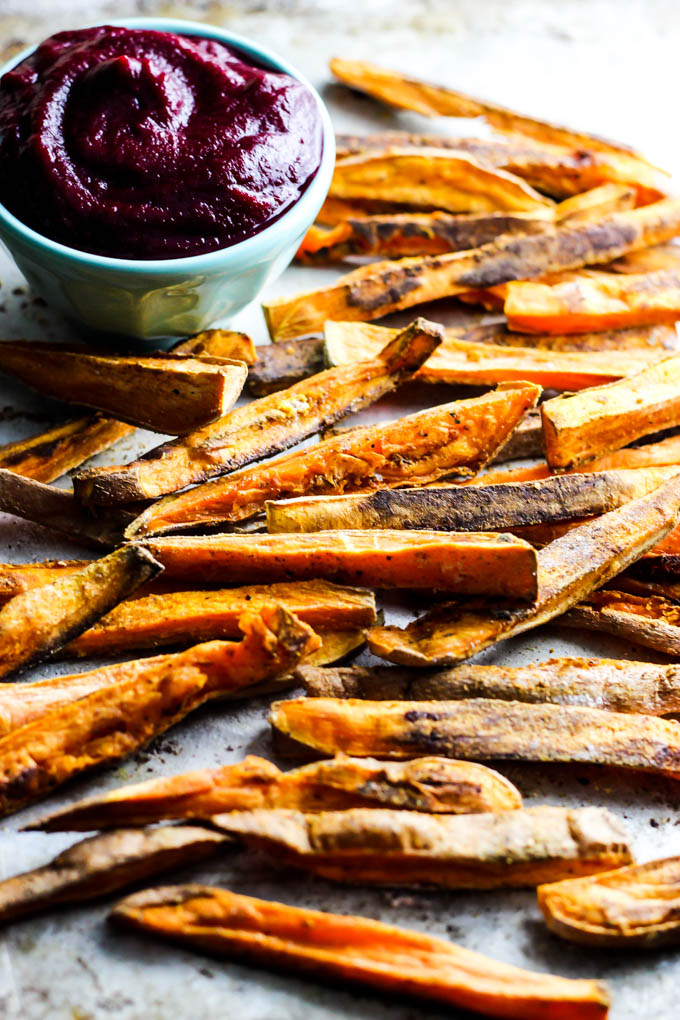 Print
How to make:
Crispy Sweet Potato Fries with Beet Ketchup
These extra Crispy Sweet Potato Fries dipped in tangy beet ketchup are the perfect addition to any dinner plate! A delicious vegan & gluten-free side dish.
Ingredients
2

medium beets, scrubbed

2

medium sweet potatoes
Pompeian Organic Extra Virgin Olive Oil Spray

1 tablespoon

tapioca starch or cornstarch

1 teaspoon

salt, divided

1/2 teaspoon

paprika

1 teaspoon

onion powder, divided

1 teaspoon

garlic powder, divided

1/2 teaspoon

black pepper, divided

1/2 cup

+

1 tablespoon

Pompeian Organic Apple Cider Vinegar

1/2 cup

pitted dates*

1/4 teaspoon

ground allspice

1/4 teaspoon

ground cloves

1/4 teaspoon

ground ginger
Instructions
Preheat oven to 375F. Individually wrap beets in foil; place on a baking sheet. Bake for 45-50 minutes.
Slice sweet potatoes into 1/4-inch fries. Place in a bowl of cold water; let sit for at least 30 minutes. When the potatoes are done soaking, drain and pat completely dry.
Remove beets from oven. When cool, remove the peel from the beets.
Heat oven to 400F.
Arrange sweet potatoes in a single layer on a baking sheet. Mist with olive oil spray, then toss.
In a small bowl, add starch, 1/2 teaspoon salt, paprika, 1/2 teaspoon onion powder, 1/2 teaspoon garlic powder, and 1/4 teaspoon pepper; mix. Sprinkle mixture onto sweet potatoes; toss until evenly coated.
Bake for 30-35 minutes, until crispy.
In a blender, add cooked beets, vinegar, dates, 1/2 teaspoon onion powder, 1/2 teaspoon garlic powder, 1/2 teaspoon salt, 1/4 teaspoon pepper, allspice, cloves, and ginger. Blend until smooth.
Serve sweet potato fries with beet ketchup!
Notes
*You can also add an additional 1-2 tablespoons of coconut sugar for additional sweetness.
Thanks to Pompeian for sponsoring this post! I love working with brands whose products I really love and would honestly recommend. Thank you for supporting this blog that I love oh-so-much!