A healthy, refreshing breakfast or snack, this Banana Matcha Green Tea Smoothie is simple to throw together in a hurry. So creamy thanks to Silk's new Protein Nutmilk! (vegan & gluten-free) Thank you to Silk for partnering with me on this recipe.
I haven't always been an expert green smoothie maker. To be honest, if you served me a green monster smoothie six years, I don't know if I would've taken a sip. I mean, I loved healthy food, but vegetables in a smoothie? Blasphemy.
Green smoothies were really the first thing I got into when I found this whole blogging-about-real-whole-foods movement. I thought it was a foreign concept – vegetables like spinach and beets in a fruity smoothie. I was used to sugary sweet Smoothie King, so I had no idea how truly nutritious smoothies could be!
There was one particular Smoothie King order that I stuck to: the Green Tea Tango with banana.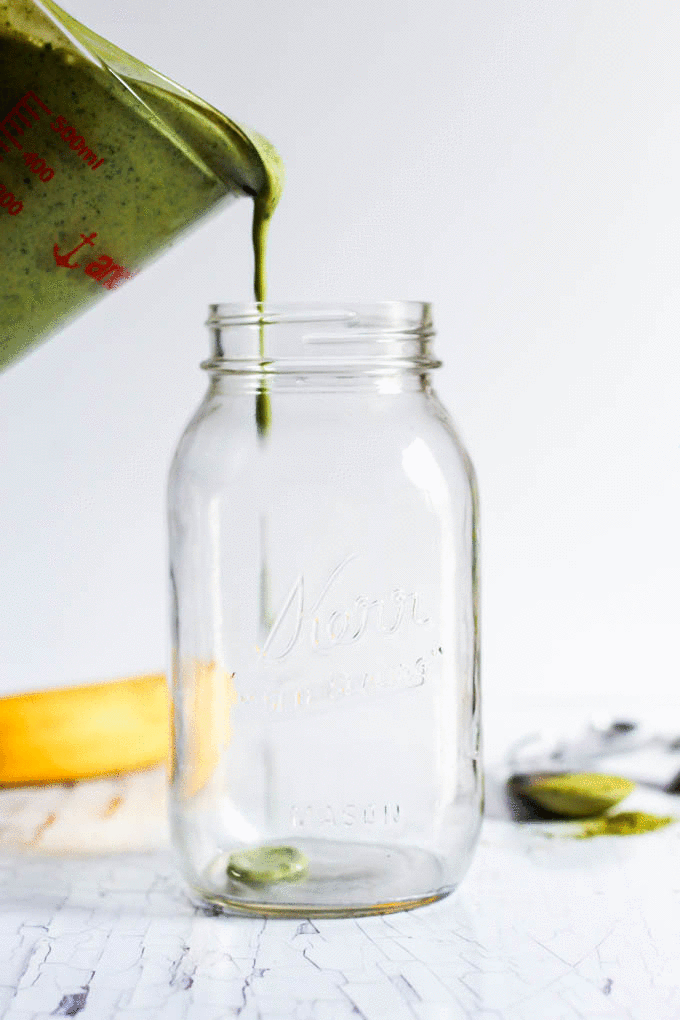 This was a smoothie that used matcha waaaaaay before matcha was even cool (and before I was 100% obsessed with it). The smoothie is just vanilla frozen yogurt, green tea powder, some sweetener, and your fruit of choice. My mom (on the rare trip to Smoothie King) would order the Green Tea Tango every single time, and I was quickly hooked on it.
Most of the recipes I make for the blog and in real life are just versions of foods I used to love in my pre-plant-based days. Everyone always asks me how I keep the recipe ideas coming, but really they're all just adjustments to the meals I loved through & through my whole life. (see: cheesecake and red beans & rice and chocolate pudding pie)
In the creative spirit of recreating favorite recipes, I thought I'd put my own little spin on Smoothie King's Green Tea Tango. And damn, I think I got it down (and made it better, IMO)!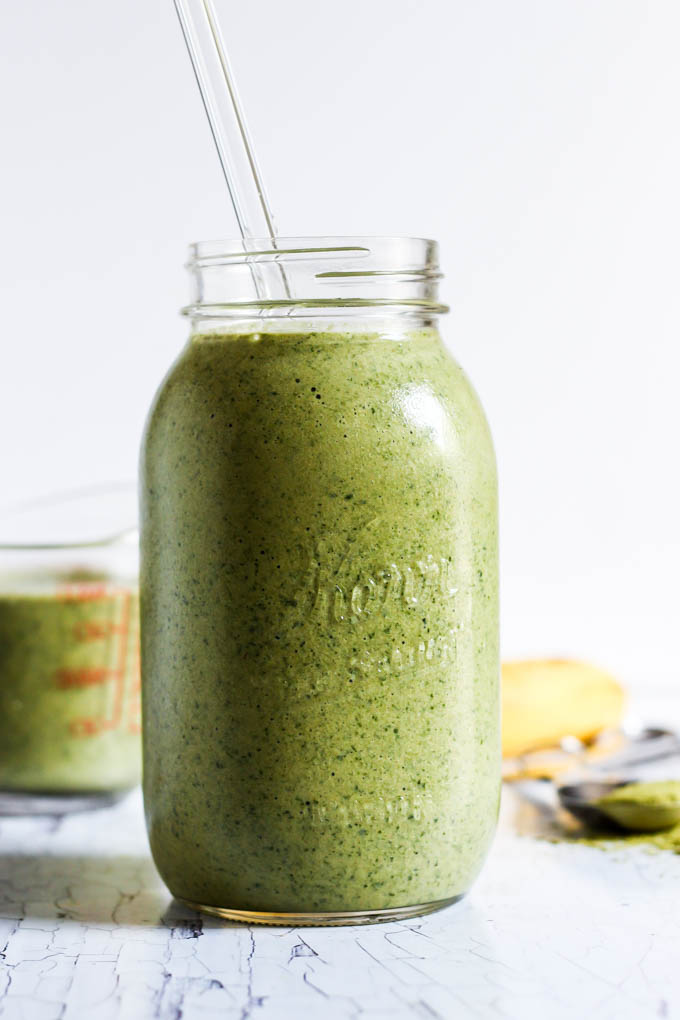 Super simple ingredients make a surprisingly delicious combo in this banana matcha green tea smoothie! Obviously, you'll need bananas and matcha powder, two ingredients I literally always have. There are always bananas in my freezer ready to be blended for smoothie bowls, and I'm basically addicted to matcha sooooo it'd be a sad day if I ever didn't have it on hand. If you're wondering what matcha powder to try, I'm a huge fan of this one (the greener the better).
To add some extra protein and staying power, we're using Silk's new Protein Nutmilk in this green tea smoothie! Most people are worried about the drop in protein when they switch from regular cow's milk to nut milk, so this version from Silk definitely a good option with 100% pea protein. There's also 50% more calcium than dairy milk! Plants for the WIN. Plus, the flavor I use only has 2 grams of sugar per serving.
With the Protein Nutmilk, we're also using a little bit of vanilla protein powder (totally optional!) and plain non-dairy yogurt to get it as creamy as the original that I remember. Silk has a great plain yogurt, but you can use any kind you prefer!
Okay, hear me out now. We're adding spinach for nutrients and that beautiful color – by now, you should be cool with spinach in your smoothies. But we're also adding frozen zucchini – don't worry, it doesn't add any taste, but it does add creaminess and extra veggies! Just trust me on this one, mkay?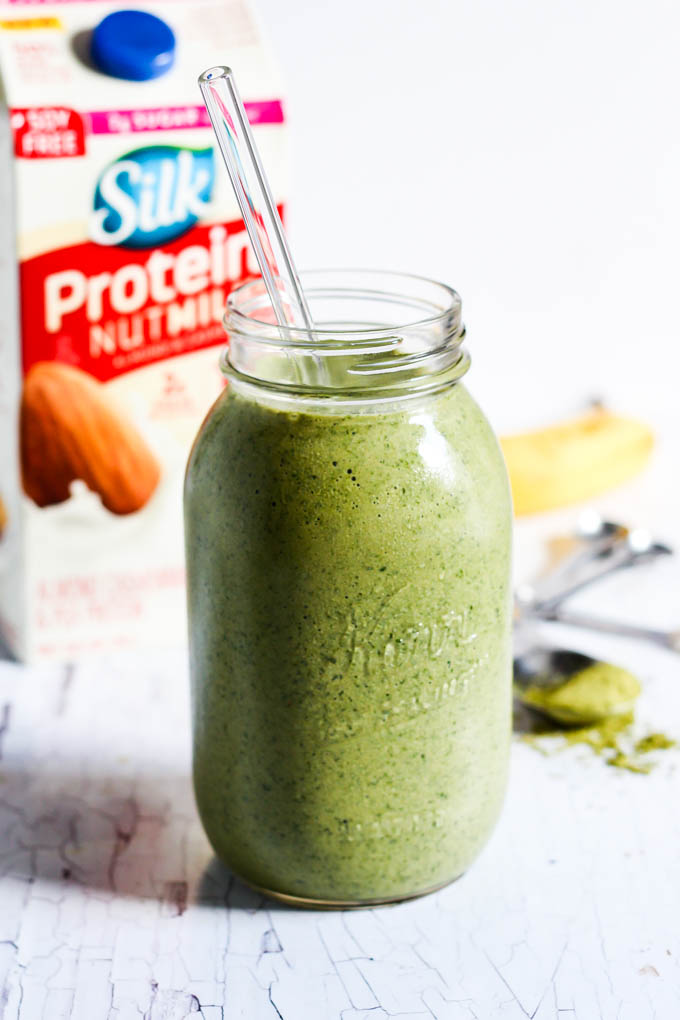 So, if you ever think that you can't recreate your favorite recipes in the comfort of your own home, think again! I enjoy making these versions of my favorites at home because A. it's more rewarding, and B. I'm super cheap AF.
Why pay $7 for a smoothie when you can make your own creamy dreamy green smoothie at home?
If you loved the Green Tea Tango as much as we do, or even if you've never tried it, I know you're going to love this super simple banana matcha green tea smoothie recipe! I love having it for breakfast with some nuts and seeds on top, or as a quick grab-and-go snack.
Gooooo get your smoothie on!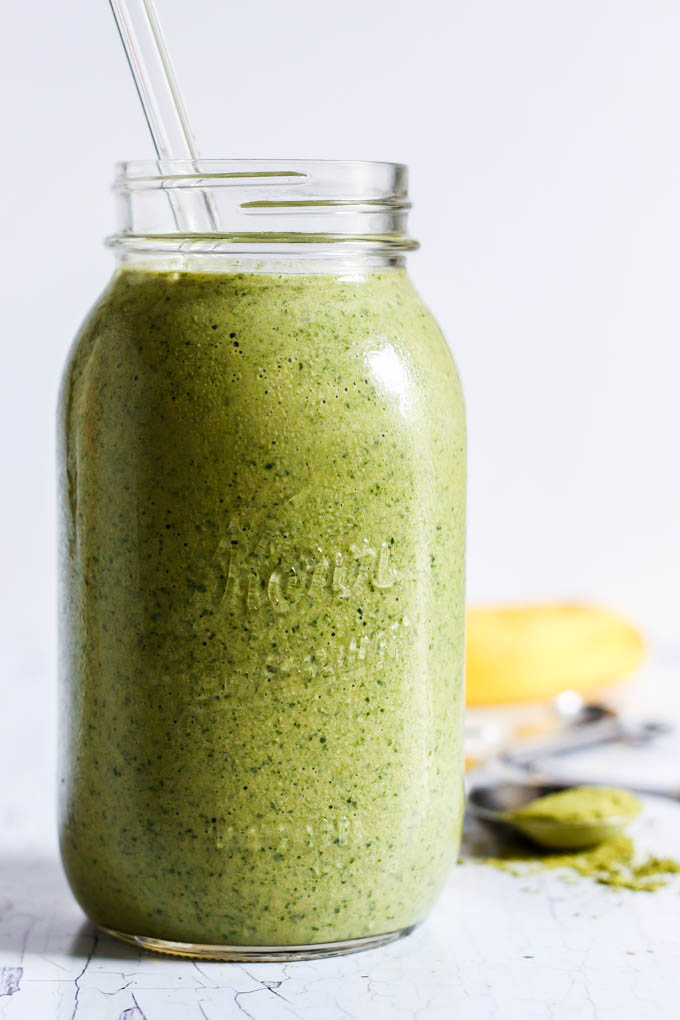 Print
How to make:
Banana Matcha Green Tea Smoothie
Ingredients
2

bananas, frozen

1 cup

Silk Protein Nutmilk*

1 cup

spinach, frozen

1/2 cup

zucchini, chopped and frozen

1/2 cup

unsweetened non-dairy yogurt

1

scoop vegan vanilla protein powder (optional)

1

heaping tablespoon matcha green tea powder

1

–

2

pitted dates

2 teaspoons

vanilla extract
Instructions
In a blender or food processor, add all ingredients.
Blend until smooth, adding more nutmilk or water if needed to reach desired consistency.
Divide into two glasses and enjoy!
Notes
*I used the Silk Protein Nutmilk with 2 grams of sugar per serving.
This is a sponsored conversation written by me on behalf of Silk. The opinions and text are all mine.