Cool off with a scoop of this refreshing Blueberry Vegan Frozen Yogurt! It's the perfect fruity dessert, plus you could even enjoy it for breakfast. It's make with Silk's new Almond Dairy-Free Yogurt Alternatives…yum! Stick around for the recipe + a coupon.
I have the fondest memories of taking endless trips to the local froyo bars in high school with my 5 or 6 closest friends. It's just one of those things we had to do every single weekend. The best part about getting our licenses was being able to get froyo whenever we wanted.
Because when frozen yogurt calls your name, you run right to it full speed ahead. Except not full speed when driving, because we were good, law-abiding kids.
Nowadays, I usually go for a carton of cashew milk ice cream over a trip to the froyo bar because the dairy-free options are seriously lacking in my area. Like, c'mon folks, get with the times!!! I digress.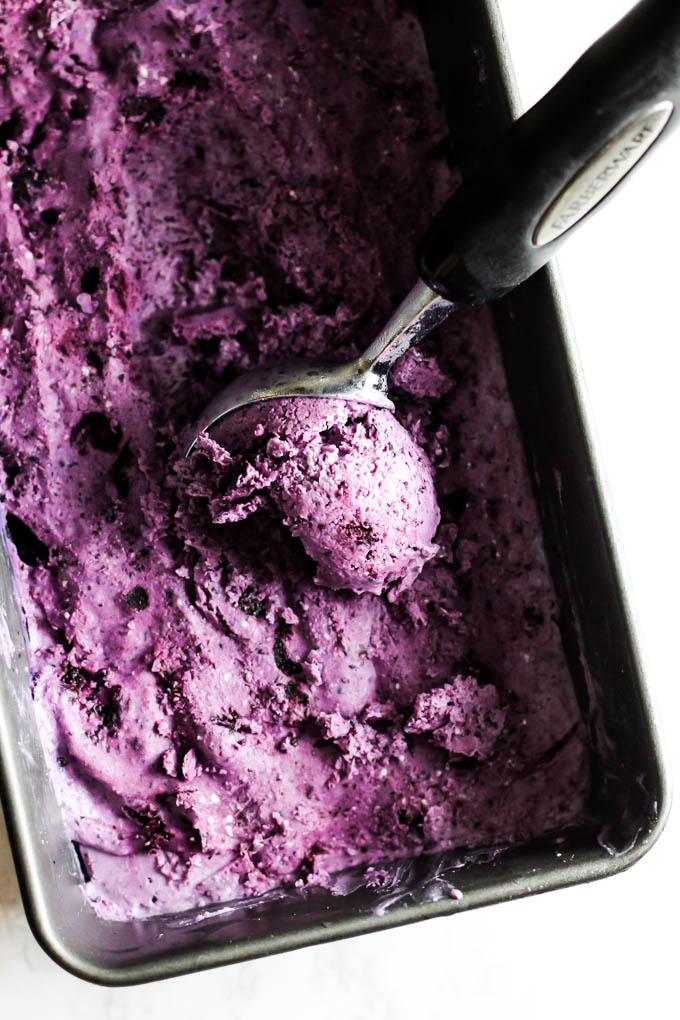 Which meant Emilie (yes, I am talking in third-person) needed to put her thinking cap on and devise a way to enjoy rich, creamy, refreshing frozen yogurt in the comfort of her own home. Cheaper, healthier, and in the fridge at any time…sounds like a much better alternative.
What was born out of my craving for a fruity dessert was a magical unicorn of a recipe that I'm still drooling over. As much as I love fruit, I'm more likely to grab a vanilla cake over a fruity dessert. But this blueberry amazingness may have changed my tastebuds! (JK, I still love vanilla cake. Now I just have it with a scoop of vegan frozen yogurt.😊)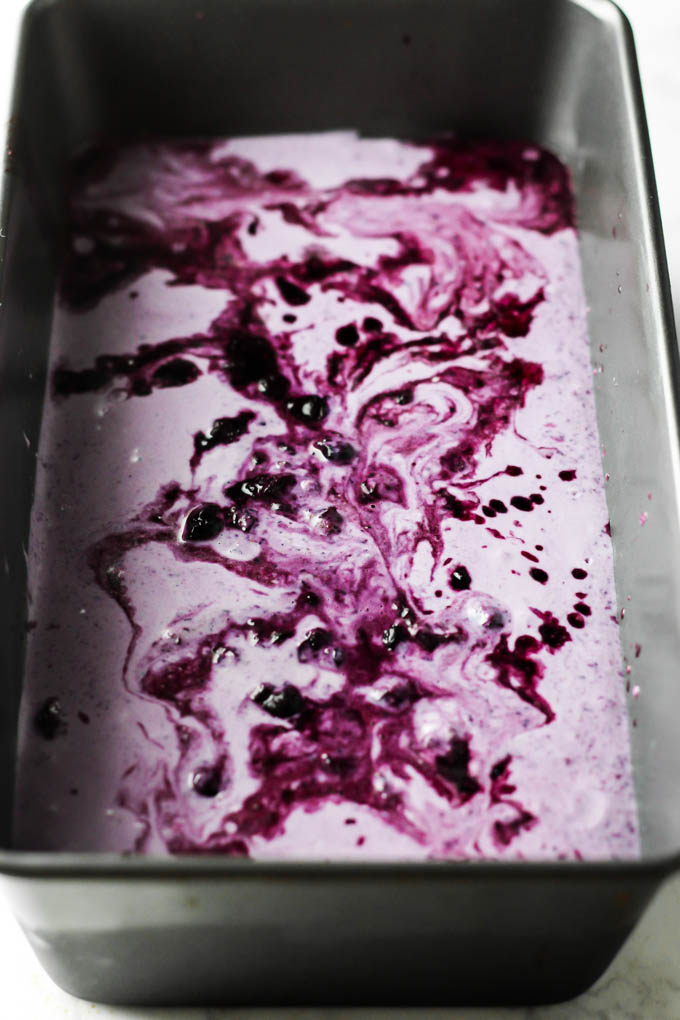 As soon as Silk asked me (!!!) to create a recipe with their new almond yogurts, I knew I wanted to make vegan frozen yogurt. The weather is warming up, so we need lots of refreshing sweets to cool us off. The yogurt creates a creamy bases that, blended with blueberries and thick coconut milk, is the most beautiful hue of purple. Just a few simple ingredients –> a light & healthy dessert that feels oh-so-decadent!
I used the Plain Almond in this recipe because it's lower in sugar than the other flavors, but the Vanilla Almond would be perfect for a sweeter frozen yogurt. The Peach Almond would be fun to try, too! There's also Strawberry Almond and Dark Chocolate Coconut Almond – I don't know about you, but my mind is racing with the recipe ideas. So much yogurt, so little time!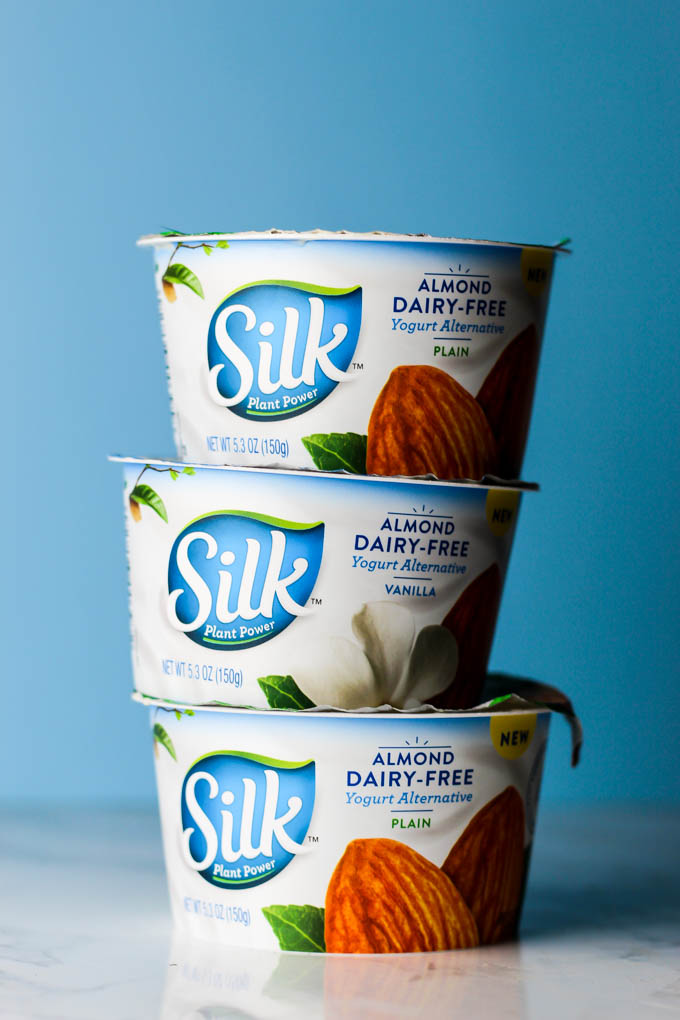 I've actually really been digging yogurt lately, so the release of these new almond yogurts has great timing. Aside from humongous scoops of this vegan frozen yogurt, I've been eating them stirred into oatmeal (soooo creamy), on top of waffles, blended into smoothies, or with some fruit and seeds mixed in for a snack. Each creamy cup has 5-6 grams of protein, so it keeps my belly satisfied and happy.
Now that I've shared my #TopItTuesday ideas using Silk's almond yogurt, we want to inspire you to share your own ideas and yogurt creations with us. To get you started, here's a coupon to use on any yogurt alternative!
I was surprised that Whole Foods didn't carry these yet, so the store locator on Silk.com was super helpful in my quest to find them.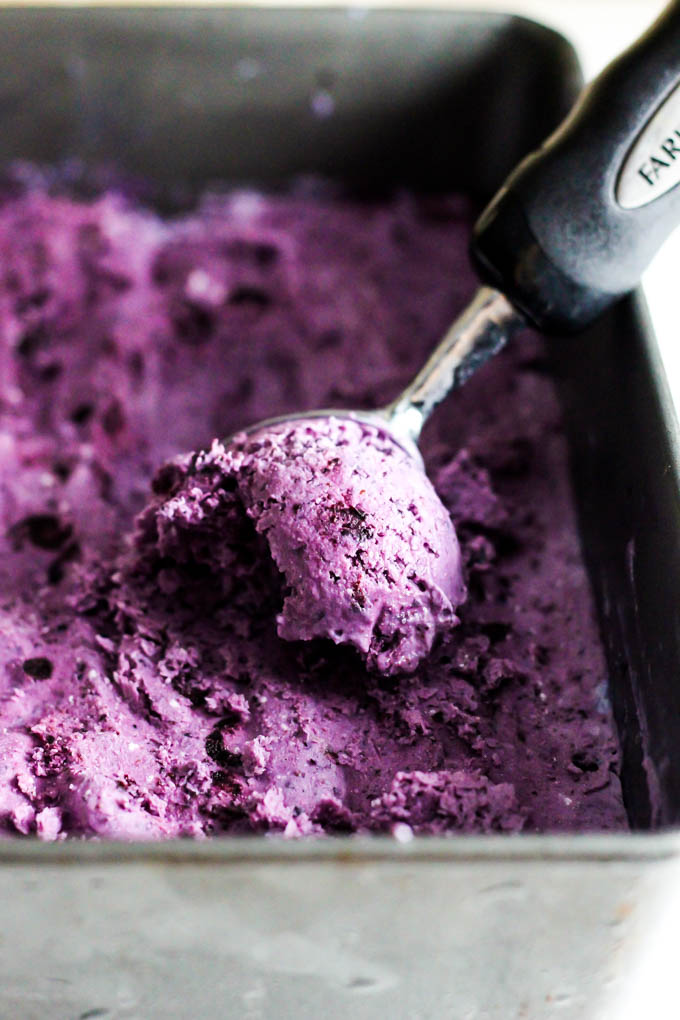 This recipe really couldn't be simpler – blend, freeze, blend, freeze. Eat generous helpings with a large spoon. Be happy.
You may be wondering why we have to blend & freeze a second time. I find that the second blending breaks up the iciness of the frozen yogurt and makes for a smoother, creamier final product. It's your preference, though – if you find the texture to be okay after the first blend & freeze, go for it!
What's really important is letting it sit for a few minutes before serving. This will help soften it up and make it easier to scoop.
Here's a fun idea: set up bowls of toppings (like nuts, coconut, chocolate chips, fruit) just like at froyo bars and let your family & friends make their own froyo bowls!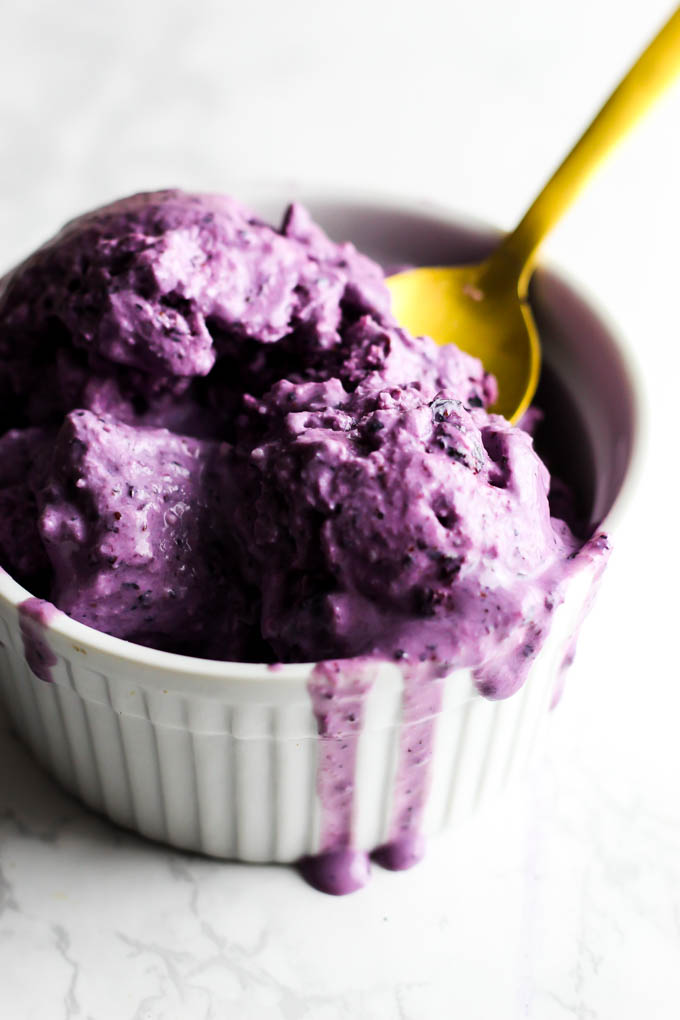 I know you will absolutely die for this blueberry vegan frozen yogurt one bite in. My boyfriend was just about going crazy when I wouldn't let him eat it while I was taking pictures – hey, anything for that perfect melting shot, right?
I'd love to know what you think of this recipe if you try it! You can post a picture of your beautiful frozen yogurt on Instagram, and tag me @emilieeats with #emilieeats.
I'm pretty sure this frozen yogurt is calling your name. And mine. Off to polish off another bowl…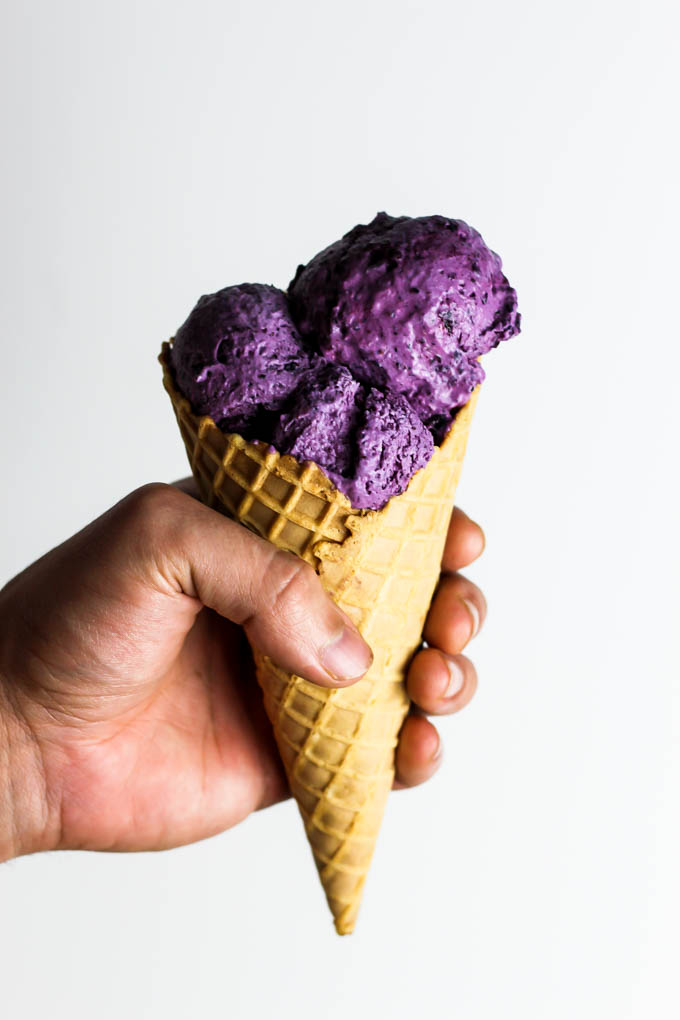 Print
How to make:
Blueberry Vegan Frozen Yogurt
Cool off with a scoop of this refreshing Blueberry Vegan Frozen Yogurt! It's the perfect fruity dessert, plus you could even enjoy it for breakfast. Yum!
Ingredients
1

15-ounce can full-fat coconut milk, refrigerated overnight

3

containers Silk Plain Almond Dairy-Free Yogurt Alternative (about

1 3/4 cups

)

1 1/2 cups

blueberries, frozen

2 teaspoons

vanilla extract
Instructions
Scoop out the solid white coconut cream from the top of the coconut milk can; place in a blender or food processor. Reserve the white liquid for smoothies or other recipes.
To the blender or food processor, add yogurt, blueberries, and vanilla. Blend until completely smooth.
Pour mixture into a loaf pan; freeze until the top is solid, about 1 hour.
Scoop out the mixture and place back into the blender or food processor; blend until smooth again.
Pour back into the loaf pan; freeze until firm, about 1 hour.
Before serving, remove from the freezer for 5 minutes. Then scoop and enjoy!
This is a sponsored conversation written by me on behalf of Silk. The opinions and text are all mine.